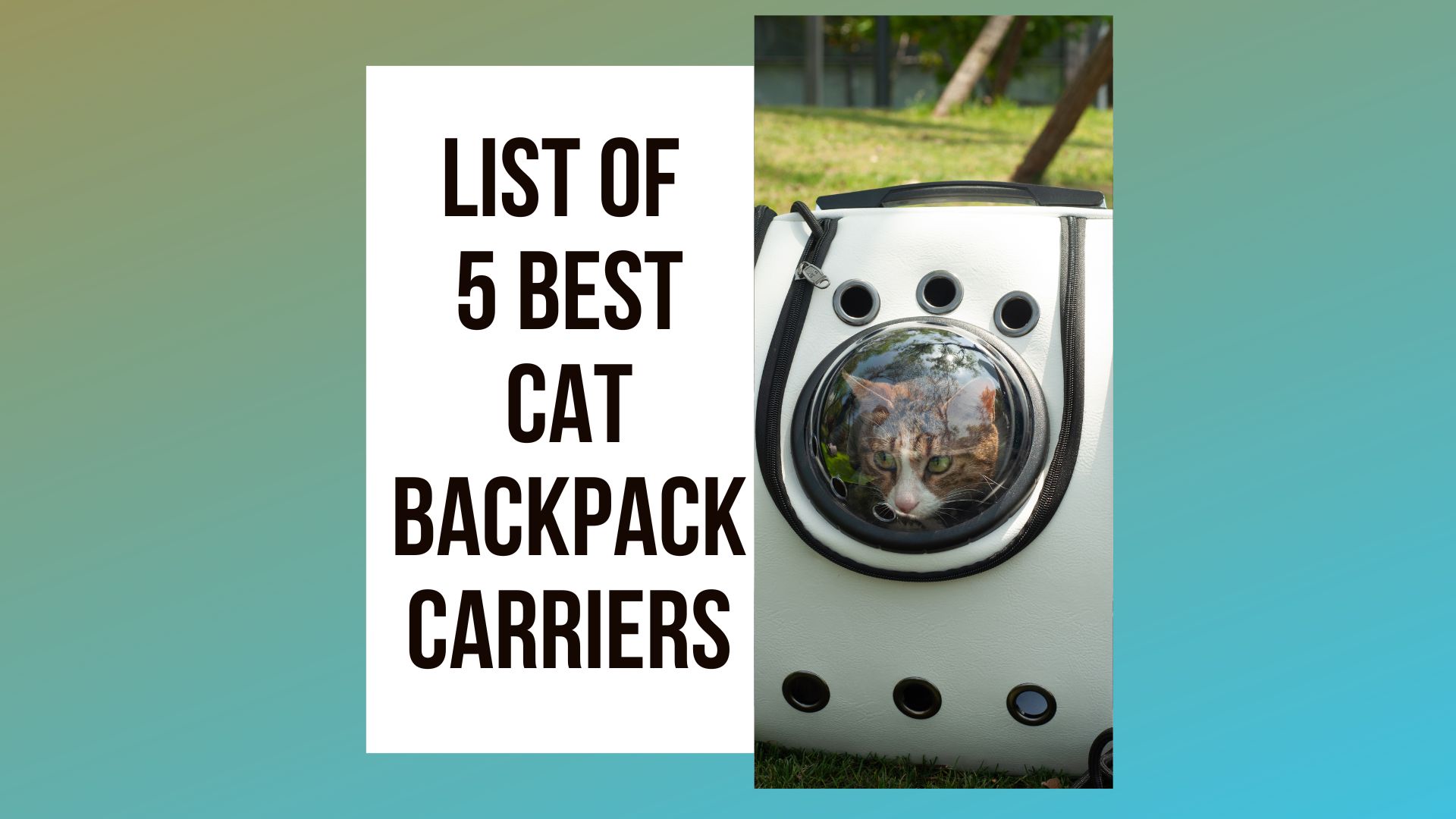 Take Your Cat to See the World in a Cat Backpack Carrier
2. Texsens Innovative Traveler Bubble Backpack
3. Azone Portable Space Capsule Pet Carrier Backpack
4. Lollimeow puppy carrier travel bag
5. Lemonda Portable Travel Pet Carrier
Have you ever thought of taking your cat on a hiking or backpacking adventure? Chances are, you haven't because most cats don't like to be confined in cat carriers or walked on leashes. Now, with a variety of cat backpacks available, there is a way that you can give it a try.
Cat backpacks are becoming increasingly popular with cat owners, and if your cat likes adventure, she might love traveling with you in a cat backpack.
Cat backpacks provide cats with great views, comfortable and stable rides, plenty of fresh air, and protection from other animals. For owners, they provide a comfortable and convenient way to carry your cat when traveling or making a trip to the vet.
This article will describe some of the best cat backpacks on the market, list their pros and cons, and give you some pointers on what features to look for, how to get your cat used to a cat backpack, and the benefits traditional cat carriers.
1. PetAmi Premium Pet Carrier Backpack
With the PetAmi cat backpack, your cat will travel with you in comfort and style. It will fit cats weighing up to 8 pounds. For your cat's comfort and safety, it features great ventilation to provide airflow and to keep your cat cool, a soft Sherpa lining, a safety strap to secure your cat, four large mesh windows, and a sturdy removable base.
For your comfort and convenience, it includes waist and chest buckles, side pockets for storage, a top entry point, and is collapsible for easy storage. Made from 600D high-grade polyester, this durable backpack is ideal for frequent airline trips . A collapsible water bowl comes along with 7 color choices.
Sale
PetAmi Premium Pet Carrier Backpack for Small Cats and Dogs | Ventilated Design, Safety Strap, Buckle Support | Designed for Travel, Hiking & Outdoor Use (Charcoal)
Designed for the best and most convenient travel outdoor experience for you and your pet! Measures approximately 11.5x9x16 inches (LxWxH), Fits most small/medium sized pets. Before purchasing please measure your pet - LENGTH: neck to base of tail; HEIGHT: floor to top of shoulder
Your Pet will Travel in Comfort – Well ventilated design for optimal airflow and checking on pet, soft cozy sherpa lining bedding so your pet can relax and rest, collapsible bowl to keep your pet hydrated during travel
Superior Fit, Comfort, and Convenience – This backpack comes with both waist and chest buckles to give you extra support. We also added side pockets for extra capacity and a collapsible pet bowl so you can keep your pet hydrated on the go!
Designed with Safety In Mind – The backpack comes with safety strap to secure your pet and prevent escape.
Quality Construction - Made with durable 600D high grade polyester; Available in 7 Colors – Black, Dark Gray, Light Gray, Royal Blue, Light Blue, Red, Pink
Pros
Fits on an airplane – airline-approved
Base comes out for cleaning
Sturdy base with soft lining
Comfortable
Stylish
Inexpensive
Heavy-duty polyester construction
4 mesh windows for max airflow
Includes free water dish
Adjustable chest and waist buckles for support
Collapsible for easy storage
Cons
The Front is floppy – won't hold shape
The safety tether is a bit short
Too small for some cats
No bubble dome
Single entry
2. Texsens Innovative Traveler Bubble Backpack
Made by the pioneer creator of the cat bubble backpack out of solid PU leather, this sturdy backpack can fit cats weighing up to 12 pounds. Your cat will love the views, the solid PU leather construction, the cute semi-sphere transparent dome window, the ventilation holes, and the two circular mesh windows.
You will love that this backpack has several entry points to make it easier to get your cat in, that it has a place to attach a leash for safety, and that it has adjustable wide padded shoulder straps for your comfort.
Made from eco-friendly, durable fabric, it also includes a top handle for carrying, a switchable mesh panel, and a soft washable pad. It is approved for most airlines, scratch resistant, and comes in 8 attractive colors.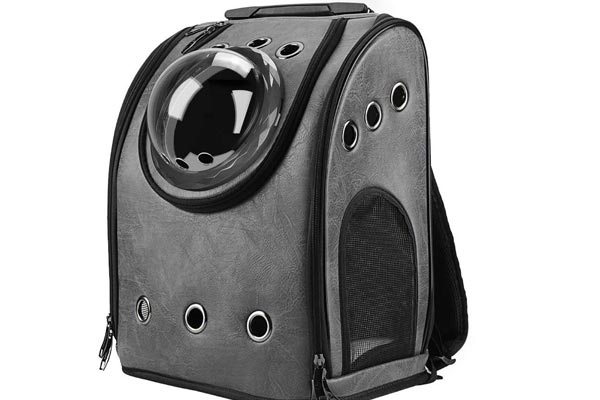 Texsens Innovative Traveler Bubble Backpack Pet Carriers Airline Travel Approved Carrier Switchable Mesh Panel for Cats and Dogs (One Size, Ash Black)
1. Revolutionary semi-sphere window design adds a unique function in addition to its switchable mesh panel. Small pets, such as small cats and dogs can be easy to keep in carriers.
2. Economize your carrying effort, eco-friendly casual life style. Adjustable padded shoulder straps and carrying handle make our carrier easy to attach to a seat belt.
3. Built-in security leash, mesh panels & ventilation holes, soft washable pad, top & side entries for maximum accessibility, easy storage and travel - comfort, convenience and safety. Practically designed backpack cases, satchels, and bags are great for keeping your furry friend with you on all your adventures.
4. The semi-sphere window design can stop them from escaping and keeps them safe in your care. It also provides a more interesting and safe space for your pet, which allows your pets to enjoy the sunshine and scenery with you and interact with the outside world.
5. Dimension: 13.39 "L x 9.84 "W x 17.32 "H. Carrier Weight:4.4 Pound fits cat up to 13 pounds and perfect for 10 pounds cat.
Pros
Sturdy – does not collapse
Roomy and comfortable
Solid PU leather construction
Easy to pack/store
Cats love it
Adorable
A bubble dome can be interchanged with a mesh window
Scratch-resistant rubber mesh windows
Accessible, escape-proof, well-ventilated
Sturdy adjustable shoulder straps
The Comfy base pad that won't collapse, washable and reversible
Cons
No instructions
Mesh windows are separately availabe for sale.
You have to put the bubble window in yourself
Expensive
3. Cat Backpack Carrier Airline Approved Pet Carrier
Your cat will look like a little astronaut in this space capsule backpack. Made to hold cats that weigh 10 pounds or less, this backpack is waterproof, lightweight, and durable.
The breathable fabric will keep your kitty cool and comfortable, and the giant window provides a great view of the world. Your cat will also like its sturdy yet soft velvety base and roomy interior.
You will love how easy this is to put together and its safety features. There is a ring for a leash and a built-in security lock. The eco-friendly polycarbonate construction resists impact and high temperatures.
It is comfortable to wear with adjustable shoulder straps, can be worn on your front or back, is easy to clean and fashionable, and comes in a choice of vibrant colors.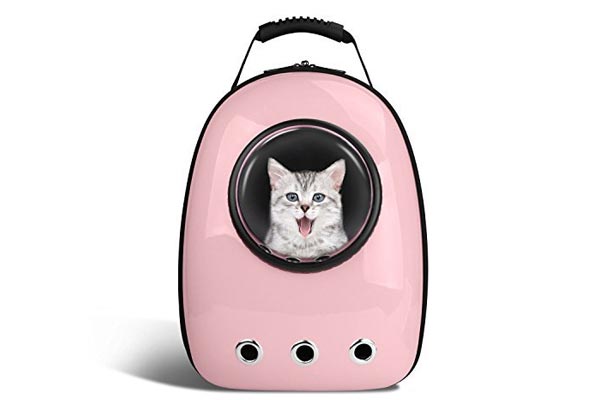 Cat Backpack Carrier Airline Approved Pet Carrier Backpack for Traveling-Hiking-Outdoor Pet Backpack or Cat Bag Carrier & Cat Carrier Backpacks (Pink)
【Travel with your pet】This stylish pet backpack carrier is airline-approved and will be the best investment you'll ever make. It offers you peace of mind when travelling with your pets because you can bring them with you anywhere. Now you can go on a road trip and explore new places with your pet. The puppy carrier is a perfect solution for carrying cats or dogs for outdoor walking, shopping, biking, hiking, camping, and so on.
【Wonderful Clear Window】Pets enjoy keeping a close eye on their surroundings. This pet backpack carrier with big transparent window allows cats to see everything around them, which is sure to be a lot of fun. Your pet will love taking a ride in this cozy backpack carrier. The clear window is great for keeping an eye on them and the soft mesh padding makes it comfortable for them too.
【Next Level Ventilation】This pet backpacks has 9 large ventilation holes on the cover and both sides, along with ventilation nets, which provides better air flow and maximum breathability that your pet will enjoy. This backpack is perfect for a day out with your pet. It is made with a breathable mesh fabric that will keep them cool and comfortable.
【Spacious Capsule Appearance】The YOUSHINE pet backpack carrier is a spacious capsule-like carrier that's perfect for class, work, and travel. YOUSHINE pet backpacks allow you to bring your puppy with you on your adventures. The backpack carrier is spacious and can be easily adjusted to fit your needs.
【Unparalleled Ergonomic Design】The YOUSHINE pet backpack carrier is an ergonomic designed hands free pet carrier that allows you to carry your pet easily, comfortably and securely. The backpack carrier is made of durable and high-quality materials. YOUSHINE pet backpack carrier Carrier is ergonomic designed with hands free design to carry pet on the back. YOUSHINE's Ergonomic Design Hands Free pet backpack carrier enables pet owners to carry their pets with ease.
Pros
High-quality, sturdy construction
Well designed
Soft board at the bottom
Cool looking
Polycarbonate plastic and Oxford fabric construction
High performance against impact and temperature
Mesh cover to replace bubble dome
Comfy reliable shoulder straps
Sleek waterproof hard case
Removable machine washable pad
Cons
Too small for some cats
Zippers aren't great
4. Lollimeow puppy carrier travel bag
Made by Lollimeow, this transparent backpack provides your cat with a 360 view of the world. It is suitable for cats weighing up to 12 pounds and airline approved. The full view might help alleviate the anxiety of traveling for some cats. Large ventilation holes on the side will keep air circulating, and built-in locking mechanisms will keep your cat safe.
Made from breathable and durable canvas and acrylic, this backpack is lightweight and water resistant. The brightly-colored space capsule-like design is cute and eye-catching. The hard top and base provide protection for your cat and keep her feeling safe and secure.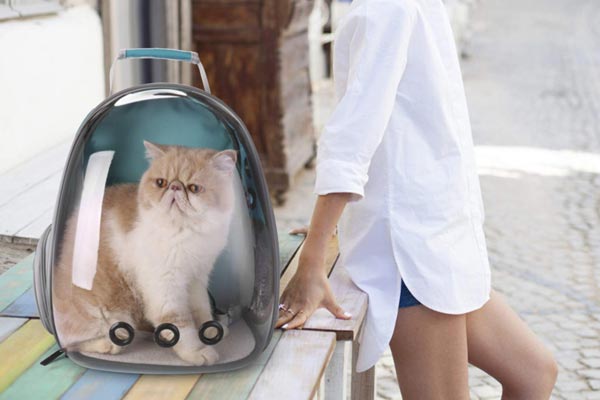 Lollimeow Pet Carrier Backpack, Waterproof Bubble Backpack Carrier, Cats and Puppies,Airline-Approved, Designed for Travel, Hiking, Walking & Outdoor Use
🐱【Eye- catching Clear Window Design】Cats Love to Keep a Close Eye on Their Surroundings. Clear window makes it come true that cats are able to see everything and bring travel more fun.
🐱【Excellent Ventilation】9 large Ventilation Holes on both sides and front, left and right ventilation nets ensure fresh air for fur-kids.
🐱【Functional & Well made】The pet backpack is superior in materials and excellent in workmanship. Made with High-Quality Pet Safe Materials, Waterproof, Easy Clean and Lightweight. The pocket on the other side is nice to fill in pet snacks.
🐱【Be Close to You】You can carry the backpack in the front of your body. The little opening on one side is nice to reach in and pet her when she's nervous. Built-In security leash makes sure the safety.
🐱【Item Dimensions】 11.4" L x 11" W x 16.5" H. Suggested Weight: 0-12lbs for small to medium cats, 0-10lbs for Dogs,puppies. Most Airline Approved under seat. Important: Please Check your airline requirements before traveling.
Pros
Good price
Cute
Provides a 360 view for your cat
Side pocket
Can alleviate anxiety in some cats
Cons
Gets hot on hot days
Easily scratched
Too small for some cats
5. Lemonda Portable Travel Pet Carrier
The Lemonda backpack/handbag's bubble design is cute, fashionable, and functional. It fits cats up to 14 pounds in weight, and it is waterproof and lightweight. Cats like to look out the transparent window and interact with the world around them.
Made of high-density acrylic and breathable canvas, this backpack can be worn on the front or back. It has great ventilation, a huge bubble window with ventilation grommets that can be replaced with mesh, a velvet pad for comfort, and a built-in lock for safety. It is comfortable to wear, has padded shoulder straps, keeps its shape, and comes in a variety of fun colors.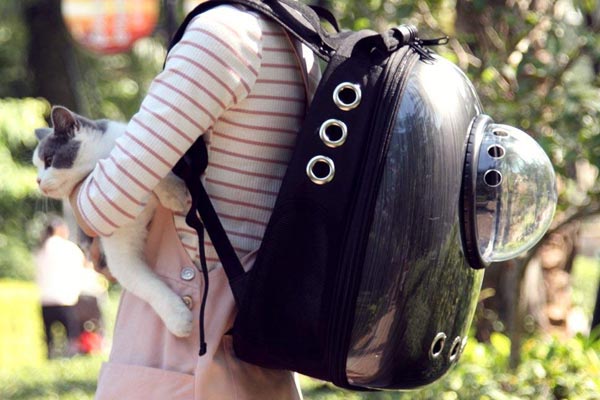 Pros
Comfy for cats and people
Cute, nice colors
Cats love it
Secure
Top mounted handle
Holds cats up to 14 pounds
Plenty of air holes for ventilation
The velvet pad is easy to remove and clean
Cons
No waist strap
No instructions
Expensive
The Plastic dome can get scratched or cracked
A guide to buying a cat backpack
What factors should you consider?
According to Jackie Kelly of PetMD, getting the right cat carrier depends on what type of cat you have. First, you will want to check your cat's size and weight to make sure that your cat will have enough space to move around comfortably and see out the window.
Weigh your cat to make sure the backpack is strong enough to hold your cat securely. If your cat exceeds the weight limit, it might affect the safety of the backpack.
Most fit cats up to 12 pounds, but some are made for smaller or larger cats. If you have a very large cat, you might want to consider getting the Fat Cat backpack that holds cats up to 20 pounds.
Your cat's personality is also a factor. If your cat is adventurous and likes to see the world, consider getting a backpack with more windows and visibility.
This type of cat will appreciate a bubble window that provides an unobstructed view of her surroundings. If your cat is shy or doesn't like confined spaces, a backpack might not be appreciated.
Comfort and safety for your cat are important considerations. For your cat's comfort, choose a backpack with plenty of holes for ventilation and mesh, a solid base that won't sag, and soft cushioning. Look for a backpack with a sturdy frame that won't collapse so your cat won't get injured or escape.
For safety, be sure it is durable, high quality, solid, and escape-proof. The fabric should be strong and resistant to tearing, and the mesh should be tough so your cat won't be able to claw through it. It should have a place to attach a leash. Be sure that the zippers lock, that the seams are secure, and that there is a strap to keep it closed.
Using a harness and leash is a good extra measure of security, but if you do so, be sure the leash is long enough so your cat can move around. This Adventure Cats article shows how to leash and harness train your cat.
Functionality and versatility are also important to consider

.

Some cat backpacks have pockets for extra storage. Some can be used either front- or rear-facing. Others come with extra features like water dishes, and wheels, or can double as car seats. Also, look for backpacks that are easy to use and clean. Wide entry points or multiple entry points make it easier to put your cat inside, and removable pads and covers make it easy to clean.

If you will be using your cat backpack for hiking and outdoor adventures, it will be important to get one that is comfortable to wear and easy to carry. Look for a backpack with wide and padded shoulder straps, a chest strap, and a waist strap that is waterproof and lightweight. If you are planning to take your cat with you on flights, be sure that it is airplane compatible.

A final consideration might be style and color. Suzy Strutner writes in the Huffington Post that cat backpacks come in a wide assortment of shapes, styles, and colors.

Getting a cool-looking and vibrantly colored cat backpack will get you plenty of looks, comments, and questions. Carrying your cat around in a space capsule is a great way to get attention and have some fun.
How can you get a cat used to a backpack?
Getting a cat used to a backpack will probably take some time and patience. Ken Lamprecht of PetMD writes that getting your cat used to a carrier when young is the best way to acclimate your cat to it.
Andie Furry of Your Cat Backpack suggests treating the backpack like a toy. Put toys and treats in the backpack to entice your cat to check it out and then give your cat time to get used to it. Leave it out so your cat can explore, play, and nap inside of it.
When you first put your cat inside, don't keep it closed for long. Start out with short walks and gradually build up to longer ones. In order to avoid negative associations, don't use it for trips to the vet at least initially. Use it several times a week, and reward your cat with treats after you take her out for a walk.
As this YouTube video shows, opening the backpack with your cats is a good way to get them interested in checking it out.
Is a cat backpack carrier better than a traditional carrier?
A cat backpack has many advantages over a traditional carrier for both you and your cat. For you, it will be easier to carry because the weight is more evenly distributed rather than being concentrated on one side of your body.
It will also give you more freedom of movement and free up your hands. The convenience makes it easier to bring your cat along with you on outings. Many cats prefer a backpack, and if your cat is happier, you will be too.
Most cats will prefer a backpack because they can see better out of the windows, they will be higher up, and they will enjoy a smoother ride.
They will feel safer and less intimidated because they will be able to see clearly and won't be swinging around. Cat backpack carriers also have the advantage of being unique, adorable, stylish, and fun. According to REI, once cats get used to traveling in a backpack, most will enjoy the adventure of seeing the world.
Final thoughts
Cat backpacks are easy to carry, practical, and safe. Most cats adjust to them over time and come to enjoy them. More versatile and better looking than traditional carriers, cat backpacks are more comfortable for you and for your cat. It is no surprise that they have been growing in popularity ever since a photo of a cat in a bubble pack went viral a few years ago.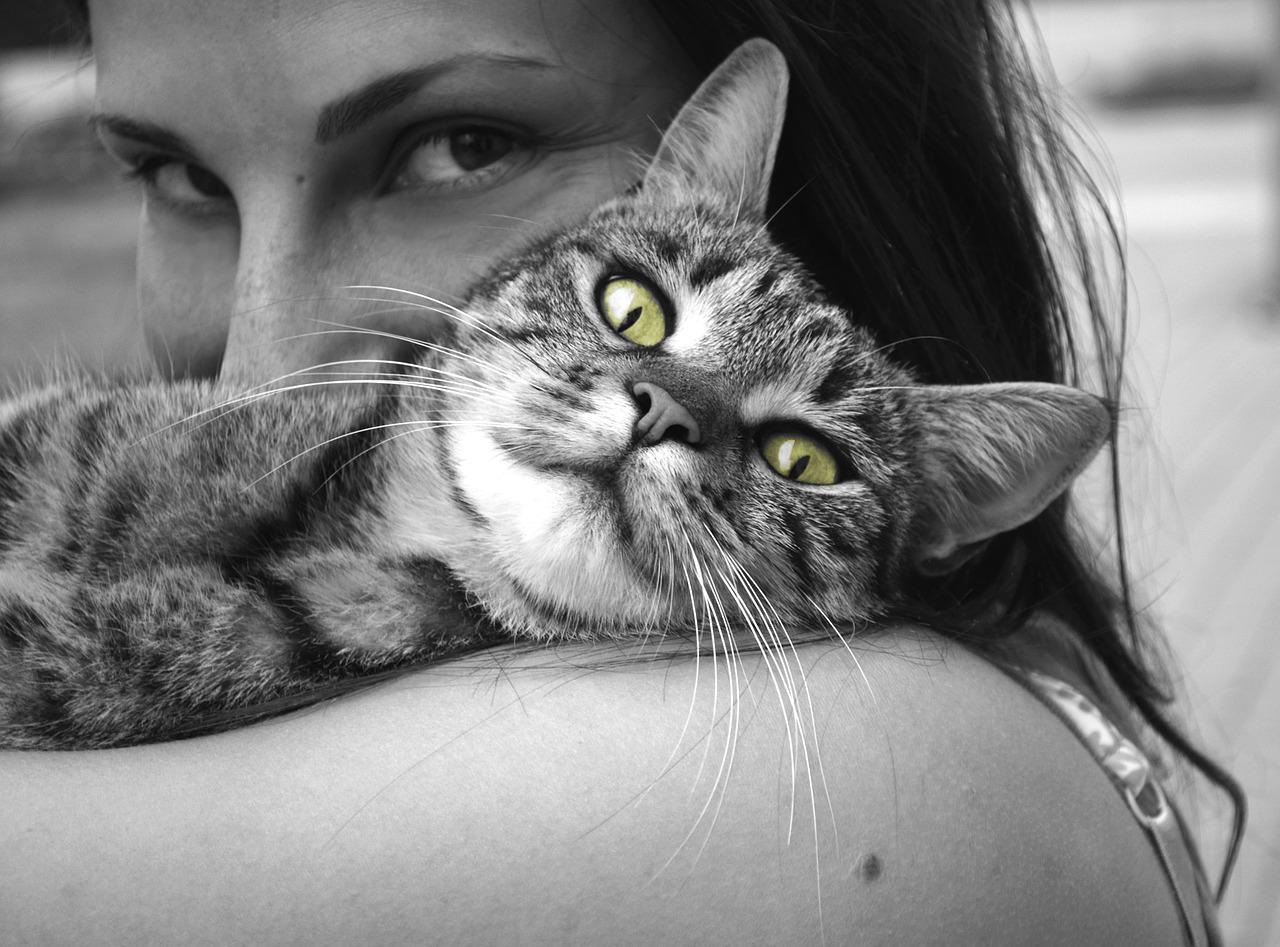 Hi, This is Alexa, and I love cats. This Website is a Complete Journal about how to travel with a cat and other information about Cat Health, Cat Training, Cat Behavior, Cat Foods and more. I hope you find it useful.