We're an affiliate: We hope you love the products we recommend! Just so you know, we may collect a share of sales or other compensation from the links on this page. Thank you if you use our links, we really appreciate it!
Many people may be wondering why cat strollers are necessary. There are many reasons for this. First, they come in handy for injured and old cats. Ones that are not able to walk very far.
Second, they can be especially handy in urban areas where there is not a lot of nature. When cats get outdoors in those areas, they are particularly vulnerable to risks such as getting run over, getting infected, stolen, or even shot.
Third, if you're the type of person who hikes on a regular basis or travels a lot and takes your cat with you, a stroller provides a lot of leeways where a pet carrier does not.
Also, you don't have to worry about your cat getting into a dangerous situation or becoming anxious while you're away.
Strollers also provide many means of safety. However, not all of them stand up to your cat's desire to explore.
That is why you need to consider some important factors before investing in the one that's right for you and your cat.
Many store owners also now allow pet owners to bring their pets into their stores as long as they're perfectly secure inside a stroller.
As a result, you can also now run errands, go to festivals and large events with your cat. However, you will need to watch for signs of overstimulation or anxiety.
Here are the Top Five Cat Strollers
Note: Most pet strollers can fit both cats and small dogs.
1. ibiyaya Multifunction Pet Carrier
The ibiyaya has five uses, which makes it perfect for everything from walks to road trips. Its large opening makes it very easy for your cat to roam and step out.
It comes with multiple accessories such as a removable washable pad and a telescopic handle.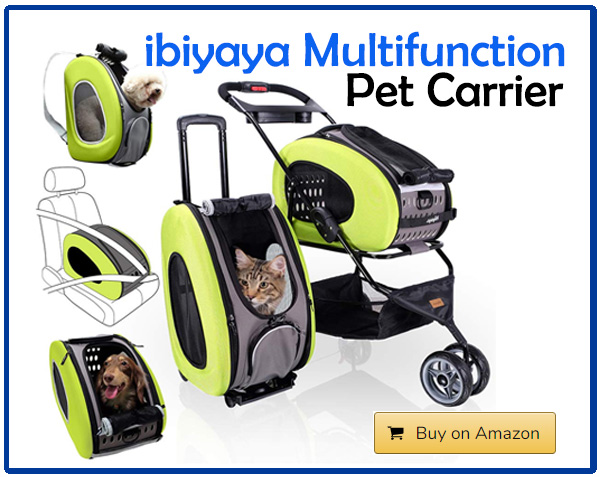 Pros
It can also function as a backpack and car seat. The switch only takes a minute and is very easy. The two outer shells simply collapse, collide, and then zip together.
The large opening provides a lot of slack for your cat to rotate any which way while stepping out of it.
It accommodates most cats, even those that are overweight. However, ones weighing over 20 pounds tend to have less room in it.
Cons
It is not aircraft approved.
It can get bulky as a backpack so don't try to carry it that way if you have back issues or arthritis. However, it is not usually too uncomfortable.
The wheels are not nature-friendly.
2.VIVO Three Wheel Pet Stroller
The VIVO has multiple windows, which promote ventilation and plenty of sunshine. Its multiple zipper points allow for a quick and easy in and out. The top of the carrier collapses backward to allow for a larger and safer opening.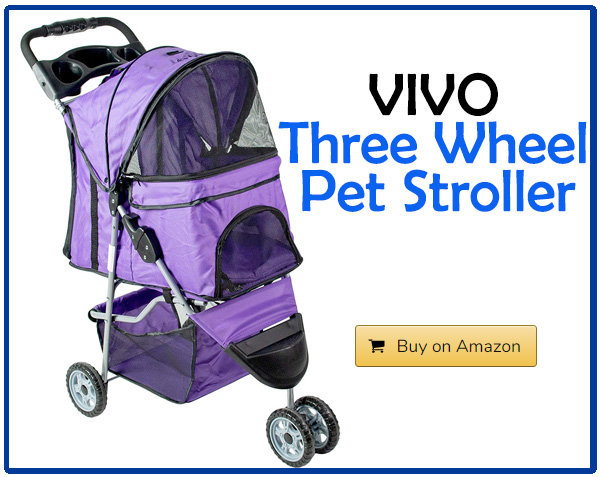 Pros
It is designed to hold any cats weighing up to 30 pounds.
It comes with two cupholders, a small basket underneath, and a center tray.
It comes with its own leashes.
It comes with a removable pad and a removable cover.
Cons
The wheels have been known to get unstable after a time. They seem to be made out of foam or plastic.
It is not very friendly for anything aside from pavement ground. It tends to tip otherwise.
Make sure that the zippers are secure when it arrives. Cats have been known to be able to push their heads through the small gap at the beginning of the zipper close. One thing you could also do is connect the harness clips.
The manual directions are not known to be very clear.
3. PetLuv Happy Cat Premium
The PetLuv could, and often does, double as a bed. It is known for its flat and rectangular shape.
If your cat is large, this is especially ideal as it has that much space. The mesh doors are very large, which makes it very breathable and lets in a lot of sunshine.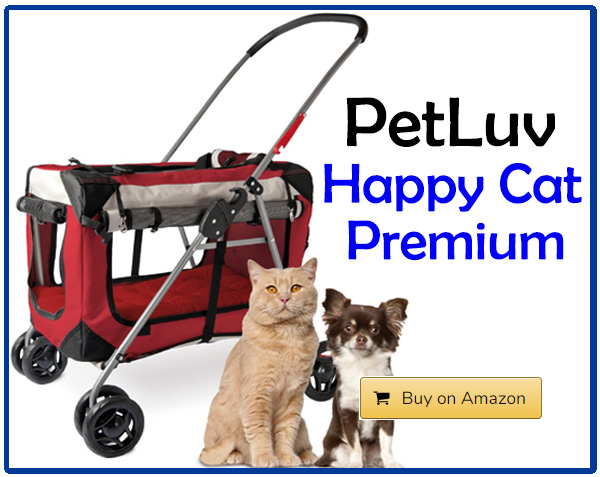 Pros
It is known to reduce anxiety in cats. As a result, it is ideal if you're about to travel for a long distance, as far as 1,000 miles. It's also ideal if you're currently traveling in an RV.
The shoulder straps are adjustable.
It also comes with its own seatbelt restraints.
The cushion is easily washable so if your cat tends to have accidents, this is the one for you. However, you may want to consider adding a disposable pet pad.
The carrier is easy to flatten for storage or travel.
It can fit up to three cats at once, provided that they're all 15 pounds or under.
Cons
The bottom sags slightly when it's lifted but this can be an advantage if your cat is overweight.
It tends not to fit well on buses and taxis. If your veterinary clinic is small, there's a chance it could take up a lot of space there as well.
The cat's claws have been known to get stuck in the mesh.
There have been some complaints about the handle being flimsy.
4. Paws & Pals Double Dog Stroller
As its name suggests, this is a double stroller that can hold at least two cats at a time. It is foldable which makes it easy to store and travel in. The large mesh screens make it easy for airflow and sunshine to get through.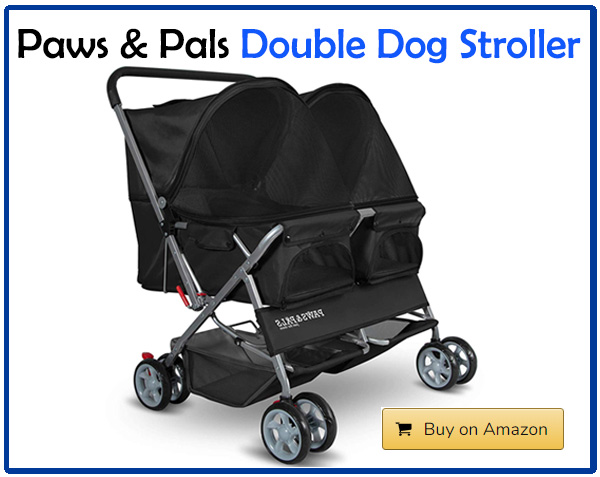 Pros
It has a large undercarriage that gives it the ability to hold up to four cats.
It is designed to be so durable that it withstands everything from rambunctious cats to bad weather.
It is designed to rotate a full 360-degree circle so it is very easy to turn.
Cons
The multiple mesh screens don't allow the zippers to connect. So if your cat's the super curious type that loves to dart out any chance it gets, this might not be for you.
Since it's a double, it tends to be very difficult to get through small doors. As a result, it is not ideal if you travel on buses.
It is not great for cats who are obese. However, it can accommodate large breeds, such as Main Coons.
5. Paws & Pals Dog Stroller Easy Walk Folding Travel Carriage for Pets
This is a two-in-one stroller that makes traveling and trips to the veterinarian very easy. It makes you able to make the transition without your cat feeling disrupted. The mesh screens provide a nice view and ventilation for your cat.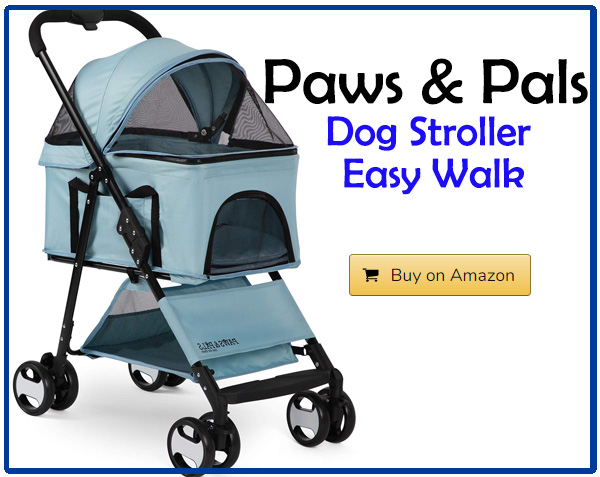 Pros
Its travel carrier is detachable, which makes it ideal if you travel a lot or are about to move.
The canopy has a leather clip so that your cat won't be able to escape so easily.
The multiple mesh windows make it easy for your cat to enjoy the sunshine and fresh air without risking infection from insect bites and the other risks.
It can hold up to 50 pounds.
It comes with two straps that hook the collar. As a result, you can leave it open while your cat stays secure inside.
Cons
The wheels have been known to get a little flimsy. However, it is generally designed to be able to stand everything from pavement to rocky terrains.
Factors to Choosing the Right Cat Stroller for You
According to AnimalWellnessMagazine, The first thing to consider when purchasing a stroller for your cat is your cat's size. Its weight makes a difference, as well as cat strollers, are not one-size-fits-all.
If you have multiple cats, you can get one that has multiple enclosures for each of them. If you try to squeeze them in one area, they become like small children. They'll fit each other for space.
If you're a runner or walk, some cat strollers accommodate that as well. If you're a hiker who regularly walks rough terrains, you're probably better off getting a three-wheeler as they tend to have more slack than four-wheelers.
Particularly if you're the type of person who is outdoors much of the time, you also want something that has a few perks for you. This may include cup holders, storage pouches, etc.
Genuine manufacturers are usually eager to list their safety features. You want to look for things like mesh screens, seatbelts, a quick lock brake, etc., that will make it easy for your cat to breathe while maintaining its safety.
Also, make sure it's pet pad friendly. Chances are, you're probably training your cats to let you know when they need to go so they can do so outside of the stroller. However, it may not always be safe to stop and accidents do happen.
When you're choosing a stroller for your cat, you want to make sure that it's one that you will be using on a regular basis. Since it can be multipurpose, chances are, you probably won't want to store it away very often if at all.
When Does My Cat Need a Stroller?
Strollers are especially a blessing for cats who are injured, blind, recovering from surgery, or are older. Cats have been known to become depressed when they can't walk or go outdoors at all. Fresh air is also as important to a cat's health as it is to ours.
It is also a good alternative for when the weather's very hot. It is also great if you're traveling and taking your cat with you.
You could probably even run an errand with your cat as many retail establishments now accommodate strollers animals.
If you live in an urban area that doesn't have a lot of nature in it, something like a stroller is essential then as well. When cats go loose outdoors in those areas, they face even more hazards.
For example, it would be easy for them to get picked up by animal control or people with criminal motives.
A Special Tire Size to Keep in Mind
The 12-inch EVA tires tend to be especially favored by a lot of cat owners. This is because they are so lightweight. Even if they run over something sharp such as broken glass, they don't usually need to be refilled with air.
Is the Cat Stroller Better than the Pet Carrier?
One major difference between a stroller and a carrier is that the stroller can be multi-purpose. It is also more fun to push a stroller around on the ground than it is to have to lug around the more weighed down pet carrier.
Taking your cat around in a pet carrier all the time just wouldn't make that much sense. Pet carriers don't make cats very happy and weigh you down very quickly.
Plus, it would just look weird if you walked outdoors with it in your hand all the time with your cat unhappily howling from inside of it.
Also, the stroller is always friendly for your cat to use no matter what. They can use it as a napping bed, to watch the kids play, or even to watch your garden.
If you have kids, chances are, they'll probably incorporate the stroller in their play at some point, too. Carriers don't provide that kind of luxury.
If you have both a cat and a dog that you walk on a leash, a stroller can come in handy for that, too. As long as your dog isn't too rough when you walk it, it's pretty easy to grasp your cat's stroller handle with one hand and walk the dog with the other.
According to CaringForASeniorDog, Strollers have also made it possible to bring cats to charity events and festivals as well.
Although considering all of the health and overstimulation risks, you probably don't want your cat to get out of the stroller at that time.
Most cats have also never seemed to be very comfortable traveling long distances or in airplanes in pet carriers. With things like their fleece lining, strollers tend to provide much more comfort during uncomfortable travels.
According to FunStuffForDogs, Strollers also make it easier to travel in boats and carriers. Cats don't like unstable ground surfaces and you probably wouldn't get yours onto a boat otherwise.
The stroller also prevents them from getting loose and wandering into a strange place that is unfamiliar and could be dangerous.
Getting Your Cat Used to the Stroller
Not all cats warm up to the stroller right away. If it doesn't, one good way to start is to have it sit around in your home for a few days. When you do, your cat will probably use its natural curiosity and want to explore it at some point.
If that doesn't work, try putting one of their favorite toys or a treat in it. Chances are this is will probably convince your cat to associate the stroller with comfort and contentment. Or you can simply reward your cat the first few times it gets into the stroller.
However, one thing that you should never do is force. The last thing that you want your cat to associate the stroller with is the fear of physical restraint. Or any degree of fear at all.
Don't be discouraged, however. Chances are, your cat will probably figure it out sooner or later. You just need to let it do so at its own pace.
Once it does, chances are, it will probably jump in it eager to go. Some cats simply adjust to change faster than others.