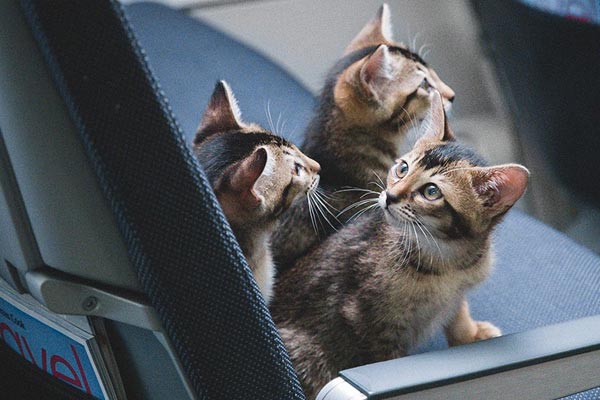 There are dozens of reasons why your cat may need to fly on an airplane with you, but the planning begins long before the actual flight.
To make sure your cat has a safe journey with you, there are some important things to be aware of, especially if they're old enough to even fly on an airplane in the first place.
Deciding To Fly With Your Cats 
If you are just traveling, it might be best to leave your cats at home. It can be very stressful to take cats on a plane.
This YouTube video shares some of the information that you might want to consider when making this decision. It is also very helpful to see how someone else handled flying with their cats.
The rest of the information you need will be written in this article.
Safe Age To Fly
Although this is a straightforward question, the answer varies a little bit depending on your airline. According to Pet Travel Blog, most airlines have a minimum flying age between eight weeks for flights within the US and at least 15 weeks for international flights. However, this can vary largely depending on your airline.
Major Airline Pet Age Restrictions
As I mentioned before, each airline has different rules for the age your kitten has to be in order to travel safely. Your vet may also have a different opinion than the airline.
It's better to be safe with your pet and make sure they are really ready to fly before planning your trip. Here are some of the different requirements from different major airlines;
Delta Airlines Minimum Pet Age
Delta is one of the more strict airlines when it comes to the age of your pet. According to their website, in order to take your cat on a Delta flight, they must be at least 10 weeks old for a domestic flight in the United States and 16 weeks old to fly out of the country.
United Airlines Minimum Age
In order to take your kitten on a flight with United Airlines, they need to be at least eight weeks of age.
However, if your kitten is under two pounds, they should be at least 10 weeks old before flying. International regulations with United vary depending on which country you are traveling to.
American Airlines Age Restrictions
American Airlines is one of the more lenient airlines when it comes to the age of your pet. In order to fly with your kitten on American Airlines, their website says that they must be at least 8 weeks of age for domestic flights. No details are given for connecting international flights.
Southwest Airlines Minimum Flying Age
Southwest Airlines is a little strict when it comes to flying with your pets. According to the Southwest website, no pets are allowed on international flights at all. However, to take your cat on a domestic flight, they can be as young as 8 weeks old.
Safe Flying Age Summary
Despite each airline having different rules, the average age that they allow kittens to fly is between 8 and 10 weeks old for domestic flights.
However, many airlines have extremely different rules and restrictions for international flights, some international flights and flights to Hawaii will not allow pets in the cabin at all. Always check with the airline before flying.
Other Concerns For Flying With Kittens
Once you've checked that your kittens are old enough to fly, there are still plenty of things you have to prepare before heading to the airport.
As each airline has different rules for the ages of animals allowed to fly, they also have different rules for how your pets can travel.
Calling Ahead
When you travel with pets, the worst thing you can do is save everything for the last minute. Before you book your flight, you should call the airline to make sure that pets are allowed on the flight and that they will have room for you to travel with your pet. It's also smart to follow up about this 24-48 hours before your flight.
Adjusting Your Kitten
Before your flight, it's a good idea to prepare your cat for the feelings and sounds of an airplane. A good practice would be to drive your cat around in the car for short amounts of time.
If it is possible, drive to the airport and sit outside with them in their carrier. Eventually, they will become acclimated to the sounds. Reward them with treats for good behavior.
Consider The Right Carrier
Kittens are not old enough to fly in the cargo area, so you will at least need an airline approved soft carrier. When choosing your carrier, you want to make sure that it is TSA approved, it will fit underneath the seat in front of you, and that it will be comfortable for your kittens.
The Expandable Pet Carrier by Pet Peppy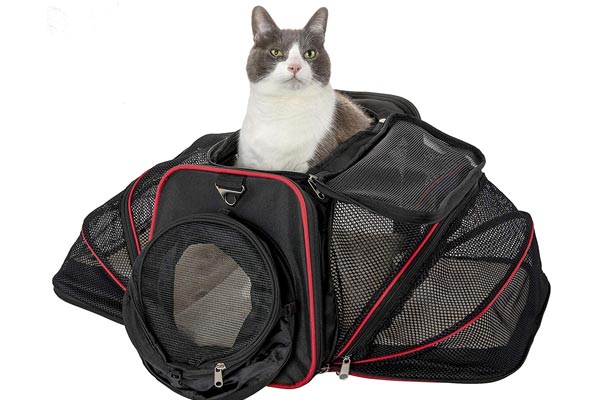 This carrier is not only TSA approved, but when you are not on the plane, your kittens and momma cat (if you decide to bring her along) can stretch out when you're at the airport.
The ventilation will allow your kittens to breathe freely and keep them from overheating. The liner is also washable if your kittens have an accident in-flight.
The Luxury Pet Carrier by Sleeko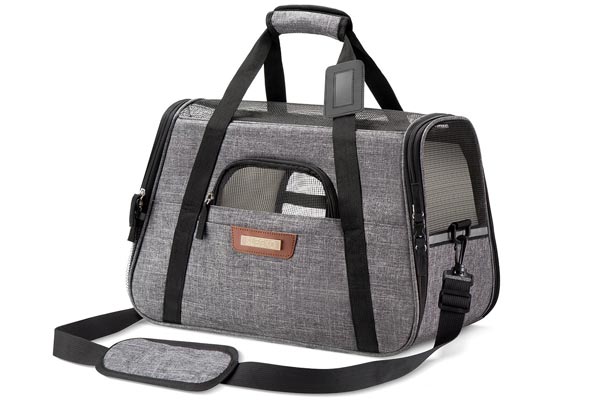 Another TSA approved carrier, this one by Sleeko is a slimmer design and focuses more on storage and comfort.
There are two removable fleece sleeping pads included and two mesh windows to allow your kittens to breathe in flight. The carry straps are padded and there is a place for their pet ID tag and two pockets for extra storage.
Expandable and Foldable Pet Carrier by Pawdle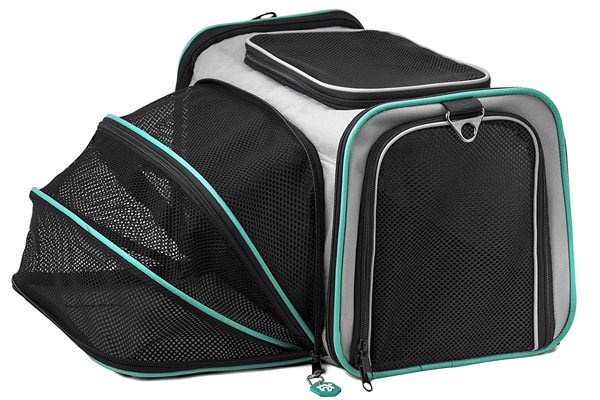 This pet carrier also has an expandable area, but it is a little smaller than the first one we talked about. It is made for smaller pets, so it will keep your kittens cozy.
Because only one side opens, there is a lot more room for you to store things you may need for your kittens.
The Soft-Sided Pet Carrier by Bencmate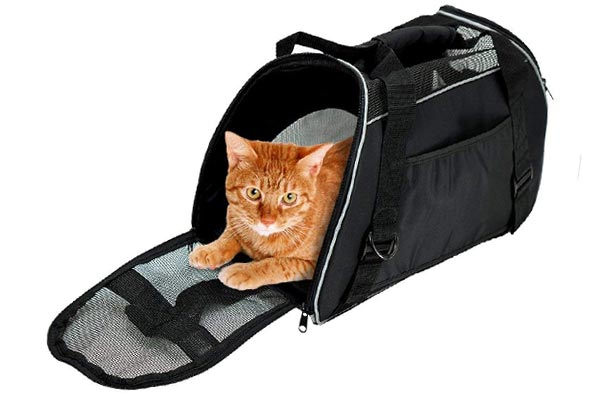 Check the prices of Amazon best seller
This carrier is an expensive, but practical choice. It is compliant with most airlines and has soft cushions inside to make your kitten feel comfortable.
It has four soft sides with mesh panels for ventilation. There is also a pocket that you can use for storage. This carrier is easy to carry and travel with.
Sherpa on Wheels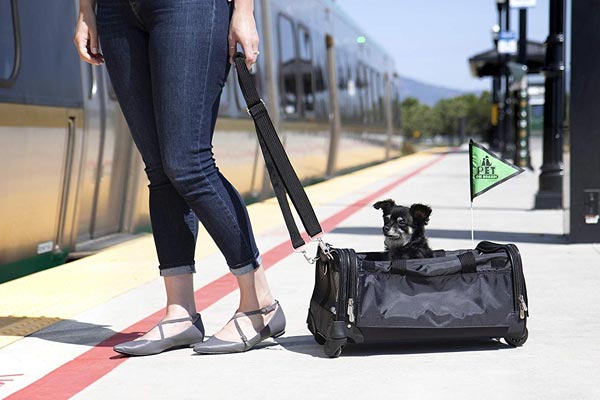 The Sherpa on wheels is a versatile carrier that is in compliance with most airlines. It has four mesh panels for ventilation and privacy straps that roll down if something nearby is stressing out your cat.
The carrier features recessed wheels for smooth motion while traveling through the airport.
Sleepypod Air In-Cabin Pet Carrier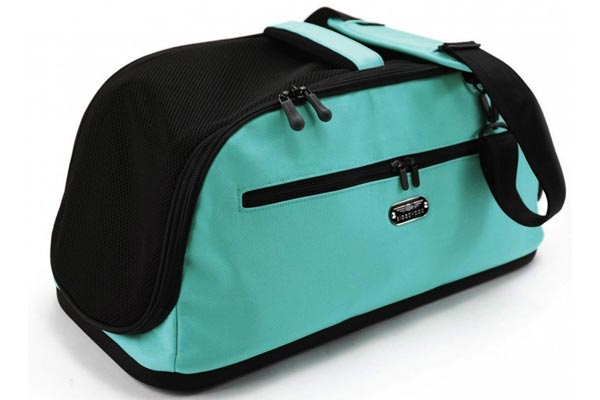 This is the carrier that was featured in the video above. Although it is on the more expensive side, it is worth the extra money if you can afford it.
It is very comfortable for your cats and airline approved. It also has a soft shoulder strap that makes it easy to carry. This bag is also car-safe, so once you finish your flight you can keep using it for traveling.
Choose The Right Pet Carrier
While these are some great options for a carrier, there are still many more to choose from. When choosing the right carrier for your kittens, you should make sure that it is big enough for your kittens to stand, turn around and lie down.
It should also have a leak-proof or absorbent floor. The carrier should also have strong straps that won't break.
Prepare Your Carrier
Once you have picked the right carrier, it's time to get it ready to travel. Make sure you have your liners together and all the paperwork your pet needs in the pockets.
Also, make sure you pack a small pet dish to feed them on the plane or in the airport. Make sure that you put a "Live Animal" label on your carrier.
De-Stress Your Carrier
Most cats associate their carrier with one thing; the vet. The idea of going to the vet stresses animals out. Help them get used to their carrier.
Keep it out and let them sleep in it or feed them in it. Once their inner stigma against the carrier is broken, your trip will be much more pleasant.
Pre-Flight Vetrenarian Trip
Speaking of the vet, you will need a valid and recent health certificate from your vet in order to fly, so make sure you book an appointment as close to your flight as possible.
You should also make sure that your cat has all the vaccines necessary for the flight. Especially make sure to have their rabies vaccine certificate with you at all times.
To Sedate Or Not To Sedate
One thing is constantly brought up when you talk about taking animals on an airplane. Do you want to sedate them, and is it safe?
Most veterinarians recommend against sedating your animals unless it's absolutely necessary. If there is a screaming baby on almost every flight, a crying cat shouldn't matter either.
Costs For Flying Your Cat
As every airline has their own rules, each airline has their own prices. On many of the major airlines, it can cost up to $125.
However, some of the airlines are cheaper, such as Southwest ($95) and Jet Blue ($100). Make sure you are not caught off guard by this price. It would actually cost even more if they were flying in the cargo hold.
Preparing For The Flight
It may seem unimportant, but you should clip your kittens' nails before the flight. If you don't, they could scratch the interior of their carrier. You should trim a cat's nails at least every two weeks.
If you will be traveling longer than this, you should bring clippers with you. You should also bring latex or rubber gloves to remove waste from the carrier.
The Day Of Your Flight
On the day of your flight, you should follow your normal routine to keep your kitten calm. About four to six hours before your flight, you should feed them so that they can pass everything before the flight.
They can have water up to one hour before the flight, however. The goal should be for them to not need anything on the flight at all.
Arrival At The Airport
When you are traveling with pets, it is very important that you arrive at the airport earlier than usual. If it is possible, it would be smart to pay for pre-boarding so you don't have to stand in line with your kittens.
Arriving early will give you plenty of time to adjust them to the airport and allow you to check in without being stressed.
Going Through Security With Your Kitten
Now that you have most of your prep work done, it's time to think about the day of travel. Your carrier will have to go through the x-ray machine at the security check and your cat cannot.
This means you will have to hold your kitten and it would be a great idea to have a leash or harness with you. Also, make sure your kitten's paperwork is easy to get to.
Ask For A Private Screening Room
If you want to avoid the mess of holding your cats in a public space, you can ask a TSA rep for a private screening room for free.
This is the safest way to get your cat through security without giving them a chance to run away. When cats are stressed out, they tend to bolt.
The Plane Ride
No matter what happens, you are not allowed by law to take your kitten out of their carrier on the plane. Make sure everything is situated before you board the aircraft.
Also, make sure you can easily open the top zipper to feed them or remove waste if you need to during the flight, although hopefully, you won't need to do any of these.
Now you are all ready to fly with your kittens!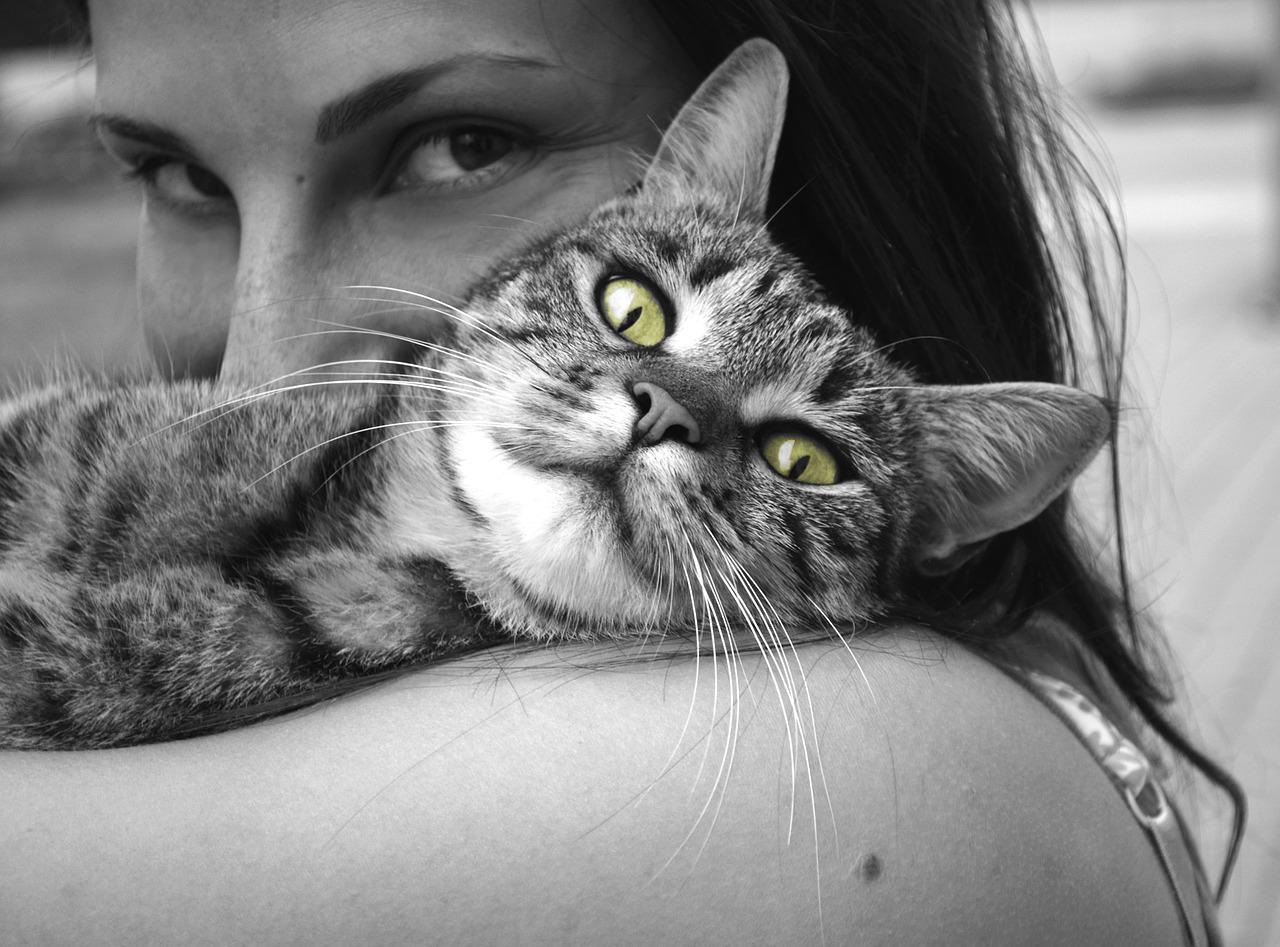 Hi, This is Alexa, and I love cats. This Website is a Complete Journal about how to travel with a cat and other information about Cat Health, Cat Training, Cat Behavior, Cat Foods and more. I hope you find it useful.