She's coughing. She's stretching out her neck. As you watch and cringe, a big wet thing comes flying out of her mouth to splatter on the floor.
Congratulations! Your cat just hacked up another hairball.
5 Best High-Quality Cat Grooming Tools
Delomo Pet Grooming Gloves

Bousnic Cordless Clipper

Burt's Bees For Cats Natural Dander Reducing Wipes

FURminator Deshedding Tool

Hertzko Electric Pet Nail Grinder
The good news is that you can reduce the frequency of this whisker-filled drama by investing in the right cat grooming tools.
If you make grooming a priority, you can stop things like shedding, clawing, flaking, and excessive licking.
The first step is figuring out which cat grooming products are right for you. Fortunately, we have a few suggestions.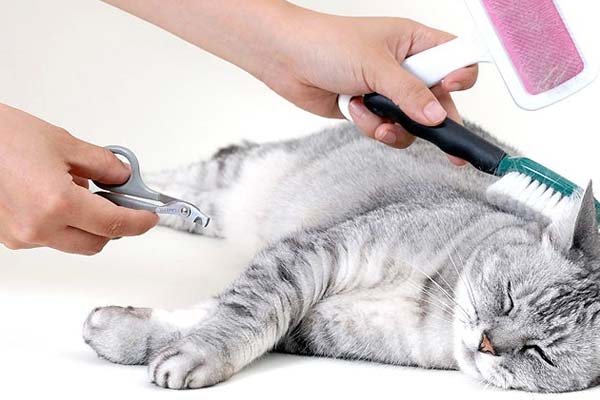 1. Delomo Pet Grooming Gloves
Grooming gloves are a dime a dozen, but the Delomo Pet Grooming Gloves stand out from the rest with an innovative anti-shedding design and a lot of special features meant for cat owner convenience.
The first thing that you'll notice about the gloves is that they have 255 silicone tips scattered across the palms and fingers.
These are soft, flexible tips with a lot of giving, and they won't hurt your animal at all. You might even be able to put them to sleep with a body massage that just so happens to collect loose hair along the way.
Another benefit of the Delomo Pet Grooming Gloves is that they allow the full use of your fingers.
Instead of struggling with stiff plastic brushes at awkward angles, you can use a dexterous grip all around your cat's face, tail, stomach, and inner legs.
The gloves are also designed to be effective in all situations. It's okay to get them wet; the silicone is waterproof, and the breathable mesh cloth will dry out quickly. Deshedding is easy when you combine it with bath time!
The fit of the Delomo Pet Grooming Gloves might be a little strange. While there's an adjustable strap around the wrist to ensure that they won't fall off, you can't change anything about the fingers; so it's ultimately a "one size fits all" product.
This might or might not work for you.
All things considered, however, the Delomo Pet Grooming Gloves are a gentle product that will work on cats and dogs of all types.
Whether you have a short-tailed Bombay or a curly-haired Cornish Rex, these gloves can groom them.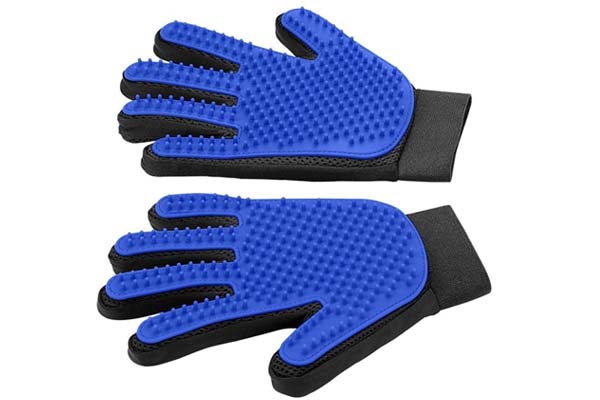 Sale
【Upgrade】 Pet Grooming Gloves Cat Brushes Gloves for Gentle Shedding - Efficient Pets Hair Remover Mittens - Dog Washing Gloves for Long and Short Hair Dogs & Cats & Horses - 1 Pair (Blue)
UPGRADE VERSION: With enhanced 255 silicone grooming tips, mimics the touch of your hand for a soft and relaxing massage; This flexible, slip-on grooming gloves allow you to brush away dirt and loose hair from cats and dogs
Hair Remover: Perfect for long, short and curly haired dogs, cats, horses, and other pets, grooming the hair quickly, gently and effectively; The shedding hair sticks to the glove, making it easy to peel and throw hair away
Bath Brush: Bathe the pets with this glove, which will clean the pet hair easily and give your pets a gentle massage without hurting their skin; Five finger design allows you to groom hard-to-reach places like tail or face
Skin-friendly: Free from any materials which could cause skin damage; Soft rubber ensure gentle massage and grooming without painful removing of fur or scratching the skin; One size fits all, it has adjustable wrist strap for a comfortable fit
What You Get: 2 blue DELOMO pet gloves (1 left-hand and 1 right-hand; The left-hand glove is customized for left-hander)
Pros
Soft silicone tips for petting and massaging
Adjustable wrist strap
Can be used during bathtime
Nimble fingers
Cons
2. Bousnic Cordless Clipper
Opening the box for the Bousnic Cordless Clipper is a bit like opening a stocking on Christmas morning.
There's a lot of stuff in there, including clippers, scissors, several different attachment combs, a charging cable, a cleaning brush, and a bottle of blade oil.
Its versatility, however, is one of the reasons why the Bousnic Cordless Clipper is such a popular cat grooming tool.
Not only can you adjust between two different speeds, but you can also swap between four different attachment combs of varying sizes.
You can even lower the volume level of the vibrations if they're scaring your pet! It's a great clipper for cats with anxiety.
Another nice feature of the Bousnic Cordless Clipper is that it's made with professional-grade materials.
The cordless frame is trim, flexible, and easy to maneuver around your cat's body; the ceramic teeth are sharp and precise.
The lithium-ion battery can be recharged at any USB power station. You can toss all of the extra parts into a bag when you're not using them.
One thing to note about the Bousnic Cordless Clipper is that it's technically advertised as a dog grooming tool.
However, it's also the #1 bestseller for cat clippers on Amazon, so don't be turned off by all of the pictures of pooches! The clipper will work just as well on felines.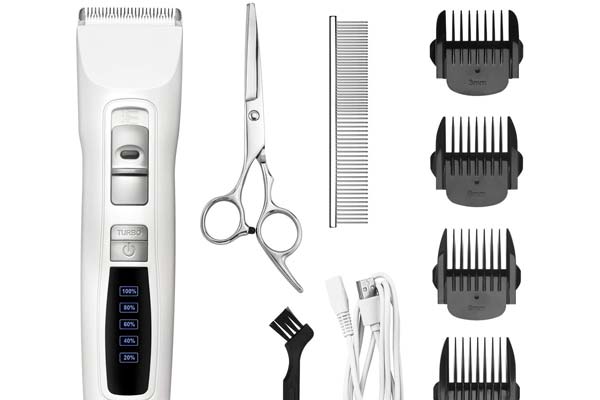 Sale
BOUSNIC Dog Clippers 2-Speed Cordless Pet Hair Grooming Clippers Kit - Professional Rechargeable for Small Medium Large Dogs Cats and Other Pets
COMPLETE SET OF DOG GROOMING KIT: Why spend a fortune on a pet salon when you can groom your pet's hair at home? This dog clippers includes everything you need to trim your dog's or cat's hair – an dog grooming clippers, 4 combs with different lengths, a cleaning brush, stainless steel scissors and comb, an oil bottle, a USB cable.
DO YOU HAVE AN ANXIOUS PET? Many pets get stressed and uneasy by the sound and the vibration of pet grooming clippers. However, the Bousnic skin-friendly pet clippers is whisper-quiet and has a very low vibration, so your pet won't get scared and you'll be able to trim its coat with ease and much faster!
PRECISION CUT AND CORDLESS DESIGN: It doesn't matter if your dog has straight or short hair – these dog hair clippers with the 2 speed levels and the ultra-sharp stainless steel and ceramic blades are going to groom its fur and create a flawless result! Our cordless dog hair trimmer also has an ergonomic design that allows to groom even the hardest-to-reach areas.
POWERFUL RECHARGEABLE BATTERY: Our pet clippers for dogs and cats have a built-in 2200mAh Li-ion battery that you can easily charge it with the USB cable. Once the dog trimmer are fully charged, the digital battery indicator will let you know that the device is ready for use!
Pros
Can be adjusted to multiple sizes, speeds, and noise levels
Rechargeable lithium-ion battery
Safe for full-body use
Cons
Power station not included
3. Burt's Bees For Cats Natural Dander Reducing Wipes
Made with honey, oatmeal and aloe vera, Burt's Bees Cat Wipes are an all-natural solution for dirty paws.
They're perfect for situations where you need to clean your kitty but don't feel like the stress of a full-scale bath!
The oatmeal will act as a gentle exfoliant that clears away things like skin flakes and dandruff.
The aloe vera will moisture your cat's skin and prevent redness, irritation, and inflammation. The honey will encourage the growth of clean, shiny fur.
You're probably familiar with the organic nature of Burt's Bees products, and their "Burt's Bees for Cats" line is just as wholesome.
In particular, these anti-dander wipes are made with 97 percent natural ingredients that are completely free of chemicals, colorants, parabens, and fragrances.
Are you tired of unpronounceable ingredients in your cat grooming products? Consider switching to a mild, organic product like Burt's Bees Cat Wipes.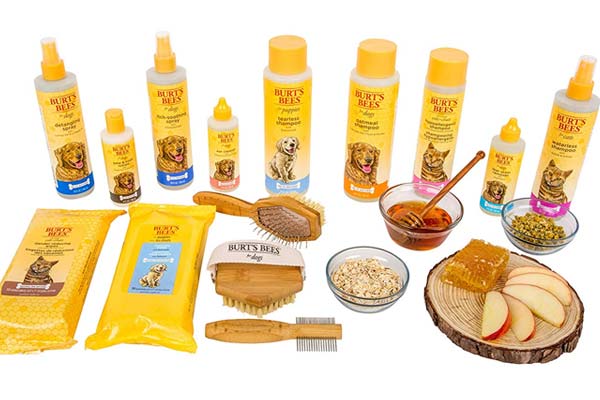 Sale
Burt's Bees for Pets For Cats Natural Dander Reducing Wipes | Kitten and Cat Wipes For Grooming, | 50 Count - 6 Pack (FF7372CP6)
#1 PET GROOMING BRAND IN THE USA*-Join the millions of pet parents who can-t get enough of Burt-s Bees for Pets by using America-s #1 pet grooming brand
FIGHTS CAT DANDER AND FLAKING - Burt's Bees cat wipes moisturize and deeply condition your cat or kitten's dry skin to reduce redness and flakes
MADE WITH THE HIGHEST QUALITY INGREDIENTS - All natural ingredients in Burt's Bees cat dander wipes include aloe vera and oatmeal. Aloe vera is a moisturizing anti-irritant which has been shown to reduce inflammation
SUITABLE FOR ALL CATS - These wipes are pH balanced especially for all cats and kittens, making them a great choice for your pet
100% SAFE - Veterinarian recommended formula, free of fragrances, sulfates, colorants, and harsh chemicals
Pros
pH balanced for cats
Made with all-natural ingredients
Safe to use on paws, tails, legs, and faces
Cons
Wipes can dry out quickly if not properly sealed in the package
4. FURminator Deshedding Tool
Shedding is more than just a nuisance. It can also impact everything from your indoor air quality to the gastrointestinal health of your cat, especially if they're already prone to hairballs.
It's important to invest in top-notch deshedding supplies if you want to avoid your cat ingesting too much hair during self-grooming. Thankfully, this is where the FURminator Deshedding Tool can help.
Made with two-inch stainless steel teeth, the FURminator Deshedding Tool is a precision instrument for grooming your cat.
It will gently comb through your cat's fur to reach the loose stray hairs of their undercoat, and it will pull away from the extra fluff without chafing, irritating, or tugging at their skin.
It's nice for owners as well. The grip has a padded handle for ease of use, and when you're done grooming your kitty, you can press a special "ejector button" to push all of the hair off the brush without any messy clean-up.
If you're looking for a solution to hairballs, consider the FURminator Deshedding Tool. It isn't the only de-shedding tool on the market, but it's one of the best.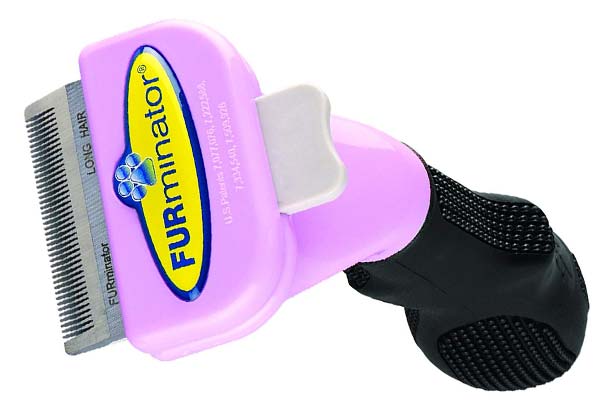 Sale
Furminator Long Hair deShedding Tool for Cats, Small
Stainless steel deShedding edge reaches through topcoat to safely and easily remove loose hair and undercoat
FURejector button releases hair with ease
Ergonomic handle for comfort and easy use
Remove loose hair without damaging the coat or cutting the skin when used as directed
deShedding tool for small (up to 10 lbs) cats with long hair
Pros
Can decrease shedding by as much as 90 percent
Close-set stainless steel teeth
Ergonomic handle
Cons
Not meant for cats that weigh more than 10 pounds
5. Hertzko Electric Pet Nail Grinder
Nail grinders have been gaining popularity in recent years as an alternative to sharp scissors and uncomfortable clippers. The Hertzko Electric Pet Nail Grinder is proof of why they work.
For starters, it's extremely easy to use. Just hold up your cat's paw to the diamond bit grinding stone, and the electric motor will softly, painlessly go to work on sanding down the nail. It won't hurt your pet any more than smoothing your own nails with a nail buffer.
There are three different ports that you can use depending on the size of your cat. There's also a removable port cover if you'd like to speed up the grinding process with more exposure to the diamond bit.
Last but not least, the Hertzko Electric Pet Nail Grinder has a micro USB port located at the base of the frame.
You can plug it into any USB charging station until the indicator light is at full strength. You'll never have to worry about batteries again!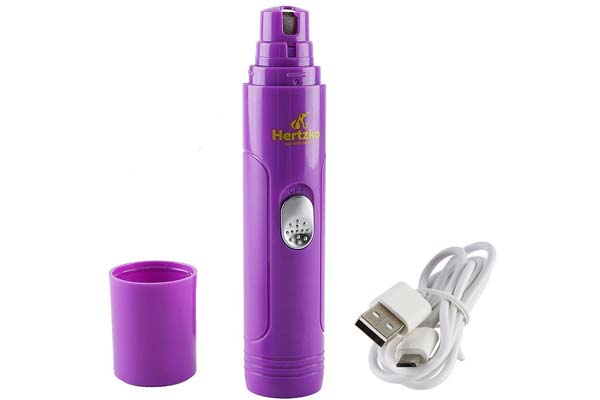 Sale
Pros
Premium grinding stone made of diamond bit
Multiple port openings for cats of different sizes
Includes USB cord
Noiseless
Cons
Might take a while for long or thick nails
Cat grooming tools come in all shapes and sizes, so it's important to do your research before you hit the "order" button.
Use this guide to help you find premium, high-quality grooming supplies for you and all of your furry felines.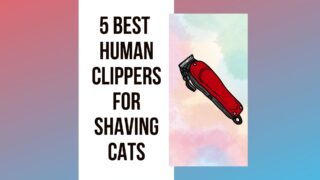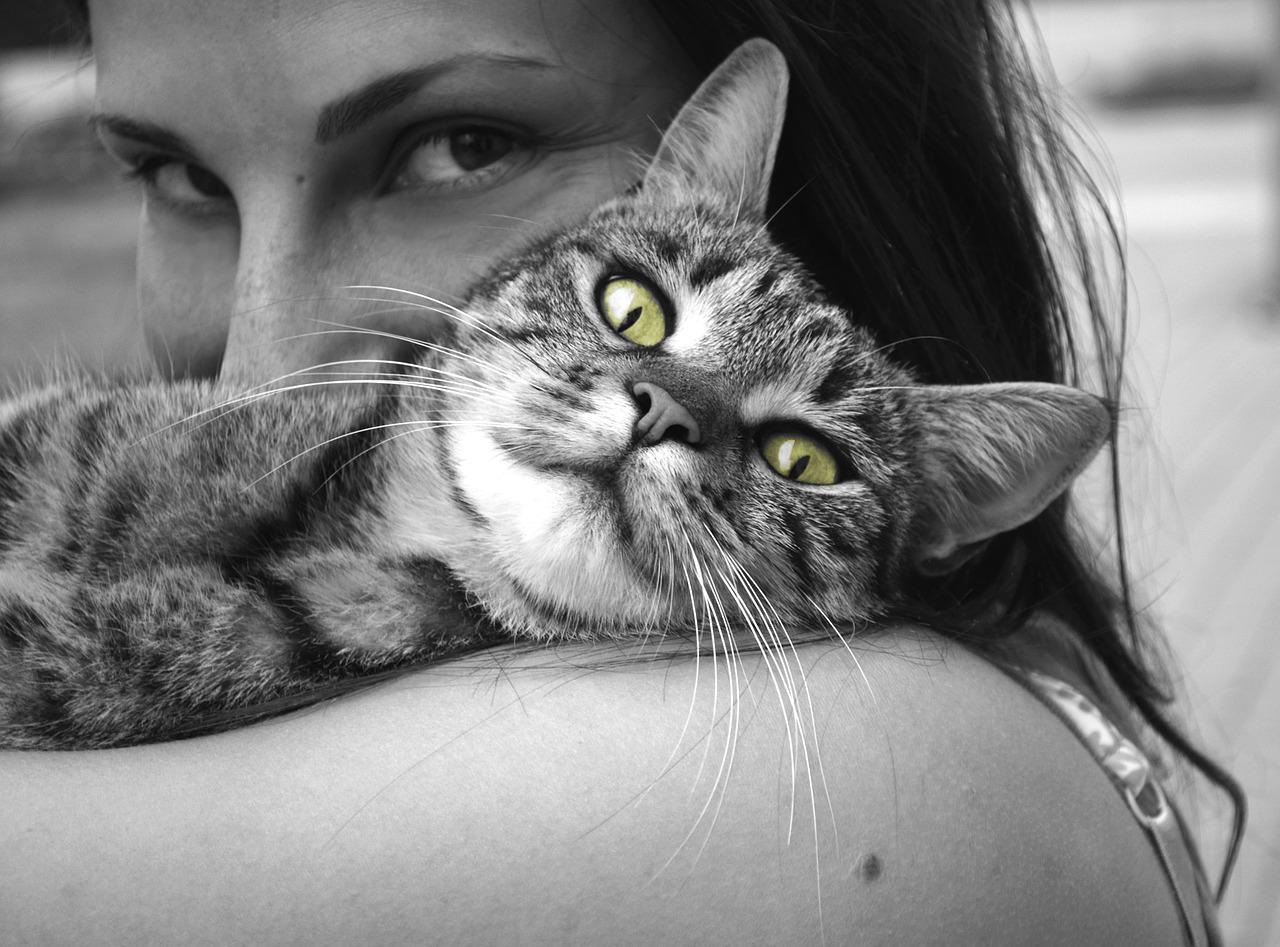 Hi, This is Alexa, and I love cats. This Website is a Complete Journal about how to travel with a cat and other information about Cat Health, Cat Training, Cat Behavior, Cat Foods and more. I hope you find it useful.