5 Best Probiotics for Cats
Much like the human gut, your cat's gut is responsible for warding off foreign organisms and absorbing nutrients. This important function is made possible by little, tiny bacteria who make their home there.
In order to ensure that your cat remains as healthy as possible, along with a well-balanced meal, you should be providing it with supplements called probiotics that help these good bacteria to thrive. Doing so can make a huge difference in your cat's mood and overall well-being.
To save you time, we have tirelessly researched countless cat probiotics in order to bring you the top products on the market. We also want to answer all of your questions to give you more information about what they are and how they benefit your cat.
Pet Ultimate Probiotics for Cats
This is our number one recommendation for cat probiotics and with good reason. With more than 5 times the amount of good bacteria than the 'big box' brands and 20 different types, your cat's health is sure to get the boost it needs.
It is also made with your cat's health in mind. It does not contain any fillers or any other ingredients that are bad for your cat and it is 100% made in the USA!
You will also enjoy a less smelly litter box, reduced vomiting and most of all a happier kitty.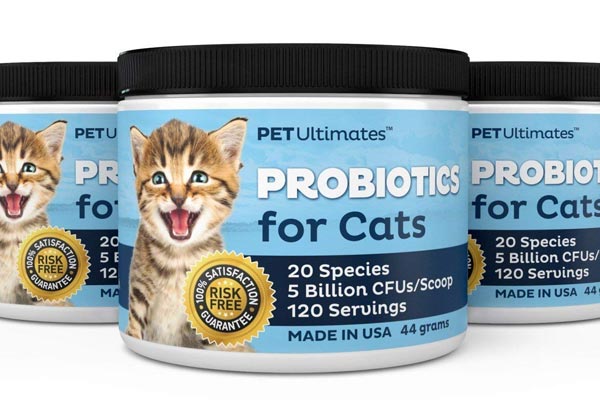 Check the prices for Amazon's choice
Pros
A Higher number of good bacteria
No fillers, sugars or other bad ingredients
More servings per container
Money-back guarantee if you do not like the product
Cons
More expensive than probiotics with fillers
Purina Pro Plan Veterinary Diets Fortiflora Feline Nutritional Cat Supplement
When you hear the name Purina, you know that you are getting a highly supported product. Their Fortiflora Probiotic does not disappoint.
It is the #1 probiotic brand recommended by vets because the single strand of bacteria it contains is proven to support your cat's digestive health. They also use a special process to ensure that the bacteria remain safe while in the capsule.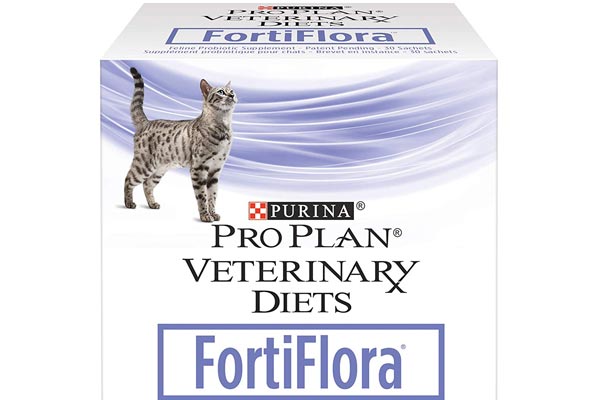 Check the prices for Amazon's Choice
Pros
Packets are convenient
#1 probiotic brand recommended by vets
Works well diarrhea
Cons
Some ingredients might not be good for your cat
Contains a small number of bacteria for the price you pay
Premo Pet Probiotic for Cats
If you are looking for a probiotic that also takes care of digestive health, then this Premo Pet Probiotic is for you. It contains ingredients that support both probiotic and prebiotic health.
In addition, it is USA certified by the NPA (Natural Products Association) in addition to being manufactured in a manufactured in a GMP (Good Manufacturing Practice) Approved facility.
You will also like that there are 6 different types of good bacteria in this product. These work together to help your cat feel better especially if it suffers from conditions like diarrhea, vomiting, excessive scratching or shedding, etc.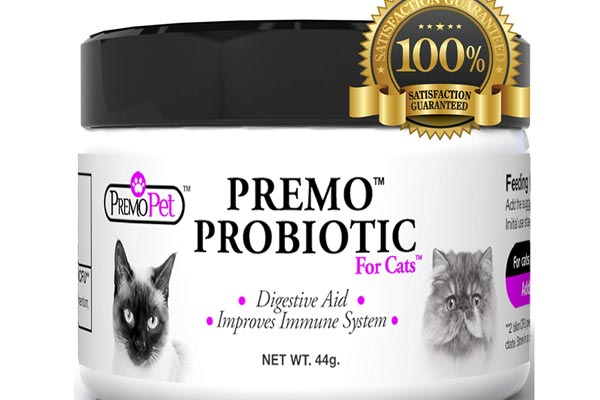 Pros
Contains 6 different types of good bacteria
None GMO, no artificial flavors or fillers, wheat-free, and dairy free
Tasteless powder means that it is easier to mask in food
Can be helpful in relieving a lot of your cat's uncomfortable conditions
Made in the USA
Cons
More expensive than probiotics with fillers
MaryRuth's USDA Certified Organic Liquid Probiotic for Cats
Looking for a probiotic for your cat that isn't in powder form? Here is an excellent option that comes in liquid form.
This is also a good option if you are looking for a product where bacteria are not grown on dairy products. Instead, they have come up with plant-derived strands of good bacteria.
It is USDA Certified Organic, Non-GMO, Vegan, Soy Free, and a lot more like accolades. You also get a lot more servings per bottle.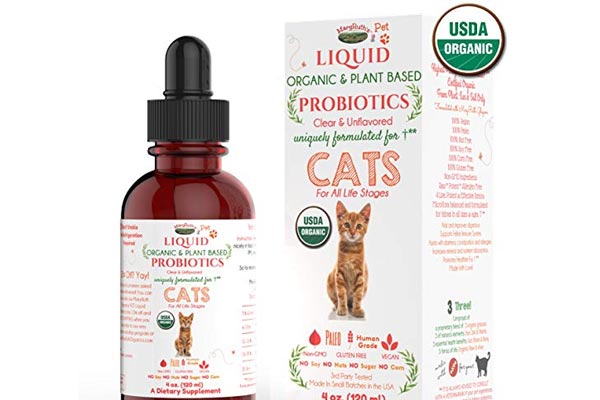 Pros
USDA Certified Organic, Vegan, etc.
Can last up to 90 days
The Liquid is easier to mix in your cat's food
Tasteless making it even easier to blend in your cat's food
Cons
Expensive
More expensive than probiotics with fillers and other bad ingredients
Elite Cat Probiotics
This probiotic comes with high recommendations from vets. It will help your cat combat diarrhea, gas, etc.
It is all-natural, non-GMO, gluten-free, soy-free, etc. This product is also made in the USA and manufactured at a certified safe facility.
Your cat will enjoy the relief of a healthy gut and you will enjoy the love of a happy furbaby.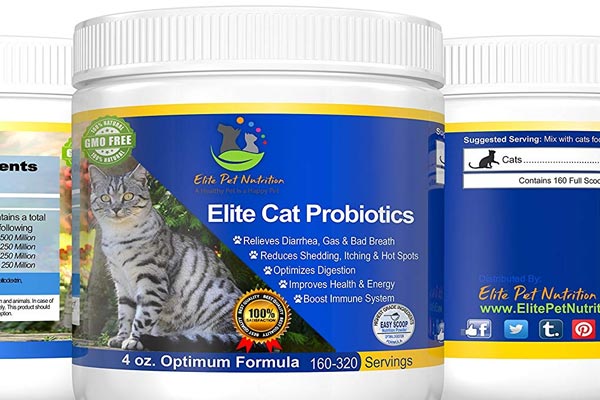 Check the prices of Amazon's Choice
Pros
100% All-natural, non-GMO, no fillers, etc.
Does not need to be refrigerated
Odorless and tasteless makes it more likely that your cat will not reject it
Affordable pricing
Larger quantity per container (4 oz)
Cons
May take a couple of weeks before you see a substantial difference in your cat's health
What Are Probiotics?
According to 4ahealthygut, probiotics are good bacteria that are either the same or similar to the ones that live in the body. Their job is to fight against bad bacteria and other foreign microbes that enter the body.
Stress, problems with food and illnesses can weaken your cat's ability to fight these bad bacteria. Probiotics can help them maintain their health during this time of weakness by keeping a constant flow of bacteria into their gut which will replenish their system helping them to recover faster.
Check out this YouTube video by Chewy University on What Probiotics are and why they are important for your cat.
Things To Look for In Probiotic Supplements
In order to choose the best probiotic for your cat, Dr. Patrick Mahaney with PetMD, recommends looking for at least two different types of bacteria from the families Bifidobacterium and Enterococcus each.
In other words, if a probiotic has only two bacteria from the Bifidobacterium family, you should not go with it. That's because both types of bacteria live in different parts of your cat's gut.
Bifidobacterium lives in your cat's small intestines while Enterococcus live in the colon/large intestines. Mahaney recommends, however, that you should look for probiotics with up to 5 different types of bacteria and go for the one with the highest CFU (colony forming units).
You also want to look at the ingredients and choose a product that is free of fillers like grains and sugars. The product should also contain good ingredients that are responsibly sourced.
Products that are USDA Certified Organic, non-GMO, soy free, etc. are a good indication that the probiotic contains good ingredients.
The product should not have to be refrigerated because the drying process freezes the bacteria until they are reactivated in your cat's gut.
Why Are Probiotics Important for Cats?
Probiotics are important to aid your cat in maintaining a healthy gut health and also a good immune system.
They help your cat to avoid a slew of digestive issues including, but not limited to, diarrhea, gas, vomiting, bloating, constipation and more!
In addition, as Food Fur Life reports, probiotics help your cat to stay healthy since a large portion of its immune system is located in the gut.
When you give your cat probiotics you will notice reduced instances of diarrhea and other digestive issues but also an improvement in its skin, coat, and even overall mood.
Do Cats Need Probiotics?
The answer to this question ultimately depends on you. Does your cat's health matter to you?
We hope your answer to this question is yes because your cat's health is important. That being said, we do highly recommend that you incorporate a good probiotic into your cat's diet.
Benefits of Probiotics for Cats
Cummings School of Veterinary Medicine at Tufts University suggest that there are many benefits to giving your cat probiotics.
It will drastically increase the number of bacteria in your cat's intestines. When this happens, your cat will experience an improvement in digestive conditions as well as a better immune system.
To put it into perspective, Cummings School of Veterinary Medicine reports on a study surrounding kittens that suffered from acute diarrhea. Of the kittens who were given a probiotic, only 9.5% of the group needed further treatment.
On the other hand, 60% of kittens needed additional treatment who did not receive any probiotics.
From this study alone-, you can see the real benefit that probiotics can have on your cat or kitten's health. You can also take note that these kittens were already sick before they were given probiotics.
When you are consistent with giving them to your cat, it will have an even better chance at fighting off ailments and living a healthy lifestyle because its gut will already be fortified with large colonies of good bacteria.
Another benefit that your cat will experience when taking a probiotic regularly is an increased efficiency in nutrient absorption. This means that your cat will get the best out of the food it is eating and will likely eat less food in a day.
This will not only help your cat become more healthy but it will help you save a lot of money on cat food and cat litter since it will also be pooping less too.
And speaking of poop. When your cat has good gut health, its pee and poo will stink less meaning you will not have to worry about masking offensive odors that can creep about your house after your cat does its business.
Possible Side Effects and Risks of Giving Your Cat Probiotics
There are no known side effects to giving your cat probiotics. They also suggest that because there will be a large increase in activity within your cat's gut, you might notice it becomes gassier or passes solids in the litter box more or less often than usual.
These effects are normal and should subside in a few days. Be sure that you are using products that are free of fillers and other bad ingredients that will cause irritation throughout your cat's digestive system.
If your cat's condition does not get better within a few days, stop giving it the product and consult your vet for further instructions.
What Is The Difference Between Multi-Vitamins and Probiotics?
Although they are both important components of your cat's well-being, probiotics and multivitamins are not the same. As Probiotics for cats explains, multivitamins provide nutrition to your cat's entire body.
On the other hand, probiotics provide support to your cat's gut. The irony of this relationship is that your cat's body will not be able to absorb the nutrients delivered by the multivitamin if it does not have a healthy colony of bacteria in its gut.
Now that you see why giving your cat a daily dose of probiotic supplement daily is so important its time to act now. Do not click away from this and leave it to chance that you will get to it 'someday'.
Scroll back to the top of the page and read more information about each of our top recommendations. If you have any questions, please feel free to leave them in the comments box below and we will help you at our soonest convenience.