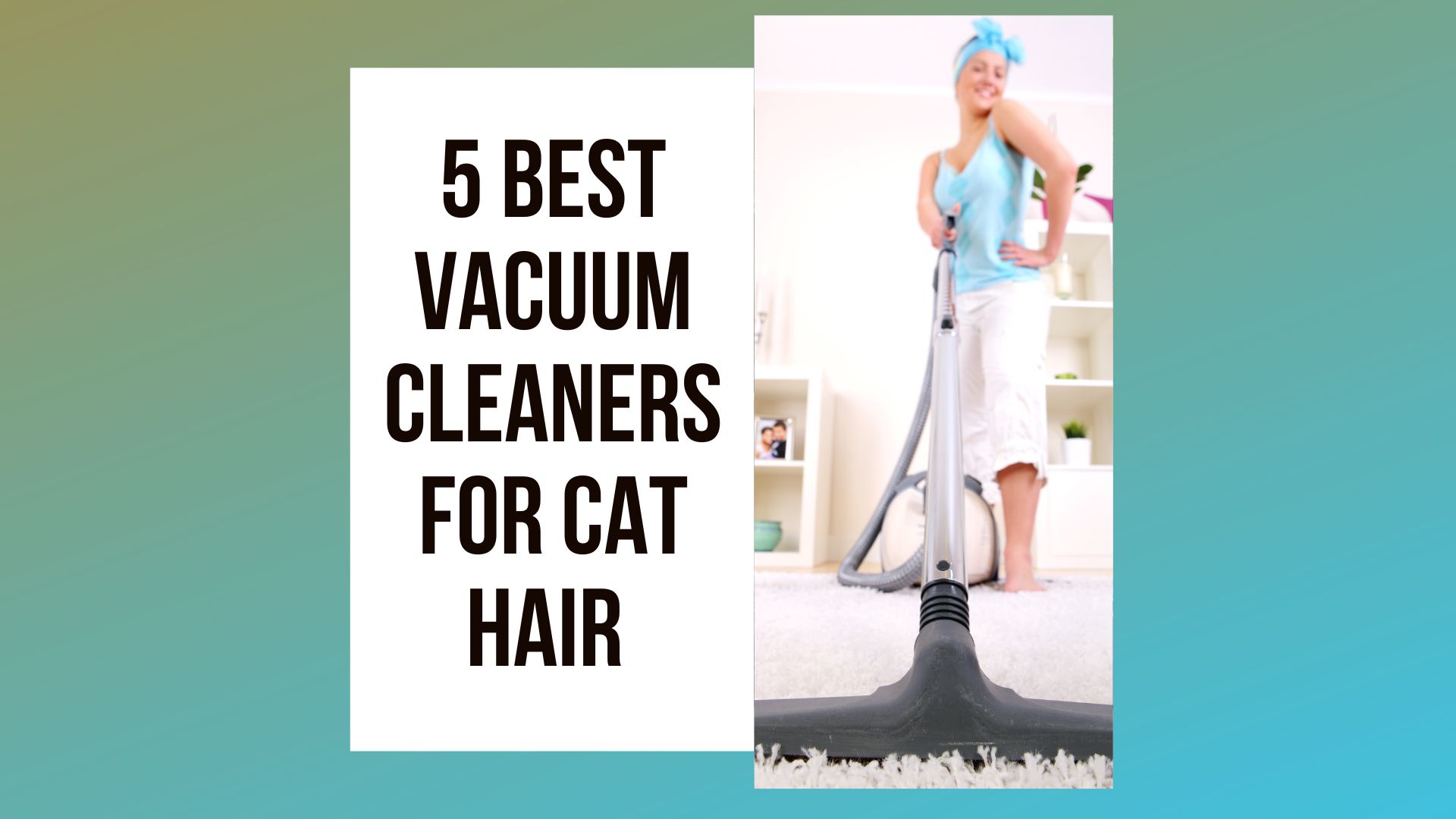 5 Best Vacuum Cleaners For Cat Hair
Tineco A11 Hero Cordless Vacuum Cleaner
Miele Turbo Team Canister Vacuum 
Bissell Cleanview Upright Bagless Vaccum Cleaner
Dyson Cyclone V10
Eureka NEU182A PowerSpeed vacuum Cleaner
Cats are some of the best companions but caring for them means you have to clean the excess hair that your cats will scatter in your home.
Accumulated cat hair can be a mess, especially if you have persons suffering from allergies living with you. Fortunately, owning the best vacuum cleaner is a great way to clean all hair quickly.
However, it can be quite difficult to narrow down to one vacuum cleaner for your cat hair with the many varieties on the market. This is because you might become confused when it comes to identifying a vacuum cleaner that will offer you the best performance.
To help you single out the best vacuum cleaner for cat hair, we have compiled helpful information and factors to look for when buying your cleaner. We have also reviewed five top-rated vacuum cleaners that you could consider buying.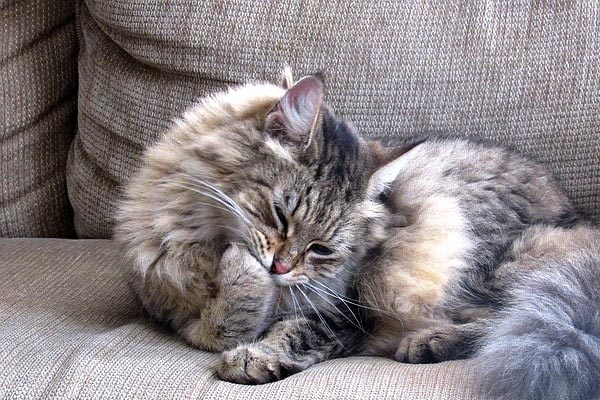 1. Tineco A11 Hero Cordless Vacuum Cleaner
This vacuum cleaner for cat air is specially made for people who want a battery-run cleaner for unrestricted cat hair cleaning. It uses two batteries that can give you up to 60 minutes of uninterrupted cleaning time.
With its enhanced suction power of 120W, it can suck cat hair that is deeply embedded for a maximum of 15 minutes as compared to ordinary cordless vacuum cleaners. The powerful suction power is delivered by a powerful 450W digital motor that sits inside the vacuum.
It also comes with excellent features that allow you to suck all the cat hair and dust from all corners of your house. These features include a four-stage fully sealed filtration system, a large dustbin that is easy to empty, an uninterrupted power mode switch lock, and a LED multi-tasker power brush. All these features make your cleaning process stress-free.
With a dual charging powerhouse, you can charge your batteries and resume your cleaning process quickly, thus saving your time and energy for handling other things.
Furthermore, it is ergonomically designed to give you an easy time maneuvering between your furniture and corners when cleaning.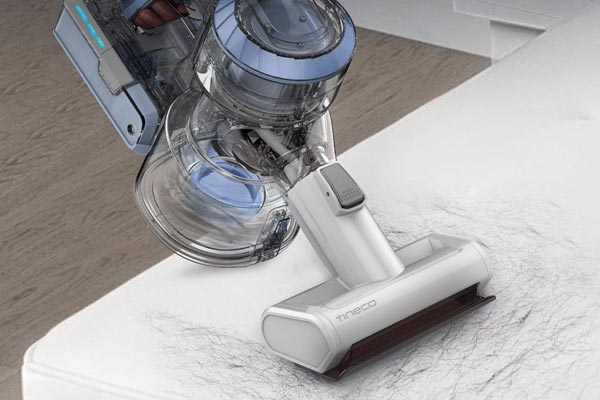 Tineco A11 Hero Cordless Lightweight Stick/Handheld Vacuum Cleaner, 450W Motor for Ultra Powerful Suction for Carpet, Hard Floor & Pet
High performance cordless vacuum for whole home use featuring a 450W motor and up to 120W of suction power for deep, thorough cleaning on any floor surface.
Single 2500mAH Lithium Battery provides up to 40 minutes of uninterrupted runtime, great for whole-home cleaning.
Easily converts to a handheld vacuum with versatile attachments to reach corners, stairs and crevices.
Extra large 0.6L dustbin captures dirt and pet hair.
A11 HERO model includes: LED Multi-tasker Power Brush, Mini Power Brush, Pre-Filter(2), Pre-Filter Cleaning Tool, 2-in-1 Dusting Brush, Crevice Tool, Hair Cleaning Tool --- PLUS Dual Charging Wall-mounted Dock.
Pros
Has a duo battery for longer runtime
Comes with a stronger suction power for perfect cleaning
Has a powerful motor for greater vacuum performance
Cons
Might be too expensive for some users
2. Miele Turbo Team Canister Vacuum 
This canister vacuum cleaner is specially designed for people who want a compactly designed cleaner for easy storage. As such, if you are looking forward to getting a small-sized cat hair cleaner to store in a small space in your home, then look no further than Miele Turbo Team Canister Vacuum.
The cleaner features a powerful 1,200W motor that excellently delivers efficient power to the chosen power levels with regard to the areas you are cleaning.
This increased power also makes the suction optimally suck for a better hair-free living room. Best of all, you can clean the deeply embedded hair in the folds of your upholstery couches by just selecting a powerful level of cleaning.
To avoid sucking the carpet into the vacuum, this model features an air adjustment slide purposely to stop this. Moreover, this feature can prevent the sucking of bigger items into the cleaner. Furthermore, it comes fitted with an air clean filter that ensures you breathe high-quality air in your home.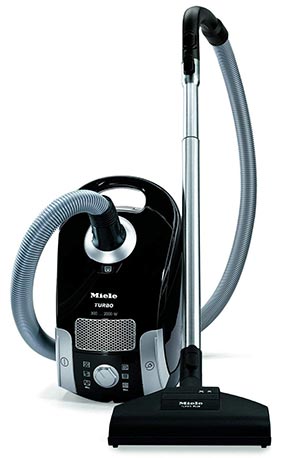 Miele Turbo Team Canister Vacuum, Obsidian Black
High suction power – 1,200 W
Reliably removes pet hair and lint with turbo brush.
Adjustable working height – Stainless steel telescopic tube
Effortless vacuuming of large areas w/ 29.5 ft operating radius
Gentle on sensitive hard floors - soft parquet brush
Pros
Easy to handle when using
Very powerful for better cleaning results
It is a high-quality machine that is durable
It is affordable
Cons
Might be too noisy
Low-quality brush attachments
3. Bissell Cleanview Upright Bagless Vaccum Cleaner 
With OnePass technology, this pet hair vacuum cleaner comes with a powerful suction as well as an innovatively designed brush that enables you to remove all the cat hair and other debris efficiently. If you like corded vacuum cleaners, this one might be your ideal pick since it comes at a reasonable price.
It features a multi-cyclonic suction system that delivers a durable suction that effectively captures and keeps the debris in the bin before you can discard it.
It also comes with a multi-level filtration mechanism that comes fitted with washable filters that will help you eliminate your home-based dust and allergens that can cause allergies. For better use of this vacuum cleaner, watch this YouTube video.
For flexibility and maneuverability, this pet hair vacuum cleaner is ergonomically designed and lightweight. This means that it is much easier to push it while cleaning without using a lot of power.
If you want a cat hair cleaner that you can use to clean your carpets, bare floor, upholstery, stairs, and sealed hard floors efficiently, this could be a good pick.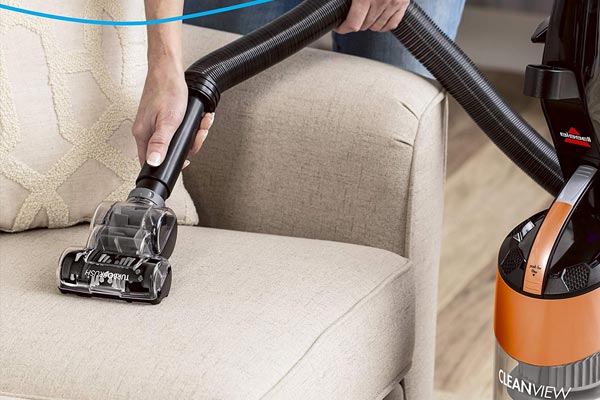 Pros
It has an extra-long cord for a wide range of cleaning
Has a bigger dirt cup capacity
It is lightweight for long and easy to clean
Reasonably priced
Cons
It might spin continually even when using a hose sucker. As such, be careful not to burn your carpet.
Bissell Cleanview Upright Bagless Vacuum Cleaner, Orange, 1831
Every purchase saves pets
One pass technology with powerful suction and innovative brush design to clean on the initial pass (removes most surface debris based on visual test BTP0221)
Powerful, multi cyclonic suction system for lasting suction that captures and keeps dirt in the bin, where it belongs
Multi-level filtration with a washable filter helps reduce household dust and allergens. Power: 8 amps
Lightweight design makes it easy to carry and push without sacrificing power. Automatic cord rewind no. Surface type: Bare floors, carpet, sealed hard floors, low pile carpet, stairs, upholstery
4. Dyson Cyclone V10 
This pet hair vacuum cleaner from Dyson is designed for people who not only want a lightweight vacuum cleaner but also a powerful cordless model. If you are such a person, this one is definitely meant for you.
It is tested to ASTM F558 against the cordless stick market and is found to be the most powerful cordless model that you can ever buy.
Its design makes it lightweight and flexible enough to deliver a high performance when it comes to removing cat and dog hair from your home. With its instant release power trigger, you can be sure to improve your run time because you only use power when cleaning.
Its powerful Dyson digital motor is engineered especially for picking the deeply hidden dirt as well as the fine dust from carpets and hard floors. It also comes fitted with a hygienic point and shoots bun that comes with a volume of 0.2 gallons.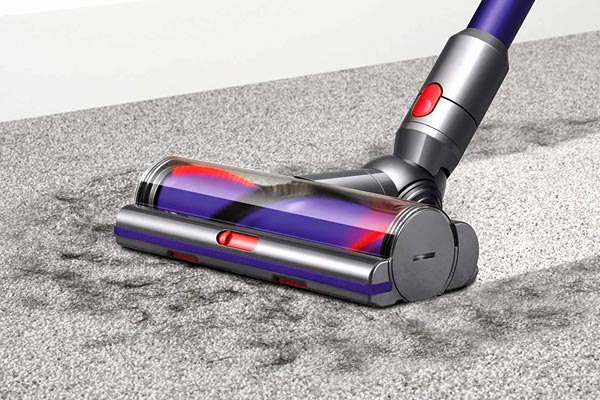 Sale
Dyson Cyclone V10 Animal Lightweight Cordless Stick Vacuum Cleaner
Powerful suction to deep clean everywhere. 55% more suction than the Dyson V7.
Dyson technology helps create a cleaner, healthier home - Our vacuums and purifiers are scientifically proven to capture particles as small as allergens and bacteria.
Engineered for whole-home, deep cleaning. Suction power, run time and tools designed to deep clean your whole home.
3 Cleaning modes. For the right power where you need it.
Up to 60 minutes of run time. Actual run time will vary based on power mode and/or attachments used..Torque drive cleaner head. Drives bristles deep into the carpet to remove ground-in dirt..Advanced whole-machine filtration. Traps 99.99% of particles, dust and allergens as small as 0.3 microns..4 Dyson engineered tools for versatile whole-home and car cleaning. Including the mini-motorized tool for removing pet hair from upholstery and tight spaces..Converts to a handheld for cleaning cars, stairs and upholstery.14-cyclone concentric array. Cyclones generate centrifugal forces up to 79,000 grams trapping fine dust and dirt in the bin, so your vacuum never loses suction.
Pros
The cleaner comes with a powerful motor for great cleaning results
It is small and lightweight for easy handling
Has a high run time of up to 60 minutes
Cons
Very expensive
It comes with sealed batteries, which means it cannot use a spare battery
5. Eureka NEU182A PowerSpeed vacuum Cleaner 
This vacuum cleaner from Eureka has a multi-surface vacuuming design. As such, you don't need multiple vacuums to handle your home cat or dog hair menace. It is an upright vacuum that comes with a five-height setting to allow easy cleaning with regard to the user's height or area.
This device features a high speed that sucks all the hair even the one deeply embedded in your upholstery couch folds. It also comes with a quick-release handle with a deluxe stretch hose for easy cleaning of above-floor surfaces. The extended crevice tool and a dusting brush allow you to clean up the hard-to-reach places in your home.
It is lightweight and designed to ensure easy maneuvering and portability whenever cleaning around your home. Best of all, the powerful motor delivers a top-notch suction for excellent cleaning results.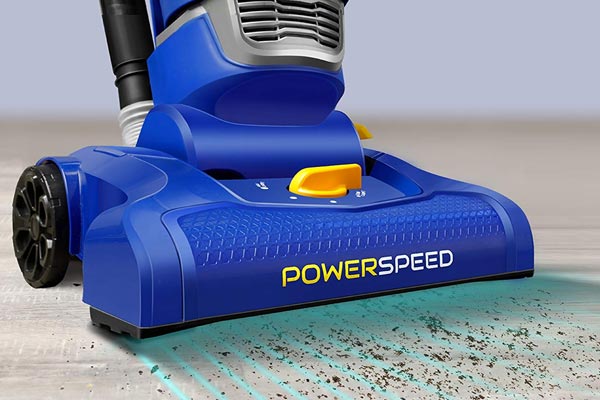 eureka NEU182A PowerSpeed Bagless Upright Vacuum Cleaner, Lite, Blue
Powerful vacuum cleaner; The dynamic motor and brush roll can lift stubborn and heavy debris; plus, the 12.6" wide nozzle cleans more with a quickness.
Lightweight 10 lbs upright vacuum; The Eureka Power Speed is pretty lightweight and easy to maneuver; designed for whole home clean.
With 5 height adjustment; It works well on carpets, shag rug, hard floors etc.; smooth wheels ensures hardwood floors won't sustain scratches or gouges.
Extra-large 2.6L capacity; The extra-large dust cup holds more dirt and requires less frequent emptying; clean more, empty less.
Multiple accessories included; A quick-release handle connected to the stretch hose for above-floor cleaning; a crevice tool, dusting brush, and upholstery tool for hard-to-reach areas.
Pros
It is lightweight for maneuverability and portability
Has a powerful motor for a top-notch suction power
It is reasonably priced
Cons
It has no retractable power cord
It features low-quality built materials
Guide to Choosing the Perfect Cat Hair Vacuum – Buyer's Guide
When shopping for a cat hair vacuum cleaner, there are certain factors you really have to consider in order to get the best one. Check out the following factors before you go shopping.
Cleaning power
The suction power of the cat hair vacuum is an important factor that you can't forget to look at. A vacuum with low power will only suck the loose surface dust and hair that is on the carpet or furniture but fail when it comes to picking up the hidden hairs. As a result, you must consider a vacuum that comes with a higher AW in order to get the best performance.
Areas to be used
It is definitely easier to clean a short-haired pet's hair from hardwood as compared to cleaning a long-haired cat's hair from the deep folds of an upholstered couch or carpeted pet tree. As a result, think about where you are going to clean with your vacuum so that you can buy a cleaner that can clean your intended areas appropriately.
Filters
Vacuum filters are also important features to look out for when purchasing a cat hair vacuum. HEPA filters are great at trapping cat-related allergens such as dust and small pieces of hair that you can easily breathe. As such, consider buying a vacuum cleaner with a HEPA filter to maintain a high quality of air in your home.
Upholstery brush
This feature is crucial when it comes to removing cat hair from your home. The upholstery brush is important in the sense that it breaks up the deeply embedded cat hair that might have overstayed in your carpets or couches and makes it easy for suction. When buying a cat hair vacuum cleaner, consider buying one that comes with an upholstery brush.
Corded or cordless
You also need to decide whether you want a corded or a cordless cat hair vacuum cleaner. A cordless vacuum will give you unlimited maneuverability but at a shorter run time. A corded vacuum, on the other hand, will offer a continuous runtime as long as there is power but limits you to where the cord reaches.
Canister or an upright model 
While canister cat hair vacuum cleaners provide you with more maneuverability and flexibility when cleaning, the upright model is compactly designed for easier storage.
The negative side of the models is that you have limited control over the canister in the canister vacuum while the upright model is comparatively more expensive.
However, both offer the same performance when it comes to cleaning, which means that choosing between the two is purely based on personal preference.
Tricks to Combat Pet Hair
When it comes to keeping your home free of cat hair, here are a few tricks that can help you ensure that cat hair is not a menace in the first place.
Conclusion
We hope that the reviews above and the buyer's guide have helped you know how to select the best cat hair vacuum cleaner from the market regardless of the many brands available.
In case the specifications and features of a product you intend to buy are not clear, feel free to review the buyer's guide or reach out for assistance.
In order to make sure you and your cat enjoy a clean environment at home, make sure you have settled only on the best vacuum cleaner for cat hair.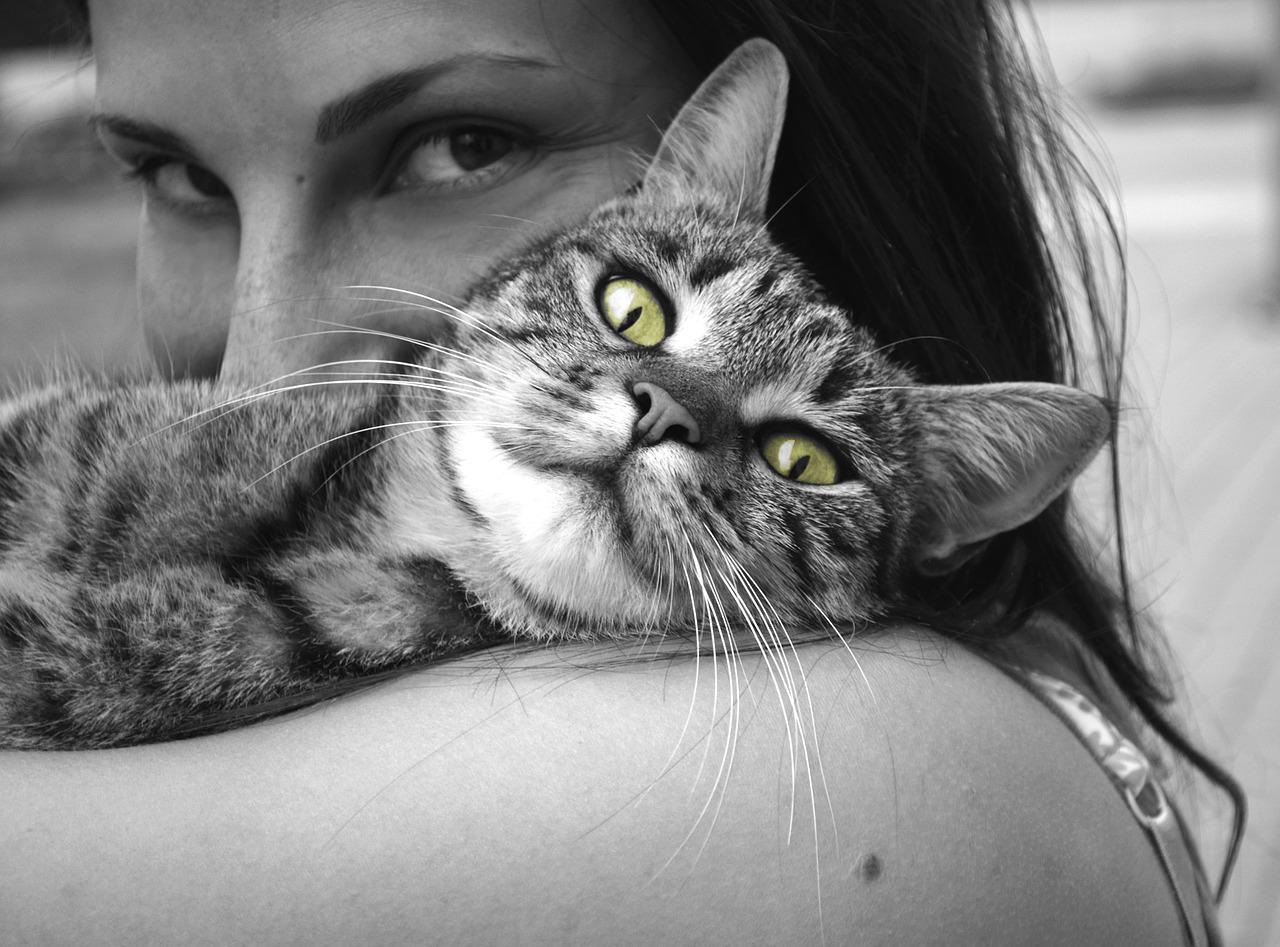 Hi, This is Alexa, and I love cats. This Website is a Complete Journal about how to travel with a cat and other information about Cat Health, Cat Training, Cat Behavior, Cat Foods and more. I hope you find it useful.