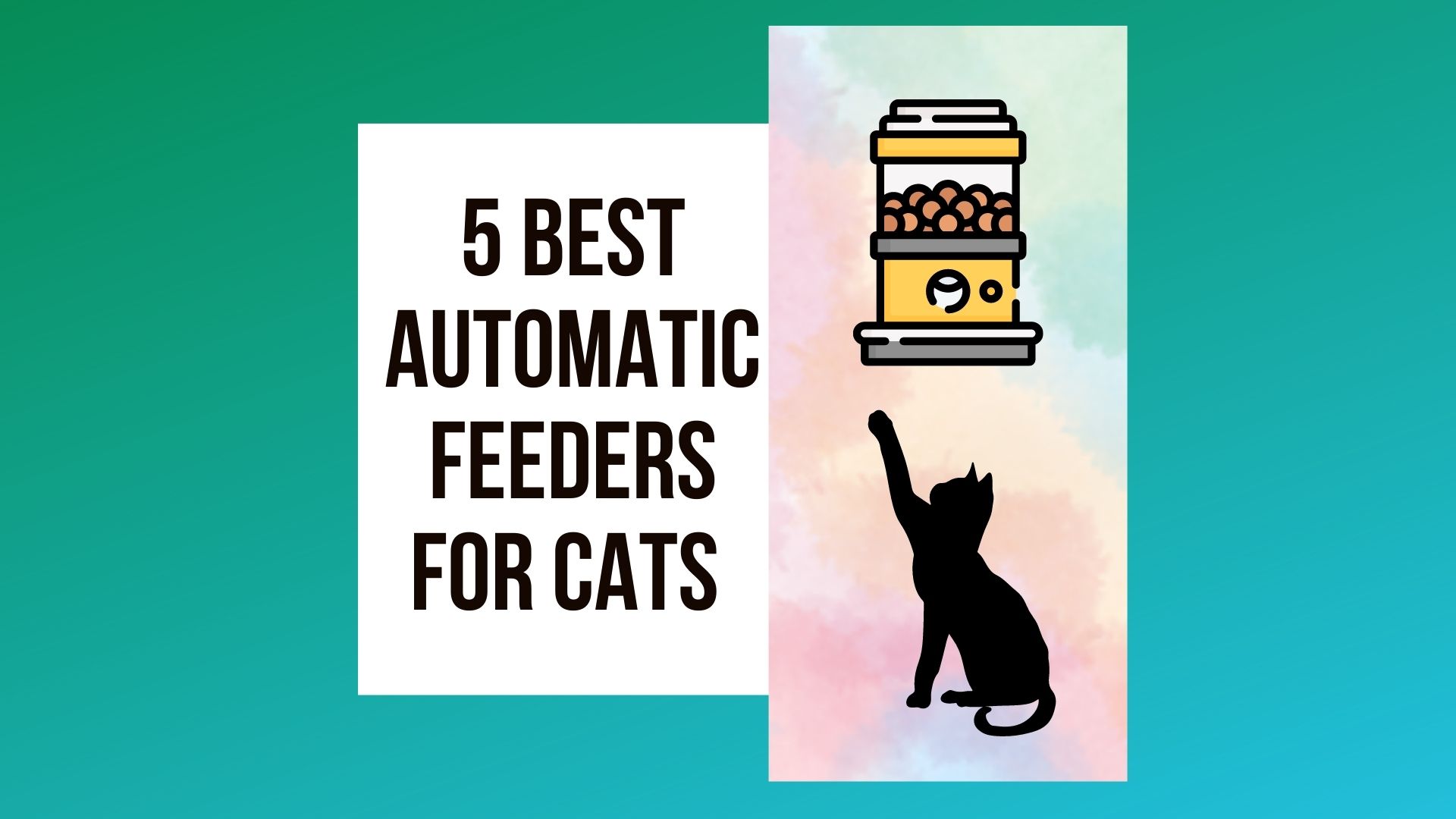 5 Best Automatic Feeders For Cats 
WESTLINK 6L Automatic Pet Feeder 

PETLIBRO Automatic Cat Feeder

PetSafe Healthy Pet Feed Automatic Cat 

Super Feeder Automatic Cat Feeder 

JEMPET Automatic Pet Feeder Cats Dogs 
The Secret to Finding the Best Automatic Feeder for Cats
To most people, feeding pet cats is a regular chore that they cherish. But what if you have traveled or your cat regularly wakes up at midnight to eat? You can only imagine how easy it can be if you have fewer worries about feeding your cat.
If you want to eliminate these worries, an automatic cat feeder might be your ideal pick in order to turn around your cat feeding routine.
In this post, we review five of the best automatic cat feeders that will help you to figure out the best brand model that can be ideal for your cats.
We also offer you plenty of helpful information about automatic cat feeders that you and your lovable cats will find the ideal for feeding.
1. WESTLINK 6L Automatic Pet Feeder 
If you want to keep your cats healthy by feeding them the right amounts of food, then you need this automatic cat feeder from WESTLINK.
This is a programmable feeder that can dispense up to four meals a day with each portion weighing about 10 to 12 grams. As such, this feeder makes feeding your cats stress-free.
It comes with a food capacity of 6 liters, which is good enough to accommodate up to four meals each day. For easy management of the day's meals, simply choose your ideal portion size depending on the number of cats you have. It features a voice recorder and speakers that allows you to record a short 10 seconds of audio to call your cats for meals.
To prevent your food from spilling or locking the outlets, this feeder comes fitted with built-in infrared detections that thwart food locking while giving your cats time to enjoy the meal.
The holes can fit any food size but not exceed 0.39 inches. Anything larger than this might stick in the hole. With an ultra-power consumption, you can be sure to keep your power bills as low as possible.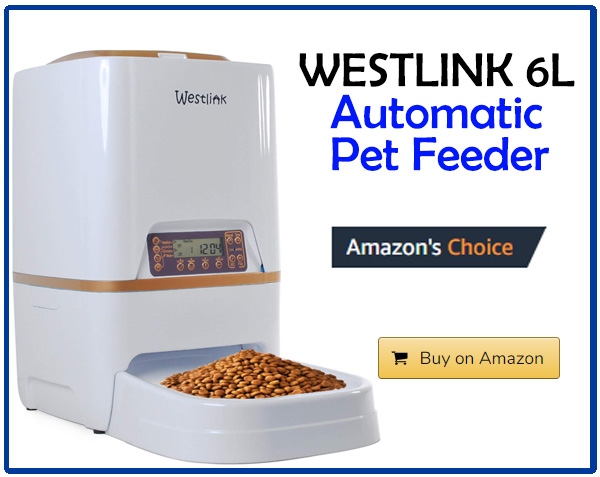 WESTLINK 6L Automatic Pet Feeder Food Dispenser for Cat Dog with Voice Recorder and Timer Programmable
Automatic Food Dispenser Makes Feeding Hassle Free for Pets' Dietary Health & Wellbeing
Capacity: 6L. Up to 4 meals a day ,each meal dispense from 1-39 Portions, Each Portion is around 10-12g, Simply Pick Your Portion Size & Unit Dispenses Dry Meals.
Built in Voice Recorder and Speaker : Record your voice 10 seconds to call your pets for meals.
Prevent Food Locking and Spills : Built in infrared detection which can prevent the food locking, let your pets enjoy the meals. This system can fit any different shapes dry foods, but the food size can not exceed 0.39" * 0.39"(1 cm*1 cm), otherwise the food may be stuck in the hole
Ultra Low Power Consumption : Requires D Batteries (not included) 3 Pieces or USB Power
Pros
Easily programmable
Has a built-in infrared sensor that stops dispensing food whenever it's enough
Characterized by low power consumption
Con
2. PETLIBRO Automatic Cat Feeder
If you are looking for a cat feeder that is not only automatic but also easy to clean, this is the right feeder to pick. It comes with a disassemble design that allows it to detach into four parts.
The lid, food bowl, and food tank are all washable, which means it is a lot easier to clean. Moreover, the LCD can be wiped clean with a damp cloth.
It comes with a sound recorder capability and speakers so that you can record your voice for up to twelve seconds, a feature that makes it possible for you to call your cats for meals.
This automatic cat feeder uses 3 pieces of D batteries that you can buy separately. You can also use a USB cable to have them charged.
Most importantly, its design comes with an infrared detector that detects the food administered. This means that whenever the bowl is full, the cat feeder stops to dispense more food. It also prevents the feeder from overeating.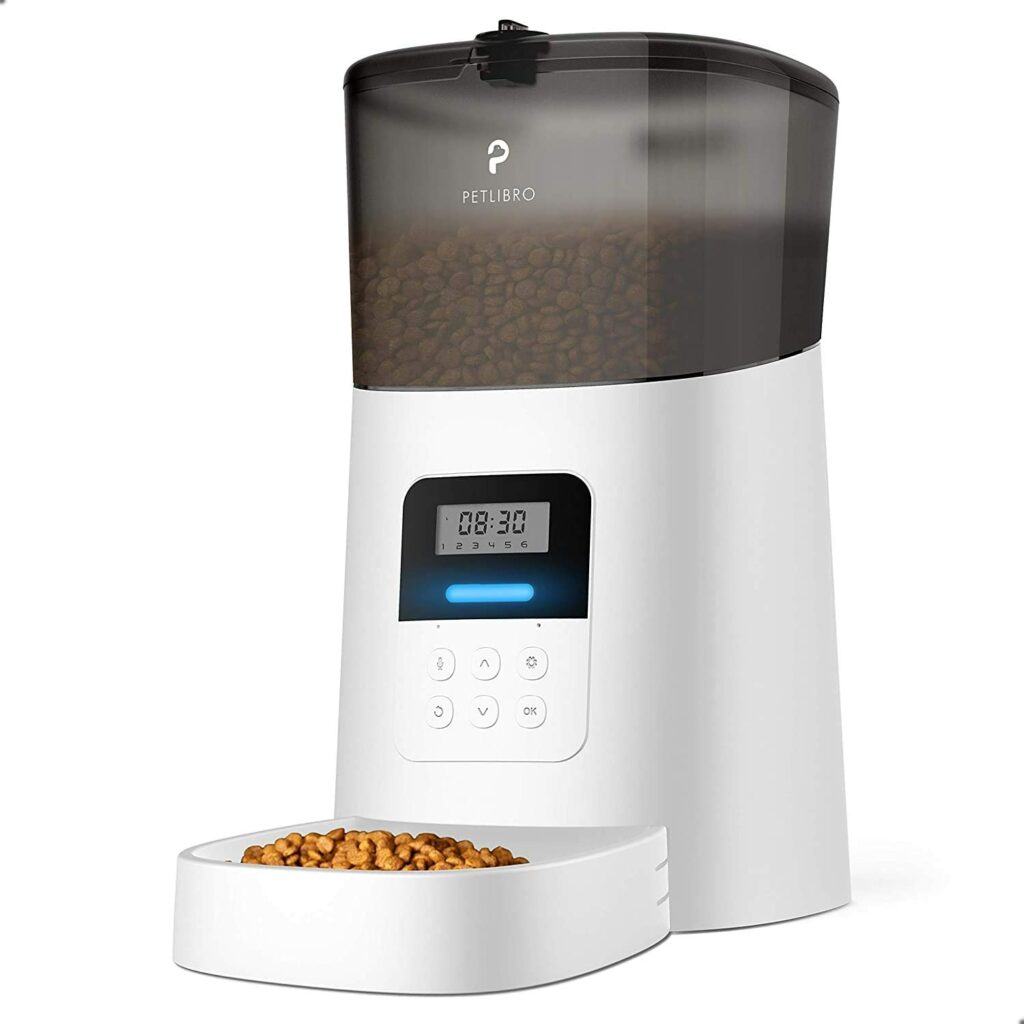 PETLIBRO Automatic Cat Feeder, 6L Auto Dry Food Dispenser with Twist Lock Lid for Naughty Pet, Low Food LED Indication with Clog-Free Design, Up to 50 Portion Control 6 Meals Daily for Dogs and Cats
Right Portions at the Right Time: PETLIBRO automatic dog feeder up to 6 meals daily with 1-50 portions(15ml each), Large food tank with 6L capcity. Equipped with anti-stuck function, no more pre-dawn wake up calls, or worry when travelling
Easy-to-Read LCD Panel: Program the feeding on the LCD panel with detailed instructions; Clear LED indication let you know every status of the auto cat feeder, the built-in infrared sensor can easily tell you the situation of insufficient food or stuck
Secure Twist-Lock Storage: PETLIBRO automatic pet feeder stores the right amount of food (dry kibbles sized 0.07-0.6in / 2-15mm in diameter) for your pet with a twist-lock lid to keep dry food crunchy, flavorful, and secure from any poaches
Your Pet Always Gets Food: Auto cat feeder powered by a 5V DC adapter normally, with 3 alkaline D-cell batteries (NOT included) installed as backup power supply. This clog-free auto cat food dispenser with timer keeps your pet fed consistently
Personalized Recordings: PETLIBRO automatic cat feeder allows you to record a 10s message calling your pet to the bowl before meal time, keeping your fur friend fed regularly and feel safe & well cared
Pros
It comes with a disassembled design for easy cleaning
Comes with a built-in sound recorder for calling your cat for meals
It has a larger capacity for more food holding
Cons
3. PetSafe Healthy Pet Feed Automatic Cat 
If you are looking for an automatic feeder for your many cats, then you should consider this model from PetSafe. This is because it comes with a higher food capacity. In fact, it can hold up to 24 cups of dry cat food while the bowl can accommodate up to 5 cups.
It can also be customized to deliver 12 meals a day right on your cat's schedule. The Feed Mode also allows you to feed your cat outside the normal feeding schedule while the Pause Feed Mode temporarily stops feeding without discarding the previously programmed feeding schedule.
It is uniquely designed to dispense almost all shapes and sizes of a dry meal as well as semi-moist food. The design is also great at preventing food jams.
This automatic feeder is sturdy and solidly constructed to be pet-proof. This means that it prevents prying paws from accessing food in addition to maintaining the food's safety and freshness for longer. All the detachable parts are dishwasher-safe, which makes the feeder easy to clean.
It is powered by 4 D-cell alkaline batteries that are sold separately. This means that you can buy another pair whenever the other becomes obsolete.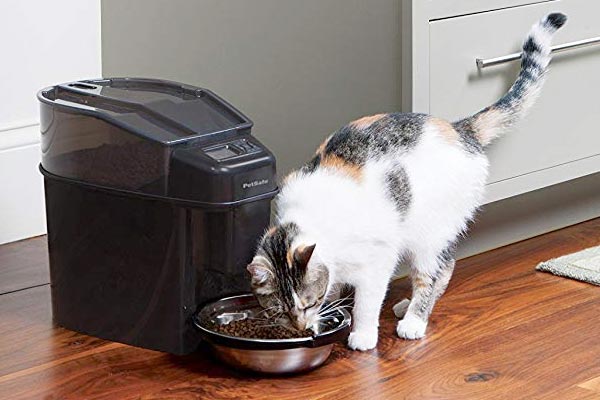 Sale
Pros
Easy to clean
Constructed to be durable with stainless steel and BPA-free plastic
Has a larger capacity food holder
Comes with multiple feeding modes
Cons
4. Super Feeder Automatic Cat Feeder 
You don't have to buy a larger automatic feeder for your cat when you have this feeder. This is because the feeder is designed to hold five cups of food, which is enough for your cat for the day. Moreover, when the kittens come along, you can expand it to accommodate more food for your cat and the kittens.
It features a stand and a bowl that are made sturdy with ABS plastic. The feeding bowl locks safely between the dispenser and the base. Since these elements are separable, they are easy to clean since you can detach them for cleaning purposes.
In order to feed more cats from this automatic feeder, you can custom-build it easily using PVP piping. These pipes can be purchased separately and you can fit up to five pipes for your five cats to feed effectively.
The dispensing of the meal is entirely programmed with the help of an external timer in order to turn it on as per the preset schedule. However, the feeder power supply must always stay plugged into the timer for it to work.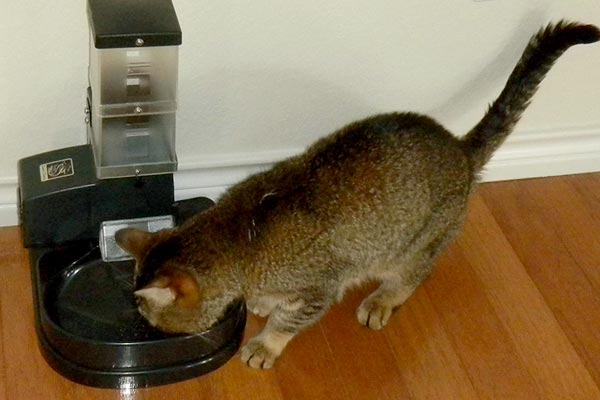 Automatic Cat Feeder, CSF-3 Super Feeder, Stand/Bowl, Analog Timer
Original Super Feeder serviceable for years to come, made in USA and sold by Super-Feed for over 23 years! All parts 99.9% readily available for quick delivery from Super-Feed if ever needed. For gift? Consider the same one completely assembled and ready to use out of the box (SKU: CSF-3-RTU-AMA)
Basic feeder holds 5 cups (volume) of food expendable with more extensions from Super-Feed. Adjustable from very few kibbles to cups up to 48 times per day. Great for cats with vomiting issue when eating too much or for trimming weight.
Pros
The feeder is expandable depending on the number of your cats
Great for customization and modification
Features a high-quality body
Cons
Difficult to assemble
Slightly expensive
5. JEMPET Automatic Pet Feeder Cats Dogs 
If you are looking for a simple and easy to set up an automatic cat feeder, then don't look further than this model from JEMPET. It comes with five individual feeding compartments in which you can place dry or semi-wet food of up to 240ml and 1.2L respectively.
With a feeding timer, you can easily customize your feeding schedule to a regular feeding in advance. Once the timer is set, this auto feeder will dispense meals at the right time. It can dispense up to five meals a day.
It comes with power supply options for flexibility. You can either plug it directly into the wall socket or opt to use the DC 5V/1A that comes with it. Moreover, you can simply install 4 C size batteries when you wish to travel with your feeder.
With the voice recording capability, you can record your voice to call your cats for a meal each time the pre-set time runs down. This is important because your cat will start to associate the two with eating time.
With a flexible standby mode installed, the feeder will automatically "standby" whenever there is no operation activity for 25 seconds. This is great at saving energy bills or batteries.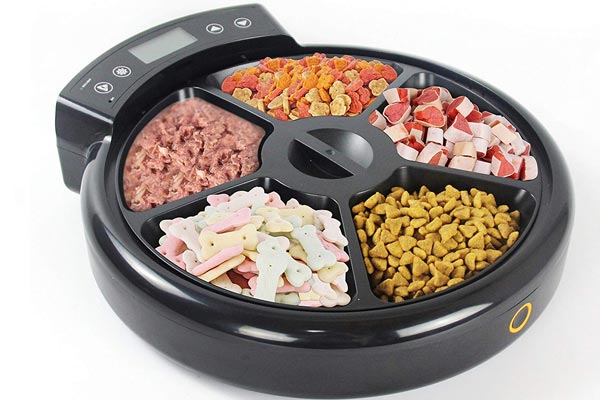 Jempet Automatic Pet Feeder for Cats and Dogs, 5 Meal Trays for Dry and Wet Food, Auto Pet Food Dispenser Programmed with Timer and Voice Recording Function
CUSTOMIZABLE FEEDING SCHEDULE: Our pet feeder is very easy to setup and use! As you can see from our pictures there are 5 individual feeding compartments. Each one holds about 240 ml of DRY OR SEMI-WET food, for a total capacity of 1.2L. The tray itself is very easy to remove and clean!
FEEDING ON A REGULAR DIET TIME: This feeder helps you customize pet feeding schedule (use military time). You are able to set regular feeding time in advance and the auto feeder will dispense food for your pets on the right time. Multiple meals for multiple days and up to 5 meals per day.
TWO OPTIONS FOR POWER SUPPLY: With our product you have two options for power. If you're at home you can plug directly into the wall using the DC 5V/1A cable( that is included ) or if you're on the go you can simply install 4 "C" size batteries (which are NOT included) and our pet feeder can come right along with you! We have also installed a "Low-Battery" warning light that will come on before you run out of power.
VOICE MESSAGE CAPABILITY: Our research has shown that if your pet hears the same voice command before each meal, then he or she will begin to associate the two and will know it's time to eat! The 10 second recording also allows your pet to hear your voice when you aren't home, which can provide them some comfort from afar!
FLEXIBLE STANDBY MODE: We have installed a feature that will automatically set the feeder to "Standby" if there has been no operation for 25 seconds. This will save your money on your electric bill AND batteries!
Pros
Has a flexible standby mode
Comes with voice recording capability
Has two power supply options
Cons
Things to Consider Before Buying an Automatic Cat Feeder
Before buying your automatic cat feeder, you will need to consider the important factors that define a great cat feeder in order to get the best product in the market. Here are a few things to consider.
The number of cats you have
If you own many cats, you will definitely consider buying a number of automatic feeders.
According to Caster, this is important since it prevents over-aggression and frequent fights during mealtime.
How big are your cats?
It is crucial to give your cat the right amount of food depending on its size and age. This means that proper portion control is important, especially if your cat is already overweight.
The amount of food required
Before you narrow it down to an automatic cat feeder, it is also important to think about the amount of food that will be required.
According to the nest, if your cat is a fast eater, then you will be required to get a feeder with a dispenser that is a bit slow so that you control your cat's eating speed.
Are Automatic Cat Feeders Worth Buying?
You might be wondering whether having an automatic cat feeder for your cat is worth the trouble. Maybe you feel that ta feeder is somewhat an unnecessary indulgence.
However, there are numerous reasons why an automatic cat feeder is worth buying. Check out some of these reasons that will prove its worth.
Your pet cat needs feeding at specific intervals or times in the course of the day.
According to PETMD, if a cat is not fed on a regulated diet, it might overeat frequently and be at risk of obesity.
It gives your cat the chance to eat early in the morning before you even wake up
It gives your cat the freedom to eat while you are far away from home for a day.
It keeps your cat on a regular feeding schedule even when you are working for long or odd hours. In order to have a better understanding of how to preset and assemble your automatic cat feeder, check out this video.
How to Choose the Best Automatic Feeder – Buyer's Guide
The best automatic cat feeder to buy will depend on the number of your cats, their dietary needs, and your budget.
You can also consider the following factors so that you don't walk home with a device that does not deliver as you had anticipated.
Method of activation
Many brand models come with programmable timers that allow you to set the times of meals. This will restrict your cat from eating strictly in the set schedule.
Portion sizes
The portions of food you intend to be feeding your cats will also determine the kind of feeder you will settle for. Larger food portions will definitely require frequent refilling.
This means that if you have multiple cats, then a smaller option might be ideal because it will store more food for all the cats as compared to the larger portion-sized feeder.
Number of meals
Like the portion sizes, automatic feeders also vary according to the number of times you can feed your cat.
Some feeders come integrated with a smartphone to enable convenient control of the feeding program.
Before you buy a feeder, therefore, think about the number of times you will need to feed your cat.
Size and material
You should also consider the size of the feeder you want to buy. This is often informed by the number of cats you have and the size of the food you intend to feed your cats. The material used to manufacture the feeder should also be of high quality, durable and tamper-proof.
Conclusion
Whatever kind of automatic cat feeder you may want to buy, you will definitely find it in the market. Once you find the right feeder for your cats, it will either have an analog timer or one that you can control right from your smartphone. You can go for either as long as it serves your cat(s) and is convenient for you.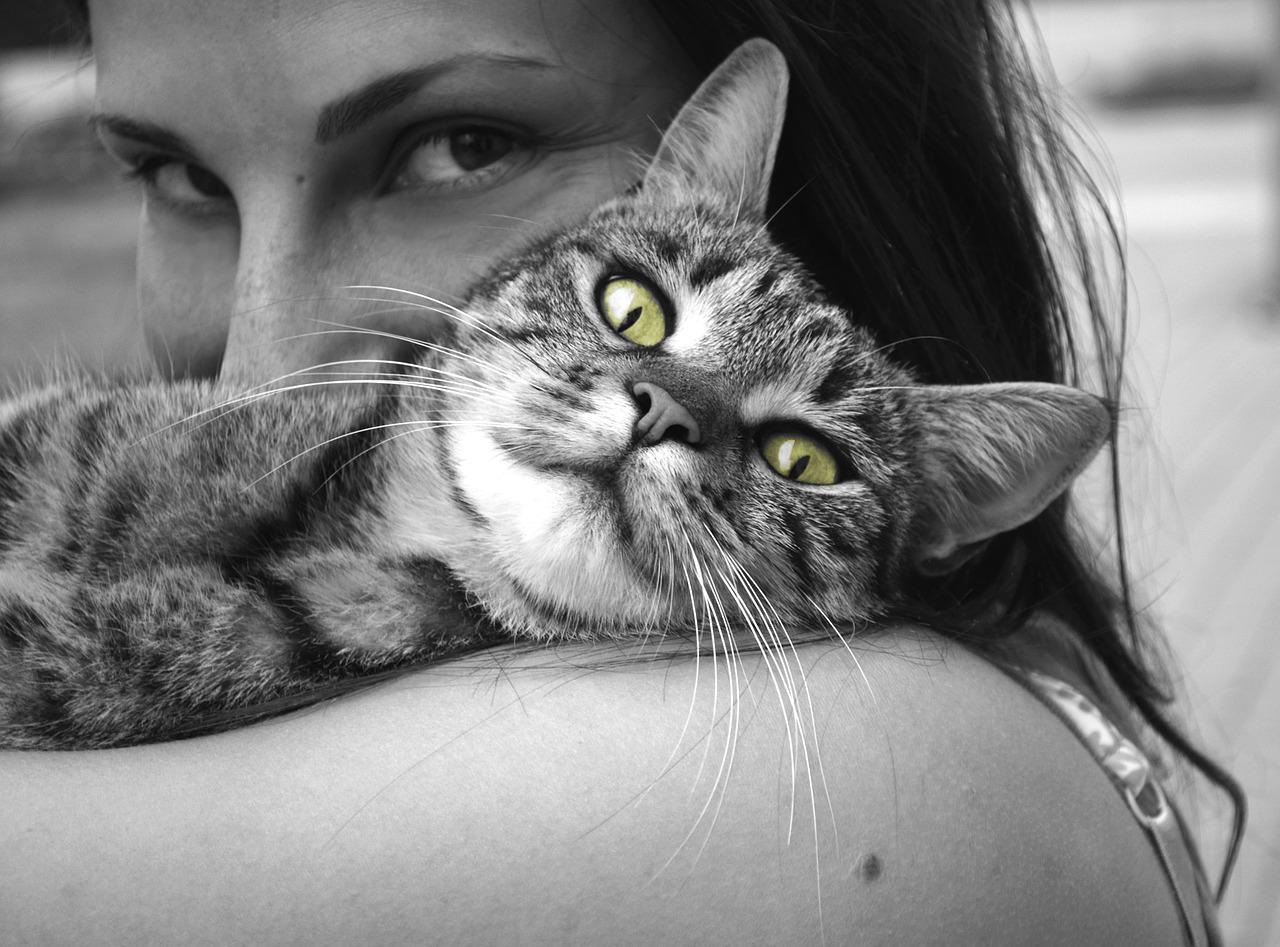 Hi, This is Alexa, and I love cats. This Website is a Complete Journal about how to travel with a cat and other information about Cat Health, Cat Training, Cat Behavior, Cat Foods and more. I hope you find it useful.