We're an affiliate: We hope you love the products we recommend! Just so you know, we may collect a share of sales or other compensation from the links on this page. Thank you if you use our links, we really appreciate it!
We live in a time of vast opportunity and abundance where more and more people are able to travel. Our styles of travel and goals for inclusion increasingly know no bounds.
Most of us aim to bring the whole family along, whether its members be of the two or the four-legged variety.
In the past, camping and hiking with dogs was a known thing, an obvious, timeless ritual going back centuries.
Contrarily, it was conservatively assumed that the family cat was independent, introverted, fussy, and/or simply didn't want to get her paws dirty.
Instead, a sitter was arranged she was the average thus excluded from endeavors outside the home.
A lot of cats also simply find travel stressful. The constraining tight spaces of cat carriers provoke anxiety attacks.
The change in routine can be rattling. It's difficult to tell sometimes who is more anxious about an impending trip to the vet, the cat or the human responsible for making it happen.
Luckily, our collective connection to our cats is deepening as human understanding of animal behavior and the intuitive connection is deepening.
For some human-feline pairs, that is a unique leading to greater possibilities for time spent together in and out of the home.
Across the board, feline guardians are curious about how to communicate to their furry friends that travel can be a fun, safe and exciting bonding experience.
This video presentation by animal behavioralist E'lise Christensen offers clear, concise guidance and step by step suggestions for how to communicate in ways your cat can understand and positively acclimate her to the world beyond the home.
The truth is that the spectrum of cat personalities is as grand as that of human dispositions. Some cats are extroverted, playful, sociable and just as eager to get out and pound the trails with their people as any dog.
The United States already boasts an army of animal-assisted therapy cats who faithfully offer unconditional love and healing throughout the nation's hospitals, nursing homes and other places where people are in need of mental and emotional support.
Check out Instagram's @campingwithcats for some inspiration for feline field days.
Do you have a cat who just seems to know how to soothe a soul? Some of our kitties are talented in the healing arts and remarkably suited to practice their skills outside the home.
If that sounds like yours, consider having him certified as a therapy cat with Pet Partners.
Take a look at Buzzfeed's feature article showcasing several successful therapy cats.
Are you a city person? Is your cat too? Here are some tips for journeying urban style with your whiskered one, by the prolific specialists at Adventure Cats.
We are experiencing a wave of worldly traveling cats and working cats. Bring Your Pet to Work Day has expanded to Bring Your Cat Each and Every Day.
There are day trips, overnight trips, cross country trips, city trips, and camping trips and our cats are right there with us for all of it!
On the other hand, we love all our cats. This includes all the "grumpy cats" of the world and the sensitive, shy or anxious ones who would simply just like to stay put and be the introverted, homebody souls that they are.
Alas, even for the most travel-resistant felines, sometimes there are trips to the vet, moving homes and other completely unavoidable incidents of travel that require inevitable preparation to ensure the comfort and ease of our cats and thus, ourselves.
An expansive, innovative product market is blossoming to match the demands of today's cats on the go. You've got your comfortable cat carrier.
Now, what about the ideal travel litter box to meet your cat's and your own needs simultaneously? Do you wish for a machine washable or hand washable box? Most of the travel options are going to be on the smaller side– how much does size matter?
Is your cat on the large side or is your smaller cat fussy about the size of his elimination space? Is the convenience of disposability tantamount?
Then there's the environmental friendliness of such disposable options to consider, coupled with the issue of leaking with the biodegradable choices.
Heck, if space is not a problem, why not invest in a self-cleaning box to have one less chore to think about while on the road?
With the multitude of options available on Amazon.com, an expansive review of Amazon's top five options is in order:
1. Petsfit Portable Travel Cat Litter Pan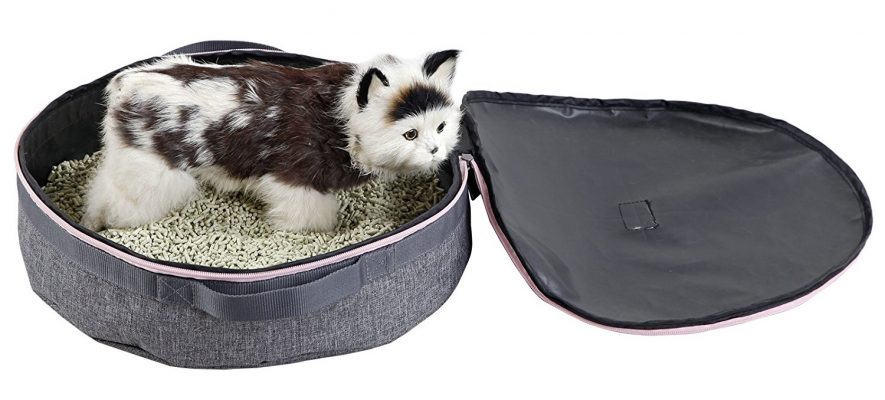 Check the prices for Petsfit Portable Travel Cat Litter Pan Foldable on Amazon
Featuring a unique, round shape and zip-top, this model is by far the biggest space saver and most conveniently discreet. Ideal for the smaller cat who is nimble, neat and tidy about doing her business.
The company even boasts that this product has multiple uses, the other being a cozy bed for the cat, although we imagine that you'd want to choose between the bed or litter box use option upon purchasing and stick with that choice for the life of the product.
Pros
convenient machine or hand washable
environmentally friendly can be used again and again
outrageously compact and can be zipped closed for neatness
stylish and modern in appearance
Cons
soft, flimsy material, walls tend to cave in– realistically, you might need to put inside a bigger box to keep stray litter from escaping
not ideal for large cats or for cats that like to kick and move around in the box
2. Pet Fit For Life Collapsible Portable Litter Box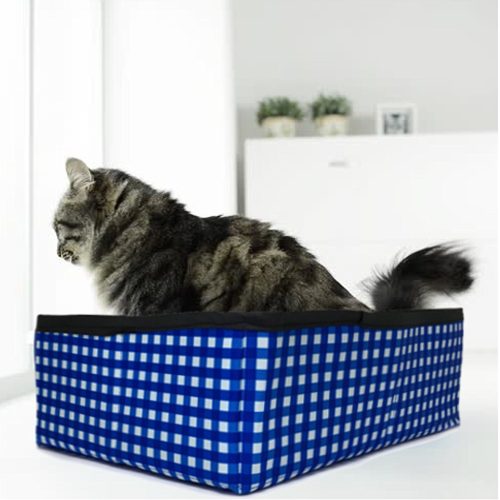 Check the prices of the Pet Fit For Life Collapsible Portable Litter Box on Amazon
This is one of the roomiest collapsible portable litter box models on the market and even comes with a collapsible food and water dish.
The walls are actually a bit higher and stiffer than other similar products on the market to keep the litter where it belongs.
It allows for the comfort of medium to larger cats and the dynamics of cats who prefer their elimination efforts to be athletic events.
Pros
nylon material is durable and very easy to clean by hand or machine and can simply be wiped down with a paper towel and soapy water
higher, stiffer walls
strap for carrying and storing
bonus portable food and water dish
accommodates cats of most sizes and elimination styles
economical
Cons
materials appear durable but stitching and construction feels a bit lower in quality than other similar products
cannot be zipped or easily transported when containing litter
3. Large Disposable Cat Litter Boxes by Easyology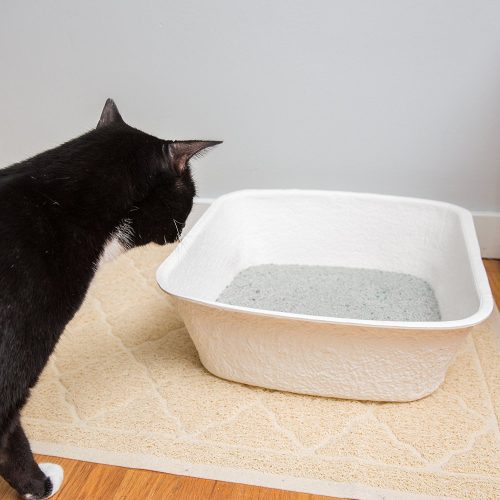 Check the prices for the Easyology Large Disposable Cat Litter Boxes on Amazon
Completely biodegradable, these are the convenient, environmentally friendly ideal when combined with similarly earth-friendly litter.
They are sized for large cats feature sturdy, solid walls that stand strong against even the most active and acrobatic cat.
Pros
made from 100% recycled paper, these are an ethical purchase that you can feel good about
odor-resistant
when filled with sand, can be used for up to 4 weeks
non-toxic to our precious furry friends
backed by Easyology's 100% unconditional money-back guarantee policy
Cons
bulky for car travel and will require an additional plastic bottom tray and cover for when not in use
possible leaking if used too often
4. IRIS Top Entry Cat Litter Box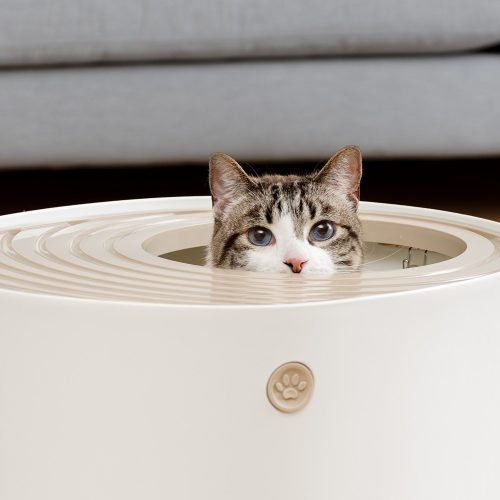 For the purposes of travel based out of an SUV or other larger than the average vehicle, this litter box is a luxury and a miracle for both Princess Paws and all the meticulous neat freaks out there.
Featuring a unique top side entry, there is next to no chance of litter spilling out copiously or randomly into the car with every use.
Also, some cats like privacy in which to do their business. Travel can be stressful, and a moment alone, safe and protected in the box might be what really helps your cat acclimate and deal with the changes around him.
Pros
neat, clean and tidy; no litter spillage
A unique private enclosure that can calm an anxious kitty
strong, durable, easy to clean plastic surfaces
textured, the non-slip roof gives cats the paw and claw traction for easy entrance and exit
included litter scoop and attached hook for hanging
comes in two sizes for all sized cats
round corners for easy cleaning
Cons
takes up more space than tray-style designs
a larger investment than tray-style designs
5. Necoichi Portable Cat Litter Box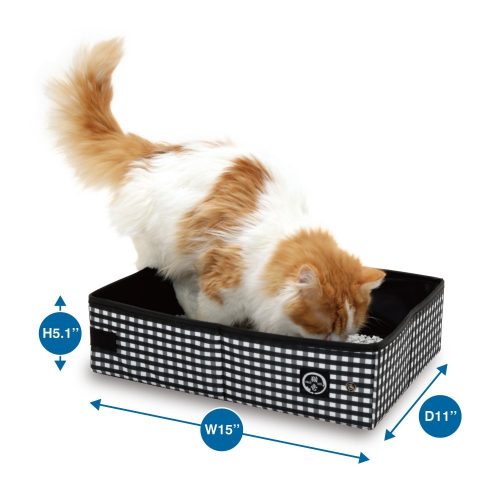 Check the prices for the Necoichi Portable Cat Litter Box on Amazon
One of the most widely 5-star reviewed travel litter boxes on Amazon, this product is top quality in construction, streamlined in design, and pleasing to the eye with its attractive, chic black and white gingham print.
You might want to check out all the other matching cat products by Necoichi that sport the same classic aesthetic. A compact model, it is ideal for smaller or medium cats. A large but tidy cat could also make this work.
Pros
modern and attractive look
solid materials and construction
hand washes quickly and easily
packs down to a tiny rectangle
extensive positive reviews on Amazon
seamless liner
Cons
sides might be a bit low and size might be a bit small for larger or active cats
no cover or zip to a transport box containing litter
With the vast expanse of options on the market, you and your kitty are sure to find your traveling match!
How to Pick the Best Travel Litter Box
It's time to double-check the packing list before heading out on your cross-country road trip, your day trip to a nearby city, or your next move!
Extra socks? Check.
Sunscreen? Check.
Travel litter box for your cat? Check!
Believe it or not, cats can make great traveling companions! All you have to do to make sure they are happy, relaxed, and comfortable on their journey is to ensure that you're maintaining parts of their everyday routine, and this includes the litter box.
Cats are creatures of habit, and unfamiliar situations can stress them out. If you select a travel litter box that is easy to transport and similar to the one your kitty knows and uses every day, you're well on your way to a comfortable trip for everyone.
Read on to find out how to select the best option for you and your kitty!
What is a travel litter box, exactly?
Travel litter boxes can fit a variety of descriptions. They can collapse to save space when not in use, have high-tech elements, be low-tech and simple, or even DIY.
The perfect box for your cat depends on what they're used to at home and whether you're traveling by car or airplane.
Ideally, a travel litter box should fit inside the cat's carrier while also leaving enough room for the cat to move around and sleep.
larger litter box can be used when you reach your destination, but the cat should stay in its carrier while the car is moving, according to Dr. Ruth MacPete.
Even though it may be tempting to let your cat out of its carrier during your trip, kitty (and you!) are safest if she stays securely enclosed.
A roaming cat could panic and run under the brake or gas pedals, or be thrown around and injured if you have to slam on the breaks.
However, if your cat is more comfortable with lots of space to move around, consider transporting it in a dog crate in the back of an SUV or van, or a specially designed tube pet enclosure that fits in the back seat of a car. This also gives you more room for the litter box!
Check out this video to see the tube pet enclosure in action in the back seat of a car! The video shows it in use with a dog, but it works just as well for cats.
Practice makes perfect.
One common sign of stress in cats is improper bathroom behavior such as avoiding the box completely, some of the time, or for only bowel movements or urination, according to the ASPCA.
Since traveling can be a stressor, it's even more important to eliminate other possible sources of stress such as an unfamiliar litter box.
To get your cat completely comfortable with its new travel litter box, take it for a test run before your trip. Set up the litter box a few days before you leave, add the litter you'll be using, and allow your cat to sniff, explore, and try it out.
For the full effect, set the litter box up in the cat carrier. Leave the carrier door open for a few days so that your cat can become fully comfortable with its new surroundings.
This will help eliminate any anxiety about using a litter box in an unfamiliar, enclosed space.
What litter box do you use at home?
There are many different types of litter boxes on the market, but thankfully there are travel-sized versions of nearly all of them.
Even if you use a self-cleaning litter box at home, don't worry – both you and your cat can stick to your usual routine with a travel version!
What type of litter do you use?
Similarly, you should use the same type of litter that your cat is used to during your trip. Cats can be very finicky and using an unfamiliar brand or type of litter while on a trip could be enough to make them avoid the litter box completely.
Dr. Jason Nicholas points out that even though it can be tempting to use scented litter while on a trip (hello, small spaces!), the fragrance can be irritating to your cat's sensitive nose. Instead, opt for odor-trapping, dust-free litter to minimize smells.
East, west, simple is best.
If you have a simple litter box set-up at home consisting of a plastic litter box without a cover, you can buy a smaller version that fits in your cat's carrier.
Try to find a box that fits snugly enough so it doesn't move around and spill during transportation.
You don't even need to buy an actual litter box – you might already have a plastic bin that fits in the cat carrier. Use it as is, or simply trim the edges down to size if it's a little too tall for your cat to hop in and out comfortably.
When in doubt, toss it out!
Disposable litter boxes made from cardboard or heavy paper are another option and can be perfect for shorter trips and smaller cats. You may want to line a disposable litter box with a garbage bag or plastic litter box liner to avoid leaks.
Disposable litter boxes have the added benefit of being quick and easy to clean, as you can simply throw the whole thing away instead of scooping it!
This also means that you won't need to bring along a litter scoop, which can be messy and inconvenient to transport.
You can also save some money and make your own disposable litter box out of a small cardboard box lined with a garbage bag – the San Diego Humane Society points out that cardboard trays from the grocery store are a perfect size. Trim down the sides if necessary.
Are you and your kitty a little high-tech?
If you prefer the hands-off convenience of a self-cleaning litter box, you can purchase a smaller version for travel.
Keep in mind that they cost a little more and take up more space than a traditional litter box, but the added cleanliness can be worth it.
If your cat is unfamiliar with self-cleaning litter boxes, this is probably not a good time to introduce one.
According to PAWS Chicago, cats need some time to get used to changes in their environments, and it's best to introduce these changes one at a time.
Are you a frequent traveler?
If you travel frequently, you may want to make an investment and purchase a portable litter box. These litter boxes are designed to collapse or fold to save storage space between trips, while still being sturdy enough to be fully functional as a litter box.
Some portable litter boxes are made from heavy-duty nylon fabric lined with plastic that can be wiped down after use, while others are made from padded nylon that can be machine washed. The padded version can even double as a cat bed when it's not being used for the litter!
Some brands offer portable litter boxes with a lid that can be zipped closed. This can save on space while traveling since it eliminates the need to pack a separate container of litter. Simply unzip the lid when kitty needs to use the box.
Try going all-natural.
Yes, cats really can be trained to walk on a leash, and even to do their business outside! If you've already taught your cat to walk on a leash, you can simply take them outside to use the bathroom throughout the day.
Cats typically go to the bathroom less frequently when they're in unfamiliar situations, which makes it easier to plan potty breaks. You can even coordinate them with your rest stops to give your cat a chance to stretch its legs.
Bring all the necessities.
Of course, you'll need more than just a litter box. Be sure to pack a litter scoop in a secure container to avoid contamination and smell, plenty of litter, and small trash bags (dog poop bags work perfectly) to scoop the litter each day.
You can keep these extra litter items in a small basket or box in the trunk of your car or the floor of your backseat.
This will keep any dust, odor, and possible risk of contamination at a minimum, and also make it quick and easy to find these essential tools.
Ultimately, the best travel litter box for your cat is based on a variety of factors, including what your cat is used to, the distance you're traveling, whether you're traveling by car or airplane, and the size of your cat carrier.
As always, the most important thing is to make your cat feel comfortable and safe. If you select the right litter box and follow these tips to make sure your cat is completely used to it well in advance, it will be nothing but happy trails for you and your feline companion!