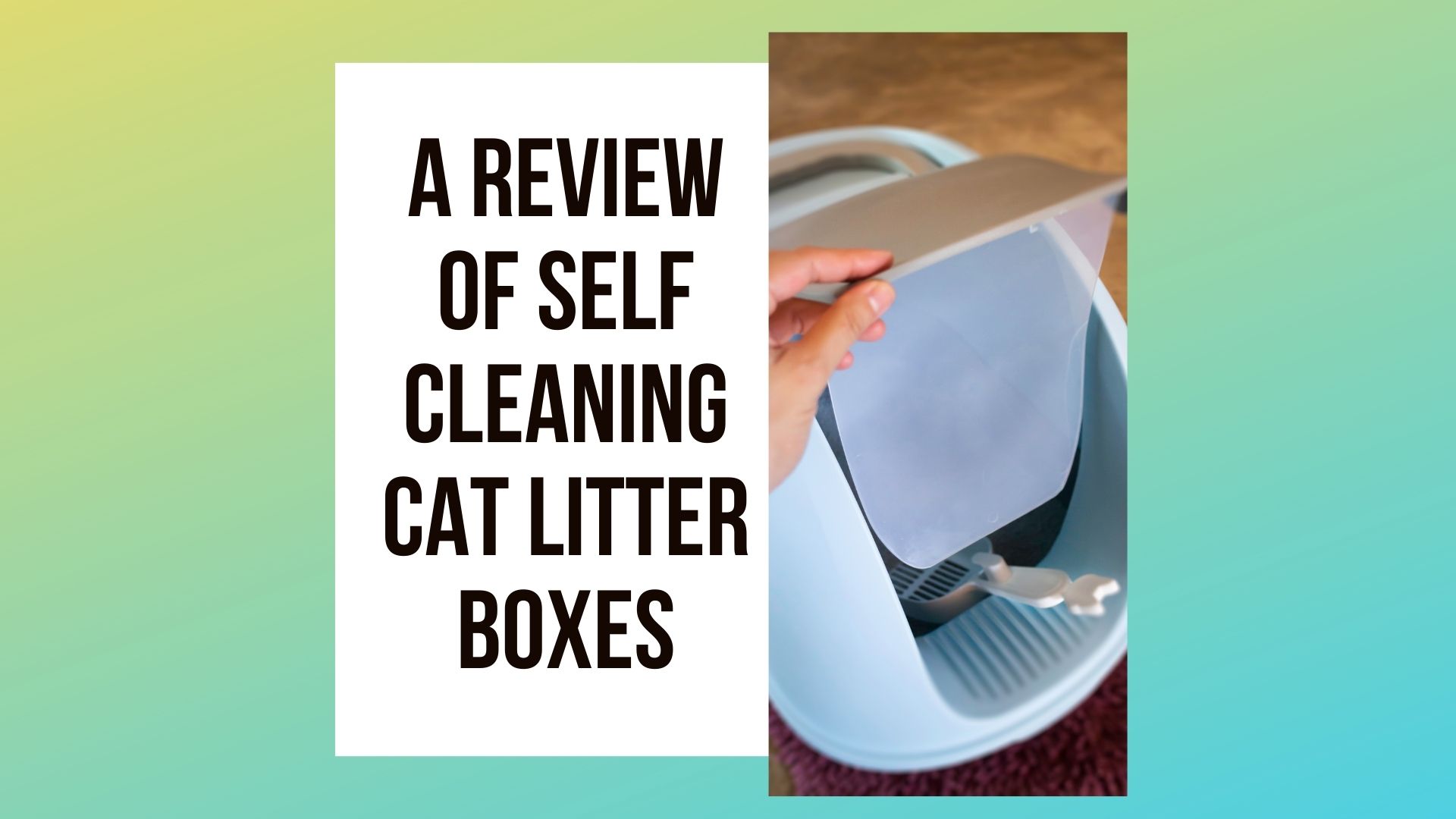 The 5 Best Self-cleaning Cat Litter Boxes 
1. Omega Paw Self-Cleaning Litter Box 
2. ScoopFree Ultra Self-Cleaning Litter Box 
3. Litter-Robot III Open Air 
4. OurPets SmartScoop Intelligent Litter Box 
5. Littermaid LM980 Mega Self-Cleaning Litter Box
Are you sick and tired of cleaning up after your kitty, even though you love him or her like another member of your family?
Is it getting more difficult for you to bend over and scoop your cat's waste products out of his or her litter box multiple times a day?
And, what about that offensive odor of cat feces and ammonia from urine that tends to permeate the homes of those who share their space with feline friends?
There is a solution to these issues that cat owners face daily. There are now self-cleaning litter boxes! But, with so many on the market, which is best and how will you choose which one is right for your cat? Just read this handy guide.
1. Omega Paw Self-Cleaning Litter Box 
This product is great for larger felines and multi-cat households, and its covered design gives your kitty the utmost privacy.
Once he or she is done, the waste is removed within seconds. While it only works with clumping or silica litter, it doesn't require electricity or filters due to its unique patented grill.
By rolling the box to right until the top touches the floor, then back into upright position, the mechanism scoops the waste out and deposits it into a pull-out tray for easy removal.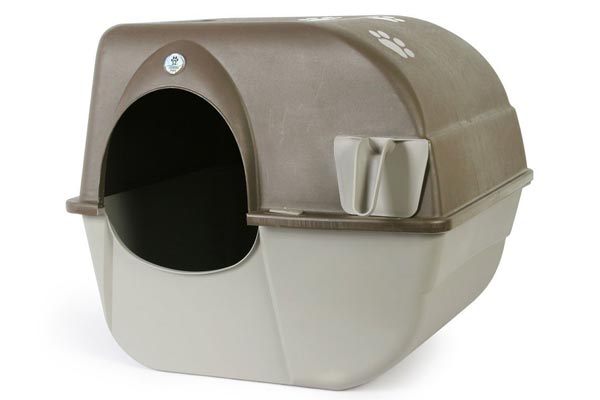 Omega Paw Self-Cleaning Litter Box, Pewter
Self Cleaning
Easy to use
Takes no electricity, liners or filters
Patented Grill separates clean litter from waste
Easy Assembly.Please refer user manual attached below for instructions and troubleshooting steps.
Specifications 
Product Dimensions: 23.5 x 21.2 x 10.5 inches
Item Weight: 7.6 pounds
Shipping Weight: 10.4 pounds
Item model number: RA20
Pros 
It's very affordable compared to other models.
The assembly is easy and the device is user-friendly.
It doesn't require filters, water hook-ups, or electricity.
It's very private for shy cats and large enough for big cats.
Cons 
Litter-tracking can occur because of the design, which can be helped by placing a mat underneath it.
Litter has been known to fall in the disposable tray, which is wasteful.
It does require manual function, so it's not truly automatic.
2. ScoopFree Ultra Self-Cleaning Litter Box 
This product works with crystal litter that dries out feces and absorbs the urine. Then a rake on an automatic timer removes the waste from the disposable tray and places it in a closed compartment for easy clean-up.
The timer has three convenient settings depending on your cat's needs, so it will self-clean every 5, 10, or 20 minutes.
You simply load the device with a disposable litter tray filled with the specialized litter. It will come pre-measured so you will have the perfect amount every time.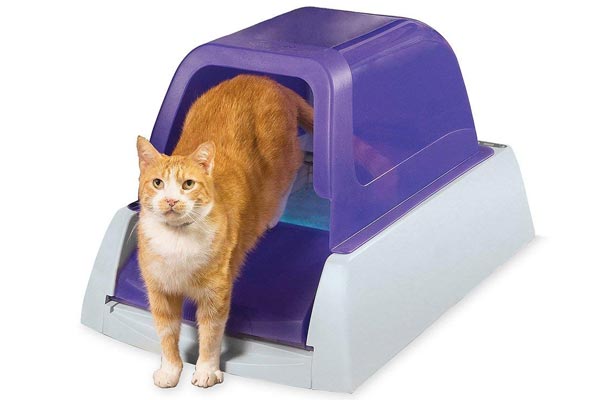 PetSafe ScoopFree Ultra Self-Cleaning Cat Litter Box – Automatic with Disposable Tray – Purple Covered
Automatically removes waste: No scooping, cleaning or refilling your cat's litter box for weeks
Unbeatable odor control: Crystal litter removes smell by absorbing urine and dehydrating solid waste
No more messy floors: Low-tracking crystals are 99% dust free and don't stick to your cat's paws; A hooded cover helps keep kitty litter inside the box
Leak protection: Disposable trays have plastic lining to help protect against leaking and keep your floors clean
Easy cleanup: Simply remove the tray and throw it away; Each tray includes a lid for quick disposal
Specifications 
Product Dimensions: 19 1/8 x 27 5/8 x 6 3/8 inches
Item Weight: 6.5 pounds
Pros 
The system absorbs up to 20 days of urine, so it's great for leaving kitty while taking trips.
Its plastic lining prevents leaks and messes.
The litter comes with offers up to 5 times better moisture and odor control than average litter.
It's less expensive than most models, but it's still very high in quality.
The crystal litter is dust-free and doesn't track much around your home.
Cons 
Cats that scratch a lot when burying waste can accidentally damage the cardboard trays, leading to leaks.
While the crystals prevent the odor of waste products from permeating your home, they tend to have their own overpowering odor.
3. Litter-Robot III Open Air 
This product, while it looks like a spaceship for cats, is well-regarded as possibly the best self-cleaning litter box on the market.
It is 100% self-scooping and does not require a helping hand like most models.
It cuts down on litter waste by up to 30% with its patented sifting process, which automatically separates waste from clean litter only a few seconds after Snowball exits the commode; usually within 3 – 7 minutes.
This is an improvement on an earlier model made by the same company. Working with all types of litter, it has a spherical, rotating design that removes the waste, and a weight sensor that is able to determine the size of the cat using the box at the time.
The filter keeps every bit of clean litter, saving you a ton of money in the long run, and waste gets dumped into a receptacle that can be removed for easy disposal.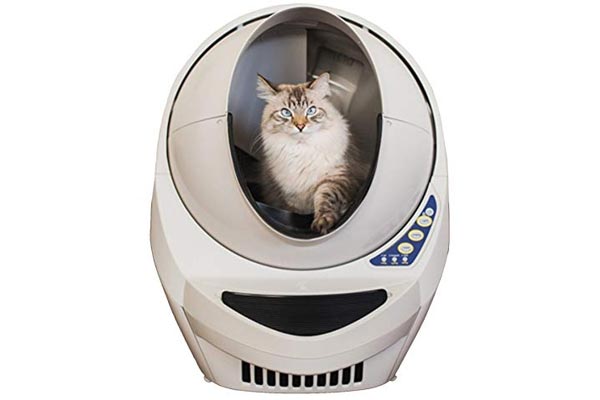 Specifications 
Product Dimensions: 32 x 24 x 24 inches
Item Weight: 33.4 pounds
Shipping Weight: 33.4 pounds
Pros 
It works well with all sizes of cats and even in multi-cat households.
The litter chamber is more spacious than most litter boxes.
There is an indicator light that tells you the waste drawer is full.
You will only require 50% of the amount of litter that most models use.
The manufacturer provides a 90-day money-back guarantee and an 18-month warranty.
It has a night light to assist kitties in answering nature's call at night.
The cleaning mechanism is quieter than most.
It has a very wide opening for larger kitties.
Cons 
It is very expensive, though it is less likely to malfunction or break down in any way.
It is not recommended for tight spaces or small apartments as it is quite large.
The open door leaves ample opportunity for cats to kick litter outside of the box,
If you place too much or too little litter in the device, it will not work properly, but it does come with a fill-to-line indicator.
4. OurPets SmartScoop Intelligent Litter Box 
This litter box comes equipped with technological advancements that can monitor your furry pal's health and wellness.
As part of a product line that has water and food dishes that do the same, the product comes with a Bluetooth monitoring system that sends you notifications via a smartphone app if your cat's behavior changes in any way that can cause alarm, such as a difference in elimination amount, frequency, or duration.
The system works only with clumping litter and scooping the box clean 15 minutes after your kitty finishes his business, dumping his or her waste into a no-touch waste bag.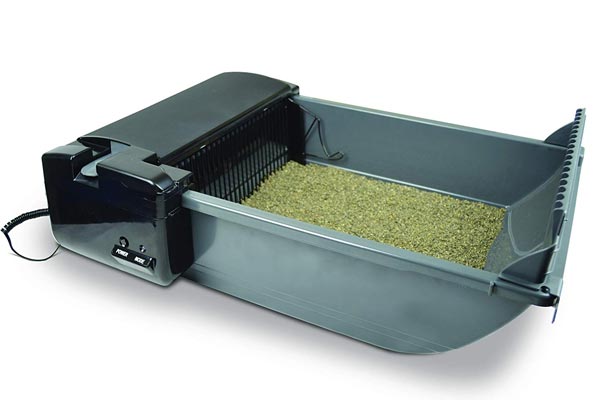 Our Pets Smart Scoop Intelligent Bluetooth Litter Box Self Cleaning Health Monitoring System
Bluetooth pet health monitoring system sends you notifications only if there is a change in your pet's behavior, aiding in the communication between you and your pet
IntelligentPetLink smartphone app makes it easy to monitor your cat's health, product performance, maintenance and usage
Automatically scoops waste 15 minutes after your cat leaves the litter box into an enclosed waste bin with a carbon filter for superior odor control
Works with any clumping cat litter
Two-year warranty from the manufacturer
Specifications 
Product Dimensions: 27 x 17.2 x 7.8 inches
Shipping Weight: 12.1 pounds
Item model number: 1400013324
Pros 
It uses advanced technology to monitor and inform you of any changes in your cat's toilet habits.
It works with any brand or type of clumping cat litter.
The machine's motor is very quiet and won't disturb you or frighten your kitty.
It disassembles easily for cleaning and travel.
The carbon fiber filters prevent odor from escaping.
The manufacturer provides a 2-year warranty.
Cons 
The litter tends to get kicked out of the box by cats or pushed out by the rake itself when cleaning.
The waste bags may need to be emptied every day if your cat produces an abundance of waste, or if you have multiple cats.
5. Littermaid LM980 Mega Self-Cleaning Litter Box 
This box scoops after every use and will provide your household with a clean box for up to 7 days before it needs to be emptied.
You can set it to clean automatically with an on and off switch. It works great if you have multiple cats because it holds 50% more litter than other self-cleaning litterbox brands.
You simply load the charcoal filter and the waste receptacle, which seals tight so no odor escapes before disposal. The high walls also prevent litter tracking throughout your home.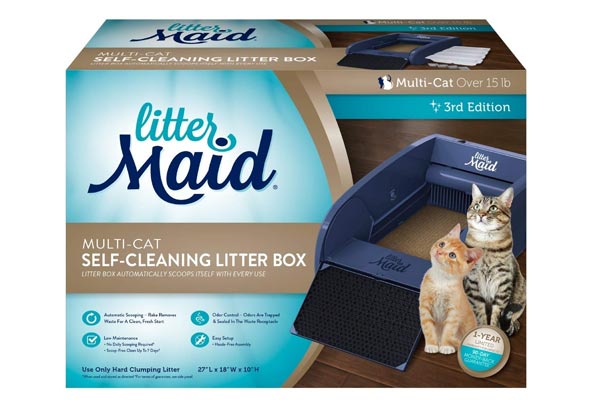 Littermaid LM980 Mega Self-Cleaning Litter Box
MULTI-CAT SELF-CLEANING LITTER BOX: This litter box has automatic scooping with a rake that removes waste for a clean, fresh start. It is designed to be used with multiple cats over 15 lb.
LOW MAINTENANCE: When used as directed, the LitterMaid Multi-Cat Self-Cleaning Litter Box requires no daily scooping, meaning you have a scoop-free clean up for up to 7 days.
ODOR CONTROL: Once the rake removes waste, the waste receptacles with carbon filters keep mess and odor contained.
LITTER BOX DESIGN KEEPS AREA CLEAN: Designed with high walls to prevent litter scatter and a paw cleaning ramp to help prevent tracking around the box.
ACCESSORIES INCLUDE: 4 waste receptacles, 4 carbon filters, 1 scoop and rake cleaner, 1 paw cleaning ramp
Specifications 
Product Dimensions: 17.7 x 9.8 x 28 inches
Item Weight: 13.23 pounds
Shipping Weight: 13.9 pounds
Item model number: LM980
Pros 
The rake can be easily removed for quick cleaning and maintenance.
It has carbon fiber filters for odor elimination.
It prevents litter-tracking with its high walls, ramp, and cleaning pad.
It is one of the most affordable models on the market.
It comes with a battery backup for travel in case you lose power.
It has a safety bar to stop the rake if the machine should become blocked.
Cons 
This model sometimes has to be cleaned manually because it tends to get blocked easily.
It's not recommended for multi-cat households or for cats that tend to create a lot of waste.
It typically only lasts between 2 and 4 years. The motor tends to get loud, and it is not the most durable.
Putting too much litter in the box can cause the sensors in the device to get extraordinarily dusty, impairing their ability to work properly.
What are the Benefits of a Self-cleaning Cat Litter Box?
There are many benefits to having a self-cleaning litter box. For example, because they free you from scooping the litter, you will have almost no contact with your cat's waste.
They also provide a clean box for your kitty every time she needs to use the facilities.
These devices also save you money on litter and reduce nasty household odors. And, even if you have multiple cats, you can go on a trip without worrying about waste building up over several days.
How do I Shop for a Self-cleaning Cat Litter Box? 
Cats are fussy when it comes to pretty much anything, so you will have to consider your furry friend's tastes when choosing a kitty commode.
You'll have to factor in material, size, whether or not the box is enclosed, and what your needs as an owner are.
For example, how much space do you have, and do you mind expanding a bit of elbow grease, or do you want a fully-automated box?
Larger cats will need enough room to turn around, squat, and bury their waste, while kittens and smaller felines will need lower sides to climb over, as will those cats with arthritis and joint issues.
Different plastics are more likely to neutralize ammonia and absorb odors better than others and some devices rake out waste more often than others.
Just remember, what you require depends upon how many cats you have and what their (and your) individual needs are.
Things to Consider 
Remember to check your device to see what type of litter must be used or is at least recommended to be used with it.
It should specify whether you need that particular brand, crystals, clumping, or if any type of litter can be used.
Remember, using the wrong type can not only impair the self-cleaning functions of the device, but it can completely shut down all functions, so be very careful when selecting litter.
Also, be sure to select an area of your home that is low-traffic and free of most noise for your litterbox.
Cats don't like to be startled when they are taking care of their business. It should also be located on a sturdy surface with plenty of free access for easy use.
And, what happens if your kitty is less than enamored with her new throne? Well, you can familiarize her with the new litterbox by simply placing her old box inside the new one until she gets used to it.
Also, try to keep the automated system off for a few days as not to scare her off. She may be confused and anxious when she hears the noise the box makes for the first time, so have her observe the box self-clean so she can see that it won't hurt her.
Why Should I Look For Self-cleaning Cat Litter Box? 
According to Worldsbestcatlitter, these devices are very convenient for busy pet owners that simply do not have the time to clean, empty, deodorize, and refill a litter box every day.
They sift waste from clean litter, separating unused portions and saving you money in the process. The waste is disposed of in a container or plastic bag that can be easily thrown out in a hurry.
Also, cats tend to turn their noses up at a litter pan that is not 100% clean at all times.
This means you could come home to an unpleasant mess on the floor, in your bathtub, or on the furniture if you don't have the time to change your buddy's litter as often as needed. A self-cleaning box eliminates this issue, as it should always stay fresh.
How does a Self-cleaning Cat Litter Box Work? 
According to Petmd, most automatic litter boxes contain a compartment on one end of the box or right underneath it.
The litter is then sifted by a mechanical rake and waste is then collected and deposited into the compartment, while odors are also trapped inside by a top or enclosure.
Then, when space is filled, a removable receptacle can be emptied into the trash.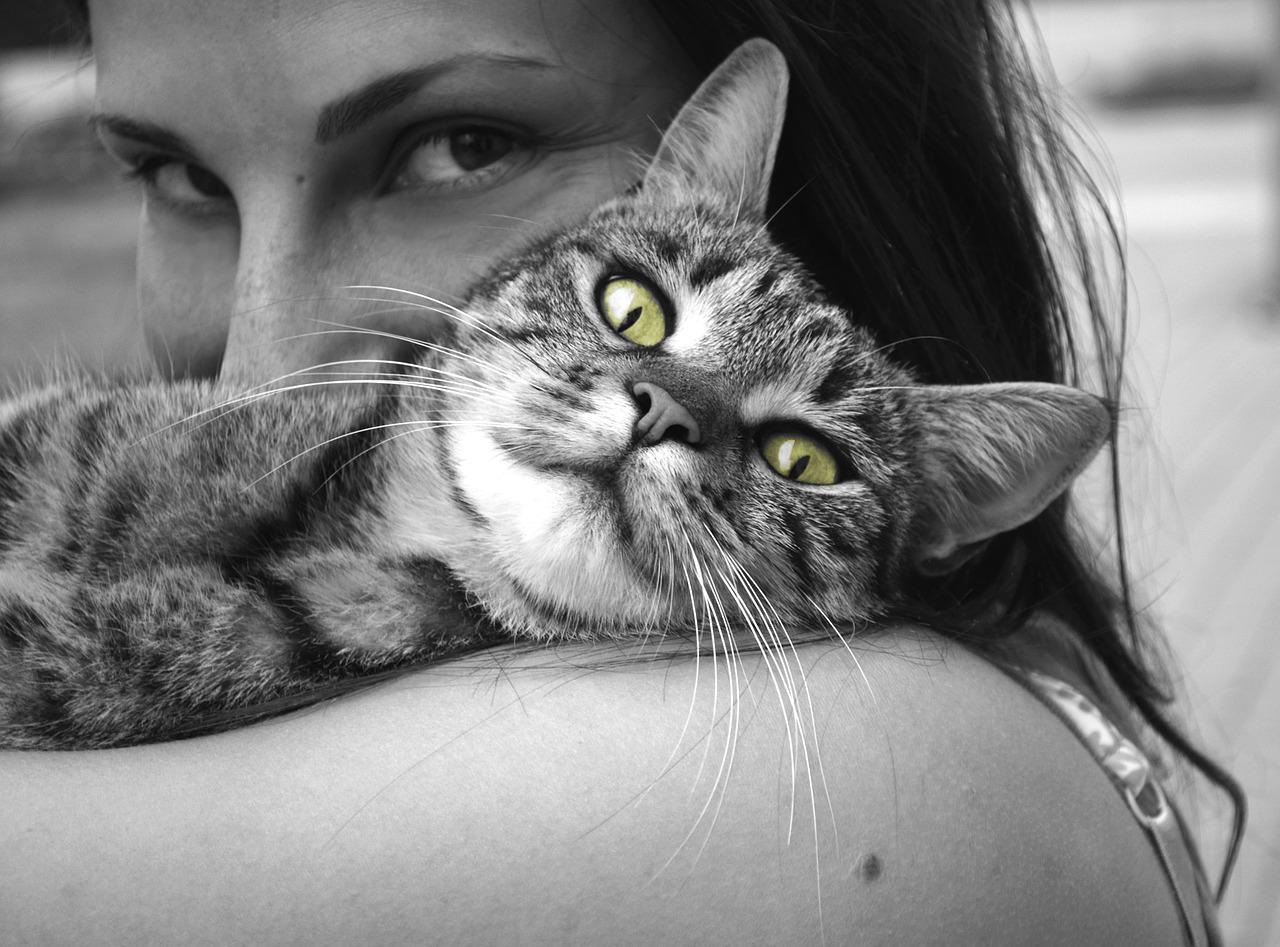 Hi, This is Alexa, and I love cats. This Website is a Complete Journal about how to travel with a cat and other information about Cat Health, Cat Training, Cat Behavior, Cat Foods and more. I hope you find it useful.