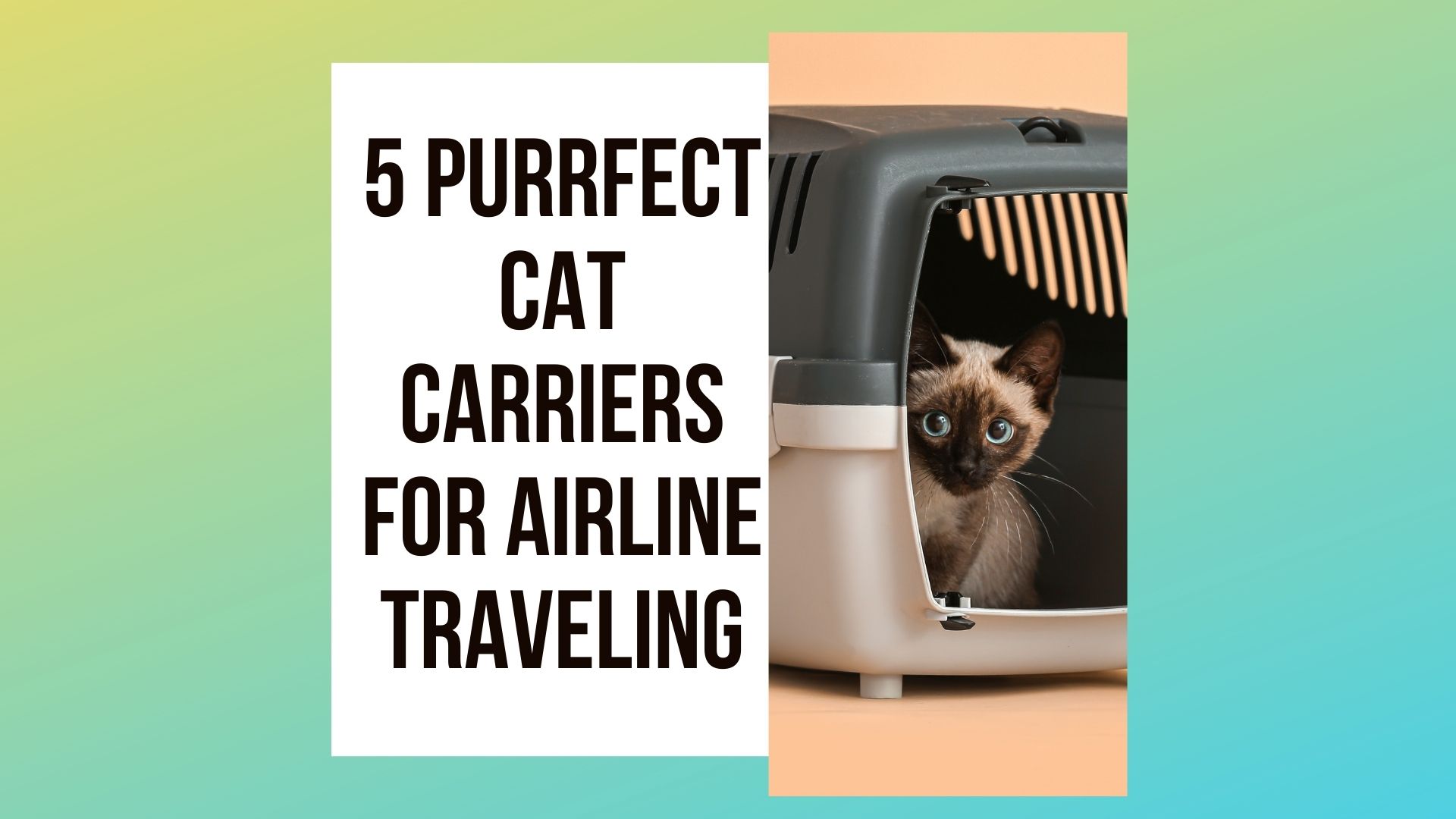 Are You looking for the Best Cat Carrier for Airplane and Airlines Travel? Are you indecisive on the best method of flight transportation for your cat? Although your furry friend may prefer routine and familiarity, you can purchase a roomy, ventilated carrier that will ensure his comfort and your ease! If your cat is content, your travel is guaranteed to be simple!
Explore the Necessities Regarding Cat Carrier Features.
In order to select the best carrier for airline travel, you will want to search for features regarding the following:
Size
Foldable and/or extensible
Security
Air ventilation
Waterproof bottom
According to cat behavioral expert Pam Johnson-Bennett, size is a significant factor prior to purchasing.
A carrier that is too small potentially creates an anxious environment for your cat, while an overly large carrier diminishes their sense of security entirely.
Therefore, you will want to purchase a carrier that is one and a half times the size of your cat.
Additionally, the foldable and/or extensible feature of a carrier is another necessity for airline travel.
According to the CatSnipcademy website, this feature allows for appropriate storage and for accommodating your cat's need for more space.
The website additionally includes references to different airlines' pet policies.
Security, air ventilation, and a waterproof bottom are equally crucial in selecting the best carrier.
According to the Pet Travel organization, almost all airlines require proper zipper security to prevent any prospect of escape. Zippers are preferred over snaps.
As another feature, your carrier should provide proper air ventilation for your cat, preferably ventilation on three sides of the carrier.
Another principal quality includes a waterproof bottom in case of urinary accidents. You may even want to purchase pads to outline the bottom as well.
Be Sure to Prepare Your Carrier for Your Cat's Comfort.
In this video, the Petcha organization provides several tips to prepare your cat for travel.
These steps are crucial in ensuring that your cat has a comfortable trip and does not produce too many messes in his carrier.
You also may want to include food in his carrier, which should be a consideration when selecting an appropriate size.
What are the Best Airline Cat Carriers?
Now that you have established the necessary requirements for your cat's carrier, you will want to determine your cat's personal needs.
Is your cat easily nervous, frightened, or clingy? If so, a secure environment is especially significant.
As another example, mesh windows provide visibility of you to your cat to prevent any excessive scares or clinginess. Keep these details in mind, and finally, select the best carrier!
The following are several great, potential carriers you could choose:
Mr. Peanut's Airline Approved Soft-Sided Pet Carrier
AmazonBasics Soft-Sided Pet Travel Carrier
AmazonBasics Two-Door Top-Load Pet Kennel
Expawlorer's Airline Pet Travel Carrier
Fypo's Cat Carrier
Mr. Peanut's Airline Approved Soft-Sided Carrier Provides Several Advantages.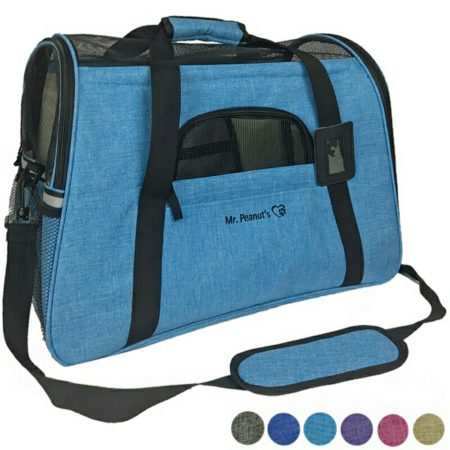 Check the prices for Mr. Peanut's Airline Approved Soft-Sided Pet Carrier
Mr. Peanut's Airline Approved Soft Sided Pet Carrier, Two-Tone Luxury Travel Tote with Fleece Bedding, Under Seat Compatibility, Perfect for Cats and Small Dogs (Deja Blue)
PLEASE NOTE INTERIOR SIZING & PET MEASURING GUIDELINES BEFORE PURCHASE - Fits Pets to approximately 16"Lx10"H and up to 15lbs. Airline capable carriers are designed for pets lying down, so your pet may not be able to stand. PLEASE KEEP IN MIND that we show the exterior dimensions as well as approximate interior dimensions to best portray the usable interior space for your pet. The interior space will be less than exterior due to the fabric thickness and plush faux fleece padding.
AIRLINE REQUIREMENTS - Always keep in mind each airline sets their own requirements, and they can even vary from their domestic, international and shuttle routes so it is always advised to check with your airline of choice. All will require your pet to be comfortable in the carrier, well ventilated and to remain under the seat in front of you during flight. All prefer a soft sided carrier for its adjustability, and we have designed our carrier to have a pliable top so that it can easily stow
OXFORD 2 TONE FABRIC - Easily Wipe Down Washable and it comes with an interior fleece bedding pad (Hand Wash or Dry Clean Recommended)
STURDY AND LIGHTWEIGHT - Only 2.7 lbs, Designed with Breathable Mesh on All Sides for Proper Ventilation - Removable Fleece Travel Bed - Padded Shoulder Strap - ID Tag - Storage Compartment for Treats or Meds 
PAY A SHELTER PET FORWARD - Mr. Peanut's was founded to donate a percentage of gross profits to animal welfare organizations, animal shelters and rescues of all kinds and in all areas. SATISFACTION GUARANTEE - Simply return the product for a no questions asked refund if not satisfied. QUALITY AND TESTING - We use our products with our own pets, and we test and improve our products constantly to provide you the absolute best quality at the most excellent every day price possible
Mr. Peanut's Airline Approved Soft-Sided Carrier offers luxury travel and a wide range of benefits. As with every product, the carrier has pros and cons.
The pros include the following:
Sturdy and lightweight
Ventilated roof
Fleece bedding pad for optimal comfort
Simple adjustability
Easily washable
Storage pockets
Mesh windows all around
Many positive customer reviews
These pros provide an outstanding amount of advantages for your cat and for your travels! If your cat creates frequent messes, the simple, washable bedding may make this carrier the best fit.
However, the cons of this product are:
Only holds up to fourteen pounds
Cheap material
If your cat is pleasantly plump, this tote might not provide enough space for him.
Additionally, the mesh windows are made of cheaper material than the rest of the carrier.
If you are particular about this aspect, you will want to take this factor into consideration.
What are AmazonBasics Soft-Sided Pet Travel Carrier's Features?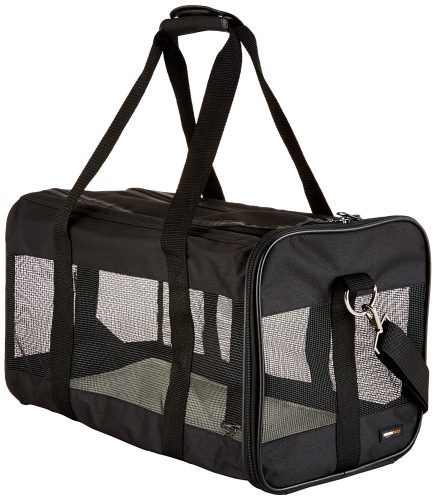 Check the prices for the bestseller AmazonBasics Soft-Sided Pet Travel Carrier
Sale
Amazon Basics Soft-Sided Mesh Pet Travel Carrier, Large, 20 x 10 x 11 Inches, Black
Soft sided carrier for keeping a pet comfortably contained when traveling or heading to the vet
Includes a Large soft-sided carrier with a removable, machine washable fleece pad
Mesh ventilation panels provide comfortable air flow and visibility
Front and top openings for easy loading and access; sturdy zippers ensure secure closure
2 connecting top handles and an adjustable shoulder strap for convenient carrying
AmazonBasics Soft-Sided Pet Travel Carrier offers similar advantages to Mr. Peanut's carrier. The pros are:
Handles and straps for easy transportation
Different Sizes
Holds about twenty-two pounds
Washable fleece bedding
Double zippers to ensure the enclosure
Windows on all sides
Adequate ventilation
Mostly positive customer reviews
The pros of this product suggest easy, comfortable transportation. The few cons of this product are listed below:
Potentially too small
The strap might be too short
According to the Ultimate Home Life website, selecting a size for your carrier is contingent upon more than just weight, but it is equally important to ensure that your cat can stand without crouching and have plenty of space for necessary mobility.
Measure your cat before purchasing this tote to prevent buying too short of a carrier.
The Hard-Sided Carrier Also has its Advantages and Disadvantages.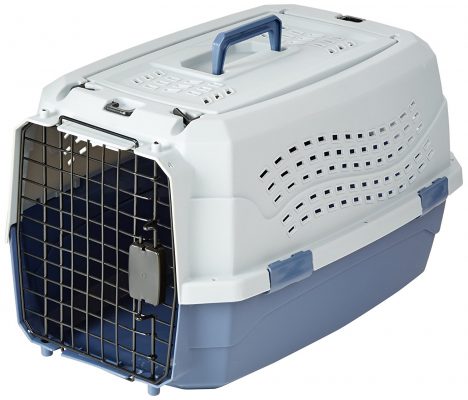 Check the prices for AmazonBasics Two-Door Top-Load Pet Kennel
Amazon Basics 2-Door Top Load Hard-Sided Dog and Cat Kennel Travel Carrier, 23-Inch
Hard sided pet carrier for transporting a dog or cat to the vet or general travel
Includes a carrier made of plastic with steel wire doors and screws that keep the top and bottom securely attached
2 doors for front and top entry promote easy access and loading of pets
Top door swings open to the left or right and includes a top carry handle
Spring load latches ensure easy one-handed door opening and closing
AmazonBasics Two-Door Top-Load Pet Kennel is a sturdy, durable way of transportation for your cat. Some of its advantages incorporate:
Two doors for simple loading
Different sizes available
Convenient top door
A Steel-wire front door to prevent escape
Mainly positive reviews
If you are mostly concerned with loading your cat, this convenient two-door model might be the best purchase for you.
You also may prefer this carrier if you are particular about hard-sided crates.
The disadvantages are represented in the following:
Not as adjustable as soft-sided carriers
Fasteners are not as secure
Complaints of a cheap design
If you are especially concerned with your cat's enclosure, you might not want to select this carrier due to the easily unfastened locks.
What Does Expawlorer's Airline Pet Travel Carrier Include?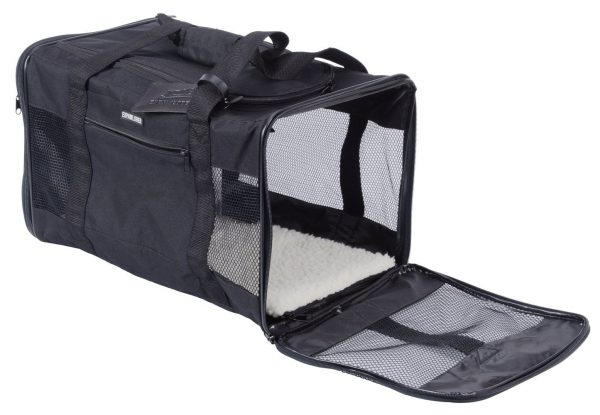 Check the prices for the Airline Pet Travel Carrier Soft-Sided for Cats and Small Dogs
EXPAWLORER Airline Pet Travel Carrier Soft-Sided for Cats and Small Dogs, Large Black
TRAVELLING WITH YOUR PET: Conforms to under-seat dimensions of most airlines. Medium soft-sided carrier measures approximately 20" L x 12" W x 12" H. With mesh panels, provide air circulation for comfort and visibility for peace of mind.
ZIPPERED FROM OUTSIDE ONLY: Designed with two particular zippers at both sides, your pet can't open it from inside. Keep your pet inside the carrier during your travel on a car or plane. Features 1 luggage card holder to tag your bag.
FULLY EQUIPPED: Carrying handles and adjustable shoulder strap for easy carrying. Also includes 1 washable fleece pads keep your pet warm and 1 travel pet bowl for food and water. Also features 2 convenient exterior pockets that hold pet care accessories and treats.
BEFORE PURCHASING: Please measure your pet - LENGTH: tip of nose to base of tail; HEIGHT: feet to top of shoulder. Recommended max load of 18 lbs. Please reference your pet's length and height in selecting a carrier size.
Expawlorer's Airline Pet Travel Carrier promotes several positive features as well. These pros involve:
Easy adjustability
Different Sizes
Washable fleece bedding
Convenient pockets for storage
Travel pet bowl for food/water
Proper air circulation
Excellent reviews
This carrier could ease your travel significantly with its convenience and extra storage. With these advantages, your cat might sense a homey environment inside! The small list of cons consists of:
Only holds up to eighteen pounds
Seemingly, the only disadvantage to this carrier is that even the largest size can only hold eighteen pounds. If you have a smaller cat, this portable carrier could still work efficiently for you.
Last but not least, You Will Want the Inside Scoop on Fypo's Cat Carrier.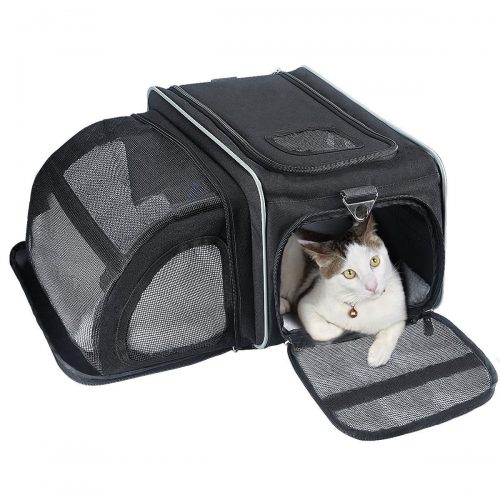 Check the prices for Fypo Soft Sided Airline Approved Pet Carriers
FYPO Travel Cat Carrier for Cats Large, Soft Sided Collapsible Cat Carrier Expandable Bag with Size 17.7x11.5x12.2 Inch fit for 26 lb Pets
[Dimension & Compatibility] 17.7" x 11.5" x 12.2" with high capability to hold up to 26.5 lb pet;Ideal for cat,kitty,kitten,rabbits and other small animals
[Expandable Space] Interior expandable to larger size 17" x 20.5" x 12.2" for more activity and stretching room, also a portable bed for pet,flat folding available
[Multi Suitable] Suitable for airline cabin with shoulder handy strap, meanwhile fixed on the headrest of the cars, SUV, etc.for travel with your loved pet; Easy to clean and side pockets help with extra storage space for pet treats and vet visit,interior padded fleece for your pet comfort
[Breathable & 3 Sides Zipper Design] 3 sides breathable mesh window and canvas mix guarantee the comfort breath, air circulation and look through, top and sides solid zipper design enable the convenient in and out for pet
[Premium Quality & Portable] With high quality light nylon fabric made carrier, an adjustable shoulder strap, suitable for pets of different sizes, effort saving, easy to carry, and 1 year warranty
Lastly, Fypo's Cat Carrier offers an extremely luxurious flight for your cat! The pros of this product include:
Expandable and Foldable
Fleece bedding
Three sides of mesh windows
Adjustable
Extra storage
Zipper design
Mostly positive reviews
The removable fleece bedding can not only be washed but also provides warmth for your cat. According to Drs. Foster and Smith Brand, ventilation is the most crucial feature of all cat carriers.
They suggest having at least three sides of ventilation. Regarding these features, this carrier would be an excellent selection. The cons include:
Only one size
The heaviest weight is about twenty pounds
While this carrier meets several requirements, if you have a heavier cat he might not fit comfortably inside. His comfort is an equally important factor in your decision!
So, What is the Verdict?
As each cat models a different personality, you will want to be mindful of your cat.
Airline travel is potentially a frightening experience for any cat. With this in mind, it is crucial that you take into account personality when purchasing a carrier.
After a detailed analysis of your cat's personality, ensure that you measure him properly. In order to measure length, measure from the tip of his nose to the base of his tail.
For height, you measure from his paws to the top of his shoulder. Lastly, you will need to consider the weight of your cat.
Once you have discovered a carrier one and a half times the size of your cat, be certain that the carrier has at least three sides of ventilation.
Otherwise, your cat will feel heavily discomforted and breathless during the flight.
A zipper design is more efficient than snaps for the enclosure. Airlines prefer that the carriers are entirely enclosed. Extra storage also offers accessory-friendly benefits and a homier feeling for your cat.
Price is a concern for everyone. However, the products listed previously meet all the above airline requirements and are the cheaper options overall.
Selecting a perfect airline cat carrier can be a tricky process, but you cannot make a poor decision regarding any of the products listed.
Once you discover your cat's preferences, any of these products will accommodate those specific needs in one way or another. Happy traveling to you and your furry flying buddy!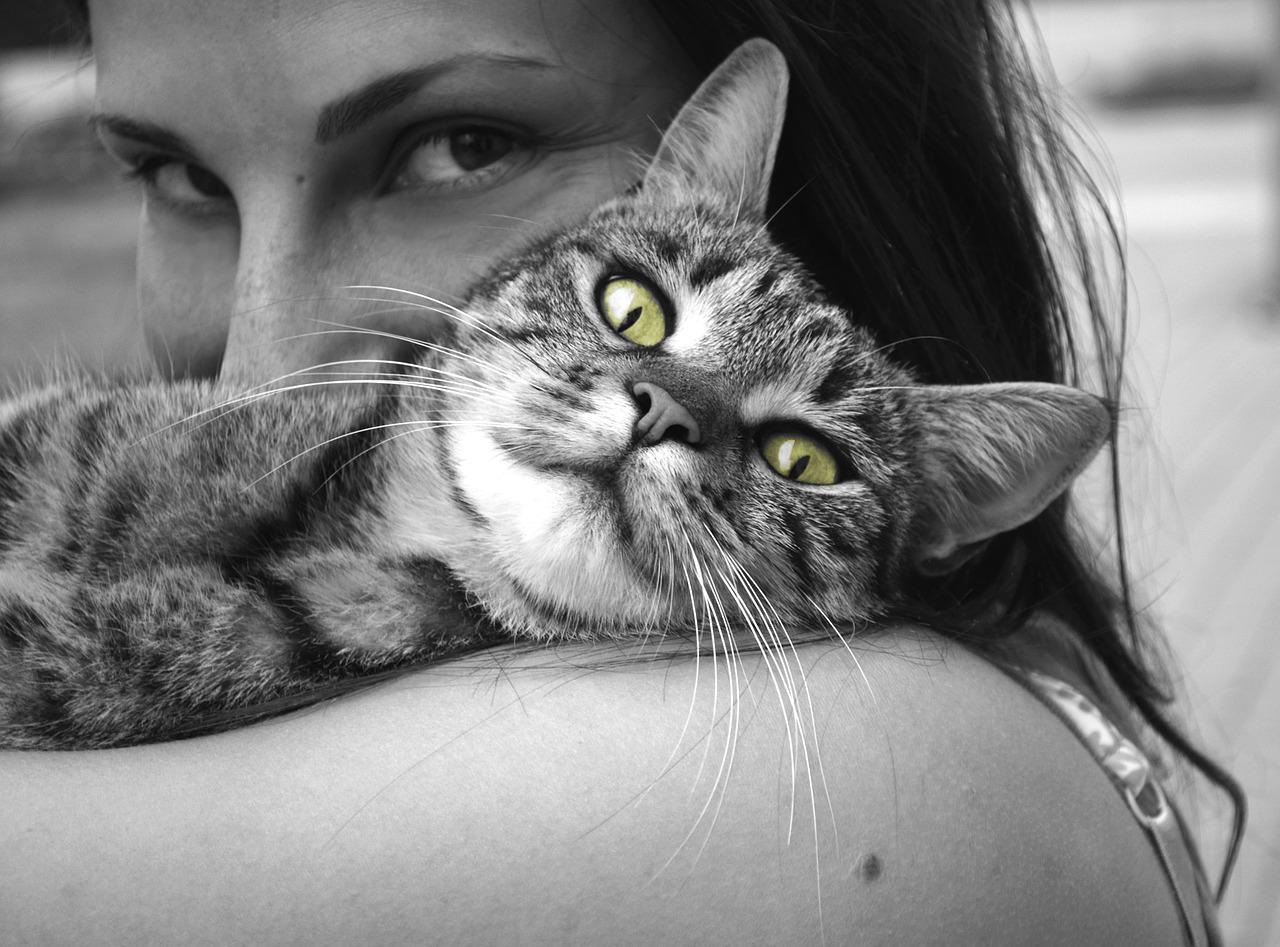 Hi, This is Alexa, and I love cats. This Website is a Complete Journal about how to travel with a cat and other information about Cat Health, Cat Training, Cat Behavior, Cat Foods and more. I hope you find it useful.