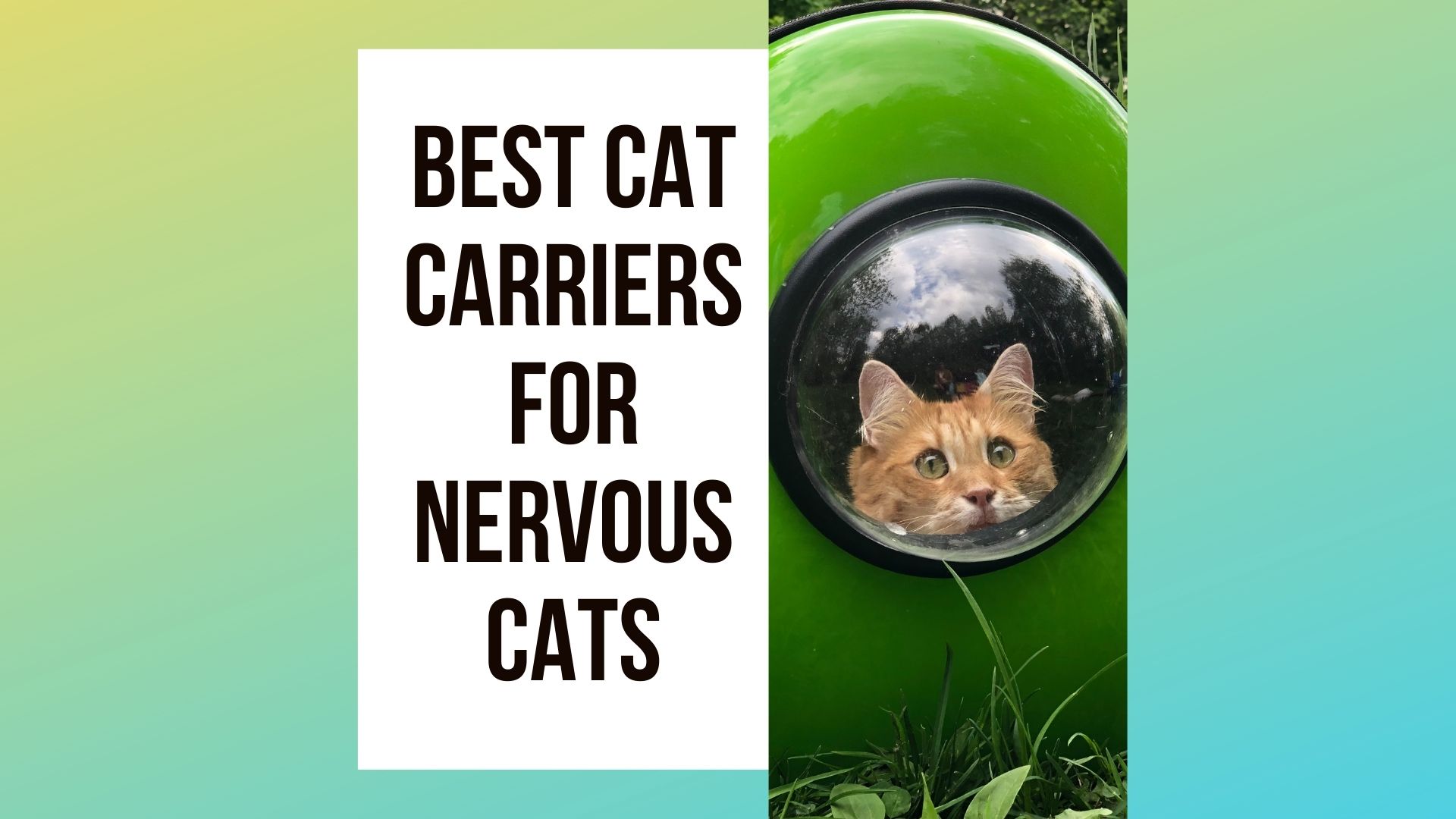 It's that time of year when your cat needs to go in for a vet checkup. There's one problem though: your cat is skittish and nervous. How are you going to get your nervous friend to the vet without being traumatized?
This is not a rare occurrence for cat owners. Cats are known to distrust new situations, especially skittish cats.
This can make it very hard to get them places, such as vet visits. Cat carriers can reduce your cat's anxiety and make the trip a very comfortable one for both of you.
5 Best Cat Carriers for Difficult Cats
Petmate Two Door Top Load Kennel
RUFF Max Kennel
PetAmi Premium Soft-Sided Pet Travel Carrier
Mr. Peanut's Low Profile Travel Tote
PetLuv Soothing "Happy Cat" Premium Cat Carrier and Travel Crate
How Do You Choose the Right Carrier?
When looking for a cat carrier, there are a few things to keep in mind. There are two types of carriers: hard and soft-shell.
An article from Banfield Pet Hospital recommends using a hard carrier to start out, as it is easier to manage.
Make sure the carrier has openings both in front and on top, or just on top. Most cats don't like being pushed into any space.
Lifting and placing them in the carrier will be easier on them. Also, be sure the carrier is easy to dismantle; skittish cats will very reluctant to come into a new space willingly.
When introducing the carrier to your cat, leave it in a quiet spot with a soft towel and some treats or kibble. Let them inspect it as they please.
This YouTube video on cats and carriers goes into much more detail and has a lot of good tips to help train your cat to ride securely in a carrier.
Keep in mind, that most smaller carriers only recommend pets up to 15 lbs. This can be troublesome for larger cat breeds.
5 Best Cat Carriers for Your Nervous Cat
Petmate Two Door Top Load Kennel
Petmate is a great brand that guarantees to keep your pet safe and secure while traveling. This carrier is built from sturdy plastic. Both sizes have a top door for easier access.
The top door has an ergonomic carry handle and the front door is made of sturdy wire. The sides of the carrier are bolted with wing-nut screws instead of latches. While this doesn't make it easy to dismantle, it does make it sturdier in travel as latches can pop open.
From the look of it, this carrier is suitable for cats up to 20 lbs. The largest size it comes in is 24.05 x 16.75 x 14.5 inches. This makes it pretty cozy, especially when you add a soft towel, blanket, or cat bed to it.
Petmate Two-Door Small Dog Kennel & Cat Kennel (Top Loading or Front Loading Pet Carrier, Great for Small Animals, Made with Recycled Materials, 19 inches in Length) For Pets up to 10 Pounds
MULTIPLE DOORS OFFER EASY ACCESS: Easy load options make it easy and less stressful for travel or house-training. Suitable for small dogs, cats, or small animals up to 15 lbs. Multiple ventilation holes on each side allows air to circulate and gives 360 view while traveling to the vet, park or groomer.
AIR TRAVEL APPROVED CARRIER: This small dog crate or cat carrier meets most airline cargo specifications. We provide carriers and travel supplies ranging from a dog carrier to large dog crate, wire training, and exercise kennels, playpens, barn-style dog houses.
EASY TO ASSEMBLE, EASY TO CLEAN: No tools required for assembly. A strong wingnut bolt assembly, a sturdy, foldable handle and spring-loaded latches keep your dog safe during travel. Features "stay dry" moat that surrounds interior floor space in case of wet accidents.
CHANNEL THEIR DENNING INSTINCTS: Crate and kennel training is vital for dogs safety and comfort. Give your dog a space they need to feel secure. Spacious kennel floor can accommodate a pad for added cushion. Whether a small dog kennel or large dog kennel, we have what you need for that security.
MADE WITH RECYCLED MATERIALS: Petmate is not just a friend of furry family members, but the environment too. We produce eco-friendly, sustainable, recyclable products from kennels to litter boxes and many in between. Check out our brands such as Aspen Pet, Arm & Hammer, Booda, Chuckit, and more.
Pros
Two-door, top-load carrier
Made from a sturdy plastic
Wing-nut screws in the sides make a sturdier carrier since latches can be popped loose
19in and 24in are cozy for most cats
Meets most airline guidelines for pet carriers
Cons
This carrier does not have a larger size for large cats
Not recommended for cats over 20 lbs
The side screws make it harder to dismantle in case your cat is skittish
Some airlines don't approve of the top-load carriers
2. PetAmi Premium Soft-Sided Pet Travel Carrier
This soft-sided travel carrier is Amazon's Choice for pet carriers. It lives up to the hype too. The PetAmi Travel Carrier is made from durable polyester and designed for safety and convenience.
The safety features on this are pretty awesome. It has safety buckles and a strap to prevent your cat from escaping. Furthermore, you can buckle the carrier to a car seat or to your luggage so your cat is traveling safely at all times.
This carrier is guaranteed airline approved and there are features that allow it to be easily identified. It comes with an identification tag that you can put your cat's name on and you can carry the bag onto the plane with you.
For skittish cats, it has two-sided access and a soft, sherpa lining for your kitty to rest and relax through the trip. It even comes with a collapsible bowl so your cat can stay hydrated.
The size of the carrier is 19.5 x 10.2 x 12 inches, so it is suitable for small and medium-sized cats. Unfortunately, this is the largest size they have, so they do not have a carrier that is meant specifically for large cats.
Sale
PetAmi Premium Airline Approved Soft-Sided Pet Travel Carrier | Ideal for Small - Medium Sized Cats, Dogs, and Pets | Ventilated, Comfortable Design with Safety Features (Large, Black)
Designed for the best and most convenient travel experience for you and your cat, dog, and pet! Measures approximately - Small 17x10.2x11.2 inches (LxWxH) / Large 19.5x10.2x12 inches (LxWxH), Weight Limit up to 18 lbs. Fits most small/medium sized cat, dog, and pet. Before purchasing please measure your pet - LENGTH: neck to base of tail; HEIGHT: floor to top of shoulder
YOUR PET WILL TRAVEL IN COMFORT Well ventilated design for optimal airflow and checking on pet, soft cozy sherpa lining bedding so your pet can relax and rest, collapsible bowl to keep your pet hydrated during travel.
DESIGNED WITH SAFETY IN MIND The bag comes with safety buckle zippers and safety strap to prevent escape. Furthermore, the carrier can be strapped to car seat or luggage to ensure safety of your pet throughout travel.
EASY TO USE This Airline Approved carrier bag is the perfect carry on; Easy identification name tag, two sided access, side zipper opening, and detachable strap make this the most convenient pet carrier bag for your travels.
QUALITY CONSTRUCTION - Made with durable high grade polyester; Available in multiple Colors and 2 Sizes - Large, Small
Pros
Guaranteed Airline Approved Pet Carrier
Built with safety and durability in mind; has safety buckles and straps to keep pet contained
Has two-sided access for skittish cats and a sherpa lining bed for relaxation and comfort
Has an identification tag on the side
Comes with a collapsible water bowl
Cons
The Largest size is meant for small to medium cats only
Does not have a larger size for large cat breeds
3. Mr. Peanut's Low Profile Travel Tote
This is a really nice airline-approved travel carrier. The company believes that its products should be eco-friendly and cruelty-free.
They are an ethically run business and for every purchase made, a portion of it is donated to shelters and animal welfare.
The carrier has front and top-load access and built-in durable nylon materials. The zippers and locking clasp are built to last for years.
A soft, faux fleece bed is included and there are pockets to store treats, brushes, and other items your cat might need.
The carrier measures 18″ x 10.5″ x 11″ and is recommended for pets up to 11″ tall and 15 lbs. Large cats wouldn't be able to fit.
The company does mention that airlines would rather have pets laying down for safety reasons, so your cat may not be able to stand much.
Mr. Peanut's Airline Approved Soft Sided Pet Carrier, Low Profile Gold Series Tote, Premium Brand Self Locking Zippers, Under Seat Compatibility, Plush Faux Fleece Bedding with a Sturdy Plywood Base
PLEASE NOTE INTERIOR SIZING & PET MEASURING GUIDELINES BEFORE PURCHASE - Best Fits Pets up to 16"Lx10"H and up to 15lbs. Airline capable carriers are designed for pets lying down, so your pet may not be able to stand. It is best to measure your pet while comfortably laying down, as that is the typical position during flight
PLEASE KEEP IN MIND that we show the exterior dimensions as well as approximate interior dimensions to best portray the usable interior space for your pet. The interior space will be less than exterior due to the fabric thickness and plush faux fleece padding. The rounded contours of the tote design means interior dimensions are approximate and shown at their maximum measured points
AIRLINE REQUIREMENTS - Always keep in mind each airline sets their own specific requirements, and they can even vary from their domestic, international, and shuttle services so it is always advised to check with your airline of choice. All will require your pet to be comfortable in the carrier, and to remain under the seat in front of you. All prefer a soft sided carrier for its adjustability and we have designed our carrier to comply with major airline configurations
STRONG & WATERPROOF - Weighing in at only 2.7 lbs, Designed with Breathable Mesh on all Sides for Proper Ventilation * Removable Fleece Travel Bed with Plywood Base for Additional Support * Padded Shoulder Strap * Name Tag * Zippered Mesh Storage for Treats, Meds Papers * Seatbelt Attachments * Included Mr. Peanut's Cool Logo Storage Pouch, Folds to 3" for storage
DESIGNED WITH with a Ventilated Top to meet all airline regulations of under forward seat compatibility including Delta, Southwest, United, American, Virgin and others
Pros
Eco-friendly and ethical business
A portion of the purchase goes to animal welfare and shelters
Carrier is airline approved across major airlines
Built with durable materials and a locking clasp
Front and top-load access
Lost and Found tag holder
Seat belt attachment
Cons
This is another carrier that is not recommended for large cats
Does mention that while traveling, the cat may not be able to sit or stand up
4. RUFF Max Kennel
This carrier is the same size as the Petmate with a few changes. This is not a top load carrier. Unlike the Petmate carrier, there are quick-release latches on the sides for easy dismantling. Bolts are included for long-distance or airline transit as well.
While this is a 24-inch carrier, the specs measure 17.25 x 9 x 24.5 inches, so it is smaller than the Petmate in width, but bigger in length. Some cats may find the smaller width cozier.
While you will have to check with airlines to make sure, this carrier seems to meet all the airline rules for pet carriers since it does not have a top load.
Petmate Ruffmaxx Dog Kennel Pet Carrier & Crate 24" (10-20 Lb), Outdoor and Indoor for Large, Medium, and Small Dogs - Made from Durable Recycled Material w/ 360-Degree Ventilation
STRONG & DEPENDABLE TRAVEL KENNEL: This airline-adaptable pet kennel is built with heavy-duty plastic for strength & security. Perfect for small dogs & pets 10-20 lbs. Measures: 24"
AIR TRAVEL KENNEL: The pet kennel includes nuts & bolts for quick setup. A carrying handle & easy-open front latch and ventilated openings on the sides provide added convenience for travel
KENNELS & HOUSES: Crate & kennel training is vital for dog safety & comfort. We provide traditional travel carriers, wire training & exercise kennels, play pens, barn-style dog houses & more
Petmate: For over 50 years, we at Petmate are passionate about our dogs, cats & furry friends in general. Starting with the very first dog kennel, we've produced plenty of eco-friendly products that pets will love
JUST FOR PETS: Petmate makes a variety of pet products for dogs, cats, chickens & other small furry friends! Check out our brands such as Aspen Pet, Arm & Hammer, Booda, Chuckit!, Jackson Galaxy & more!
Pros
Has quick latches for easy dismantling of difficult pets
A Smaller width and bigger length than the Petmate carrier
Meets all airline rules on pet carriers
Comes in a size larger for bigger or heavier weight cats
Cons
This is not a top load carrier
It is smaller in width than the Petmate
5. PetLuv Soothing "Happy Cat" Premium Cat Carrier and Travel Crate
We saved what we think is the best for last. The PetLuv Cat Carrier and Travel Crate are actually built to reduce cat anxiety. This is probably the most versatile travel crate we've found.
This carrier has four access panels that your cat can use while at home or if it's unwilling to come out in a new environment.
It also comes with a soft pillow bed it can nap. When closed, you can choose between using the mesh windows for full ventilation or covering the windows completely to help your kitty calm down.
Safety was thought of as well. The window panels are made of a rubber mesh to prevent ripping. It has locking zippers to keep even the smartest kitties inside and a heavy-duty carry strap. Seat belt loops are attached so you can secure them in your car.
The steel frame is collapsible for easy storage and covered in soft, durable polyester. The whole thing measures 24″ x 16″ x 16″, making this the roomiest crate we've found. You can fit even a large cat in here or four cats weighing under five pounds.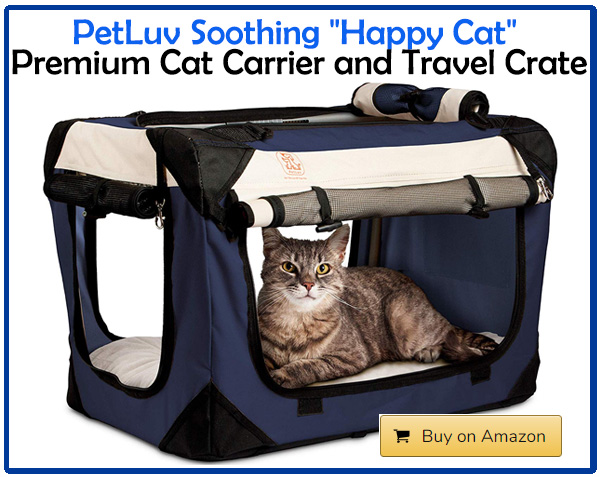 Pros
Built to reduce anxiety
Has complete access
Mesh windows for full ventilation, sunroof, or covering to create a calming space
Mesh is made from rubber to prevent ripping
Locking zippers and seat belt loops to secure to your car
Collapsible steel frame for easy storage
The largest size can fit most medium and large cats or four small cats
Cons
It's "up in the air" as to whether it's airline approved.
How to Choose the Right Carrier for a Nervous Cat
A cat carrier is a container used to transport a cat. They are usually used to take Fluffy to the veterinarian for routine checkups.
They can also be used during vacations, visits to emergency clinics, and even to transport the cat someplace safe in the event of a disaster such as a fire or a flood.
There are 4basic types of cat carriers:
Homemade carriers like pillowcases or cardboard boxes
Cardboard carriers
Hard-sided carriers
Soft-sided carriers
Homemade carriers should never be used, for it is too easy for the cat to claw their way out and escape.
Cardboard carriers are temporary transports sometimes provided by veterinarians or animal shelters. They can be used only a few times before the cat claws a hole in them. Rain weakens them and thus it makes it easier for the cat to escape.
Nor is it possible to really clean a cardboard carrier if the cat soils itself while in it or spills a water dish. The prudent cat owner will thus buy a hard-sided or soft-sided carrier.
Hard-sided carriers are the oldest type, and they are typically made of plastic. They are easier to clean than other carriers.
The best hard-sided carriers will have a sturdy steel mesh door that can stand up to repeated escape attempts. They should also have a handle strong enough to support the combined weight of the carrier and cat.
Soft-sided carriers are usually made of some type of nylon. They weigh less than hard-sided carriers and are thus easy to carry. The better ones will have a lightweight frame at the bottom to keep it from sagging. Some have wheels like a suitcase.
How do you choose a cat carrier?
Regardless of the cat's temperament, there are some general things to consider when getting a cat carrier.
For example, if you travel a lot, you will have to make certain that the carrier is "airline-approved." Airlines require cat carriers to be small or flexible enough to fit under the seat, for instance.
Dr. Lauren Baker, a veterinarian writing for WikiHow, notes that the carrier needs to be the right size. If the carrier is too small, the cat will feel cramped. If the carrier is too large, the cat will slip and slide, which it will find unnerving.
The carrier should be big enough to let the cat stand up, lie down, and turn around easily. It should thus be 1.5 times bigger than the cat.
Carrier Large Enough to Accommodate Cats
If the cat is a kitten, however, the owner should choose a carrier large enough to accommodate it when it reaches its full adult size.
Putting a towel or blanket on the carrier's bottom will help keep the kitten from sliding all over the place.
A person buying a carrier for an adult cat should measure the cat first to ensure its carrier is the right length.
Carriers should have air holes on at least three sides to provide the cat with good ventilation and keep it from suffocating or overheating.
The cat owner should also consider how far they are traveling with their cat. If they are traveling outside of town, they should get a carrier designed to house food and water dishes.
If they are traveling a long distance, they should get something resembling a dog crate with space for a bed and litter box.
"I have a Maine Coon."
Finding cat carriers that are big enough for super-sized felines can admittedly be a challenge. Fortunately, some companies do make carriers for the larger cat.
When looking for cat carriers, check the information on the box to see if it lists a maximum weight. Alternatively, ask a salesperson for their recommendations.
How do you pick a carrier for a nervous cat?
The staff writer for the Animal Hospital of North Asheville's website notes that a frightened or anxious cat will want to be somewhere that makes it feel safely hidden from all threats.
They thus like dark and enclosed places like boxes or paper bags. Cats feel safe when they are in a space too small for a predator or other threat to follow them.
Hard-sided carriers generally work better for nervous cats than do soft-sided carriers. They are made of tougher materials, and the cat is less likely to be able to claw its way out. They often have doors made of steel that also keep the cat from escaping.
Rolling suitcase-style carriers may offer more space for a cat to stretch out, but the noise of the wheels can scare some anxious felines. Such cats probably also will not enjoy the sensation of being pulled along the uneven pavement.
Carriers for nervous cats should open from the top.
Many cats dislike being shoved forward into the carrier, but they find being placed into the carrier from the topless objectionable.
An opening from the top may also enable the veterinarian to examine the cat without removing her from the carrier.
Many hard-sided carriers have removable tops that are held in place by screws, pegs, or snaps. A few have a slide-and-lock mechanism, in which the owner slides the bottom half into the top half and then locks it into place.
The locks aren't as noisy as the snaps can be. Removeable tops allow the veterinarian to examine the cat without taking her out of the carrier.
People who are transporting more than one cat should put each cat in its own carrier. Putting two or more cats in a single carrier is not a good idea.
Frightened cats in the same carrier may turn on each other, even if they are normally very friendly toward each other. Memories of such a fight will make it harder to coax the cats into their carriers before subsequent trips.
How do I get a nervous cat into a carrier?
Fundamentally Feline posted a video about getting cats into carriers. They recommend leaving the carrier out all year round so the cat gets used to it and sees it simply as a piece of furniture.
They also advise putting absorbent bedding in the carrier. Such bedding will absorb any messes that the cat makes, and it will make being in the carrier a more comfortable experience.
Dr. Pippa Elliott, a veterinarian who writes for WikiHow, recommends acclimating the cat to the carrier at least several weeks before taking her on any trips.
The cat owner should put the carrier someplace that the cat visits often to increase the chances that the cat will go in and examine it.
Dr. Elliott also recommends feeding the cat in their carrier, so they will come to associate it with good things like their favorite foods.
Since the cat may not eat while inside the carrier at first, the owner will probably have to start by putting the food near the carrier. They should move the food dish closer and close to the carrier until the cat is actually eating in the carrier.
Once the cat has gotten comfortable with being in the carrier, it's time to close the door. If the cat doesn't cry or try to get out, the owner should praise her, give her a treat, and open the door. While getting the cat acclimated to staying in the carrier with the door closed, the owner should keep the door closed for only a few seconds at first.
As the cat becomes increasingly accustomed to staying in the carrier, the owner should keep the door closed for longer and longer periods.
What is the right way to get a cat into a carrier that has just a front door?
Shoving the cat in head-first will only upset the cat.
Dr. Elliot recommends putting the cat in tail-first. To do that, the owner should stand the carrier on end, so the door faces the ceiling.
They should pick up the cat with one arm supporting her hindquarters and the other on her chest. The owner may want to use a towel if the cat struggles a lot.
They should lower the cat into the carrier tail-first, for that will reduce the feelings of being trapped or coerced. Once the cat is in the carrier, the owner should close the door and place the carrier so it is lying normally.
If the cat behaved well while being put in the carrier, it should be rewarded with praise and treats.
How do I calm a nervous cat?
The staff writer for the Animal Hospital of North Asheville points out that cats prefer familiar places and thus feel nervous when taken to a strange environment. That includes cat carriers.
Like Fundamentally Feline, they thus recommend leaving the cat carrier out so the cat will see it as a familiar and unthreatening piece of furniture.
The cat owner should also put a soft blanket in the carrier and leave the door open to make the carrier attractive to the cat and let it explore.
Treats and favorite toys can make the carrier even more attractive to a cat. With luck, the cat may even start sleeping in the carrier.
During a trip to the vet, putting a covering over the carrier helps the cat feel safe. Just as cats don't like strange places, they don't like unfamiliar animals. Seeing strange dogs and cats that can see them will frighten most cats.
The cover will also help the cat stay calm during car rides. Car travel can disrupt a cat's sense of balance, and many cats find it unsettling to sense that the car is moving while they are not.
It's also a good idea to wait a few minutes before moving the carrier. The pet owner should transport the carrier in such a way that it doesn't tilt or swing.
One way to calm a nervous cat is to spray Feliway into the carrier for about half an hour before putting the cat in the carrier.
Feliway is a synthetic version of the feline facial pheromone that cats use to mark territories they consider secure and safe. Cats thus find the smell comforting and reassuring.
How can you keep your cat calm at the vet?
According to VetStreet, Cats hate going to the vet, and many cat owners consequently don't take their cats to the vet as often as they should. Laura Cross, recommends some ways for keeping a cat calm at the vet. The first step is to get the cat acclimated to its cat carrier.
The cat owner should then take the cat on brief car rides to get them used to riding in a car. Most owners will have to get the cat accustomed to simply being in the car before driving her any distance.
Cross also recommends using Feliway and keeping the carrier covered while staying in the wetting room. As cats often find the waiting room especially frightening, she also suggests asking the vet permission to stay in the car with the cat until an exam room is ready, so the cat won't be confronted by a lot of strange animals, people, and noises.
Cross also reminds cat owners that their pets respond much better to treats and praise than to punishment. In fact, punishment can make a cat's nervousness worse. A cat owner should thus give Fluffy a treat when she behaves well.
How might a veterinarian calm a nervous cat?
Some veterinarians have learned ways to keep anxious cats calm during visits. For example, they encourage pet owners to buy carriers with removable tops, so the cat can stay in its carrier. They avoid dragging cats out of carriers, as that makes cats feel threatened.
During examinations, they allow the cat to explore and even hide so they can get acclimated to the examination room. The vet may also spray Feliway in the exam room to keep the cat calm. Some vets also offer treats.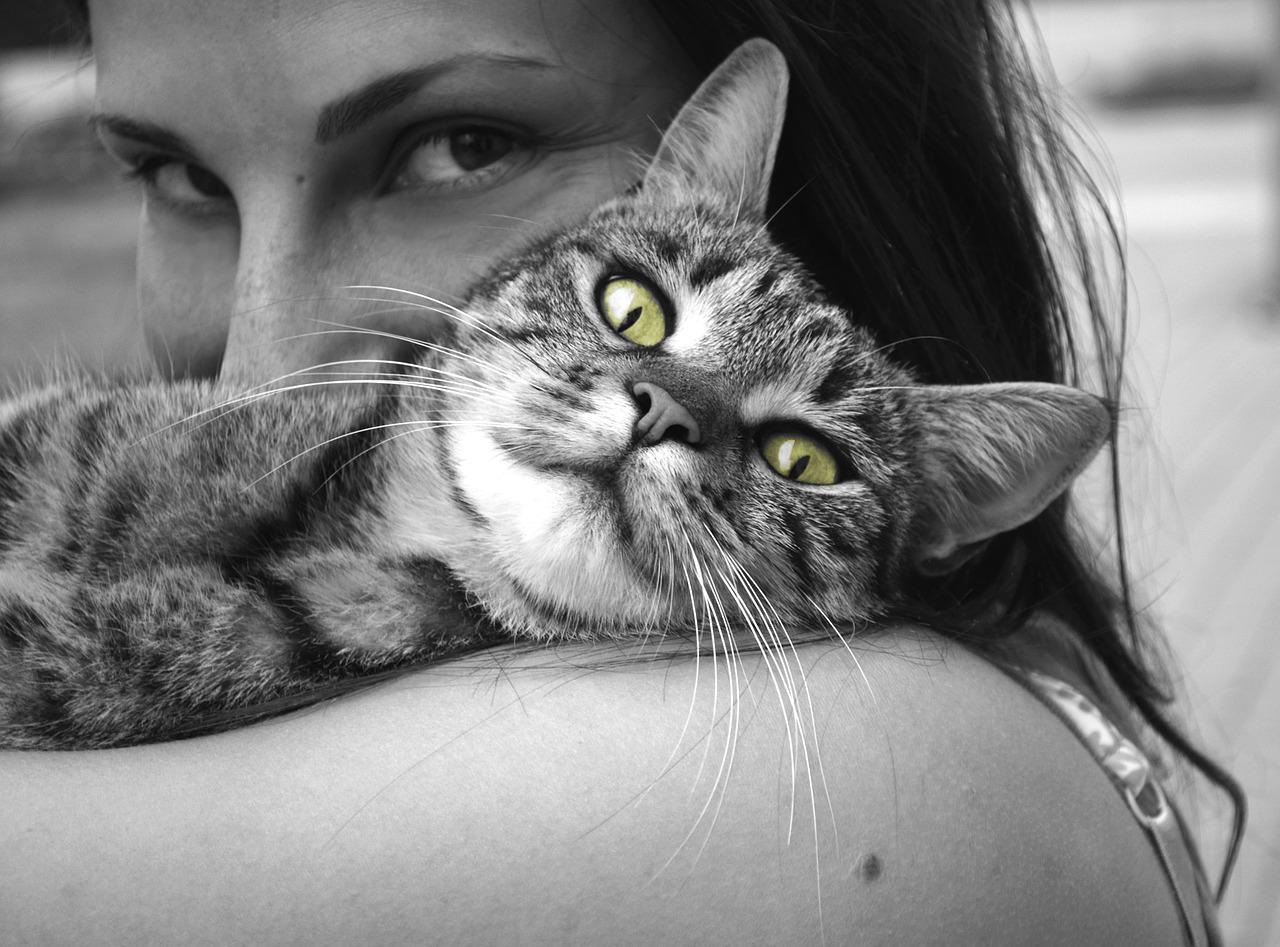 Hi, This is Alexa, and I love cats. This Website is a Complete Journal about how to travel with a cat and other information about Cat Health, Cat Training, Cat Behavior, Cat Foods and more. I hope you find it useful.