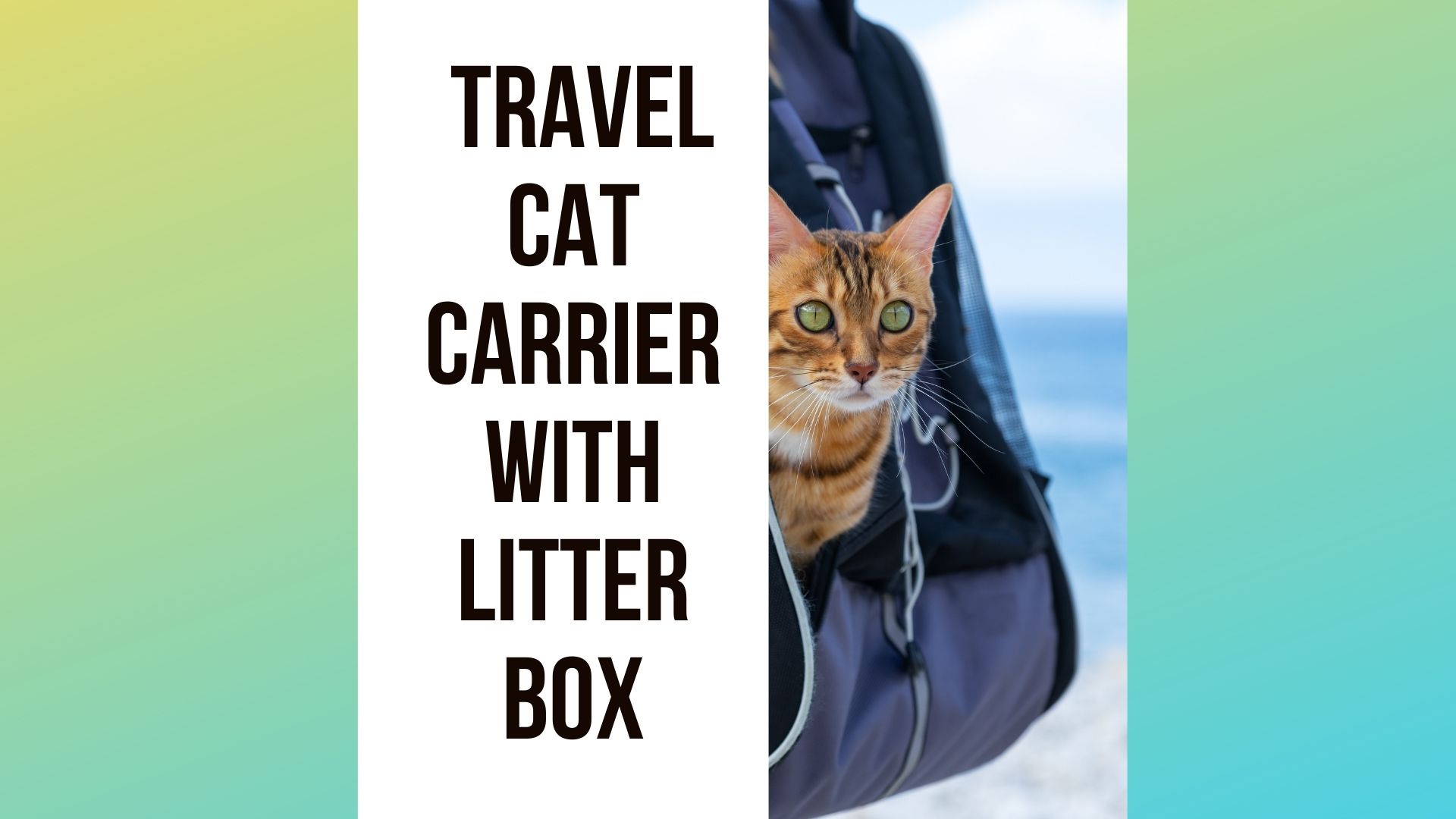 Traveling with a nervous cat can certainly be a battle. When cats feel nervous or uncomfortable, they are often susceptible to bathroom accidents.
Therefore, you will want to ensure that you have a cat carrier large enough to contain your kitty and a litter box.
What Characteristics Cause Nervousness in Cats?
According to Pets Life, cats typically become nervous when they are claustrophobic. While they want to feel safe, they also are not fans of tight, restricted places.
Some cats may feel unsettled simply because their carrier is uncomfortable. An additional reason revolves around the fact that cats do not like to relinquish control.
What Types of Features Should You Search for in Cat Carriers?
According to the Pet Carrier Verdict, the following features are crucial to search for when you purchase a cat carrier:
Size
Expandable
Visibility
Top Loading
Regarding size, you typically want to select a carrier about one and a half times their size. Carriers that are too large also increase their stress and nervousness.
Additionally, expandable carriers efficiently and easily provide more space but are easier to travel with.
Because nervous cats do not appreciate confinement, you will want to purchase a carrier that allows your cat to openly see you.
Seeing you will certainly provide comfort and ease their nerves. Air can also seep through these holes of visibility, making the traveling homier for your cat.
Lastly, top-loading is an important feature to consider. Due to cats' dislike of lack of control and refinement, they typically despise being pushed into a crate.
Therefore, top-loading allows you to simply and comfortably place your cat inside the carrier.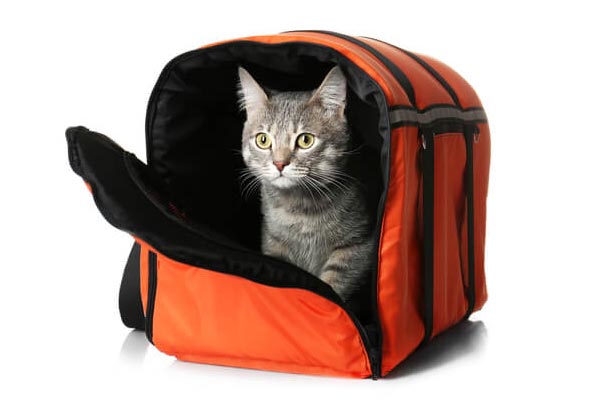 Get Your Cat to Love His Carrier!
According to PetHub, it is crucial to familiarize your cat with his carrier before traveling.
Make the carrier homey and comfortable by placing bedding or a fluffy towel at the bottom of the carrier.
Keep the door open and place food on the carrier for three to four weeks prior to your trip.
How Do You Reduce Your Cat's Stress When Traveling?
Dr. Ruth MacPete provides tips on how to reduce your cat's nervousness. Preparation is a crucial key to preventing excessive anxiety. She suggests:
Secure your cat in your car
Get your cat acclimated to his carrier prior to the trip
Take short car rides first
Ensure that your cat is secure in your car and in his carrier. Without the feeling of safety, your cat will develop anxiety and endure a horrific trip.
As mentioned previously, acclimating your cat to his carrier will allow him to grow comfortable around and inside of it.
Veterinary assistants for MSPCA Angell offer a video as a guide on how to comfortably accustom your cat to his carrier, which is crucial for a comfortable trip.
Start by simply sitting in the car with your cat for a few minutes. Then, start driving short distances with your cat.
Afterward, always reward him with a treat so that he will correlate traveling with positive experiences. Overall, this will reduce your cat's anxiety and stress during trips.
What is the Best Travel Cat Carrier With Litter Box?
When selecting a carrier, you will want to purchase one large enough to fit a litter box inside in case of potential accidents.
The best-selling cat carriers for nervous cats are listed below:
Sherpa Deluxe Pet Carriers
PetFit for Life Collapsible/Portable Cat Condo
PetLuv Cat Carrier
Necoichi Portable Cat Cage
Catit Carrier
What are the Advantages and Disadvantages of the Sherpa Deluxe Cat Carriers?
The Sherpa Deluxe Cat Carriers also offers a variety of beneficial assets for your nervous cat, making your trip perfectly comfortable for him.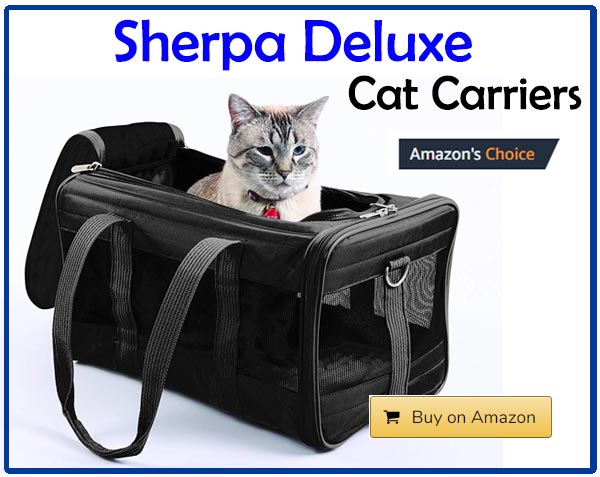 Sale
Sherpa Delta Airlines Travel Pet Carrier, Airline Approved & Guaranteed On Board - Black, Medium
AIRLINE APPROVED: The Sherpa Delta Airlines Pet Carrier is airline approved and part of our Guaranteed On Board program, which provides comfort and peace of mind to pets and their owners; it's perfect for traveling by air, bus, car, or train
IN-CABIN FRIENDLY: Our patented spring wire frame allows the rear end of the carrier to be pushed down several inches to easily fit under airplane seats in compliance with most major airline requirements and FAA regulations
PERFECT FOR TRAVEL: Features mesh panels for ventilation, escape-proof locking zippers, top and side entries for easy and comfortable loading, waterproof interior base, and a removable machine washable cozy base liner
VERSATILE DESIGN: Can be carried by hand with the padded top handle, or over the shoulder using the included detachable carrying strap and integrated metal D-rings - whichever suits your comfort and convenience
MULTIFUNCTIONAL: The pet carrier can also be used as a soft-sided crate for regular outings and vet visits with cats and small dogs; includes a large storage pocket for treats, leashes, poop bags, and other small accessories
The Advantages of this carrier are:
Not collapsible, but conformable
Different Sizes
Optimal space
Mesh windows
Approves requirements for all types of travel
Rear pocket
Washable Liner
Positive reviews
While the carrier is not entirely collapsible, it can be conformed to under-seat requirements and for more appropriate storage.
This carrier is available in small, medium, and large sizes. According to CatsPatrol, size is one of the most crucial factors regarding your carrier purchase and your cat's ease.
The website recommends that you measure your cat's length and height. Do not simply rely on weight when purchasing a cat carrier.
While a litter box is not included with the purchase, this carrier does offer enough space for you to include one.
The mesh windows provide easy visibility and proper ventilation for your cat.
Whether you are traveling in your car or on an airline flight, Sherpa's carrier meets all the requirements necessary!
The rear pocket provides an extra compartment for storage of treats, leashes, toys, etc.
While the liner of this carrier is not waterproof, it is easily washable.
Sherpa Deluxe Pet Carriers provides satisfactory reviews. The utilization of this carrier has been overall successful for consumers.
The disadvantages of this carrier are:
Fragile mesh windows
Flimsy
The fragile mesh windows potentially allow your cat to scratch holes through them. This might cause the material to be more flimsy and unreliable.
What are the Pros and Cons of PetFit for Life Collapsible/Portable Cat Condo?
The PetFit for Life Collapsible/Portable Cat Condo additionally includes several advantages for nervous cats.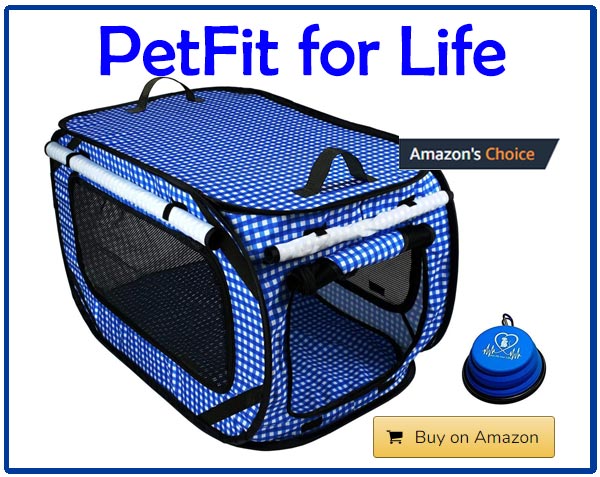 Sale
The pros include:
Includes litter box
Includes food/water bowl
Collapsible
Durable
Extra large
Proper ventilation
Great reviews
Unlike any other cat condos, this carrier includes several bonuses. Along with the cat carrier, you receive a portable litter box, food or water bowl, and even a cat toy!
This carrier is also collapsible for easy storage.
Its nylon fabric and flexible steel frame make for a durable composition.
Because of its extra-large size, it can fit all of its amenities along with two full-grown cats!
The condo offers two windows and screens for proper ventilation.
The cons:
Flimsy
Stitching isn't as sturdy
A theme with collapsible carriers is flimsiness. Cats tend to lean to one side of the carrier rather than remaining in one place. The stitching of the screens IS not as sturdy either, permitting easy tear.
What are the Important Details of the PetLuv Cat Carrier?
Lastly, the PetLuv Cat Carrier promotes satisfactory features for comfortable traveling.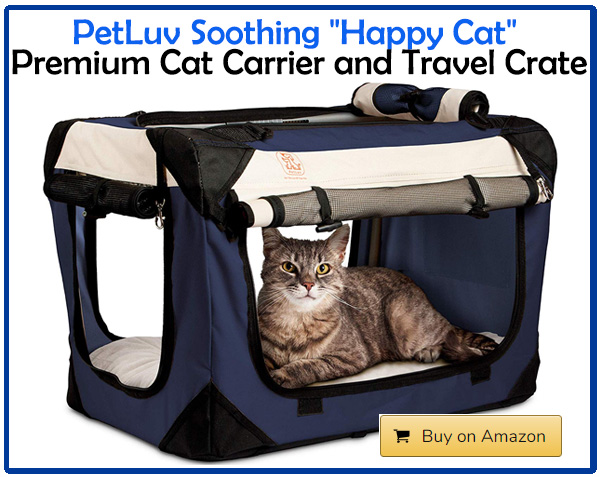 Sale
Petsfit Expandable Cat Carrier Dog Carriers,Airline Approved Soft-Sided Portable Pet Travel Washable Carrier for Kittens,Puppies,Removable Soft Plush mat and Pockets,Locking Safety Zippers
【EXPANDABLE SOFT-SIDE CARRIER】The M size of carries is 17"Lx 11"Wx 11"H and expandable size is 20"Lx17"Wx11"H by expanding the 1 mesh windows. This carrier is with light weight of around 2.5lbs and fits pet up to 13lbs.Please verify measurements prior to booking.
【COMFORTABLE SPACE】Extra extended space enable pets sprawl out, lay, see all around and relax when you have a flight trip, also works great in the car, roomy and they lay in it like a bed. Carrier can be folded totally flat when not in use.
【DURABLE MATERIAL】Solid wire structure keeps it from collapsing, flexible enough to compress to fit under an airplane seat. Top & 2-sided windows that are made of anti-scratch ventilated mesh. Actual PP board base helps to hold all pets steady, with thick comfy washable & removable plush pad as base cover. Well stitched oxford cloth material ensures long-term use.
【MULTIPLE WAYS TO CARRY 】Self-lock zipper to prevent your pets from escaping. A strap on one side can be slid around the extendable handle of rolling luggage. Two flexible handles to hold with your hands. Additionally, it provides a longer, detachable strap to hang on the shoulders and has a side pocket for storage.
【AIRLINE APPROVED CARRIER 】This carrier of S & M size is airlines approved, in compliance with most airline standard size rules. Easily to get this under the airplane seat when travel. As for the size of L, it is best to check the size standard of the corresponding airline(PS:There are two detachable fiber rods on both sides of the top of the carrier. When the large carrier is too high to fit under the seat, you can remove the two fiber optic rods and put them in easily)
The pros are:
Different Sizes
Sufficient space
Collapsible
Plush sleep pillow
Ventilated locking mesh doors
Very positive reviews
This carrier is available in small and medium-large sizes. With its sufficient space, it can hold up to two or three cats totaling forty-five pounds.
In addition to extravagant sizing, it also is collapsible.
Along with the crate, you will receive a comfortable, plush sleep pillow to aid in your cat's homey comfort.
The ventilated locking mesh doors not only provide an efficient circulation of air, but it also provides optimum security.
Lastly, the reviews are mainly positive. People faced few challenges using this carrier, implying that the cat had an enjoyable trip.
The cons include the following aspect:
If your cat is not declawed, this might not be the best purchase for you. Cats easily can tear through the carrier and escape.
What Features Does the Necoichi Portable Cat Cage Offer?
The Necoichi Portable Cat Cage provides several amenities that are beneficial for a nervous cat.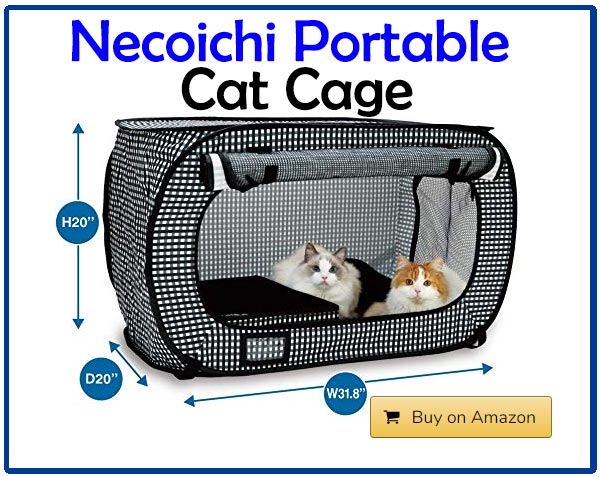 NECOICHI Portable Stress Free Cage Carrier and Litter Box, Indoor & Outdoor, Travel (Black, Carrier)
Convenient carrier is made with a chic plaid pattern and kitty head-shaped ventilation hole.
Folds quickly and easily for storage during non-use, whether in a cabinet, closet or under your car seat.
Sturdy fabric is designed for durability and safety—after all, you're carrying precious cargo.
Lightweight design doesn't add extra pounds to your load, making for easy carrying.
Extra large ventilation windows help your cat feel at ease, wherever the road takes you.
The pros of this cat carrier are as follows:
Litter box (sold separately)
Pop-open
Collapsible
Mesh windows
Waterproof Liner
Great reviews
This cat carrier is wide enough to contain a litter box and two cats, making for a comfortable and easy trip. You can find the separate litter box sold here.
The pop-open and collapsible features are efficient features for a cat carrier. They provide optimum access and transportation. Additionally, the collapsible feature serves in regards to easy storage.
The mesh windows provide visibility for your cat's comfort and prime ventilation.
In case of accidents, the waterproof liner ensures easy cleaning. However, if your cat is litter box trained, the litter box inside the carrier would likely prevent these bathroom accidents.
Lastly, the reviews on the Necoichi Portable Cat Cage are mainly positive overall. People observe more pros than cons regarding this carrier.
However, every product has its cons. This cat carrier's cons are as follows:
Flimsy
Not sturdy
Escapable
Unfortunately, this cat carrier can be a bit on the flimsy side. Since it is not as sturdy as some other carriers, stubborn cats can potentially escape.
If they push against the zippers, they might be able to open the carrier and escape. Cats can also scratch through the windows.
Folding back the carrier might also be a challenge, but that factor has little significance regarding your cat's nerves.
What is the Deal with the Catit Carrier?
Catit Carrier includes an abundance of benefits for traveling with your cat.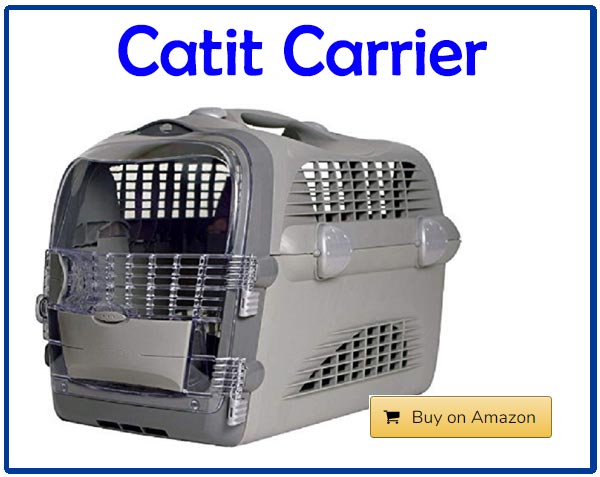 Sale
Top Load Pet Carrier for Large, Medium Cats, 2 Cats and Small Dogs with Comfy Bed. Easy to Get Cat in, Escape Proof, Easy Storage, Washable, Safe and Comfortable for Vet Visit and Car Ride
Easy to get uncooperative pets in from the top entry. Also comes with a full size front door
Easy to carry, lighter (2.4 lbs only) and you can carry by handle or use removable shoulder strap
Easy to store, no istallation needed, set up or fold down flat within 10 seconds. A great choice if you live in a small apartment
As safe and sturdy as old fashioned rigid plastic carriers but much comfortable for pets and more convenient for you. If your fur babies hate carriers, pls try petisfam carrier, they will love it
17"L X 12"W X 12"H, recommended for large, medium cats and small dogs. Free to return, replace and exchange for any reason in new and unused condition
The pros include the following:
Top loading
Large enough to store a litter box
Suitable for cats up to twenty-five pounds
Sturdy
Satisfactory reviews
The top-loading feature allows you to easily place your cat inside without having to force him.
While the carrier does not include a litter box, it is large enough to store one in addition to your cat.
Although you do not necessarily want to base sizing on weight, this crate can suit a cat up to twenty-five pounds, which includes basically all cats.
Due to the hard casing, this cage is much more sturdy than the collapsible carriers. Additionally, it is near, if not, impossible for your cat to chew through, providing efficient security and safety.
Overall reviews are significantly complimentary of this carrier.
What are the cons?
Not collapsible
Does not meet airline requirements
Since the carrier isn't collapsible, storage is more of a challenge. However, the size isn't overbearingly large.
If you are planning to bring your kitty with you on your flight, this might not be the carrier for you. This crate snaps shut, while airlines require that cages be screwed or bolted.
Amazon Basics 2-Door Top Load Hard-Sided Dog and Cat Kennel Travel Carrier, 23-Inch
Hard sided pet carrier for transporting a dog or cat to the vet or general travel
Includes a carrier made of plastic with steel wire doors and screws that keep the top and bottom securely attached
2 doors for front and top entry promote easy access and loading of pets
Top door swings open to the left or right and includes a top carry handle
Spring load latches ensure easy one-handed door opening and closing
Henkelion Cat Carriers Dog Carrier Pet Carrier for Small Medium Cats Dogs Puppies up to 15 Lbs, TSA Airline Approved Small Dog Carrier Soft Sided, Collapsible Travel Puppy Carrier - Grey
AIRLINE APPROVED CARRIER - With airline-approved design, you can take your pet to go to everywhere. This pet carrier provides two connecting loop handles for balanced carrying as a dual seat belt or luggage strap to secure transport
SAFETY DESIGN - The adjustable shoulder strap help you hands-free carrying and makes it more safe and convenient pet carrier bag for your travel
DURABLE - This cat carrier is made of durable and lightweight polyester fabric. The four-side mesh will not only give a safe and comfortable travel for your pet, but also easy for you to check on your pet
PORTABLE & FOLDABLE - This dog carrier is easy to carry and store, which has a padded shoulder strap and handles
BOTH SIZES AND WEIGHTS - The mediun cat carrier is designed for small and medium pets within 15" x 9" x 9"(smaller than product) and 15 lbs. Please do not choose your carrier only based on weight. Reference your pets' length and height in selecting a carrier size.
Sale
Petmate Two-Door Small Dog Kennel & Cat Kennel (Top Loading or Front Loading Pet Carrier, Great for Small Animals, Made with Recycled Materials, 24 inches in Length) For Pets up to 15 Pounds
MULTIPLE DOORS OFFER EASY ACCESS: Easy load options make it easy and less stressful for travel or house-training. Suitable for small dogs, cats, or small animals up to 15 lbs. Multiple ventilation holes on each side allows air to circulate and gives 360 view while traveling to the vet, park or groomer.
AIR TRAVEL APPROVED CARRIER: This small dog crate or cat carrier meets most airline cargo specifications. We provide carriers and travel supplies ranging from a dog carrier to large dog crate, wire training, and exercise kennels, playpens, barn-style dog houses.
EASY TO ASSEMBLE, EASY TO CLEAN: No tools required for assembly. A strong wingnut bolt assembly, a sturdy, foldable handle and spring-loaded latches keep your dog safe during travel. Features "stay dry" moat that surrounds interior floor space in case of wet accidents.
CHANNEL THEIR DENNING INSTINCTS: Crate and kennel training is vital for dogs safety and comfort. Give your dog a space they need to feel secure. Spacious kennel floor can accommodate a pad for added cushion. Whether a small dog kennel or large dog kennel, we have what you need for that security.
MADE WITH RECYCLED MATERIALS: Petmate is not just a friend of furry family members, but the environment too. We produce eco-friendly, sustainable, recyclable products from kennels to litter boxes and many in between. Check out our brands such as Aspen Pet, Arm & Hammer, Booda, Chuckit, and more.
Sale
BurgeonNest Cat Carrier for Large Cats 20 lbs,Medium Cats Under 25 lbs,2 Cats and Small Dogs with Unique Side Bag,Top Load Pet Carrier Soft-Sided Escape Proof with 4 Ventilated Windows
Cat Carrier Airline Approved: Pet carrier is approved design, measures 17.7"L x 12"W x 12.5"H, weights 2.5 lbs, fits for under-seat dimension of most airlines. Perfect for pets under 20 lbs; ideal for travel/ vacation/ leisure/ hiking/ plane/ car/ outdoor activities etc.
Well-made Large Cat Carrier: With upgraded memory metal for sturdy frame, this dog carrier airline approved does not collapse. Made of breathable fabric, BurgeonNest cat carrier has 3 doors to open, it is more convenient to put your dog cat in or out. Plush cushion with sturdy bottom inserts ensures comfortable environment for pets.
No-escape Cat Travel Carrier: Secured with against-slip zippers, your pets can't escape easily by pushing against the zipper from the inside. Pet bag has 4 mesh windows , which can bring more fresh air and also easy for you to check on your furry friends.
Large Unique Side Bag: Storage bag is bright-blue, very fashional soft cat carrier. Break the dullness! Bag on the side can hold garbage bags, food or folding bowl for your pets.
Portable and Washable: If you are tired of carrying handles, the adjustable shoulder strap help you hands-free carrying. The pet carrier for cat is designed for small pets within 15.7 inch x 10.2 inch x 10.2 inch and weight less than 20 lbs.
Related:
How to Choose the Right Travel Cat Carrier with a Litter Box
You have a lot to consider in both your trip and a travel crate itself. The main issue you'll face with travel carriers is your cat. They'll be the biggest critic with a big paw up or down.
While we can't read your cat's mind, we can walk you through the various types of travel crates and their best uses. In addition, we'll cover common problems and concerns that might arise before, during, or immediately after your trip.
You Have to Consider Your Cat and the Trip Separately, Then Together
You know your cat best, so let's talk about the common factor in any trip: length of time. Most crates don't come with a litter pan and fewer can hold one.
The longer your cat spends in their crate, the more likely they'll need access to their litter box.
Manufacturers remedied this with 2-in-1 models that either come with a removable travel-size pan or they're roomy enough to accommodate one.
2-in-1 lets you purchase one crate, which has its upsides, but discovering the perfect one for your cat can be tricky. Let's take a closer look at why.
Litter Pans Might Matter More Than the Crate
Some cats prefer their litter box so strongly that they'll refuse anything else. Litter box aversion can be medical or behavioral, according to the ASPCA. We're referring to cats without medical problems here.
If this sounds like your cat, a 2-in-1 is unlikely to work for you. Instead, you'll need a crate large enough to accommodate the pan your cat will use.
Forcing your cat to use a different pan (or litter) is likely to end in frustration for both of you. Trust your kitty here.
If your cat shows no strong preference, you should consider the sturdiness of the included travel litter pan. They commonly come in nylon and plastic styles, and they're generally smaller than a regular litter box.
Pay attention to the measurements though, including the depth. While it might sound odd, knowing how your cat uses their litter pan will help you decide whether a travel-sized one will work.
Elevator poopers—a cat that poops or urinates on the side of a covered box
Elderly cats and small kittens—might have issues climbing in a box with tall sides
Messy poopers—the type that kicks litter and their waste out of the box
Perching poopers—these kitties like to sit on the side of the litter pan
Hideaway pooper—this type of kitty spends more time in their litter box hiding than they do actually using it
We've owned and met quite a few of these notorious felines. If your cat prefers any of the above methods, a travel litter pan might not be your best choice. Instead, choose a 2-in-1 large enough to hold your cat's normal pan.
One exception is covered boxes. They're unlikely to fit in a normal-sized crate. Sorry, hideaway and elevator poopers.
What's the Best Crate Material?
Soft—nylon material with or without support frames
Plastic—solid plastic bottom
Wire—open on all sides with a tray system on the bottom
Expect messes on the road or during your flight. You want a material that cleans easily. Preference can vary between people as well as cats, so there's really no overall best material if it meets your needs.
Please note that some airlines have the material they allow in their regulations, so you should consult the company before you purchase a carrier with or without a litter box.
What are the Pros and Cons of a Nylon Carrier with a Litter Box?
Using a litter box with a nylon carrier is tricky. The travel carriers have lower weight limits, and litter isn't light. You could use a lightweight litter, but if you don't currently use this type of litter, your cat might refuse it.
Many nylon carriers tend to lack bottom and side support. When you lift one up, they cradle your cat like a hammock.
This means the same for the enclosed litter box unless the design utilizes a reinforced metal or plastic support frame. Sadly, most do not.
Nylon, though durable, can rip. While you might find a few sturdy models, generally, you should consider the lightweight material for short or local outings that don't require the litter box to be inside.
Also worth mentioning, most airlines won't allow carriers with more than one opening in the cabin. You cannot use them at all if your cat will be in the cargo hold.
Are There Pros to Soft Carriers?
They clean easily
More portable
They fold down for storage, and there are no parts or pieces to lose
Ventilation is superb with the inclusion of mesh
Insulated lightly
You can also find this style with multiple openings, such as top load
Many models come with expandable sides for versatility
What are the Pros and Cons of a Plastic Carrier with a Litter Box?
Plastic travel carriers can be ideal to use with litter boxes while traveling. They come in an array of sizes to start, and they offer protection and security for your cat.
Another bonus is that the majority are airline approved; however, please make sure to double-check well before your flight.
What are the Cons of Choosing Plastic?
Storage when not in use
Many little parts
Plastic quality varies between companies
Plastic doesn't have the best ventilation, but it does provide enough airflow in most conditions.
What are the Pros and Cons of a Wire Carrier with a Litter Box?
These are less common with 2-in-1 models, but they deserved a mention in terms of travel. They offer excellent ventilation. They can also accommodate travel-sized and larger litter boxes, and you can attach them to the metal wire.
Wire crates are also easier to lock in place during travel. This enables you to go for taller models without compromising safety.
Your limitation is what will fit on your back seat. To secure a wire crate, you can use your vehicle's 5-point harness system with additional seatbelts.
Long trips often require an overnight stay. Using a larger (or a tall style) travel crate in your hotel can keep your kitty safe and reduce anxiety too.
This is true for numerous outing types, including camping trips or staying overnight with relatives when you don't want to let your cat loose.
What are the Downsides to Wire Crates?
They're bulky and often heavy
Travel isn't common with them
They don't provide a hiding spot for your cat
No insulation for colder climates
No shade
Airlines have special requirements for the strength and flex allowed in a metal pet crate
What Size Crate is Best?
Your cat won't require a lot of room. In fact, too much room during travel can pose a danger. They should be able to fully stand and turn around with the litter box and food and water dishes.
Are You Traveling with More Than One Cat?
Unless your cats get along well at all times or are young kittens, we strongly suggest one carrier per cat. The less stress you place on your cats during their journey generally means they'll bounce back quickly should they become anxious or car sick.
If flying, many airlines prohibit cats from co-inhabiting a crate with few exceptions, such as kittens.
A Travel Crate Can Cause, Limit, or Prevent Stress and Behavioral Issues
With a few exceptions, cats generally don't fare well with travel. You must consider your cat when choosing your crate.
However, you should be aware of the negative signs your cat shows during the introduction phase, and then during and after the travel ends.
If your cat develops any adverse or unusual behavior during the introduction, you might consider a different crate and/or travel litter box.
Common Negative Cat Behaviors to Expect During and After a Trip
Hiding
Motion sickness
Crying
Lack of affection
Overly affectionate
Scratching and biting themselves and others
Fighting with other animals they once adored
Loss of appetite and/or interest in food and treats
Refusing to use the litter box without a previous history
Destruction
Contact a vet if your cat refuses to eat or drink, uses the litter box but suddenly stops, or if your cat starts pulling out its fur. You want to immediately rule out an underlying condition or illness.
You might have to be diligent, and you must know your cat's normal behavior well. The video below shows us the ways we tune in to our cat's subtle clues when something isn't quite right.
Dr. Snider makes many valid points in the video above. One point that stuck with us is just because a symptom is common doesn't mean it's normal.
How to Make Your Trip Less Stressful for Your Cat
You can take steps to help your cat adjust to traveling in their crate, which can reduce both anxiety and motion sickness.
How long this will take is entirely dependent on your cat. Expect at least a week or longer for full adjustment with older kittens and adults.
Your first step after purchasing your travel carrier is to set it up. Leave the door open and let your cat sniff and explore.
If they show no interest or react negatively, don't scold your kitty. Try to reinforce positive behavior instead of affection, play, and treats.
Once your cat accepts the carrier as an extension of their home, it's time for the next step.
Step two is closing your cat in the carrier and taking them on a short journey, such as outside for a few moments. Listen for and watch your kitty closely for distress signals. Take them inside should they show any.
Step three is graduating to a short car ride. Use your cat's reaction as your guide; however, the initial trip should be short. Gradually increase the time and distance while reinforcing positive behavior. Most cats will come to love the idea of their crate and traveling.
7 Tips for Successfully Traveling with Your Kitty
Start your cat's journey on an empty stomach if possible
Face your cat forward if going by car
Ask your vet for motion sickness or anti-anxiety medication if necessary
Use aromatherapy via a car diffuser and cat-safe essential oils
Try spraying your vehicle and the crate with relaxing cat pheromones
Play relaxing music for your kitty that you'd normally play at home
Use the same brand and scent of litter you already use in the travel pan to avoid litter box aversion
After your cat masters and accepts their crate, it's time to introduce the litter box if you haven't already. Each cat will react differently, meaning some will use it without any issue and others will need a little coaxing.
Closing Thoughts on Choosing the Right Travel Carrier with Litter Pan for your Cat
You won't find the best rate because it doesn't exist. Much of what you require from your traveling crate and litter pan will depend on your cat and the type of trip.
A good practice is to consider your cat first, then look at what you need on your trip.
Write down the pros and cons as they apply to your situation. Take the time to properly introduce your cat to both the crate with a litter box and traveling itself.
If in doubt, consult your vet with any issues your cat currently has or that you foresee becoming an issue. They should be able to properly diagnose current medical conditions, suggest medication if necessary, and provide care once you're home should the need arise.
Of course, we hope our article helps you understand the available choices and assists you in discovering the perfect travel carrier for your kitty and trip.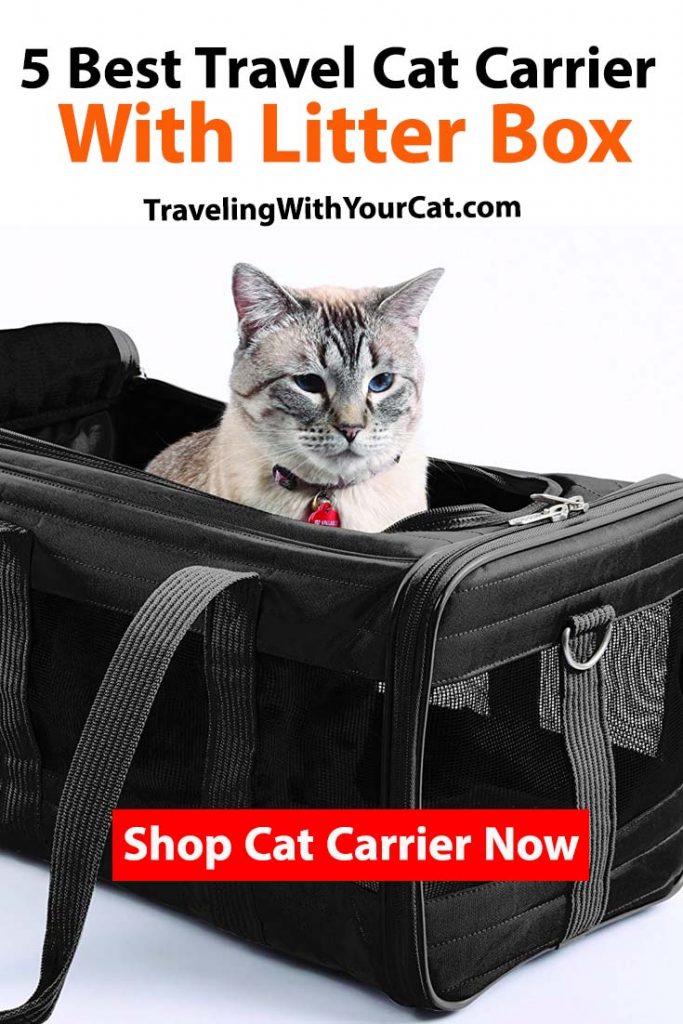 The Choice is Yours!
With your cat's personality, anxiety, and needs in mind, hopefully, you can select the best carrier for your nervous cat.
Ensure that the carrier is large enough to hold a litter box in case of accidents and that it incorporates visibility, ventilation, and sufficient space.
With these factors in mind, you can choose the best carrier for your furry friend!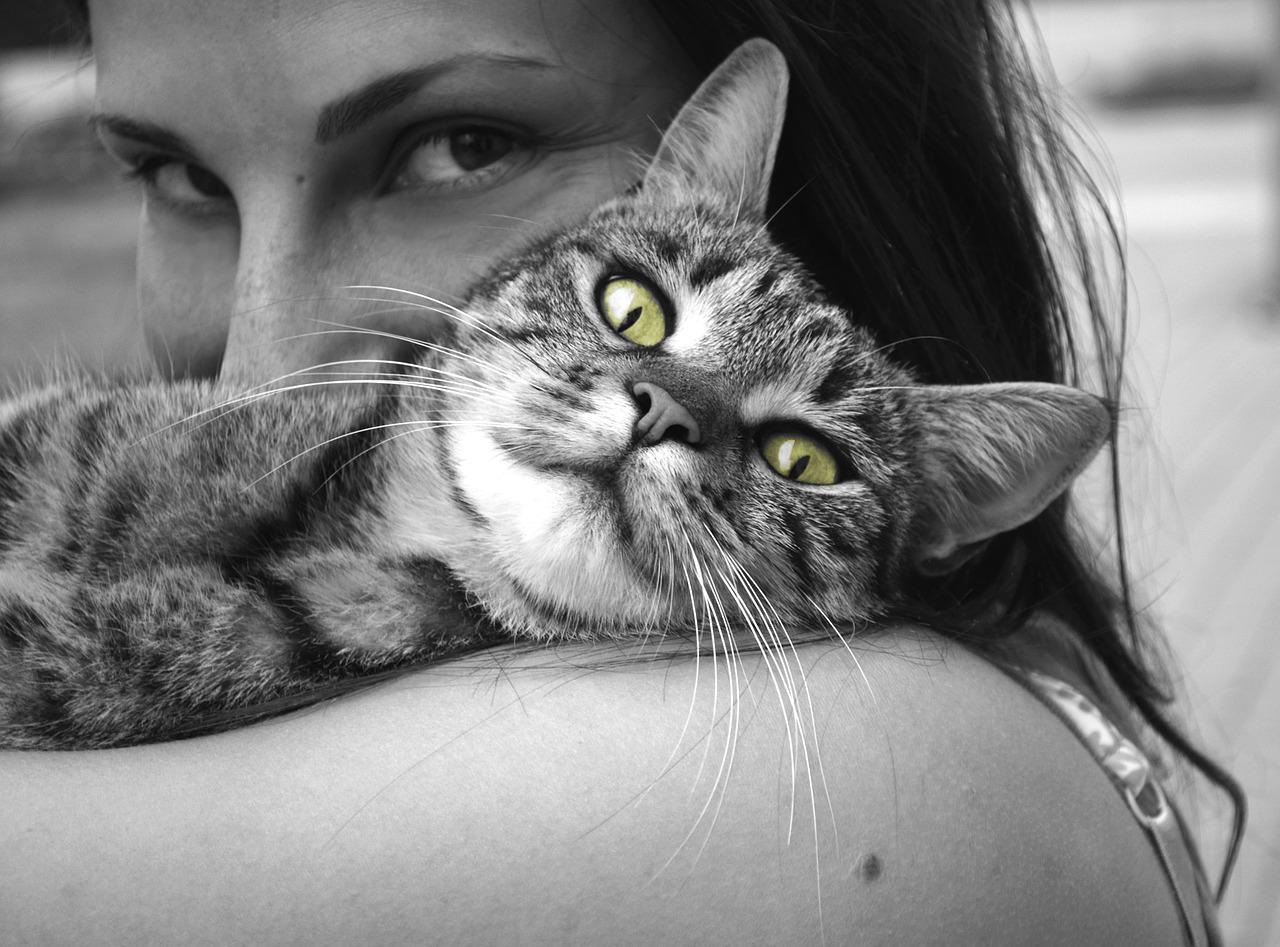 Hi, This is Alexa, and I love cats. This Website is a Complete Journal about how to travel with a cat and other information about Cat Health, Cat Training, Cat Behavior, Cat Foods and more. I hope you find it useful.