5 best cat toys for indoor cats
You want to entertain your cat and make sure your best friend is easily entertained while you're gone, right? You want to make sure that the toy is safe to handle, especially if your cat is small, and you want to ensure that it is most effective at helping your cat grow.
Cats are very independent creatures and while clearly capable of being domesticated, it's important they are active each day. Make sure your home is safe of clutter as well as objects that can be eaten/choked on.
Cats are also very curious creatures, you know the saying "curiosity killed the cat", so take precaution when purchasing a toy. Thankfully, we went ahead and saved you the trouble and performed extensive research on which toy is best for your indoor cat.
We compared the prices, read the reviews, and compared the features each toy would bring for your best friend. We chose 5 of the best toys for your indoor cat, which according to Drs. Foster & Smith Educational Staff, playtime is necessary for your feline.
There are many different reasons why playtime is so essential for your indoor cat. You have to remember that cats are descendent from the predator we love to be scared of: the lion.
Cats are natural hunters and you'll see how excited they get when they see a fly or hear a bird chirp. Their natural instincts are to hunt and gather for their young.
So, when they see a helpless, or what appears to be so, animal before them, they grow more comfortable in the home because they are in their natural habitat.
Another reason why it is beneficial to play with your cat is that it relieves anxiety in both cat and owner. Life can be difficult and bonding with your cat and seeing him/her happy can be therapeutic for both.
The bonding and interacting truly help alleviate the depression and lethargy she/he may be feeling, and provide the natural instinct reactions she/he craves.
Petstages Tower of Tracks Cat Toy 
This 3-level tiered bowl track is an excellent choice for your wallet and your cat. The track comes with three different brightly colored balls that spin and roll on the track, keeping him/her busy.
They are brightly colored so you don't lose them and the entertainment stimulates their senses. Cats need the challenge and grow easily bored, which is why this is an excellent solution for that.
This Petstages Tower is sturdily made and can withstand quite a bit of force, which is excellent since playtime can sometimes get a little too crazy.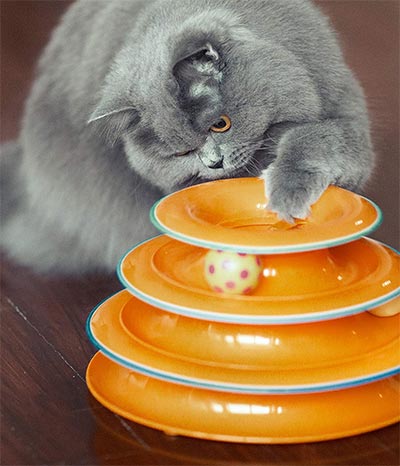 Check the prices for Amazon best choice
Playtime is essential for both cat and owner, though, and since it is only a track for balls, it won't ever get too crazy. The purpose of this toy is for your cat to be able to entertain himself/herself without harming or bothering you.
Your cat will be able to play with it whenever he/she wants to, you don't have to do anything except replace it on the track when it gets knocked off, and the mental/physical fun you're both having will be ten-fold, make this choice to entertain your cat for days.
Cat Amazing – Best Cat Toy Ever!
Interactive Treat Maze & Puzzle Feeder for Cats   
This is a unique kind of toy that stimulates your cats senses as well as feeds him/her. There is a place inside this maze/puzzle duo where you can place food/treats as a prize.
The goal is for your cat to get past the different levels it offers that increases in challenge as the levels are defeated. This is an excellent way to entertain your cat and eliminate the need to replace anything.
Another incentive for purchasing this toy, and why it is the best selection for your cat is if he/she has weight issues. You can play with this toy, both you and your cat, for hours at a time which is beneficial when you want to relax. You don't have to do absolutely anything except watch your cat find the treat you've hidden in the spaces.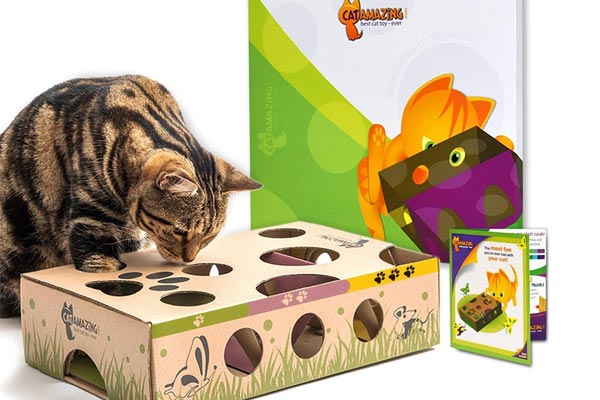 There are hidden rewards that he/she will love and it can help stimulate your cat's senses for hours to come that will be a beneficial thing for both cat and owner.
This is a recommended choice by esteemed individuals such as Veterinarians that like this toy for food moderation, which can help improve your cat's health.
This is a perfect choice for those looking to help your cat get to a healthy weight and stimulate the senses.
Friends Forever Interactive Cat Laser Toy
Pet Laser Pointer for Cats Automatic Rotating Catch Training, Adjustable 3 Speed Mode 
Lasers are notoriously popular with cats because they are easy to use and perfect to entertain your cat with. Cats are natural hunters and enjoy the challenge a laser brings.
One may even think that they are imagining the laser to be a rat or a lizard with how quickly they chase after this laser beam. Your cat will be able to get the exercise he/she needs when chasing after the laser and with an automatic timer, it helps control the length of play.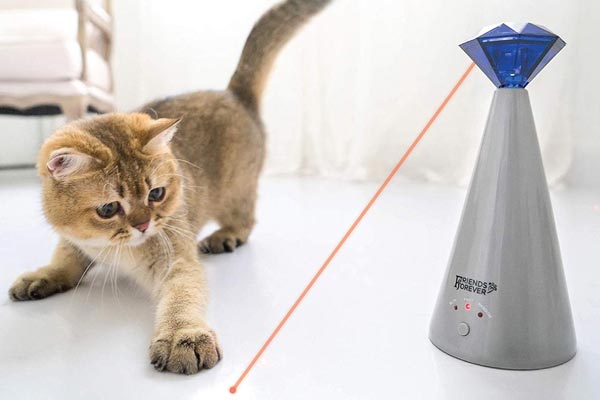 There is a 15 minute shut off between play sessions so both you and your cat can take a break. Battery operated, this toy is sure to entertain both you and your cat for years to come. As long as you keep a stock of 3 x AA batteries.
Outback Jack Cat Enclosures For Indoor Cats
Portable Tent, Tunnel, and Playhouse
This is a good choice for those wanting to spend a lot of time outdoors with your cat but not wanting them to become an outdoor cat. It can be difficult to know which toy is the right one with the different benefits each one brings.
A little more expensive than the others, this is for a good reason because this portable playhouse is meant to be outside. Of course, this is acceptable to be outdoors but it is designed to be in your home where a lot of sunlight is displayed.
Cats enjoy the feeling of the sun for its warmth and probably familiar feelings of comfort, which would be perfect for the playhouse. Whether there is another animal in the home or it's just him/her, set this playhouse up and watch him/her explore.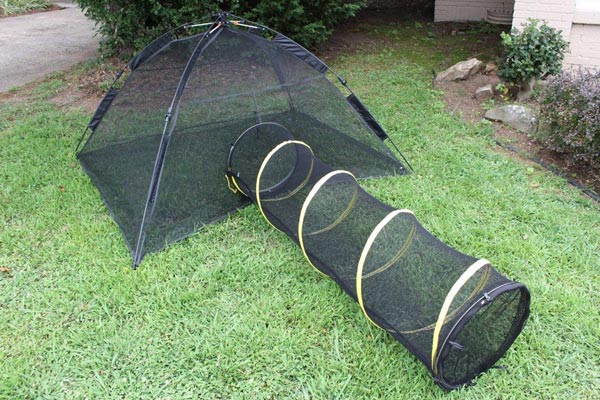 They will be sure to be running around and playing hide-and-seek with you until they get bored. This tent is easy to carry and with the many zippers and easy of taking apart and putting back together, this is an excellent choice for the adventurer in you.
This Outback Playhouse will give your best friend a fun journey to embark on every day.
Petronics Mousr Interactive Robotic cat Toy – 
Voted Best cat Toy 2018
Plays Automatically or by Smartphone Control
This is the most expensive cat toy on the list and while it may feel a bit daunting to continue, wondering how much this one is to be voted the best in 2018, we will go ahead and tell you now.
The price for this technologically advanced toy, voted the best cat toy in the year 2018 out of all the other excellent choices, was the Petronics Mousr Interactive Robotic cat Toy.
It is used by downloading an app on your phone and that is how you're able to control the toy. There are many different functions of it in how it moves around, jumps and interacts with the cat's movements.
This is possible because of the controls that you as the owner use. What is neat about this toy is it doesn't just move along with your cat in a line. It can move however way you or the cat wants it to and even jumps.
When the toy jumps, watch how excited your cat gets, and you will see how great this investment was. There are automatic software updates that are free of charge which will ensure there won't ever be a pause in the fun.
You can increase or decrease the levels of difficulty and interactiveness with your smartphone will is beneficial when you want it to be casual playtime.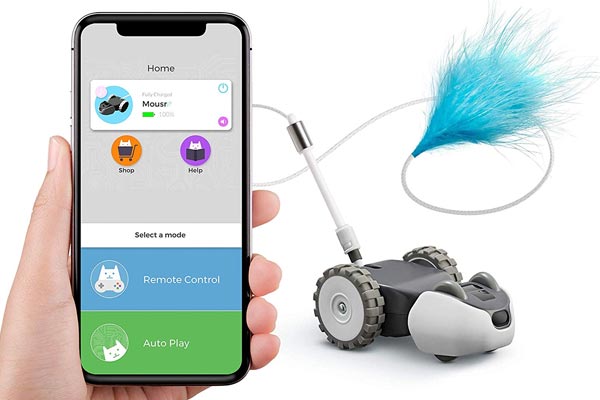 Check the prices on Amazon – Voted Best cat Toy 2018
What is fun about this toy, also, is the fact that it includes interactive, hidden games for your cat to get lost in.
You've learned all there is to know about cats and why they need to play. Exercise is vital, especially for an indoor cat, so their health remains satisfactory.
Playtime with themselves, another animal and you are beneficial for bonding because then they are less likely to become lethargic or depressed, as some cats are apt to become.
Another benefit for bonding with your cat is the anxiety and stress once felt is alleviated, thanks to the comfort and time you share for and with each other.
There are hundreds of cat toys out there, of course, and these top 5 toys that we shared with you aren't the absolute best. In fact, there are probably countless others that you may find better than the laser or robotic toy.
Whether your cat is super playful or more of a cuddler, each toy that we provided information about has a purpose. Each toy for your cat provides the comfort, security, joy, and satisfaction that an indoor cat needs.
It is never good for a cat to grow anxious or depressed because then they will become lethargic. Lethargy leads to a loss of appetite which means your cat will grow extremely unhealthy.
Monitoring your cat's weight and ensuring he/she is getting enough exercise will help eliminate any future worries of illness or physical harm.
This is a wonderful video that shows an indoor cat interacting with the Petronics Mousr Interactive Robotic cat Toy. This has the most reputable of reputation and offers the best benefits for both cat and owner.
The features of the toy are unique and as you can see in the video, the cat really enjoys playing with the cat Toy. It is easily managed using your smartphone.
Its most dominant feature that many cat owners and cats alike are enjoying the most is that it interacts naturally with the cat. It isn't just controlled by an application on your smartphone.
It reacts and senses your cat automatically which displays an updated toy that we haven't ever seen until now. It is incredible to watch it in action and mesmerizing to watch the cat enjoying the time of their life.
It was named the best new cat product of 2018 by the American Pet Products Association which is a very esteemed organization that studies a variety of toys before making such a selection.