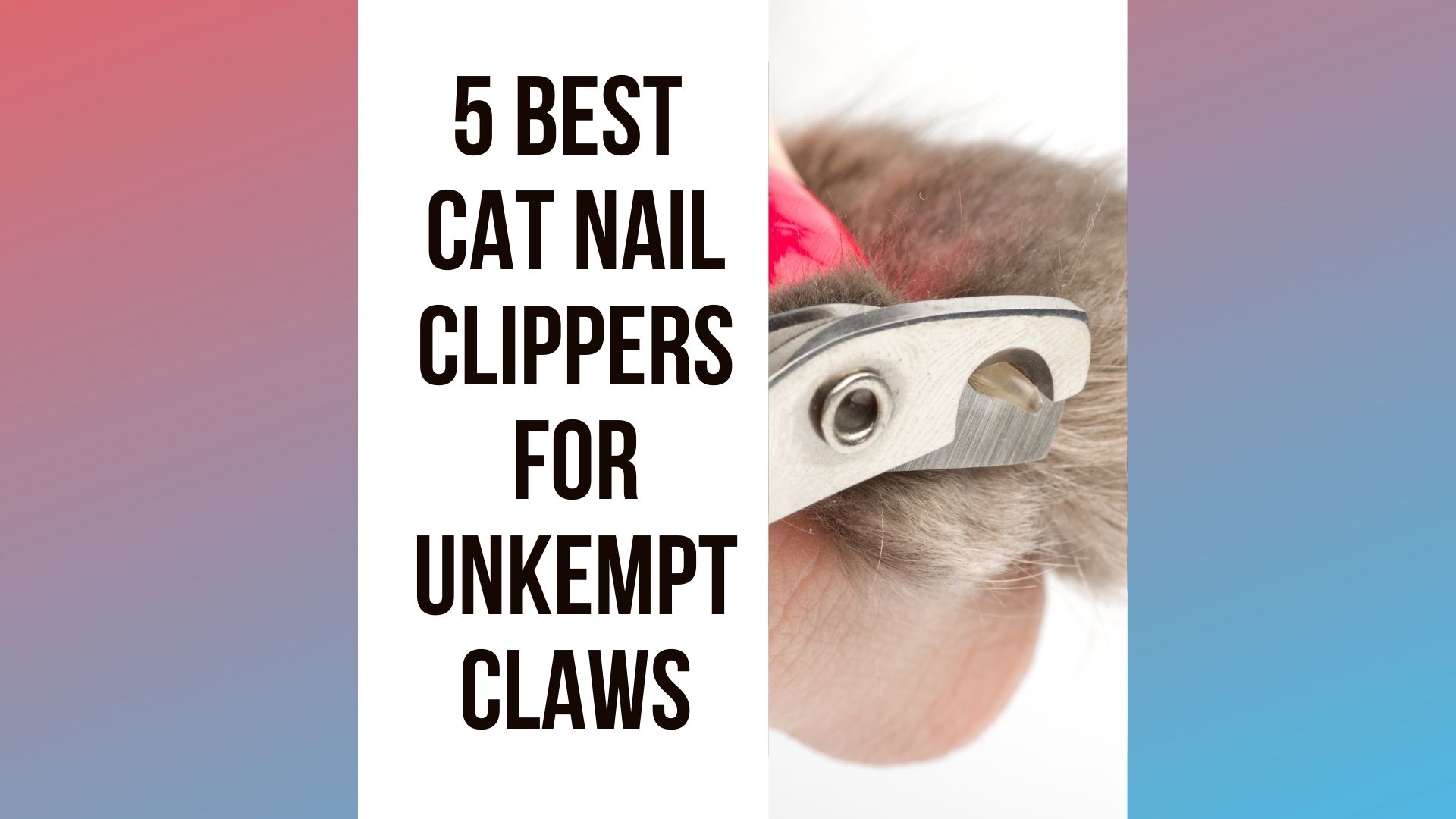 5 Best Cat Nail Clippers
Shiney Pet Nail Clippers For Small Animals
Resco Original Pet Nail Clippers
Boshel Cat and Dog Nail Clippers
Epica Professional Nail Clippers" 
H&H Cat and Dog Clippers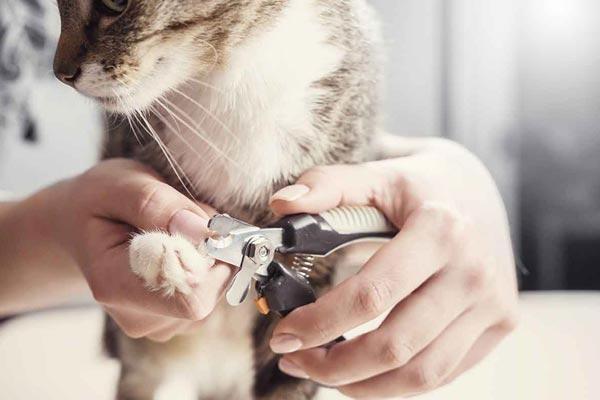 Shiney Pet Nail Clippers For Small Animals
Shiney Pet's nail clippers feature a high-quality plastic handle with textured grips that allows you to safely cut your cat's nails.
Designed for all small animals, these clippers use durable, stainless steel blades set at an angle, giving you precise, clean cuts every time you use them.
As your trimming, the window style opening gives you a clear view of the nail, making it easier to avoid the sensitivity quickly.
These scissor-style clippers have comfortable finger rests and an ergonomic design that makes them easy to handle.
Each of Shiney Pet's nail clippers consists of materials that are safe to use on pets with sensitivities to certain materials.
These materials guarantee these clippers will last and come with a lifetime replacement warranty.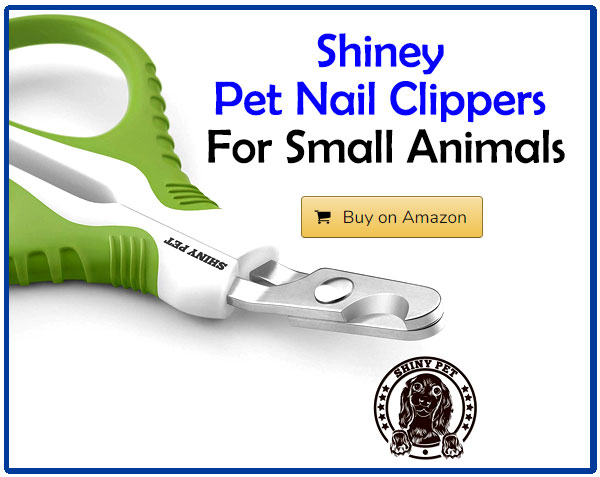 Pet Nail Clippers for Small Animals - Best Cat Nail Clippers & Claw Trimmer for Home Grooming Kit - Professional Grooming Tool for Tiny Dog Cat Bunny Rabbit Bird Puppy Kitten Ferret - Ebook Guide
FOR SMALL PETS: Our claw scissors have been designed to be used on small animals, such as dogs, kittens, puppies, birds and bunny. Use them as kitten nail clippers or as general pet nail trimmers.
SAFE & EASY TO USE: Fitted with razor sharp blades made out of stainless steel and an ergonomic grip made out of a top grade plastic the production of these clippers does not harm the environment.
USER FRIENDLY DESIGN: The stainless steel blade and the handle is finished with a rubberized coating that allows you to securely grip them in order to prevent painful accidents.
INSTRUCTIONAL EBOOK: Worried about clipping your pet's nails for the first time? Don't you fret! Just scan the QR code on the back of the package with your smartphone and get the full guide right now.
RISK-FREE GUARANTEE: As with all other pet grooming tools by SHINY PET these cat nail cutter are backed by a lifetime money-back guarantee.
Pros
Reduces the risk of injury
Includes a how-to e-book
Semi-Circular Design for optimal cutting
Cons
No Safety guard
Non-replaceable blades
Not ideal for inexperienced users
Resco Original Pet Nail Clippers
Resco's Original Pet Nail Clippers can clip the nails of all animals, including cats. They feature durable steel construction with the option to add a comfortable grip handle for better stability. Its guillotine-style cutting tip makes it easy to cut your cat's nails while avoiding the quick.
In addition, these nail clippers use micro-honed blades that are sharp enough to cut through tough nails with ease. Its unique design also allows you to cut nails of any size, from kittens to large breed dogs.
Unlike standard nail clippers, each blade's easy to remove and replace, saving you money by not having to buy a new set of clippers.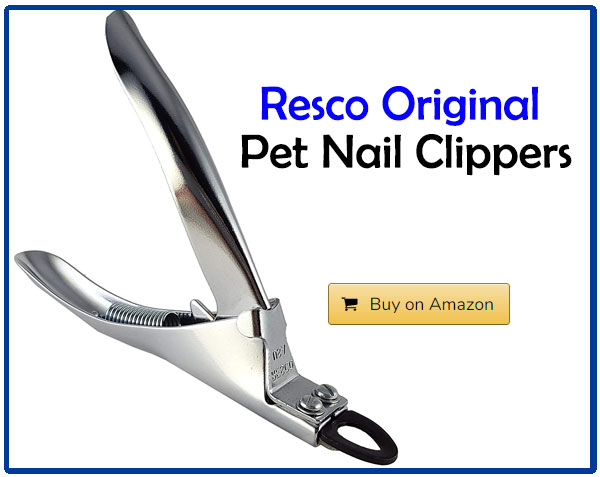 Pros
Made in America
Great for beginners or experienced users
Hand tested for sharpness and quality
Cons
Awkward design
Too big for smaller cats
The locking feature makes it difficult to use
Boshel Cat and Dog Nail Clippers
These high-quality nail clippers by Boshel come with 3.5mm thick, stainless steel blades that offer clean cut with one squeeze of the handle.
Its handle features durable plastic construction, equipped with anti-slip grips for better handling. This anti-slip grip prevents accidental slipping that could result in cracking or breaking of the nail.
For added protection, each Boshel nail clipper comes with a safety stop blade. This blade helps prevent cutting the nail too short by stopping users from pushing the nail too far into the clippers.
Additionally, these clippers last several years before being replaced, without ever getting too dull to cut.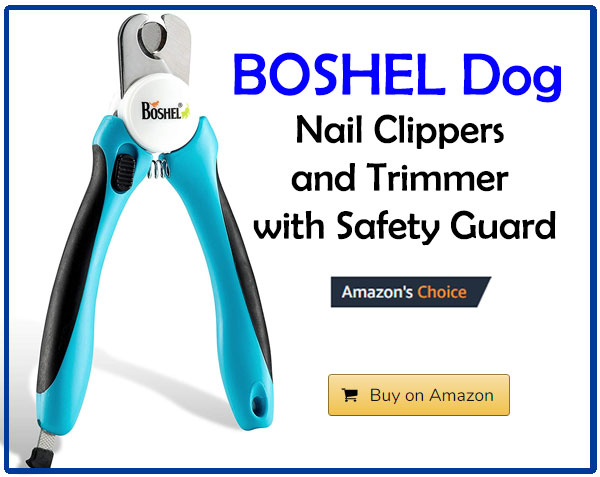 Sale
BOSHEL Dog Nail Clippers and Trimmer - with Safety Guard to Avoid Over-Cutting Nails & Free Nail File - Razor Sharp Blades - Sturdy Non Slip Handles - for Safe, Professional at Home Grooming
★ RECOMMENDED BY PROFESSIONALS: The Boshel small animal pet nail clipper is an ergonomically designed Powerful and easy-to-use pet grooming tool, the nail trimmer is recommended by animal trainers, veterinarians, professional pet groomers and thousands of satisfied customers as the best pet nail clippers on amazon to use for medium and large dogs and cats.
★ CLEAN CUTS EVERY TIME: The pet nail clippers are made out of high quality 3.5 mm thick stainless steel sharp blades, it is powerful enough to trim your dogs or cats nails with just one cut, it will stay sharp for years to come for stress-free, smooth, quick and sharp cuts.
★ USER FRIENDLY DESIGN: The professional dog nail clipper is designed to keep you comfortable while grooming your pet at home, it features comfortable, easy grip, non-slip, ergonomic handles which stay safely in place in your hands to ensure ease of use and prevent accidental nicks and cuts.
★ SAFETY STOP SERVES AS A QUICK SENSOR: The dog grooming clippers is safely Outfitted with a safety stop blade that greatly reduces the risk of cutting nails too short and injuring your dog by cutting in to the quick.
★ BONUS: Free mini nail file included to file the sharp nails after cutting your dogs and cats nails ,it is placed comfortably in the left handle of the clipper.
Pros
Comes with a free mini file
Suitable for left and right-handed users
Conditional lifetime warranty
Cons
Non-replaceable blades
No instructions included
Bulky design
Epica Professional Nail Clippers
Epica's professional nail clippers cut through your cat's nails in one gentle squeeze. It's professional-grade, stainless steel construction won't bend or break and it's rust-resistant, guaranteeing that it'll last for many years.
On top of the stainless steel frame sits a rubber grip that conforms to your hand and gives you better control while cutting.
Epica uses durable, steel blades that cut through thick nails without leaving sharp edges behind.
These blades never dull, allowing you to cut your cat's nails without ever needing to buy new clippers or replacement blades. With its convenient safety guard, you'll never have to second guess whether you cutting too much off.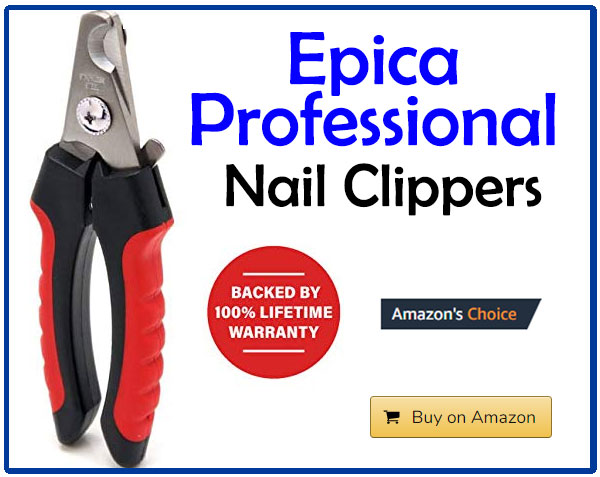 Epica Cat Nail Clipper, Dog Nail Clipper | Cat Nail Clippers with Safety Guard, Cat Claw Clippers | Dog Nail Clippers for Small Dogs, Puppy Nail Clippers | Cat/Dog Nail Clipper, Small/Medium
TRIM YOUR PET'S NAILS SAFELY: It's easy to make a precise, safe cut with our semi-circular blades. Your pet's nail rests in the semi-circle - you see precisely where you're cutting - no guessing.
A GENTLE SQUEEZE IS ALL IT TAKES: Epica's high-grade stainless steel holds its sharp edge and won't dull - so clipping nails is effortless and a whole lot less scary for both you and your pet.
LOCKS CLOSED WHEN NOT IN USE: Your know your clippers are always in safety mode when you aren't using them - just squeeze the handle and slide the lock into the safe position. Curious kids stay safe.
RUBBER COATED HANDLES FOR A SECURE GRIP: The handles feel incredibly comfortable in your hand because of the non-slip rubber coating. Together with the rounded blades, you can clip confidently
CHOOSE FROM 2 SIZES TO FIT YOUR DOG: Small/Medium for dogs under 60 pounds such as Beagles, Chihuahuas, Miniature Poodles and Shelties, or Large for dogs over 60 pounds such as Boxers, Labrador Retrievers, German Shepherds and Great Danes.
Pros
Lifetime warranty
Locks closed when not in use
Easy to use
Cons
No instructions
Safety guard sticks and difficult to adjust
The Obstructed view when cutting smaller nails
H&H Cat and Dog Clippers
H&H's cat and dog clippers can clip the nails on any small animal, from birds and ferrets to cats and small breed dogs.
These clippers feature a lightweight design that never wears out your hands and allows you to take your time clipping your cat's nails.
Its steel construction makes them durable for regular use and it's slip-proof grip offers a comfortable, secure grip to avoid accidental injuries.
Each set of clippers has a stainless steel blade that quickly snips the nail without causing damage. The blades never lose their sharpness, allowing you to clip your cat's nails for years, without having to buy a new pair.
At the bottom, these clippers have a locking edge clip that keeps your clippers secure when not in use.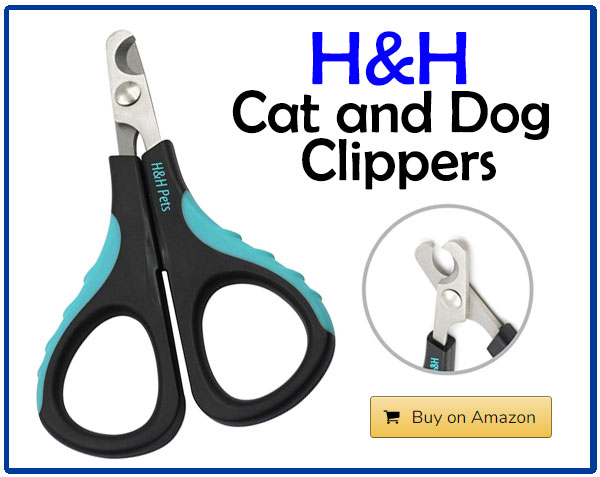 H&H Pets Nail Clippers Series - for Cats and Dogs - Razor Sharp Blades Sturdy Non Slip Handles - Dog Accessories Professional at Home Grooming - Stainless Steel - Dog Nail Trimmers - XS (Cats & Birds)
★【HIGH QUALITY AND EASY TO USE DESIGN】– The stainless steel blade is hypoallergenic and durable. The handle is finished with a slip-proof coating that allows you to securely and comfortably grip them in order to prevent painful accidents. Detailed instruction is printed on the back of the package.
★【100% SATISFACTION & WARRANTY】– 60 day's money back guarantee and 3-year product warranty. Contact seller (H&H pets) directly if you have any questions about our nail clipper series, welcome to contact us! We will definitely give you a satisfactory answer within 24 hours.
★【DESIGNED FOR XS (Cats & Birds)】– Our lightweight claw clippers are designed to be used on small animals, such as small(SM) dogs, kittens, puppies, pets, ferrets, birds, cats(cat nail trimmers), and even rabbits. Use them as kitten nail clippers, dog nail trimmers, or general pet nail trimmers.
★【USER FRIENDLY DESIGN】– The user friendly professional dog nail clipper (dog accessories) is designed to keep you comfortable while grooming your pets at home, it features comfortable while trimming, easy grip, non-slip, ergonomic handles which stay safely in place in your hands to ensure ease of use and prevent accidental nicks and cuts.
★【CLEAN CUTS EVERY TIME】– The dog nail clippers are made out of high quality stainless steel sharp blades, it is powerful enough to trim your dogs or cats nail with just one cut. It will stay sharp for years to come for smooth, quick, stress-free, and sharp cuts. A comfortable (nail cutter), ergonomic handle helps to allow you to maintain control when trimming your pet's nails.
Pros
Hypoallergenic
Lifetime satisfaction guarantee
Instructions provided
Cons
Locking Edge Clip too bulky
Too small for larger hands
Difficult to use for beginners
Why Should I Clip My Cat's Nails?
A cat's nails serve as their way to scratch, climb, hunt, and defend themselves against predators. However, unkempt nails can cause a variety of problems for you and your cat, especially if you don't have a set nail clipping schedule.
Risk of Infection
A cat's claws are a breeding ground for all types of harmful bacteria. When a cat's nails grow too long, they begin to curl and tuck under their paws.
As they continue to grow they begin poking and cutting the sensitive pads on the bottom of their feet causing pain. Once their nails reach the pads of their feet, it can hinder their ability to walk or climb normally.
These small cuts or openings on the pads of their feet get exposed to the bacteria on the claws, often leading to infection.
To get rid of the infection, you'll need to make a trip to the veterinarian who'll clean out the wounds and prescribe your cat antibiotics. Potentially costing you hundreds of dollars for a problem that could've easily been avoided.
Painful Snags
As your cat's nails grow and develop sharp points, it leaves them vulnerable to potential snags. If they snag their nails on the carpet, upholstery, or another surface, they'll struggle to get their nails free, leading to excessive pulling and jerking.
During their attempt to get free, they could break their nail or completely dislodge it, causing excruciating pain.
Protecting Your Furniture
Cats are known to climb up curtains, scratch on furniture, and dig their nails into every aspect of your home.
By keeping their nails short, you'll prevent unsightly scratches or tears in your upholstery. Saving you money by not having to buy new furniture or repairing tears and holes.
How Do I Clip My Cat's Claws?
The first step to cutting your cat's nails focuses on a safe, comfortable holding technique. How you hold your cat depends on their temperament and disposition and since all cats vary from one to the other, there's no one correct way to hold them.
As long as your cats are comfortable and relaxed you can have them in your lap, have someone else hold them, or lay them on a table using a firm but gentle hold.
Since your cat has retractable claws, you'll need to reveal the nail to begin clipping. Using your pointer finger and your thumb, gently press on the joint located just behind your cat's claw.
As you apply pressure, make sure that their nail's fully extended outward, allowing you to see the pink part of their nail. Once you see the nail extend out, carefully clip the nail in a straightforward motion.
Avoid clipping your cat's nails at an angle or in a side-to-side fashion. Cutting your cats nails in a side-to-side motion causes cracks, splinters, or crushing of the nail, resulting in pain.
A video by Dr. Mike, a licensed veterinarian, gives you a tutorial on how to clip your cat's nails at the proper angle.
When clipping their nails, you want to clip the sharp points that are translucent in appearance. It's very important to avoid cutting the pink part of your cat's nails, called the quick.
The quick has several nerve endings and blood vessels that will cause extreme pain and bleeding if cut.
Once you've clipped one nail, you may move on to the next one if your cats calm and relaxed. If your cat isn't used to getting their nails trimmed they might get scared and try to flee, making it difficult to trim all their nails in one sitting.
If this occurs, you may need to trim one or two nails per day for each trim until they get used to it.
How Often Should I Clip My Cats Nails?
Your cat's nails should be trimmed regularly, regardless of the breed or personality. You can always adjust the number of times you trim depending on how active your cat is and how much damage it is capable of doing.
You should always make a note to trim them before they can get to the point where they are sharp and long.
Don't make an effort to clip its nails or restrain it if it is aggressive or anxious. According to International Cat Care, this will only increase your chances of getting injured. When it gets to the point where you cannot get your cat to be calm, try consulting a professional, or take your cat to the groomer.
Nail trimmings also depend on the amount of time your cat spends indoors as opposed to outdoors. The average time between trims ranges from 10 to 14 days.
What Makes A Good Cat Nail Clipper?
It's hard to find good cat nail clippers, especially if you don't know what to look for. With all the styles and features available on the market, it's overwhelming trying to sort through them all. However, there are a few things you should consider before you buy a set of cat nail clippers.
Ease of Use
The easier the clippers are to use, the better off you and your cat will be. You want a set of clippers that fit comfortably in your hand, without being too bulky or awkward to handle. Look for a comfortable grip and finger rests that won't hurt your hand when you are using them.
Sharpness and Durability of The Blades
When you're searching for cat nail clippers, you should look for clippers that have durable blades made from materials like stainless steel.
These blades should withstand cutting through tough nails easily without breaking, cracking, or crushing the nail. Make sure the blades aren't dull, which could damage the nail and cause your cat pain.
Safety Guard
If you're an inexperienced user or you want added protection for your cat, look for clippers with a safety guard. This guard sits behind the clippers and prevents you from pushing the nail too far into the cutting zone. With a cutting guard, you avoid cutting into the quick and causing damage to your cat's nails.
What Styles Of Nail Clippers Are There?
There are many styles of nail clippers available for trimming your cat's nails. This article gives you a look at all the different types of cat nail clippers and how to use them.
Human Finger Nail Clippers
One of the best options for cutting your cat's nails is a regular human nail clippers. They're the perfect size for a cat's small nails and they're easier to maneuver. They also offer a clear view of the nail while cutting, helping you avoid the sensitive quick.
Guillotine
The Guillotine style of nail clippers uses a design that looks like a medieval guillotine. It has two blades in the center of a loop, which come together when you squeeze the handles.
There are several different types of guillotine clippers, consisting of different designs and features to help you during your clipping session.
Scissors
This style of clippers resembles your ordinary cutting scissors, with round ends. They range from 3 to 4 inches long and have notches to put your cat's nails in. Many people prefer this style because it gives you a clear, unobstructed view as your cutting your cat's nails.
How Do I Get My Cat Used To Nail Clipping?
When you first bring your cat home, it's important to start getting them used to regular nail trims as soon as possible.
By using the proper steps, implementing rewards, and staying diligent, your cat will get used to nail trimmings after the first couple of trims.
According to the ASPCA, it's best to start by placing your cat in your lap when they're calm and relaxed. Then gently touch or massage their paws with your hand for a few seconds, allowing them to get used to you touching their paws.
Gently press their paws to expose their nails and then release them so they retract back into place. After releasing their paw, give your cat a treat and lots of praise.
If your cat remains calm, you can begin the process of clipping each of their nails. Rewarding them with a treat and giving them praise after each nail that you trim.
It's important to avoid restraining your cat if they try to flee, it's not uncommon for cats to become scared after clipping just one nail.
If you cannot cut more than one or two nails in one sitting, that's okay. Repeat the process every day until all of their nails get trimmed. Eventually, by taking the right steps, your cat will sit long enough for you to clip all of their nails in one session.
Should I Clip My Kittens Nails?
As your kitten grows, their nails will get longer and develop sharp points. You should carefully clip just the tip of your kitten's nails to avoid unnecessary snags or curling.
According to Vetstreet cutting your kittens nails also helps them get used to nailing trimmings at an early age, making it easier to clip their nails as an adult.
Things To Consider
Before clipping your cat's nails, you should consider the amount of time your cat spends outdoors. If you have a primarily outdoor cat, it's important not to cut their nails to often, as it will affect their ability to defend themselves.
Outdoor cats need their sharp claws to climb trees to flee from danger and to hunt for food, cutting them too short could prevent them from doing so.
Another important thing to consider is the sharpness of your nail clippers. Once the Clippers begin to dull, it's important to throw them out and get new ones. Trimming a cat's nails will dull trimmers could crush or crack their nails, causing extreme pain and discomfort.
Beginner's Tips and Tricks for Trimming Cat Nails
You always have the option to take your cat to the groomer to get its nail trimmed. But this is much more expensive and time-consuming than doing it on your own. If you have a bit of patience and can handle consistency in your routine, your best bet is to do it yourself.
Trimming your cat's nails can be pretty easy if you go about it the right way. The best time to start cutting the cat's nails is when it is young. If you start doing this at an older age, it will be a bit more complicated.
Trimming at an older age will take more time and patience. It will also take a lot of practice before you and your cat are both comfortable with this routine.
What does it take to properly trim your cat's nails without it being a hassle? Here is an in-depth guide you can follow to make it ten times easier.
Start with the Basics First
The first thing to do is get your cat's paw under a light that is bright and not too hot. Squeeze the toe very gently so that you can see the whole nail. If you look closely, you will be able to see that there is a pink area inside of the nail. ASPCA recommends that you also inspect the paws to check for any wounds first.
This area of the nail is often called "the quick" by many professionals. This is a fleshy area inside of the nail, and you must cut below this area to avoid accidentally cutting the cat's skin or tissue. Even if you see where the pink tissue ends, is it best to cut even further below to be extra sure that you will not cut it.
If you are not careful and attentive, your cat will always get triggered when you try to clip its nails in the future. This will make it harder for both you and a professional to do this next time.
Make Sure You Get the Right Trimmers
Now that you found the spot where you need to cut, you need to make sure that you have the right clippers equipped to get the job done quickly and easily.
There are certain clippers out there made specifically for cat claws, but you can also use the same nail clippers that humans use.
The only thing you need to make sure of is that the blades of the clippers are sharp and put together. According to The Humane Society, if your blades are dull, it can cause extra pain in the sensitive areas of the cat's nail.
If your clippers are falling apart, it can easily cause an accident that will result in it in the cat being reluctant in the future.
Along with clippers, you want to make sure that you also have some type of treats handy. Before you begin, make sure that your cat is already familiar with being handled. Make sure that it is comfortable with it.
Put something soft and thick over your legs and put your cat on your lap, you can use your forearms to help restrain the cat when it gets on your lap.
Be Gentle and Comfort Your Cat
Pet and comfort your cat before you do anything else. Start with petting the top of its head and slowly work your way down to its legs.
As you do this, reward the cat for being calm and relaxed. Keep in mind that you should be gentle when you get to its feet and claws.
When you get to this point, go ahead and bring the clippers out. Start with pretending that you're cutting its nails so that it can get used to the sight of it. This will also help it get used to it being close to its claws.
If you notice that your cat is starting to get anxious or upset, just take a huge break or start again the next day. According to Michelson Found Animals, your cat's patience and personality are what will determine how long it takes.
Can You Use Cat Claw Covers Instead of Clipping?
Catclaw covers might be a more comfortable option for most cat owners. This is also a more affordable option. It is important to remember that this method is risky.
If you put claw covers on your cat's nails the wrong way, you might risk hurting the cat and accidentally removing its entire nail when you try to take it off.
Some people have also reported that the claw covers only stay on for a short amount of time. Some cats will chew on them and try to pull them off with their teeth.
If you go with this option, make sure that you are reading the instructions carefully. Pay close attention while you do this and have distractions for your cat while you put them on.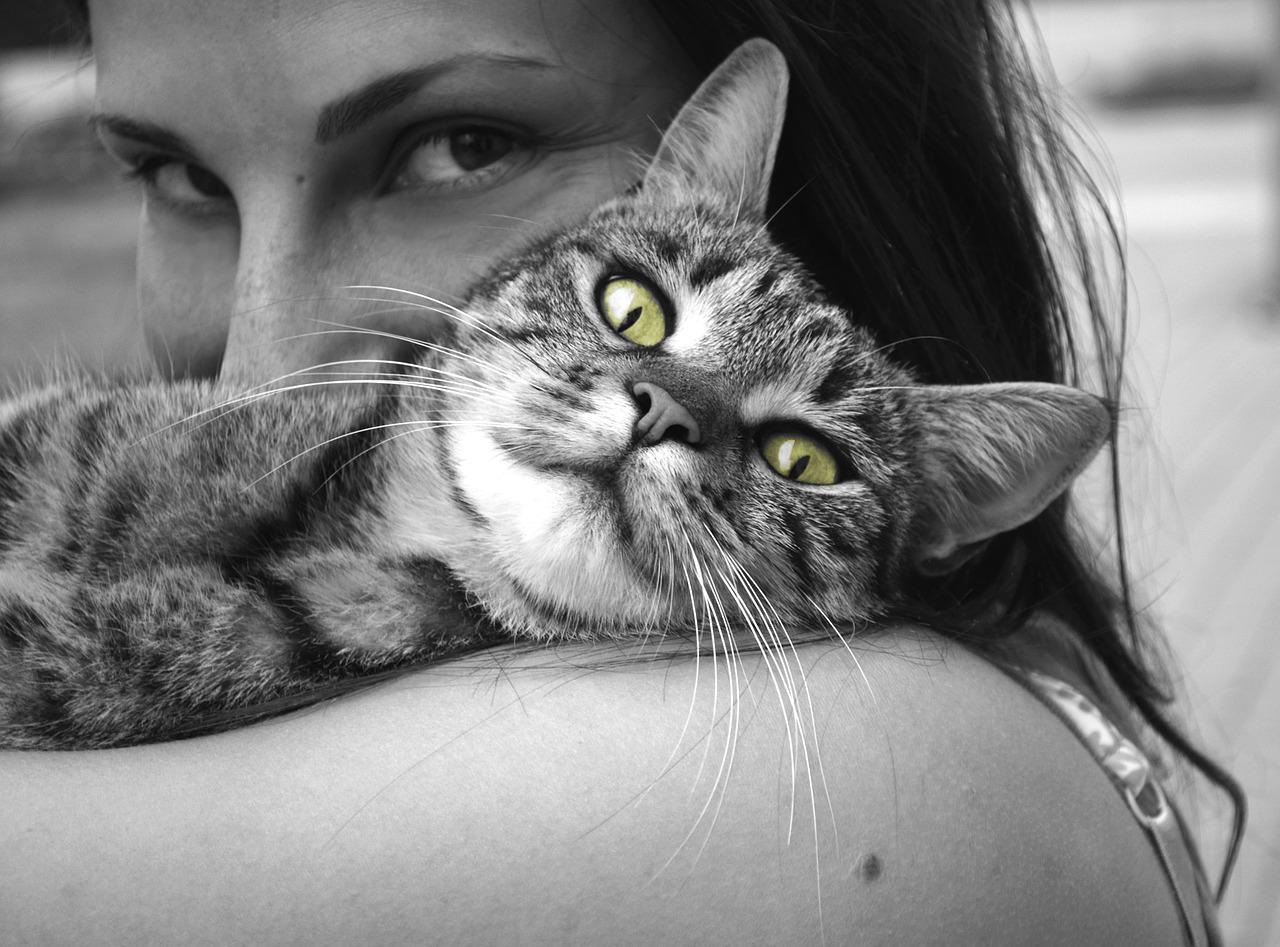 Hi, This is Alexa, and I love cats. This Website is a Complete Journal about how to travel with a cat and other information about Cat Health, Cat Training, Cat Behavior, Cat Foods and more. I hope you find it useful.