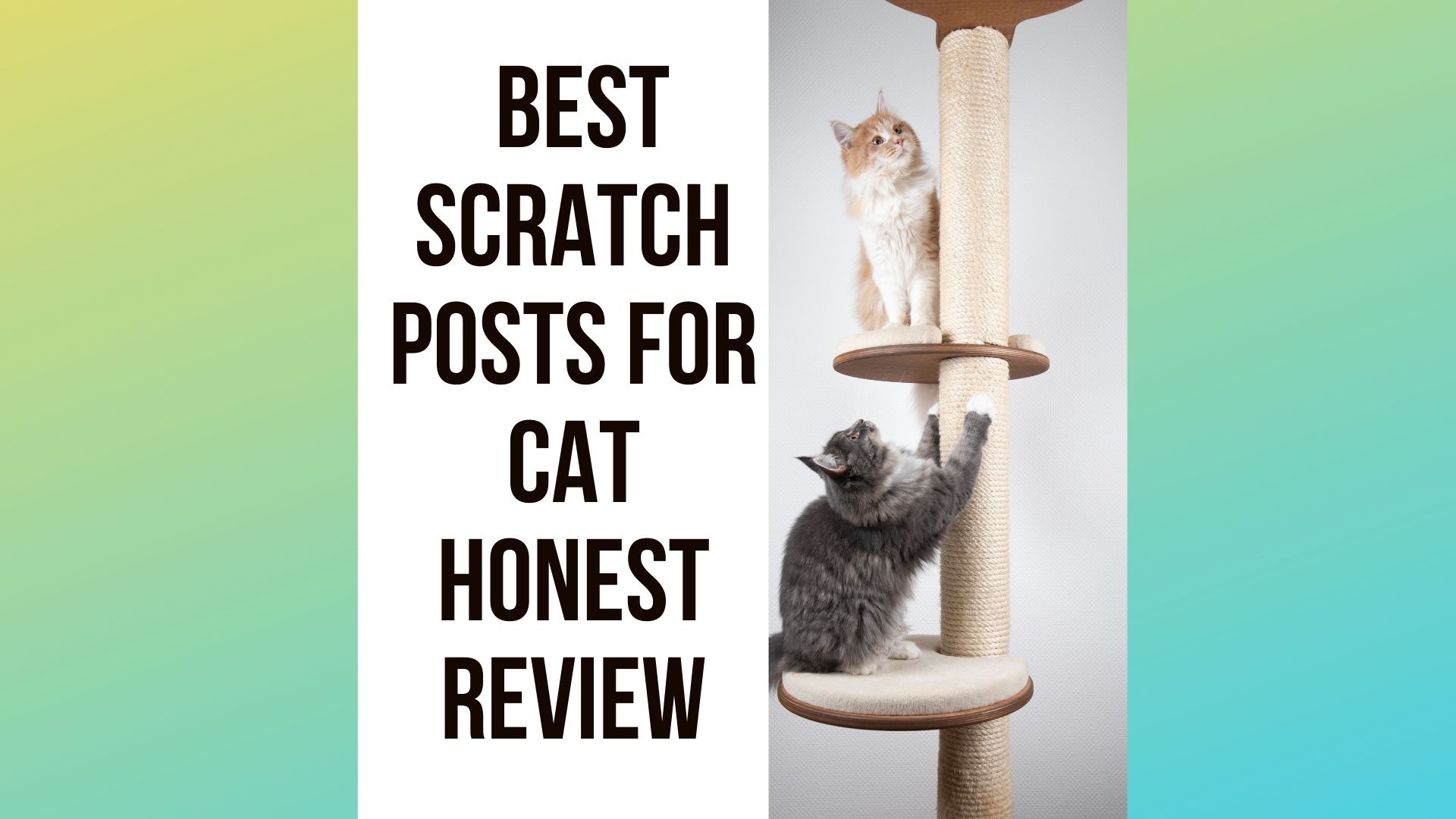 Every cat loves a good scratching post, as it mimics their natural tendency to claw at trees. Although your kitty definitely doesn't need to sharpen their claws, it is an essential part of its mental well-being.
In many ways, a good scratching post is also essential for your sanity. Why is that the case? Because it's probably the best way to keep them from shredding your furniture! And so, without any further ado, let's examine six of the best scratching posts that we could find online.
Best Overall Product: Catry Cat Tree Cradle Bed
We had a hard time picking the best product out of many similar models. When it comes to scratching posts, it is tempting to think that all of them are the same, but this one really caught our eye.
It is a "cat tree" type scratching post and contains quite a few other features as well. Of course, we should start by talking about its tough sisal-rope scratching post.
Cats seem to have a natural love of high places, so it's good that this scratching post is oriented high off the ground. When your cat is chilling on their soft, comfy top perch, they won't have to travel far for a good scratch.
Low-Level Perch
The lower perch is curved, and some cats will probably prefer that surface for sleeping because of its ergonomic shape. It also provides a nice platform when the kitty goes to sharpen his claws.
This thing does require some assembly, but it isn't very hard. You basically just put two large screws in the base and fit a few things together, then you're done.
Although we like this easy method of assembly, we have to question whether or not it's strong enough. If those screws are not locked down very tight, the whole thing can wobble around.
Over time, those screws might develop some slack, and this could lead to a safety hazard. Still, if you brace it properly, it shouldn't be a problem.
Unlike some cat trees, this one doesn't take up a great deal of space in your home. Most of its volume is vertical, which means it won't use a lot of floor space.
The corner of a room should be perfectly adequate, and you can place it between two large pieces of furniture for extra stability.
Because the whole thing is covered in thick carpet, your cat will likely use the whole thing as a scratching post. All of this adds up to a product that cats should love.
Catry Cat Tree with Scratching Post - Cozy Design of Cat Hammock and Teasing Sisal Cat Rope Invariably Allure Kitten to Stay Around This Sturdy and Easy to Assemble Cat Furniture (Classic Grey)
PLAY PLAY PLAY - What else does a cat do other than sleep? Of course, it's PLAY! Catry cat trees always provide a maze-like attraction to cats. They love to play around with this amazing cat house. Cat scratching post isn't enough? Here is a teasing sisal cat rope ready for your pal!
SLEEP SLEEP SLEEP - What does a cat most often do? The answer is always SLEEPING. Our Catry cat condo is a cat house for your cute kitten to sleep at. The well designed cat hammock firmly holds cat like hands-support. And the cat tower offers cat additional option to chill out from a higher view.
CAT TREE SIZE MATTERS - This Catry cat tree is meant to designed as a small size product for purposes. Aside by window, step by step, smart kitten will quickly take this cat tree as a cat stairs from the pet hammock side to the top of the tower. Yes, it could be used as a cat ladder for a window chill. Overall Size 16.5 In by L/ 12.6 In W/ 27.4 In. Right size for small cats or kittens up to 10 lbs.
DESIGN FOR A CAT HOME - With all tools and instructions included, Catry devote all design purposes to sturdier cat shelves structure. easier cat furniture installation and cleaning. As a kitty condo, Catry cat houses for indoor cats always sees cat's demands as priority.
PREMIUM QUALITY CONTROL - With more than 20 years manufacture experience in the pet-supply industry, Catry has kept challenging to break any limitations of the best quality products. 100% guaranteed return with your satisfaction, you have our words.
Pros
Has a nice, comfortable top perch
The rope provides lots of play opportunities
The entire thing can be used as a scratching post
Most of its space consumption is vertical
Pretty easy to assemble
Cons
Can develop a wobble over time
Stability is a little less than expected
Might require weights at the base
Best Budget Product: AmazonBasics Cat Scratching Post and Hammock
This is more of a bargain-basement product, being the cheapest on our list. Despite its low cost, it seems to offer a pretty good option and a classy look that should fit well with any home.
The whole thing consists of two pillars attached to a base, with a hammock stretched between them.
The hammock is very soft and plush, and cats seem to really like relaxing inside. Some of them might have a hard time getting into the hammock at first, and some may even fall.
Of course, a cat's natural balance will allow them to correct these issues quickly with no need for your intervention.
The hammock does appear to be well-secured to its posts, but it wouldn't hurt to add an extra nail or two.
Both of the main pillars of this device are covered in thick jute rope.
This effectively turns both of them into large scratching posts.
We do have to wonder why they placed little faux-fur dividers on both scratching posts, as we fear they will be ripped away.
Still, it isn't really a big deal if that happens. You can just add a small piece of rope and glue it in place, but make sure you use an adhesive that's nice and strong!
Easily Hang From Hammock
This thing has a small ball toy that hangs from the hammock, and cats seem to enjoy batting at it while lounging around. It gives them something to do, although not every cat will bother with this thing.
If they should happen to rip it off, it should be easy to replace, and it can be removed easily for cleaning or replacement. All of that, combined with a low price, make this one of the most cost-effective options on our list.
At the same time, we are concerned that this product might not be tough enough. The base is covered in thin felt that might be easily ripped off by an enthusiastic scratcher.
Still, that can be remedied with a few extra braces and bolts. Due to the low cost of this item, it would be worth a little bit of time to reinforce.
Pros
Doubles as a hammock
Has two large scratching posts
Very inexpensive
Ball toy is easily replaced
Stylish and classy look
Cons
Durability is a little bit questionable
The felt on the base is too thin
The Runner-Up Product: PetFusion 3-Sided Vertical Cat Scratching Post
This is probably the strangest product on our list, as it is not a traditional scratching post in any way. Still, some say that it's even better than a normal scratching post, and these reviews seem overwhelmingly positive. For that reason, we named it the runner-up product.
The best thing about this three-sided design is the fact that it offers a lot more scratching options than others. Your cat can scratch horizontally or vertically, and they can hit it from a variety of different angles.
As it moves around during play, they will undoubtedly find all sorts of other ways in which to use this thing. As such, it provides entertainment for both owner and pet.
A lot of cats also enjoy sleeping inside the triangular middle space. It may not be totally enclosed, but it is apparently close enough for most cats.
Relatively cozier and comfortable
The entire product is made of relatively soft foam, so it probably does make a very comfortable bed. Throw a small blanket in the middle, and you get one of the coziest little cat-holes your cat could want.
We should also talk about the scratching surface. Rather than using rope (like most scratching posts), this product uses a special type of cloth.
We question whether or not this cloth will last as long as rope, but we can also see why this cloth was chosen. Cats seem to really enjoy scratching this cloth, so the manufacturer must have done something right!
Because this one isn't mounted on a base or stand, it doesn't require a permanent spot in your home. Thus, you probably won't have to rearrange the furniture to find room for this one, and that's a good thing.
However, that factor does come with a downside. This product will tend to move around a lot during use.
Depending on how rowdy your cat might be, it will be flipping and rolling all over the place. Your cat may or may not like this quality, but either way, it might result in this toy becoming a nuisance.
PetFusion 3-Sided Vertical Cat Scratching Post | Available in 18" & 24" | Multiple Angle Cat Scratching Pad, 6 Usable Sides. Scratch, Play, & Perch | 100% Recyclable Cardboard Cat Lounge. 1 Yr Warr
CATS LOVE IT: (I) A scratcher, play area, & SO MUCH MORE. (II) Incl premium USA organic catnip leaf. (III) Natural scratching = healthy claws, great exercise, & stress reliever . . . (better overall wellness)
YOU'LL LOVE IT: (I) Made of recycled cardboard & corn starch glue. (II) Attractive design, neutral colors. (III) Recommended to save your furniture as cats prefer the feel of cardboard.
THOUGHTFUL DESIGN: (I) Vertical based on your cat's preference or to compliment horizontal scratching; also features a cubby hole for exploration & play. (II) Curves provide numerous stretching & scratching angles.
GREAT VALUE: (I) Rotate for 6x the use. (II) Superior quality cardboard & construction lasts longer than other scratchers. (IV) 1 Year Warranty.
WHAT YOU SHOULD KNOW: (I) 18 x 10.5 x 16 inches. (II) 100% recyclable (III) 1 Year Warranty
Pros
Offers more scratching options
Very good reviews overall
Provides a semi-enclosed sleeping space
Doesn't require a permanent place
Most cats seem to like the surface better than the rope
Cons
Can be prone to tumbling and rolling
Tends to slide all over the place when used
Foam construction might be too weak for some cats
Honorable Mention: PetnPurr Cactus Cat Scratching Post
At first glance, we were tempted to award this scratching post the top spot. In terms of visual appeal, this one does definitely take first prize. Unfortunately, it had one major problem that prevented it from getting that win.
This product is simply a little bit too expensive for most cat owners. A scratching post is a very simple device, and this one doesn't offer enough special features to justify its higher cost.
At the same time, this thing has a lot of good qualities apart from its cute, cactus-like appearance. The main pillar is wrapped in rope, just like most others, and so it will provide cats with something familiar.
The base is thickly carpeted, giving an alternate surface. Unlike some other products, this one has a thickly carpeted base that should be able to hold up against that abuse.
At the top of the post, we see the same type of shammy carpet that is found on the base. We do worry that it might be ripped from the top, but that doesn't seem too likely overall.
Easy Toppling over Option
The base is pretty stable and is heavy enough to keep it from easily toppling over. All in all, they made a good product here, apart from its high price.
We might complain about the fact that the little toy ball is detached too easily, but that is a minor issue.
Most owners seem to be happy with this product, which speaks well for its quality. Reviews are about 85% positive, so these people obviously don't feel that they wasted their money.
Cats might like this product because it looks and feels more like a natural plant. Besides, some cats will really enjoy climbing this thing like a tree!
Pros
Has a very cool and attractive look
Offers two different surfaces to scratch
Almost no assembly is required
Very stable and well-made
Carpeting is very thick and durable
Cons
The toy ball is too easily detached
A little bit too expensive
Alternate Product 1: PAWZ Road Cat Scratching Post
This one is a little bit different from the others on our list, which is why we list it as an alternate product. Not all cats will like this one, but many surely will. As such, it provides a good alternative to the standard scratching posts with which we are all familiar.
Obviously, the most distinctive feature of this post is the fact that it has a horizontal scratching surface. Cats love clutching the thing on both sides and attacking it with their feet.
This is good because it mimics the natural hunting behavior of felines. Apparently, though, not every cat wants to feel like a real hunter. A cat that has used vertical scratching posts for its whole life might find this thing puzzling at first.
If this becomes a real problem, you can always mount this thing vertically against the wall. Then, the post will become vertical, as will the secondary scratching surface. That secondary surface is just a flat area covered with a rope-like material.
Cats like to Scratch beddings
Cats like to scratch their bedding, but hopefully, this feature will give them a better alternative.
This is a very cheap product, offering a lot of entertainment at a reasonable price. Usually, less expensive products will be less durable and made with shoddy materials.
As far as we can see, there are no serious issues with this one. By using simple and commonly available materials, they have created something that has both quality and value.
We should mention a little bit about the spring ball. It's just a toy ball on the end of a thick metal spring. Your cat can have a lot of fun batting at this thing, and it will probably be very entertaining for you to watch as they attempt to figure out why it moves.
At the same time, you need to be careful to replace that ball quickly if it should be torn off. Otherwise, the sharp end of that steel spring could present a safety hazard to your cat.
Before replacing the ball, we recommend wrapping that sharp end with a thick layer of duct tape for extra safety.
Sale
PAWZ Road Cat Scratching Post and Pad, Sisal-Covered Scratch Posts and Pads with Play Ball Great for Kittens and Cats
SPACE SAVING:15.7" x 12.4" x 6.3"(L x W x H) when set up. Doesn't occupy precious room while meet your cats scratching and fun needs.
EFFECTIVE WAY TO KEEP AWAY FROM FURNITURE: Fully Wrapped scratching post and the scratching board allow your felines to scratch from any angles as they like.
EXTRA FUN:It is equipped with a fuzzy ball that add the thrill of hunt as bat it back and forth. Your cat will have hours and hours fun of it.
PREMIUM MATERIAL:The scratching post is composed of particle boards with soft carpeted and natural sisal surface that is safe and friendly for cats touch
Easy Assembly: Simple construction requires minor assembling. Put it together in few minutes or seconds.
Pros
Offers two very different scratching surfaces
Spring ball provides hours of fun
Can be mounted vertically or planted horizontally
Very inexpensive
Every part is thickly carpeted
Cons
Some cats don't like the orientation of the post
Steel springs could present a safety hazard
Alternate Product 2: Kitty City XL
This might be the most traditional-looking cat scratcher on our list, but it does offer a lot of features that set it apart from the average.
The first thing you can't help but notice about this post is its height. This is one of the tallest ones we have seen, and that is a good thing for several reasons.
For one thing, its height allows your cat to really stretch out when they are enjoying a good scratch. larger cats, this will be a welcome change as compared to stubby little posts. For another thing, most cats will love climbing its surface like the tree that it resembles.
On close inspection, we can see that the most distinctive feature of this product is the cloth itself. This one isn't made from a simple piece of rope wrapped around a pole but is instead covered with a tightly woven sisal cloth.
This cloth probably feels a lot like the rope, but it should last a lot longer. Not only that, but cats should also be able to sink their claws into this stuff more easily.
At the same time, there is a problem with how that cloth is secured. According to several reviews, that cloth is held in place with small staples, and nothing else.
A few people have said that the staples kept coming loose and being found in the nearby area. Obviously, that can present a hazard to your cat, so it's a major problem. However, To be fair, we should tell you that this problem is not that hard to fix.
Simply remove the small staples and replace them with heavy-duty staples from a large staple gun.
Capable of supporting its weight
In the advertising, we can see a human standing on top of this post, and the product seems capable of supporting its weight. This is pretty impressive because that's a lot more weight than any scratching post will ever need to hold.
Even though they might have gone a little overboard, it's good to know that they took the time to make something that will last.
We like the thick, wooden base as well. It has enough weight to keep the thing from toppling over during rough play, and it has a nice dark finish that goes well with all colors in your home.
Stability is often one of the main problems with a scratching post, but this one doesn't have that problem. As for small complaints, we might say that the toy ball is on too short a string, making it more difficult to use.
It would also be nice if the top perch were a little bigger so that the cat could use it as a place to sleep. Still, this is a great product overall.
Sale
Pros
The base is thick, heavy, and very stable
Sisal scratching surface is tightly woven
Tall enough for cats to get a good stretch
Durable enough to support the weight of a human
Provides a nice elevated perch
Cons
The toy ball is on a very short string
The top perch is too small for sleeping
Fabric is secured in place with small staples
FAQ
By now, you should have a much better idea about how to choose the best scratching posts for your cat's needs. However, you might want to look at some of the most frequent questions that we receive on this subject.
Why Do Cats Have Such An Urge To Scratch?
As we mentioned at the beginning, it is perfectly natural for cats to scratch various surfaces, especially rough ones.
Still, you might want to try and understand this behavior a little bit better. According to the humane society, this behavior is motivated by several factors and needs.
Like human fingernails, cat claws need to be shed from time to time. The outer covering of the claws will eventually die like old skin, and a scratching post is an ideal way for that dead material to be removed.
You might also be surprised to learn that cats have scent glands on their paws. Because of this, scratching also becomes an important way to mark their territory. And, of course, it helps to keep their claws nice and sharp.
On a more basic level, cats do this because it is enjoyable for them. It gives them a little bit of exercise and mimics their natural behavior in the wild. In many cases, your cat probably just scratches things to alleviate their boredom.
What If My Cat Doesn't Use The Post?
Sometimes, cats will not take to a scratching post right away. In particular, younger cats who haven't used one of these things in the past might be hesitant.
If this happens, there is probably no reason to worry. Just place the product in an area that your cat likes and nature will probably take its course in no time. In some cases, your cat may be waiting for a chance to use the post in private.
If your cat still refuses to use the scratching post you bought them, you can use a few creative tricks. First, try rubbing the whole thing with catnip.
Most cats love the smell of this particular plant, and it's not expensive to get a bag of dried catnip leaves.
You can also try playing with the post yourself to see if the cat will emulate you. You can also use toys to get the cat's attention and lure them over to the scratching post.
What's The Difference Between Jute And Sisal?
These are two different types of rope, and they are made from two different plants. Most cat scratchers will use one of these materials as the main surface. So, is there any real difference between them?
The answer is yes. Sisal rope tends to be thicker, harder, and more durable. At the same time, cats might not enjoy the feel of sisal rope as much.
It is easier for them to sink their claws into jute, so you will basically have to choose between comfort and durability.
Best Scratching Posts Buyer's Guide
Let's talk about the factors that need to be evaluated when choosing a product of this type. The first thing you want to consider is durability because this is a product meant for abuse.
It has to stand up to the worst that your cat's claws can deliver, and it has to do so for an extended period. Otherwise, you will have wasted your money.
Durability Of The Rope Is Key
Thick coils of rope are the standard thing here, and we have already told you that sisal is a little tougher than jute. Of course, you also need to look at how that rope is attached.
This is particularly important when the rope covering consists of a single long piece. Once something like that comes unraveled, it can all come off very quickly.
Make Sure It's Stable And Safe
You also need to think about stability. You don't want this thing to topple over on mister kitty's head, nor do you want mister kitty making a mess and causing damage to your home. That's why you should look for something with a heavy support base.
If it isn't heavy enough, you can always make it thicker by nailing a 2-inch-thick wooden board to the bottom. Some people also like to put large decorative stones around the base, and this is also a good solution.
Don't Break The Bank For A Disposable Item
Because this is a semi-disposable item, its cost is an even greater issue than it would normally be. These items are meant to be destroyed and replaced as needed, so don't spend a whole lot of money on them.
Some manufacturers will try to sell you overpriced scratching posts, claiming that they will last twice as long and thus, be worth the extra money. For the most part, these claims should be regarded with suspicion.
Look Carefully At Special Features
Of course, you also want to evaluate any extras or special features that the product may contain. It is very easy to combine a scratching post with many other types of cat toys, and most of the products on our list show that.
Sometimes, these features will not be very well-made. In these cases, they are just meant to be window dressing that helps to sell the product, and you can tell by looking at the durability and complexity of that feature.
In other words, you should ask yourself how much effort went into each feature, based on its overall quality.
Get Something That Fits Your Style
Although this is a minor factor, you might also give some thought to the look of your scratching post. After all, this thing is basically a piece of furniture, and you want it to match with the rest of your furnishings.
You can do this by choosing colors that match your existing decor and looking for styles that fit.
For instance, the cactus-shaped post that we examined earlier would be perfect for those who prefer a "western" theme in their home.
The Importance Of Versatility
It is always an advantage for a scratching post to have more than one method of use. For instance, we might point to the fifth product on our list, which is basically two scratchers in one.
Not only that but it can be mounted in two different ways. The third product was even more versatile, as it abandoned the traditional way entirely.
Although cats will always feel a need to scratch, they will do so much more eagerly if you give them a variety of ways in which to interact with this toy.
Get The Right Size For Your Cat
The height of the product is also something to consider. No one size is perfect for all cats, and that is because a scratching post needs to fit your cat's size-not the other way around!
Obviously, bigger cats will need taller posts if you want them to get maximum enjoyment from the thing.
You have probably noticed that cats love to stretch, so it makes sense to let them indulge that desire while also getting the satisfaction of a good scratch.
Don't Be Afraid To Modify The Product
At several points in this article, we have advised you to modify the product in some way. This is deliberate and is meant to reflect a more important lesson.
You should not be afraid to modify one of these products if necessary, although you do need to think carefully before doing so.
In most cases, these modifications will take the form of reinforcement. An extra screw here, an extra nail there…these can make a big difference in the safety and durability of the post. Replacing rope or ball toys is also no big deal, and virtually anyone can figure out how to do this properly.
You may want to add or remove other features to make the toy more appealing in some cases. Just make sure that you always keep safety in mind as your primary concern when making such modifications.
Make sure that you don't create any sharp points that might hurt your cat's sensitive little paws.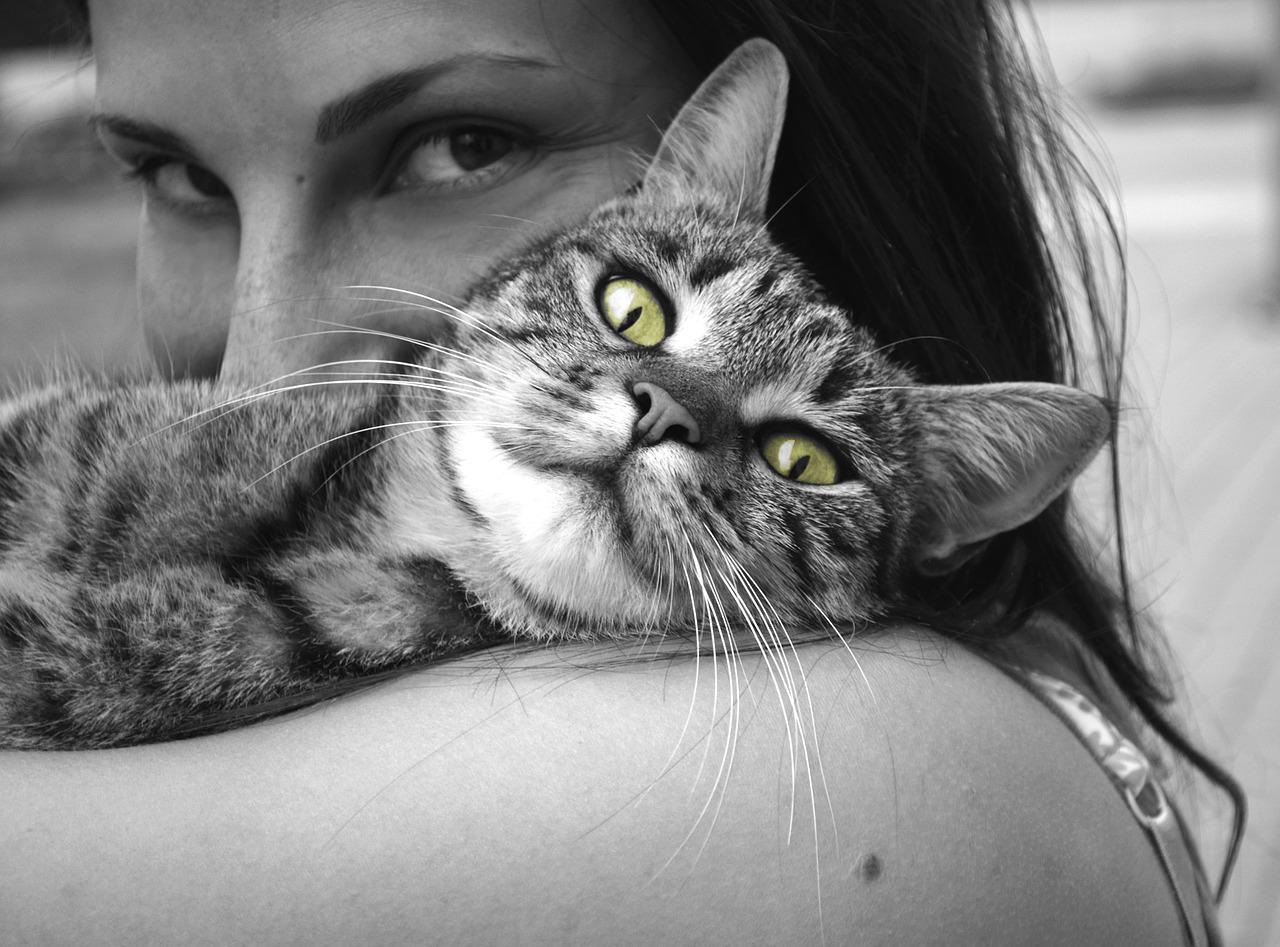 Hi, This is Alexa, and I love cats. This Website is a Complete Journal about how to travel with a cat and other information about Cat Health, Cat Training, Cat Behavior, Cat Foods and more. I hope you find it useful.