How much do you love your cat? If you don't really care that much about your feline friend, this article is not intended for you. This article is intended for those who see their cat as a small, furry human.
Five Best Cat Beds
Now that you have taken a look at the candidates, let's analyze their key features for a more exact picture of their pros and cons.
Smiling Paws 2-in-1 Cat Bed
Perhaps the most important step in choosing a cat bed is the choice between an enclosed bed or an open bed. Some of this will depend upon your cat's habits.
A cat that likes to hide will no doubt prefer an enclosed bed, while a sociable kitty that doesn't usually hide will probably prefer the open box.
Weather plays a role in this choice also, as an enclosed bed will always be warmer due to its ability to hold your kitty's body heat. With the Smiling Paws 2-1, you don't have to make that choice at all.
This bed converts easily from an enclosed cube to a traditional open box design.
When I first looked at this thing, I figured that there would be a zipper or some velcro to separate the top from the bottom. However, the process of switching the beds is much easier than I thought.
To convert the cube to a box, you just pull out the cushion and crush the top down. Set the cushion on top and the kitty has a new bed.
The convenience factor made a big difference here, and I like the fact that there are no zippers or velcro. This means that my cat will not lose hair as a result of snags and hangs.
The bed is relatively large at 13x13x13 and is made of denim on the outside. The cushion and inner lining are made from faux sherpa. This mix of fabrics provides both durability and comfort.
My only real concern with this one is that the design seems too good to be true. Repeated crushing might eventually make the top lose its stiffness, but time will tell about that issue.
Smiling Paws Cat House for Indoor Cats - Quality Washable Small Pet Bed That Serves as a Cat Cave, Cat Condo, or a Popup Cat Tent - A 2 in 1 Covered Cat Bed Cave & Cat Cube for Indoor Cats
VERSATILE PET BED: Our Smiling Paws Cat House gives your beloved pet the choice of an enclosed hideaway bed, or an open top lounger. Suitable for the dog or cat that likes wide open spaces or a safe place to hide. The choice is yours!
COMFORT IN ANY SEASON: Smiling Paws has specially created a unique proprietary bed. This gives your pet an incredibly soft place to rest that stays warm in the winter and cool in the summer. A perfect kitten bed or cat cave bed
STABLE, COMFORTABLE STRUCTURE: We know some pets like to chew or scratch on their resting places, so The Smiling Paws Cat House has an outer structure that is 100% organic cotton denim. This ensures toughness and durability. With an inner fill of 100% polyester fiber, making our pet bed comfortable and restful at the same time.
SAFE, QUALITY MATERIAL: Your pet is an essential part of your family, and you want to know that our products are safe. We made our cat condo from carefully selected, sustainable materials that will not harm your pet. Outer denim: 100% organic cotton, Inner faux Sherpa: 100% polyester, Fill: 100% polyester fiber, Bottom: 100% taffeta
EASY TO CLEAN: The entire structure is machine washable, making cleaning a snap! You can also spot-clean with a damp sponge. Your pet can spend more time resting happily, since cleaning is so easy
Pros:
Two beds in one
Easy to switch modes
Thick and durable
Waterproof bottom
Machine washable
Cons:
Repeated crushing would almost have to wear it down over time
It May is not large enough for some cats
Not necessary for some cats/climates
A little expensive
K&H Thermo-Kitty
If you live in a cold climate, you have probably considered the use of a heated cat bed. As far as we can tell, this is the best one on the market. This product from K&H is pretty simple in its design.
It is a standard topless cat bed with a built-in heater. The heater comes in the form of a small heating pad that is inserted into the cushion and plugged into the wall.
Right away, some of the more overprotective cat owners might be thinking of a scenario where the heater malfunctions and turns your pretty kitty into a crispy kitty.
However, this doesn't seem possible with a heater that can only use 4 watts at once. However, I would still recommend unplugging this bed when you leave the house, just to be on the safe side.
Remember, many pets are injured or even killed by their tendency to chew on electrical cords, according to PetMD.
These beds are nice and thick, with high walls and a 16-inch diameter. I can't make any real complaints in the durability department. However, I could make a few complaints about this bed.
The first and main flaw is that the heater doesn't make enough of a difference. Although the product is supposed to make a difference of 10-15 degrees, it doesn't seem to produce a whole lot of warmth. Still, even a little bit of warmth will make a big difference in the cold of winter.
The other flaw is that this bed is a pain to wash. You have to remove the foam lining from the inside and replace it after washing. This is a pain because the foam never seems to want to fit back in place properly.
Sale
K&H PET PRODUCTS Thermo-Kitty Bed Heated Cat Bed Large 20 Inches Sage/Tan
SECURITY: This indoor heated cat bed features 6 inch tall soft foam walls for your cat's comfort, making them feel secure while the bed hugs your kitty
AUTOMATIC: Electric heated cat bed is thermostatically controlled to automatically warm to your cat's normal body temperature only when your kitty is in the heated pet bed
ENERGY EFFICIENT: Heated cat cup is low wattage and extremely energy efficient; the thermostatically controlled 4 watt heater is removable for use in all seasons
MACHINE WASHABLE: K&H Thermo-Kitty Beds feature a removable cover for easy wash and care
SAFETY: K&H doesn't just use safety listed parts, we safety certify the entire product. This heated cat bed has been tested & certified by MET Labs and exceeds USA/CA electrical safety standards
Pros:
A built-in heater which seems very safe
Available in multiple sizes
Thick and durable
Very soft interior
Good for older cats
Cons:
It May not provide enough warmth
Difficult to reassemble after washing
Zipper breaks easily
Inner crease makes it dangerous for small kittens
Will slightly raise your electric bill
Aspen Self-Warming Bed
This excellent bed, manufactured by Petmate, aims to fulfill the same function as the Thermo Kitty bed, but without electricity. This makes it a lot cheaper, which is a great start.
Not only is its retail price usually cheaper, but you will also avoid any increase in your electric bill. The company claims that the bed contains a special heat-reflective fabric that does a superior job of redirecting and retaining your pet's natural body heat.
Upon hearing these claims, I had to open the bed up and take a look at this miracle fabric for myself. When I did so, I found that it was the same kind of material that is found in a survival blanket AKA "space blanket".
For those who have never used one, this is a silvery foil-like lining that is added to sleeping bags and blankets to help them retain body heat more efficiently. They were originally developed by NASA.
Having tested these in the past, I can tell you that they are not effective when used on their own. However, they are not meant to be used alone, so that isn't really a deal-breaker. Although this material isn't rare or special, it does perform as advertised.
As for the bed itself, I have no major complaints. It has an attractive suede corduroy exterior, and the interior is a thick, plush faux wool pad. To be honest, I almost want to roll this thing up and use it as a pillow.
This bed is offered in both rectangular and circular forms, but the flexible walls make the difference unimportant.
Sale
Petmate Aspen Pet 80136 Self Warming Rectangular Lounger For Pets, 24" x 20", Warm Spice With Creme, Barn Red/Cream
HEAT-REFLECTING TECHNOLOGY: This large round dog & cat bed features a Mylar interior layer that reflects pets' body heat to provide comfort and warmth. Non-skid bottom is perfect for tile & hardwood floors.
LARGE PET BED: The comfy faux lambswool pet bed for dogs & cats is designed with plush sides for pets who like to burrow. The thermal bed's lightweight design is perfect for vacations & road trips.
DOG BEDS: Pets can feel at home both in the house & on-the-go with a variety of beds for cats & dogs as well as plush kennel crate mats. Features self-warming beds, orthopedic beds for senior pets, cooling cots for outdoors, pillow beds & more.
ASPEN PET: Aspen Pet provides every day essentials for pet parents, dogs & cats. Check out Aspen Pets for leash cable tie-outs, litter box accessories, pet toys, gravity water/food bowls, pet beds, dog houses, carriers & more!
JUST FOR PETS: Petmate makes a variety of pet products for dogs, cats, chickens & other small furry friends! Check out our brands such as Aspen Pet, Arm & Hammer, Booda, Chuckit!, Jackson Galaxy & more!
Pros:
Provides superior heat retention
Provides heat without electricity
Easily machine washable
Non-skid bottom
Very thick and soft
Cons:
Doesn't get as warm as an electric heat bed
The walls are not very rigid
Some reviews say it rips easily
Paws & Pals – Cat Bed Cave House Bed
The Kitty Shack is another multi-purpose bed with multiple interesting features. It looks like a short, fuzzy piece of tubing. When unzipped, it becomes a padded mat.
Like the first item on our list, it can be adapted to the situation at hand. Your cat may prefer to hide in the tube or lounge on the mat, but either way, they are covered.
This bed has an interior space blanket lining for superior heat retention and is made with a special electrostatic fabric that holds cat hair and keeps it from getting all over your couch or bed.
This bed seems to have it all, but there are a few downsides. First of all, the space blanket material is very crinkly and makes a lot of noise when the cat is using it.
Sometimes, this will even scare cats away. Also, it won't provide the best warmth because the back is open. Imagine sleeping in a tent with no front and no back!
I wouldn't recommend these for someone in Alaska, but for most users, they will work nicely.
Cat Bed 2-in-1 Fleece Tunnel Tube Cave- Best for Indoor Cats Kitten Pet Self Warming Igloo Covered Mat Pad
2-IN-1: Zip for a soft tunnel to sleep or play in - Unzip for more surface area to stretch out on
SELF-HEATING: Heat reflecting layer uses your pet's body heat for a warmer slumber than other beds
GREAT FOR TRAVEL: Luxury comfort on the go for your dog, puppy, cat, kitten, or other animals
INCLUDES: One (1) easy to clean cozy fluffy plush cushion tent bed for small, medium & large cats
DIMENSIONS: Tube form: 35"L x 21"W x 1.5"H inches; 10-inch diameter
Pros:
Can be used in two different ways
Electrostatic fabric catches and holds shed hair
space blanket liner helps to retain body heat
Raised edges provide a pillow
Inexpensive
Cons:
Makes a loud crinkling noise
Open back reduces heat retention
It May scare some cats
Unlikely to stay firm over time
Cat Crib
Our final item is a little different from the others. Where our other competitors are standard cat beds, this one is more like a hammock. In fact, it is a hammock, but it is a very specialized kind.
The Cat Crib has four velcro straps that allow you to secure it to the underside of a chair or table. This gives your cat a place that feels hidden but isn't.
Not only does this make the cat feel secure, but it also eliminates the need for extra floor space. This bed was inspired by an incident much like this one:
The hammock is rated for cats up to twenty pounds, which means most of them. I like the fact that the straps wrap around the legs of the chair more than once, as it makes me feel better about the security aspect of things.
Of course, your cat is unlikely to be injured if their hammock breaks since it will be so close to the ground and they always land on their feet anyway.
If I were to criticize this bed, I might point out that it will do nothing whatsoever to keep your cat warm on a cold night, and that the material seems relatively thin and easy to claw through.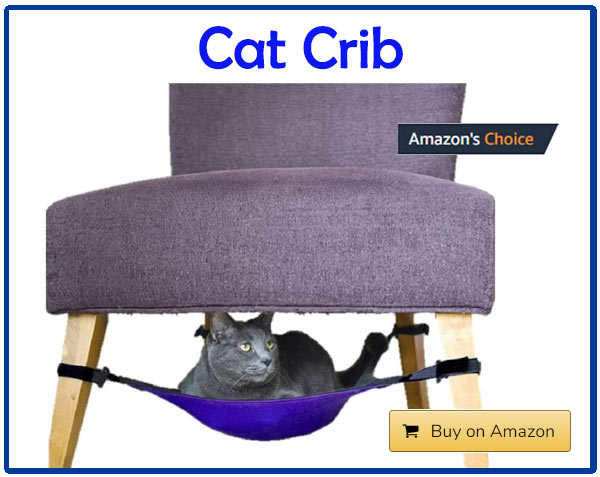 Cat Crib - BLACK
A cat hammock that fits under virtually any chair.
Use wasted space underneath your chair and eliminate clutter from bulky pet beds.
Somewhere your cat can hideout and sleep.
Strap design doesn't slip.
Pros:
Compact
Fastens securely in place
Inexpensive
The material is strong enough for most cats
Cons:
No thermal protection
The thin fabric isn't very durable
Some cats seem to really dislike it
What Does Science Have To Say About This?
Let's take a look at some research that may be relevant to your choice. First, take a look at the following study from the Journal of Physiology.
This study shows that the paws of a cat are very sensitive and can detect heat variations as small as 1 degree Celsius.
Since your cat's behavior will affect your choice of bed, it might surprise you to know that there are accepted standards of cat behavior, which are published by the American Association of Feline Practitioners.
While such a guide can never be exactly correct for all cats, it will give you an idea of how "normal" your cat's behavior may be.
You should also be aware that destructive behavior is normal for cats, according to a study from Cornell University. This is why durability is so important when choosing a cat bed.
What Criteria Should I Use When Selecting A Cat Bed?
When it's time to hit the store and make that big decision, you probably don't want to copy this entire article and take it with you. As such, I have prepared a shortlist of the criteria by which to judge any cat bed that you may encounter.
Durability
Versatility (i.e. does this bed do more than one thing?)
Warmth
Body heat retention
Presence of zippers and buckles
The Presence or lack of electrostatic fabric
Ease of cleaning
Your cat's behavior
Your Cat's Personality And How To Test A Bed:
As stated earlier, every cat has a different personality, and these traits will have some role in determining the best cat bed for your feline friend.
A study published in the Public Library of Science noted five personality types that most cats fall will fit. You can make guesses based on your cat's general habits and overall temperament, but you won't really know if a bed is right for your cat until you test it.
To test a cat bed, you simply place your cat into the bed and begin doing whatever would normally make them happy. pet them, tell them they are a good kitty, etc.
Now, walk away and leave them for a while. If your cat immediately snuggles in and falls asleep, the bed is approved.
If they fidget around and/or jump out of the bed, it probably isn't to their liking. Knowing how finicky a cat can be, I wish you all the best of luck in finding just the right bed for your furry little friend.