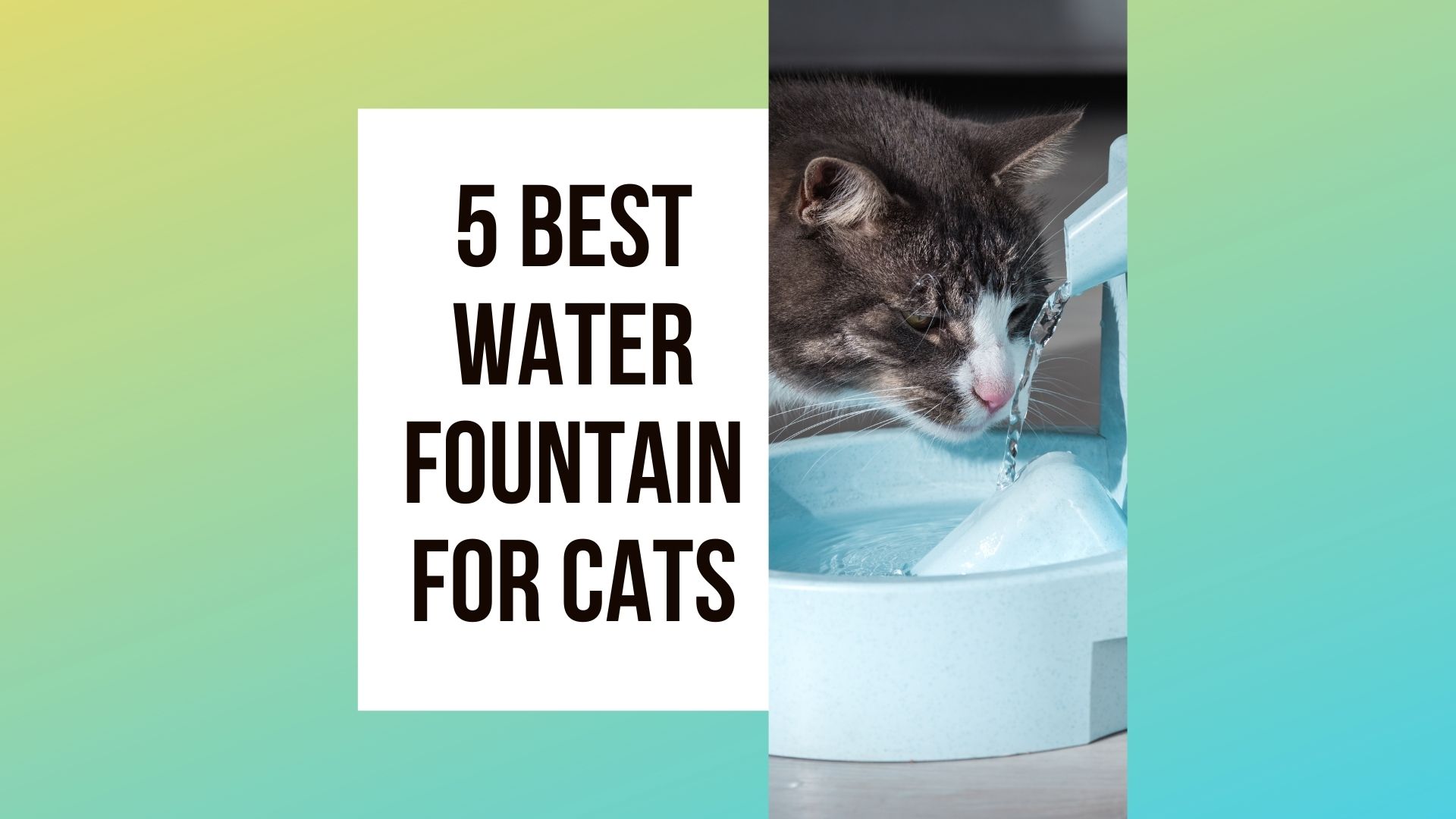 5 Best Water Fountain For Cats
Pet Fountain Cat Water Dispenser
Catit Flower Fountain
PetSafe Drinkwell Multi-Tier Dog and Cat Water Fountain
Cat Mate Pet Fountain
PetSafe Drinkwell 360
Sometimes it can be tricky to make sure your cat drinks enough water and stays hydrated. One possible reason is that cats in the wild get most of their hydration from their prey, so drinking water doesn't come naturally to them.
This can cause them to get dehydrated and can lead to many health problems and complications. One solution to this dilemma is to get your cat a water fountain.
Cat water fountains Ease Water circulate
Cat water fountains circulate the water to keep it fresh and filter out impurities so it tastes and smells good to them.
The sound and movement of the water attract cats and often make them drink more water, which is good for their health.
If you have noticed that your cat likes to drink from the faucet or toilet, or stick a paw into the water bowl, this is because of the preference for moving water.
There are many cat water fountains on the market, and each offers its own set of pros and cons. When choosing the best cat water fountain, you might want to take into account the cost, materials, filters, safety, ease of cleaning and refilling, and your cat's personal preferences.
If you have multiple cats, you will want one with several levels. Your cat is wild and crazy, you will want one that is sturdy and cannot be tipped over or taken apart. If you don't have a lot of extra time on your hands, you will want one that is easy to maintain and keep clean.
As you can see, there is a lot to consider. To help you get started, here are descriptions of five of the best cat water fountains on the market today.
Pet Fountain Cat Water Dispenser 
The Pet Fountain Cat Water Dispenser is a great choice because it is quiet, safe, and environmentally friendly. It holds 2 liters of water, comes with 2 replacement filters, and features a multi-stage filtration system that removes hair, residue, and bad tastes and odors.
It is made from BPA-free material, and it is ergonomically designed with 3 water flow settings. Best of all, it is one of the easiest cat fountains to clean and maintain. The company offers great support and a 12-month warranty.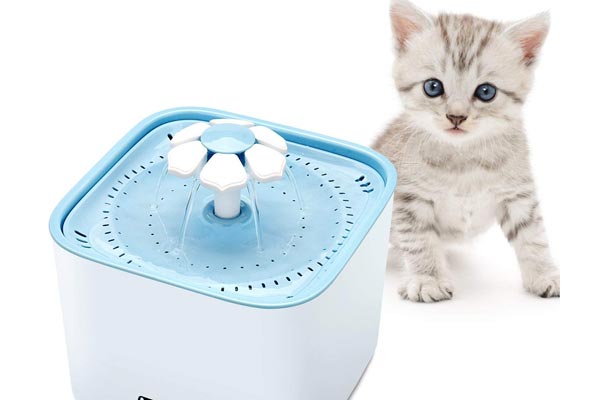 Pet Fountain Cat Water Dispenser - Healthy and Hygienic Drinking Fountain Super Quiet Flower Automatic Electric Water Bowl with 2 Replacement Filters for Cats, Dogs, Birds and Small Animals
[FUN & 68OZ LARGE CAPACITY] No need to replenish water frequently and it can not only meet the drinking needs of cats, dogs, birds and other pets of various sizes, but also a natural bird bath and a funny pet toy. The stored water can be used for one month, so even if you go out for a long time, there is no need to worry about it.
[ENVIRONMENT-FRIENDLY MATERIAL] Made of finely polished PP resin material, this automatic water bowl is BPA-free, and obtains food-grade certification, which can be used safely and securely. Simple quick-release structure is designed for easy removal and cleaning.
[SUPER SILENT & LOW CONSUMPTION] With the super silent pump, you can hardly hear the sound of water, which does not affect you and your pet to rest. With 2W low power consumption, the pump can operate a total of 10,000 hours, and run dry for up to one week.
[ERGONOMIC DESIGN] 3 water flow settings: flower waterfall, flower bubble and gentle fountain mode. The recessed sink and water circulation system are designed to increase the contact area of water and air,design to meet the needs of pets and let your pets like to drink water, bringing health and vitality to pets. Stylish appearance design with blue color - the cats and dogs' favorite color.
[WHAT YOU GET] Equipped with 1 Non-slip silicone pad and 3 pieces of replaceable filters , which can catch hair and debris,prevent clogging of the water pump and extend pump lifespan.Replaceable filters can be used repeatedly after drying in the sun, please rinse the filter cotton thoroughly before use. 24-hour professional service center.
Pros
Easy to clean
Quiet
Sturdy
Decorative looking
Easy to set up
Inexpensive
Cons
Cannot see the water level without taking it apart
Catit Flower Fountain
3L Drinking Fountain with Triple Action
With 3 different water flow settings, gentle water flow, bubbling top, and calm streams, the Catit Flower Fountain adjusts for the preferences of any cat.
The 3-liter system re-circulates water to keep it fresh has dual-action water softening filter and has an ergonomic design that makes it easy for cats to use. The materials are BPA-free and the pump is small and energy-efficient.
The triple-action filter removes magnesium, calcium, odors, bacteria, hairs, sediment, and debris from the water. It is a good choice for multi-cat households because multiple cats can drink at the same time.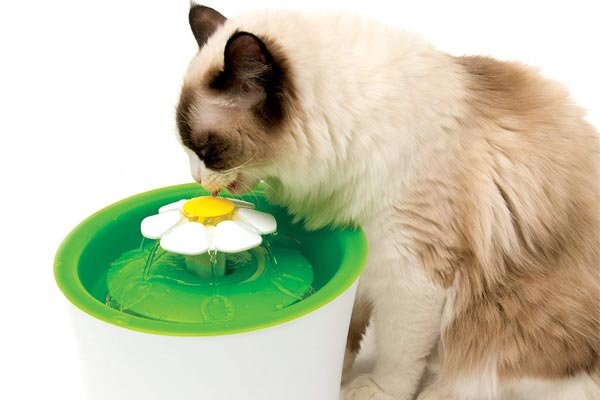 Sale
Catit Flower Fountain with Triple Action Filter, Cat Drinking Water Fountain, 3 L
Cat fountain features 3 different water flow settings for picky drinkers and offers maximum oxygenation for fresher, better tasting cat water; the unique design filters water so that it always stays fresh
Can hold up to 3L in the cat water bowl and takes up little floor space; dimensions are 9.0 x 8.3 x 7.7 inches
Includes triple action softening cat water filter and small energy-efficient pump with power cord (if an extension cord is necessary, connection must be watertight and dust proof); made of BPA-free materials
Ergonomic design matches the Catit Multi Feeder; combine the cat water fountain and cat feeder to create a cat feeding station for a complete dining experience
If the cat water fountain pump is making excessive noise, be sure to check the water level as it is most likely low
Pros 
Cats love it
Easy to clean
Inexpensive
Cute, playful design
Adjustable water flow
Filter softens hard tap water
Cons 
Filters are expensive
Some cats are able to take it apart
Can't see how much water is left
Can get noisy
Filters don't fit snugly
PetSafe Drinkwell Multi-Tier Dog and Cat Water Fountain
Automatic Drinking Fountain for Pets
This water fountain from PetSafe has a 100-ounce water capacity, a free-falling stream of water, two bowl levels, and quiet operation. It is made from BPA materials, easy to clean, and top-shelf dishwasher safe.
The elevated upper-level dish is perfect for elderly or arthritic cats. The free-falling system keeps water circulating and prevents bacteria growth, and the activated carbon filter removes bad tastes and odors.
It is affordable, easy to refill and clean, and hygienic. The PetSafe brand is well-known and offers good product support.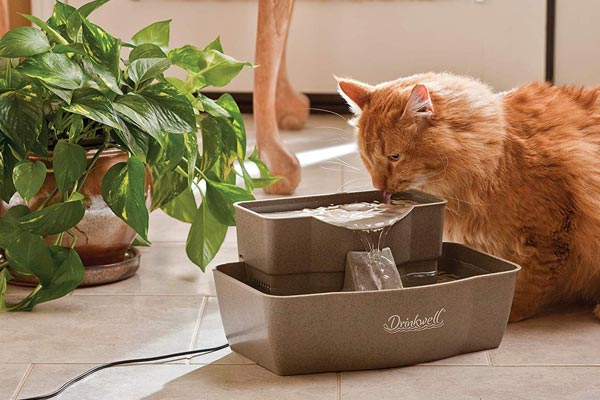 Sale
Pros 
Cats love it
Affordable
Easy to set up
Easy to refill
Quiet gets louder when It needs to be refilled
Cons 
No water reservoir, the bottom empties quickly
Makes a lot of noise when the water level gets low
Cat Mate Pet Fountain 
This Cat Mate Pet Fountain holds 70 ounces and features multi-height drinking stations, making it ideal for multiple cats. On the top level is a bubbler, in the middle is a whirlpool, and on the bottom is a fountain and dish.
The water descends from a ramp, which reduces water splashing, and the pump is very quiet. With a polymer-carbon filter, this fountain keeps water clean and odor-free.
It is adjustable, has a convenient 10-foot power cord that detaches for cleaning, and the bowls are dishwasher safe. It comes with a 3-year guarantee.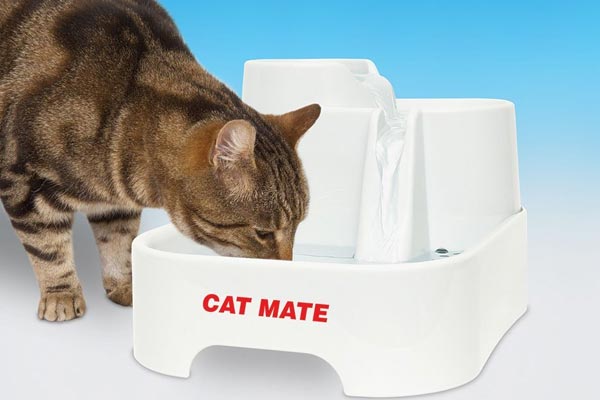 Cat Mate Pet Fountain - 70 Fluid Oz.
Multi-Height drinking stations
Ramp reduces water splashing
I.P.S. (Isolated Pump System) for super-quiet operation
Polymer-carbon filter for water purification (replacement cartridges available
3 Year Guarantee
Pros
Comes apart for cleaning
10-foot long cord
Cats love it
Dishwasher safe
Cord detaches from the plug
Quiet design
3 pools of water with 2 waterfalls
Cats can drink at the same time
Cons 
Adjusting water flow requires taking apart the fountain
Large plug
Needs to be taken apart for cleaning
Must be cleaned often
The filter must be replaced often
Water flow is not adjustable
PetSafe Drinkwell 360
Multi-Pet Stainless Steel Dog and Cat Fountain 
With a stainless steel bowl, this fountain by PetSafe is a bit more expensive than the others on the list. Its capacity is 128 ounces and it has 1 to 5 free-falling streams of water.
The dual filtration system and the replaceable carbon filters remove bad tastes and odors from the water and keep it fresh.
Its adjustable 360-design is great for multi-pet homes. Hygienic and dishwasher safe, a leading company that offers good customer service makes this fountain. It is quiet, easy to clean, sleek, durable, and hygienic.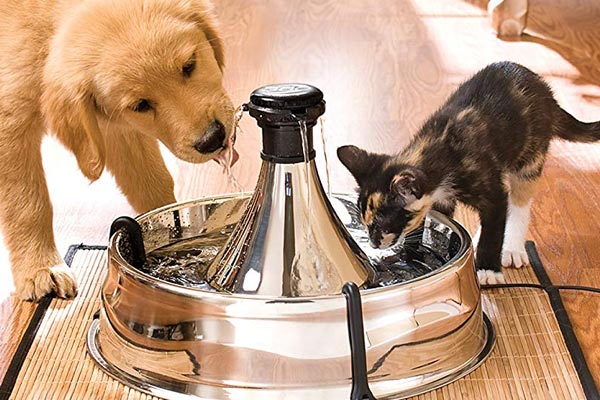 Sale
Pros
Large capacity
Easy to put together and clean
Nice and quiet
Great customer service
Cons
Expensive
Basin space is not very wide
Needs more refills
Hard to see the min and max water level marks
How much water should cats drink?
Hydration is important to keep a cat healthy. According to Dr. Patrick Mahaney, water constitutes 70 to 80 percent of a cat's body mass, and just a 10% loss of fluids can cause serious health problems.
According to Dr. Jennifer Coates of PetMD, a 10-pound cat should get about 52 ml of water a day. Cats eating wet food get the majority of what they need from their food and need to drink approximately one-third cup of water a day.
Dry cat food contains very little moisture, and therefore cats eating only dry food need about one cup of additional water a day.
Most cats don't drink as much water as they need, so finding ways to increase their water intake is important in order to keep them well-hydrated.
Pregnant, geriatric, or sick cats, kittens, and cats living in warm, dry climates need even more attention paid to proper hydration. Increasing your cat's hydration level will make her happy and keep her feeling great.
How do I keep my cat hydrated? 
There are several ways to help your cat stay hydrated. It is important that your cat always has access to clean, freshwater. Another strategy is to make the water more interesting by placing it in different places or putting an ice cube in the water bowl.
Feeding wet food is also a good way to keep a cat hydrated because it contains much more moisture than dry food. Finally, getting a cat water fountain that circulates water is likely to make your cat more interested in drinking.
Things to consider when choosing a fountain
Filtration systems
There are many types of cat water fountains out there. Some are complicated and expensive, while others are simple and inexpensive. One thing to consider is the type of filtration system.
There are two basic types, mechanical and chemical, and many fountains combine the two.
A mechanical filter, made from foam or sponge, keeps cat hair and debris from the pump, while chemical filters, made from carbon or activated charcoal, remove toxins, impurities, odors, and tastes, to make the water safer and more appealing.
Safety of materials
Cat fountains are made from a variety of materials. Plastic fountains that are dishwasher safe and made from BPA-free plastic, are a great choice. However, they might cause chin acne or other problems in some cats.
Another thing to watch out for is that plastic can develop scratches in which bacteria can grow, so it is important to clean the bowls well.
Stainless steel fountains are popular because they are sanitary and sturdy. They are easy to clean and look great too.
However, they do tend to be more expensive than plastic fountains. Ceramic fountains are also a great option. They are easy to clean, stylish, hygienic, and dishwasher safe.
Where should I put my cat's fountain?
Cats prefer to have their water far away from their food and/or their litter box. This also keeps the water from becoming contaminated. It is best to put the fountain in a different room, away from high traffic areas, and in a place where your cat feels safe.
Is a cat water fountain hard to maintain?
There is some maintenance involved with a cat water fountain. First, it is a good idea to check the water level daily and add water if needed.
This will ensure that the pump doesn't dry out, which can cause it to break. Each week, the fountain should be inspected to make sure it is working properly and that the reservoir is full.
Every 2 to 4 weeks, it must be taken apart and cleaned thoroughly and the filter should be changed. Most of the parts are dishwasher safe, so it isn't difficult to clean them well.
Do keep an eye on the pump to make sure it is working properly. The pumps on cat water fountains do wear out over time, but replacement pumps are often available.
Are water fountains safe for cats?
Yes, water fountains are safe as long as you use them properly. In fact, the water is much safer for cats than still water sitting in a bowl. To keep them as safe as possible for your pet, it is important to clean them regularly to prevent the growth of bacteria.
Using filtered water reduces the buildup of calcium and lime, which can clog up fountains. They also suggest cleaning the fountain at least every other week with warm, soapy water. The pump cover and inside of the housing, as well as areas that you can't see, should also be cleaned frequently.
Do cats need a water fountain?
Not all cats need a water fountain, but if your cat doesn't like drinking from a water bowl or needs to drink more water for health reasons, getting a cat water fountain can help to increase your cat's water intake.
According to CatHealth, many cats are picky about the water they drink and prefer to drink moving water.
How do I get my cat to drink from a water fountain?
There are several ways to encourage your cat to drink from a water fountain. Keep the fountain away from the food bowl so the water doesn't get contaminated, place it somewhere safe, elevate it if your cat is old or arthritic, and introduce it to your cat slowly.
At first, leave it off until your cat gets used to it. If it is adjustable, start it at a low setting and gradually turn it up.
Try to find a fountain that isn't too noisy, as that might scare timid cats. Finally, make sure the water level doesn't get too low and clean it often.
According to the Humane Society, you can train cats by rewarding them with treats. According to wikiHow, changing the water regularly and filling the fountain with cold water will help to entice your cat to use it.
Final thoughts 
Ultimately, it might depend on your cat's personal preferences. As this video shows, different cats are attracted to different types of water fountains.
Veterinarians recommend cat water fountains to ensure cats drink enough water. This is not surprising given that there are so many benefits.
Moving water is much more enticing for a cat, who might be wary of drinking still water. Cats who don't drink enough water are at great risk of developing health problems.
Water helps cats maintain a healthy and shiny coat. Finally, staying hydrated is the best way to maintain a cat's urinary and kidney health.
Fortunately, cat water fountains are affordable, easy to use, and come in a variety of sizes and styles, so you should be able to find the one that is just right for your cat.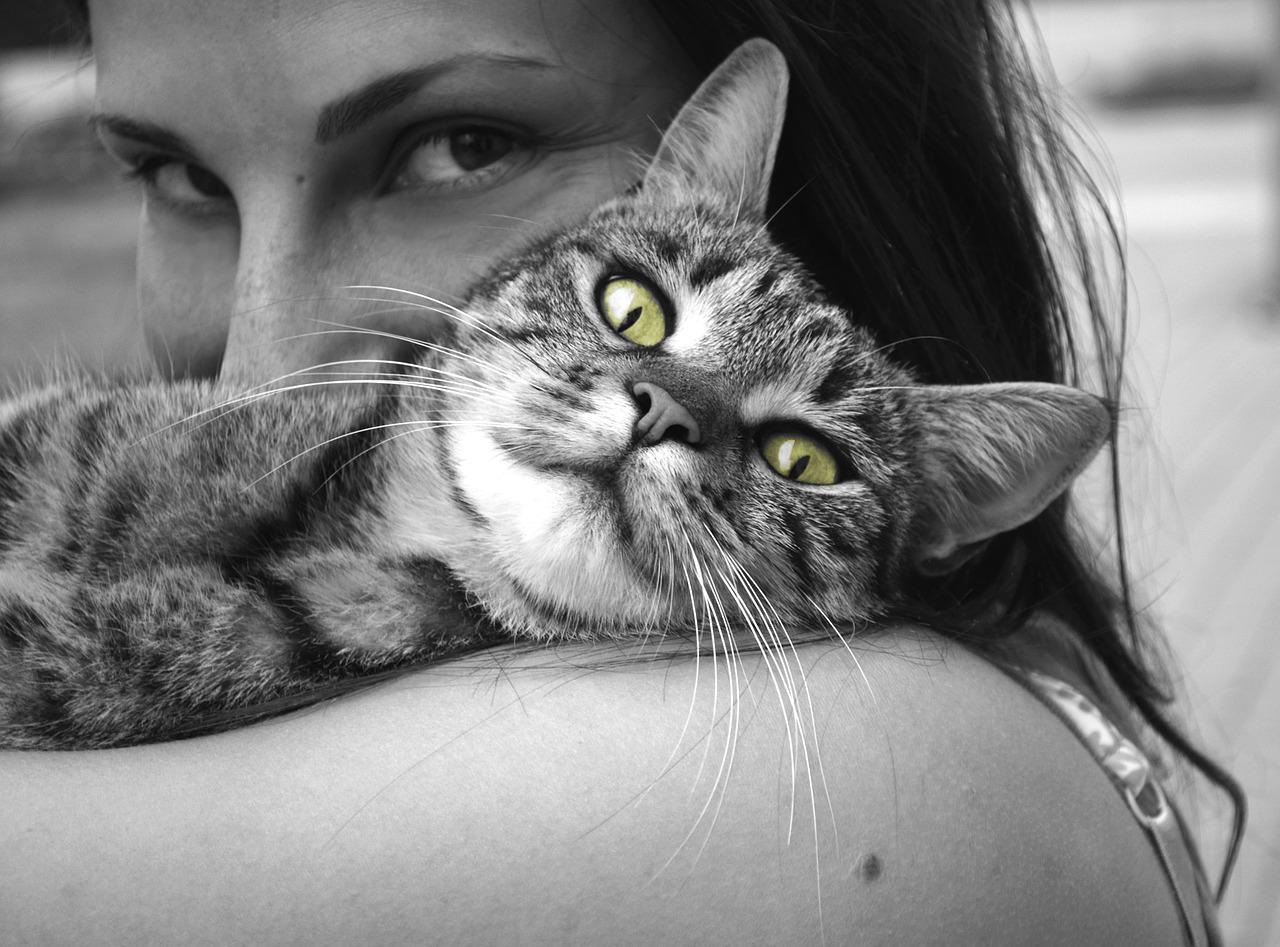 Hi, This is Alexa, and I love cats. This Website is a Complete Journal about how to travel with a cat and other information about Cat Health, Cat Training, Cat Behavior, Cat Foods and more. I hope you find it useful.