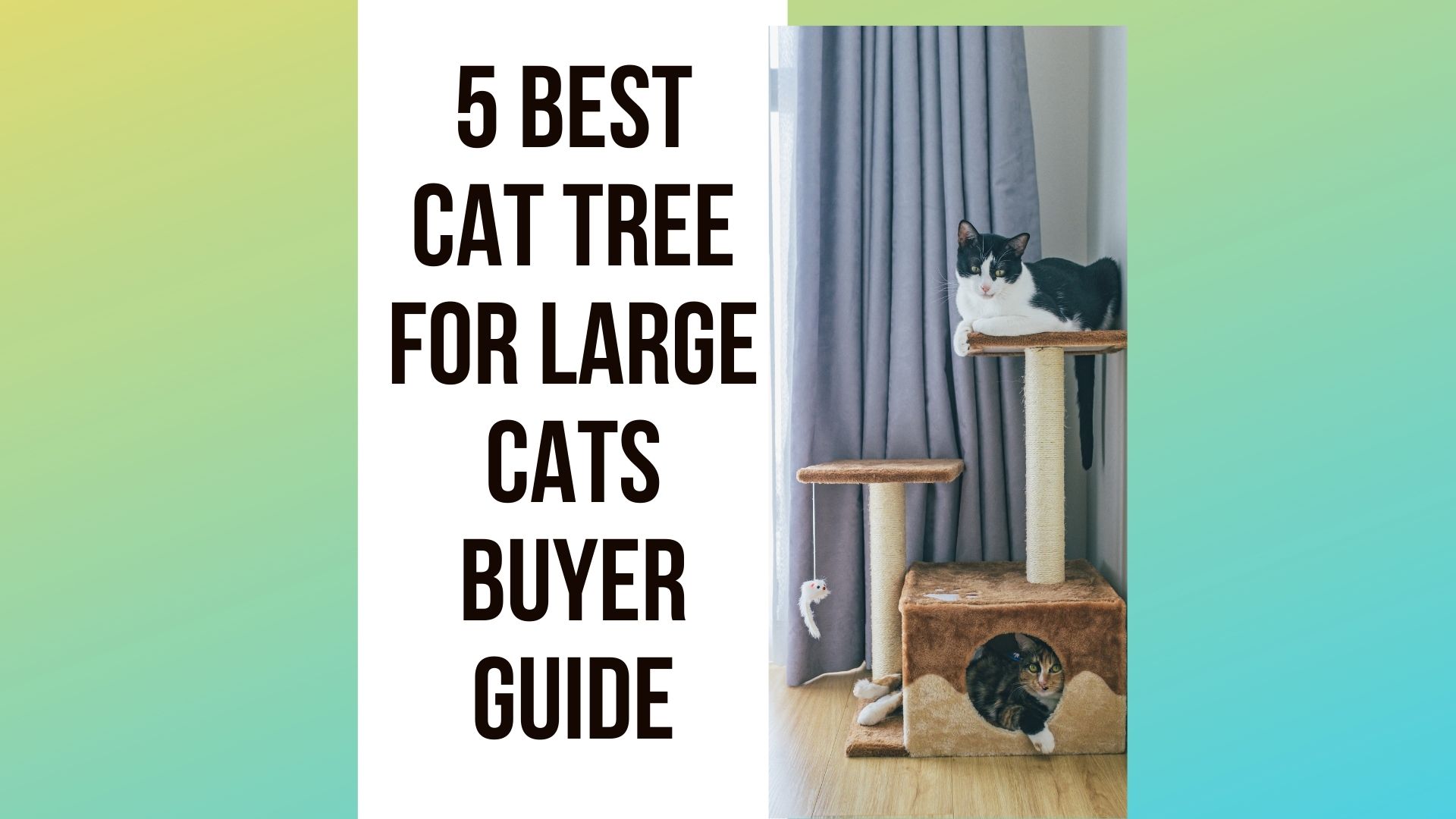 As you sit on your chair working at the computer, your vision keeps getting distracted by the swaying tail that keeps flapping your view.
All the while, a twenty-pound fuzzy, warm bottom and pointing claws begin to entice your scalp.
The 20-pound felt hat sitting on your head settles a nest on your hair. This is when you realize you can no longer be the edifice of your feline's affection.
5 Best Cat Tree For Large Cats
SONGMICS 67" Multi-Level Cat Tree
Cat Tree King Cat Empire
Go Pet Club Cat Tree
Aeromark Cat Tree Furniture Condo
Go Pet Club Huge Cat Tree Condo House Furniture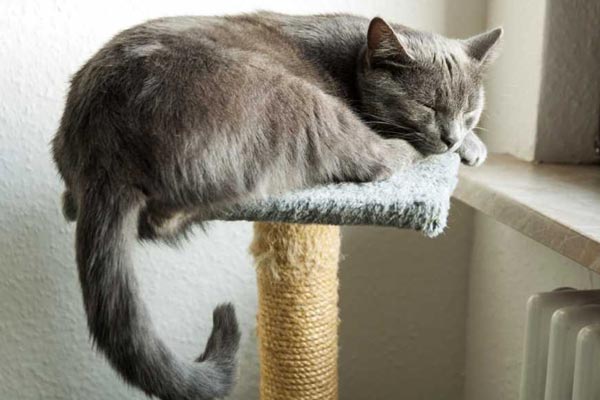 What is a Cat Tree? 
Cat trees are artificial towers made for cats to play, relax, exercise, and sleep on. Cat trees cater to felines of all sizes.
Most cat trees are complex, offering cats the ability to climb, jump to elevated levels, and pounce on a hanging toy.
These towers also have cubbyholes that offer cool and dark spaces to hide. The bigger the cat, the taller and more creative the tree should be.
Large cats tend to need more space to wiggle, jump and stretch. They also weigh more so the tree must be able to withstand the force of jumping.
If the cat tree is made from a weak material, it will tumble over or break if your large cat jumps from a high surface and lands on the weakened treetop.
Your cat might also get hurt. This is why searching for the right cat tree for your large cat is very important.
Which Cat Trees Works Best For MY Large Cat? 
SONGMICS 67" Multi-Level Cat Tree
SONGMIC makes the Cat Tree Condo from CARB-certified P2 grade particleboard that provides superior durability.
This premium particleboard ensures your cat's overall protection against instability. They made the columns from compressed and glued cardboard that provide supports the platform from wobbling.
Moreover, they furnish the tubes and board with a natural Sisal rope that is resistant to scratching.
An extra-large scratching pad comes with the tree so your cat can enjoy all the scratching he wants. The tree perch comes with an extra-thick pillow irresistible to felines.
FEANDREA 67-Inch Multi-Level Cat Tree for Large Cats, with Cozy Perches, Stable, Smoky Gray UPCT18G
Exclusive Luxury for Cats: Your feline friends need a cozy home of their own to play, take a nap or jump around; this cat house is sure to be their dream-come-true
All-in-One Playground: 2 roomy condos offer luxurious napping experience; 3 plush perches with raised edges allow your cat to rest on its head while watching over the house; sisal-covered slope adds so much more fun for playtime
Stability Is Always Priority: Constructed by particleboard and strengthened with battens at the bottom to ensure overall stability; anti-toppling fittings are included for double security
Sisal-Covered Scratching Posts: Reinforced posts (dia. 3.4") are wrapped with natural sisal rope to allow nail scratching and promote exercising; this cat tree is the perfect spot for your cats to jump around
What You Get: A large cat tower with 3 top perches, 2 caves, 1 scratching board, thick scratching posts, and a multi-level design for both small kittens and cat seniors to have fun
Notes from Manufacturer:
Keep any toys or elastic bands away from your cat.
Make sure to place the cat tree near a well-ventilated area after opening it.
Always check the screws to make sure they continue to ensure they are tight.
The cat tree must be placed on a flat floor/ground against the wall.
PROS:
Excellent customer reviews.
Anti-Tipping hardware, sturdy Sisal bars (3.4″), and a reinforced base prevent the tree from wobbling or topping over.
The Tree comes with 2 condos for privacy.
It has room for at least 2 large cats.
CONS:
It comes in only one color: Smoky Grey
It weighs 60 pounds.
It's a bit pricey.
Go Pet Club Cat Tree
The Go Pet Club Cat Tree is 27.5 inches tall, 32 inches wide, and 25 inches deep and weighs approximately 29 pounds.
The multi-leveled condo is made from pressed wood that is covered with Faux Fur. Sisal rope covers all the multiple scratching posts so cats can enjoy filing their nails.
In addition, the Pet Club comes with a 3/5 inch cubbyhole entrance and a baseboard that is 27 inches wide and 25 inches long.
Sale
Go Pet Club Cat Tree,47.5-inch,Brown
Color: Brown Overall Size: 32" W by 25" L by 47.5" H
Posts covered by natural sisal rope
Covering Material: Faux Fur Board Material: Pressed Wood
Top of Bed: 14" Diameter x 3.5" H. Base Board Size: 27" W x 25" L. Size of Condo : 17" W x 14" L x 9.5" H
Features include 1 rope, 1 ladder, 5 posts, and 8 levels
Notes from Manufacturer:
No shipping outside the country, Puerto Rico, Hawaii, and Alaska.
PROS:
Fair customer reviews.
The construction is very sturdy.
It is easy to assemble.
It holds multiple cats at the same time.
CONS:
It comes in only one color: Brown
Shipping is limited to the United States.
Aeromark Cat Tree Furniture Condo
Armarkat Cat Tree Furniture Condo by Aeromark International can be purchased from heights of 70 inches to 75 inches tall. The 70-inch Armarkat weighs 60 pounds and is made from pressed wood and covered with faux fur covering.
The tree comes with scratching poles ready for scratching, climbing, and exercising. Wide porches provide a cozy spot for cats to sleep.
The Armarkat can hold up to a maximum of 60 pounds. The set comes with a manual and tools to assemble. A hammock is also included so your cat will have fun napping.
Sale
Armarkat A7202 72-Inch Cat Tree, Beige
Cat Daddy Approved by noted cat behaviorist Jackson Galaxy.
72" Height, Beige Multi-Level Cat Tower, with high density faux fur covering for felines comfort and soft
Well constructed of 15mm pressed wood material, making it not only thicker but stronger.
100% natural, seasoned sisal rope wraps all posts securely for years of scratching
Base dimensions: 24" x 22", stability is always the priority. Heavy and widen base supported by reinforced post give reliable sturdy.
PROS:
Great customer reviews.
The construction is very sturdy.
It is easy to assemble.
It comes in many sizes
It comes with a hammock
CONS:
It comes in only one color: Beige
It is a bit pricey.
Go Pet Club Huge Cat Tree Condo House Furniture
This is why Catnipacademy lists the Go Pet Condo House Furniture as one of the top-selling cat trees on Amazon.
The Go Pet Condo House Furniture is the perfect housing for multiple cats. This structure measures 87.5 inches in height, 42 inches long, and 23.5 inches wide.
It comes with 3 Big 19.25 wide Condo Houses and two smaller condos 12 inches wide. There are two top perches with 13.25 diameters and 3 inches in height. with 2 tunnels measuring 10 inches in diameter.
With so many perches and scratching posts, your cat will spend hours entertained. They make the cat tree condo from pressed wood covered by Faux Fur.
Natural Sisal rope covers all the posts. A swing and ladder decorate the middle of the platform creating a playground for cats.
Go Pet Club Huge 87" Tall Cat Tree House Climber Furniture with Swing
Item may ship in more than one box and may arrive separately
Color : Brown / Beige
Overall Size : 42"L x 23.5"W x 87.5"H * 3 Big Condo Houses Size: 19.25"W x 14"L x 11.75"H * 2 Condo Houses Size: 12"W x 12"L x 10H * Size of 2 Top Perches : 13.25"Dia x 3"H * Size of 2 Tunnels : 10"Dia x 12"L * Number of Ladder : 1
Posts covered by natural sisal rope * Covering Material : Faux Fur * Board Material : Pressed Wood
PROS:
Great customer reviews.
The construction is very sturdy.
It has multiple perches and scratching posts.
It comes with two mice.
Available in brown and beige
CONS:
It weighs 120 pounds.
It is very pricey.
Cat Tree King Cat Empire
The Cat Empire was made for Maine Coons and other cats alike. Cat Tree King's Cat Empire measures 72 inches tall, 47 inches wide, and 24 inches deep.
This gigantic cat tree weighs 143 pounds and comes with 6-inch diameter Sisal posts.
This remarkable tree comes with one 24x17x6 inch large bed and one 2-inch thick removable pillow.
In addition, it includes 2 large 18-inch movable hammocks that sustain up to 44 pounds. The bottom of the tree houses a 24x24x24-inch playhouse with an 8×8 entrance.
The top and bottom panels are covered with plush so cats nestle and rest in comfort.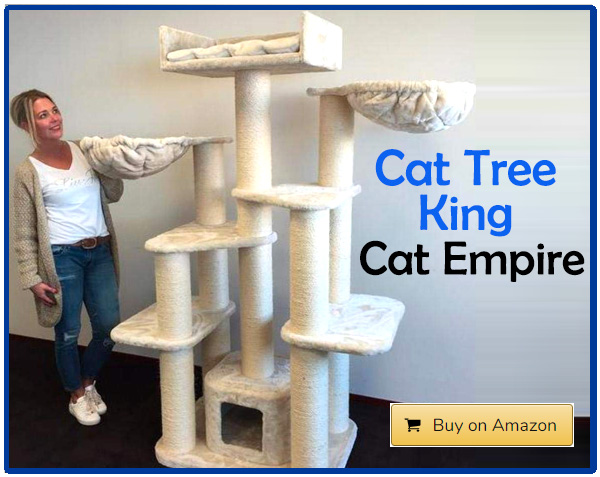 MQ Cat Tree Tower 36.7in with Padded Plush Perches, Condo, Hammock & Cat Scratching Post for Kittens, Large Cats, Gray
COMPACT CAT HOUSE - Furnished with large soft window perch, condo and hammock, this cat tree tower gives your cat a fun place to play, exercise or a warm house for a good nap. It also doesn't take up much space
LUXURY TOP PERCH - Well padded top lounger with skin-friendly and fluffy plush cover allows your feline friends to play and sleep in comfort; overall sized 20.1 in L x 15.3 in W x 36.7 in H
DURABLE CAT SCRATCHING TREE - Sturdy posts coiled with natural sisal rope keep your cats' claws groomed and off your furniture; a spare ball toy as a bonus is included
SAFE AND STABLE - High quality CARB-certified P2-grade particle boards make this cat tree an environment-friendly home furniture and the reinforced base board makes the whole cat tower stable. Comes with a wall mounting strap, double security for your cat
EASY ASSEMBLY - All the required accessories and tools are included and you can assemble this cat tree quickly and use it with a clear manual. Any questions before and after purchase, please be free to contact us.
PROS:
Excellent customer reviews.
The construction is very sturdy.
High-quality heavy material in construction.
It holds multiple cats at the same time.
CONS:
It comes in only one color: Beige
It weighs 143 pounds.
It's very pricey.
Buyer Guide: How to Pick the Best Cat Tree for Large Cats
Cat trees can provide not only regular entertainment for your cat, but also a great place for them to watch the world around them from high up, and sleep in a place they feel comfortable.
Cat trees with multiple features, such as ramps, platforms, hide boxes, scratching posts, and dangling toy areas, can keep your cat occupied for hours a day, and if built well, can last for years. Many cat owners consider cat trees to be essential to the health and well-being of their feline friends.
Like many things you need to consider when you own a large cat, it's important to put some thought and research into purchasing a cat tree.
One size fits all Mentality
Most cat trees are made with a "one size fits all" mentality, that only applies to small and medium-size cats.
If you don't shop around and take the time to really look for the right product, you may not get a cat tree that can work for your large cat.
When it comes time to purchase a cat tree for your big kitty, you need to keep the cat's size, habits, and age in mind.
Here are some more things to consider, so that you can pick out the best cat tree for your cat, home, and budget.
Consider Their Size
No matter what the ad copy from a retailer might say, not all cat trees are built to work for all cats.
A cat tree with a narrow base, thin towers, and a small hide box will work great for small or medium cats but will cause issues for a large cat.
A big kitty may not fit into the entrance of the hide box or may knock the tree over if they jump on it and put too much weight on the base.
It's important when looking for a cat tree for a bigger cat that you really consider their size, and that doesn't just mean their length.
A heavier cat will need something really sturdy to support its weight. Big cats will also need large hide boxes, wide ramps, and platforms that can accommodate their full size.
Consider Their Age
Kittens seem to be climbing constantly (and running and jumping and throwing themselves at things). They will often use all of the features of a cat tree, from the tall platforms to the dangling toy areas. To keep a kitten occupied you'll want a cat tree with a lot of features.
An adult cat may not be as playful as a kitten. They may still climb sometimes, and they may like to sleep on the platforms or use them to look out windows or into living areas. But they probably won't be as exuberant when using the features of a cat tree as a kitten would be.
Senior cats Have little interest in a cat tree.
Senior cats may have little interest in a cat tree. Their climbing and jumping days may be behind them, and they may prefer a comfortable spot on a couch or bed to a spot in the hide box of a cat tree. They may stay on the lower parts of the cat tree when (or if) they use it at all.
Besides taking into consideration how much use a cat tree will get from a kitten, adult, or senior cat, you should consider how long you want the tree to last.
If you buy it when they are really young, get one that is sturdy and will survive years of use. If they are already an adult when you purchase the cat tree, you may not need it to be of high enough quality to last more than a few years.
You should also look at what parts of the cat tree may be replaceable as needed over time. The scratching post areas are often the first parts to wear out.
If you don't want to buy a new cat tree anytime soon, see if the scratching posts look like they'd be easy to mend, re-carpet, or replace as needed.
Consider Their Habits
Are you constantly having to tell your cat to stop climbing up things? Are you pulling them off tables and chairs and countertops on a regular basis? Do they love to swat at dangling toys, or play in boxes and other fort-like objects?
Cats that participate in these kinds of activities are exactly what cat trees are for. Giving them their own space to climb up, hide in, and play around, helps to keep them from doing those things in areas of your home where you would prefer they didn't. It also gives them the territory of their very own where they can feel safe and comfortable.
Before spending money on a cat tree (which can often cost around $100 or more), it's important to consider your cat's habits.
If you can't recall ever seeing them climb the furniture or hide in boxes or play with toys, a big cat tree may not be the best idea for them. You could give them a small scratching post, a cat hide, or even a cat (or dog) bed instead.
Consider the Space Available
A big cat will need a big cat tree. But if you live in a tiny apartment this may not be easy to accommodate. It's a good idea to plan where you will put a cat tree and take measurements so you know how much space you have available for it before you buy something that won't fit.
Look at several areas in your home where you think a cat tree could be placed. Take into consideration the heating or air conditioner situation, where windows and doors are located, and how heavily trafficked the area is.
If your cat prefers to be around people, you'll want the cat tree in a room where they are with everyone else.
Once you've selected two or three areas of your home that could suit the cat tree, take some measurements. Figure out floor space as well as ceiling height. Then when you go shopping for a cat tree you'll know how tall it can be as well as how large a base it can have.
This can keep you from buying a cat tree that is too big and having to take it back to exchange it for something smaller.
Consider Your Budget
Cat trees can be expensive. Oftentimes the bigger the cat tree, the more it will cost. You need to prepare yourself to spend at least $100 to purchase a cat tree that will work for your large cat.
Some retailers will offer great deals on cat trees that look like they would be amazing. They'll be really tall and have multiple levels, ramps, hide boxes, and dangling toy areas. But these "super" deals can be misleading.
Before you purchase a cat tree for less than $100 that seems to have all of the best features, be sure to read all of the details on it.
It could have a small base, be made out of cardboard or inferior carpet materials, or be too narrow on its levels and platforms to support a large cat.
If you need to save up for a month or two, be patient and do so. It is better to get the best cat tree you can when you can than to buy something that doesn't work but was cheap.
You want a cat tree that will provide a fun and safe place to play and hang out for your large cat for as long as possible.
Look for Stores that Sell Discounted Cat Tree Condo
Some stores may sell returned cat trees at a discounted price. Before taking one of these deals, be sure to ask why the item was returned in the first place.
If it is missing parts or is broken in some way, make sure it is something you can work around before you pay money for it.
You may also be able to find used cat trees in the local classifieds or at thrift stores. Keep in mind that you won't necessarily know the full background on these items, and even if you get a story of how they were used, it may not be true.
You don't want to give your cat something that could be potentially harmful to them, so try to go for new instead of used if you can.
Just because your cat is large does not mean it can't have all of the enrichment that a smaller cat can. It may just mean that you have to put more time and effort into buying proper items for them. This includes purchasing a cat tree.
If you take the time to consider your cat's size, age, and habits, as well as the space you have available in your home and the amount you can afford, you should be able to purchase the right cat tree.
It doesn't guarantee that your large cat will love the cat tree you buy, but it does mean you have a better chance than if you just purchased the first one you saw for sale.
Extras: Condos, Baskets, Hammocks, Ladders, Scratching Posts
Cats love to scratch and play. With the right extra features, it can entertain them for hours. Whether your cat is small, medium, or large, keeping their minds healthy means giving them challenges to keep them active.
When you add condos, baskets, hammocks, ladders, and scratching posts, cats will have plenty to do. Some cat trees have little mice hanging or swings.
Buy your feline companion a cat tree full of adventure and fun. Let your kitty stare at the stars, snuggle in his/her cozy bed, and enjoy the comfort of her new home.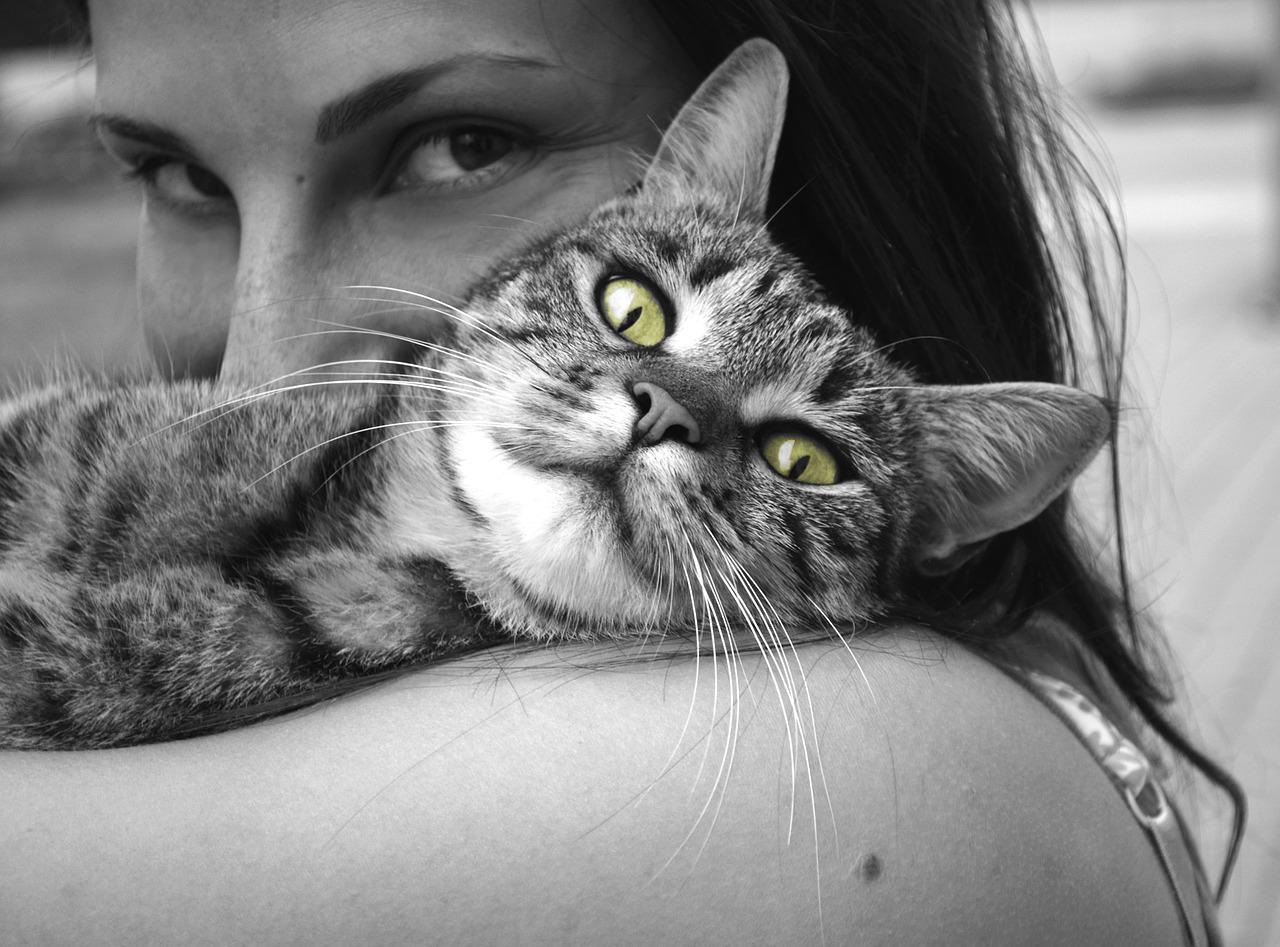 Hi, This is Alexa, and I love cats. This Website is a Complete Journal about how to travel with a cat and other information about Cat Health, Cat Training, Cat Behavior, Cat Foods and more. I hope you find it useful.