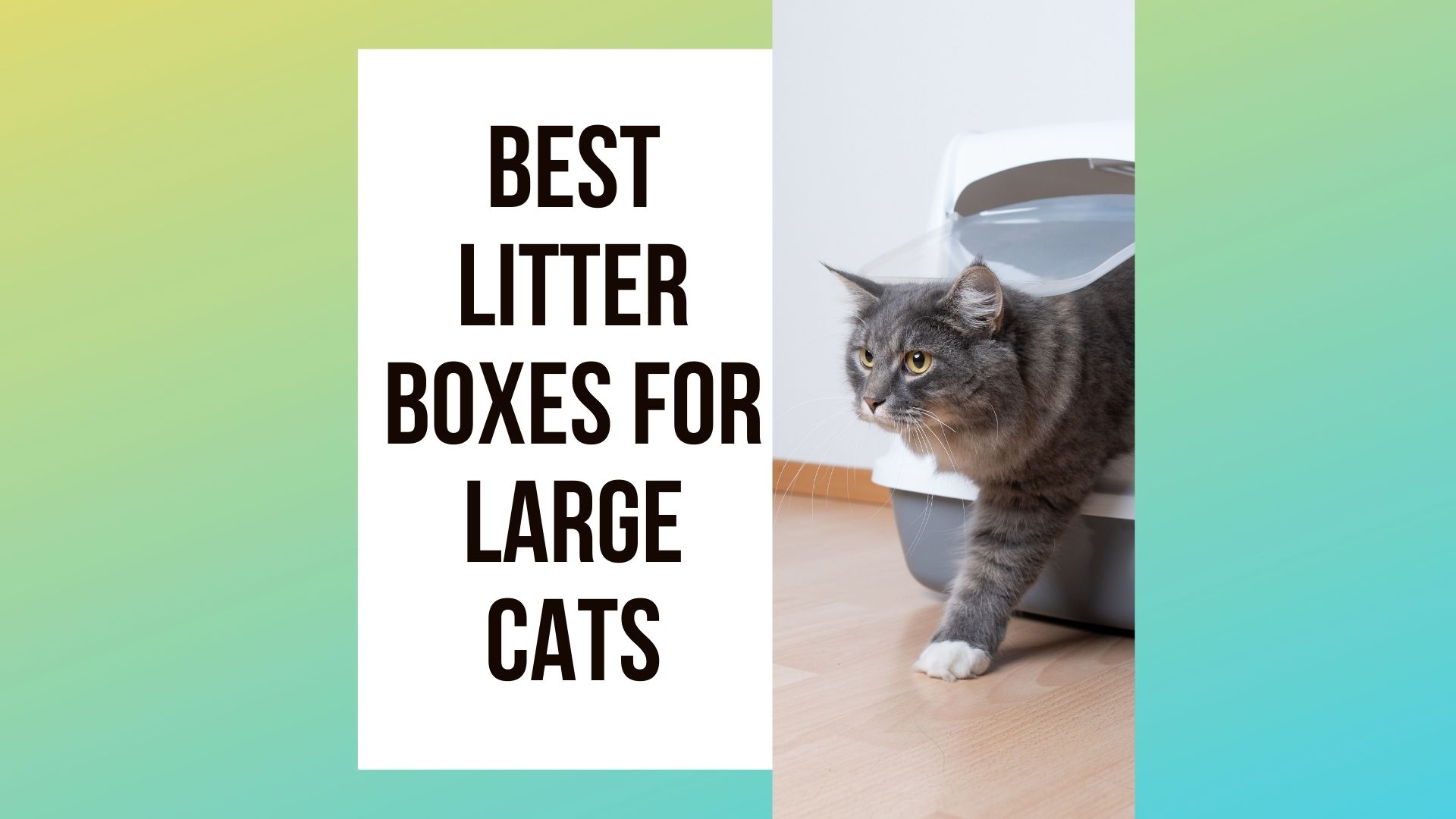 Litter Box Priorities
According to Dr. Lisa Pierson "urinating and defecating outside of the litter box (…) is one of the most common reasons for a cat to be relinquished to a shelter". Because this is so common, it's important to understand what your cat wants in a litter box.
Cats want a box that is clean, large enough to turn around in, and in a location, they feel comfortable using.
Individual cats may also have preferences about the smell and texture of the litter they're using, the ease of entering and exiting the box, and whether they will urinate and defecate in the same box or would rather use separate ones for each activity.
As cat owners, we want a box that is easy to scoop and keep clean. Odor elimination, visual aesthetics, durability, and shape/size are important factors when choosing a box, too.
Resolving inappropriate elimination may be as simple as changing the litter box to something that makes both of us happy!
How Large Should My Litter Box Be?
Average litter boxes at most stores are twenty (20) inches in length, and the average cat is approximately eighteen (18) inches from nose to hindquarters.
Ideally, the litter box should be one and a half times the length of your cat, and wide enough for them to turn around with ease.
In addition to offering additional space for your pet to move, larger boxes mean your cat has more room to avoid solid waste and clumps.
In a study from Nestle Purina, it was noted that odor and use by another cat were much less significant deterrents from using a box than the presence of solid waste.
Large, exotic cat breeds such as Savannahs, Bengals, and Maine Coons are experiencing a rise in popularity. At the same time, pet obesity has been on the rise over the past 25 years.
The Association for Pet Obesity Prevention states that overweight pets are at an increased risk for arthritis, affecting their mobility.
Whether your cat is overweight, an exotic breed, or just large, many traditional litter boxes may not provide the space your pet needs.
Best Litter Boxes for Large Cats
With all of this in mind, we've gathered some of the best litter boxes available for you and your large cat!
Catit Hooded Cat Litter Pan
Available in a variety of colors including pink, warm grey, and white with tiger stripes. The pan is large enough for almost any cat and can be set up in a couple of different ways to accommodate both your and your cat's desires. This box weighs just under 4lbs, with dimensions of 22.4L x 18.1WH x 15.3H inches.
Users state this box is large enough for even 16-18lb cats to use comfortably, that the clear entry flap is easy to train cats too, and that the non-stick finish holds up well.
The main complaint was that the entry flap didn't fit precisely, but most users were able to melt or file it to fit appropriately.
Pros
Variety of styles and colors
Rounded edges for easy scooping
Replaceable filter for odor reduction
Optional entry flap to reduce tracking and odors
A Lid can be flipped back for scooping, and for cats that prefer an open box
Cover eliminates litter kicking
Low entry is easy for cats to step over
A built-in bag anchor helps hold the bag open for scooping
A locking lid with a handle can be used to lift and move the entire unit
Cons
Urine becomes trapped between lid and base
The entry flap may be intimidating to cats
Consumers have complained of the latching mechanism breaking
Petmate Giant Litter Pan
One of the largest litter boxes available, this pan holds 30+ pounds of litter, making it ideal for larger cats or multi-cat homes. This popular model has over 1000 positive reviews on Amazon and a rating of five stars!
The part of the pan which holds the litter measures 26 x 17 inches, and the entire unit is 34.7 x 19.8 x 10 inches.
Features convenient storage pockets for bags, litter deodorizer, scoops, etc. Durable plastic with built-in handles aids in ease of moving this box even when full.
Pros
Large enough for any cat
Plastic is made with odor-reducing micro ban technology to fight bacteria, mold, and mildew
Built-in storage for accessories
The Wide base won't tip over
Affordable price for the size
High walls reduce litter kicking and tracking
Constructed of strong, durable plastic
Cons
Litter pan liners are not available for this size box
No cover to track odors
High sides are not ideal for cats with mobility issues
Giant size may not fit in all households
Cats that pee standing up may pee over the edges
Some customers found the corners and pockets difficult to clean
Nature's Miracle Advanced Corner Hooded Box
This litter box fits both large cats and tight corners! If you're cramped for space, this triangular box will fit where others won't, without sticking out as a tripping hazard. An un-hooded version is available.
The sides are 26 x 23 x 23 inches, and with the hood, the box is 20 inches tall. Visit this video for a visualization of the dimensions in a home, and clips of a large cat using the box.
Pros
Unique space-saving shape
Rounded corners are easy to scoop and clean
Durable plastic withstands cats sitting on top
A Replaceable charcoal filter helps to eliminate odors
The Wide opening is easy for cats to enter and exit
Deep tray reduces litter kicking
Anti-stick coating eliminates stuck litter
Cons
Urine may leak between lid and base when cats pee on the side
Awkward to scoop unless the lid is removed
No door to help trap odors
The Entryway features an outward-leaning scoop shape which some cats don't like
Awkward shape to move, no handles
Petmate Clean Step Litter Dome
This domed box is 50% larger than average litter boxes, and the circular shape means there are no cramped angles for your cat.
This Box is available in four neutral tones to blend into your home, features a stick-resistant finish, and is manufactured in the United States.
Reviewers either loved or hated the unique features of this box. While most consumers have only positive things to say about the odor and tracking reduction with this box, some found the oddly-shaped interior and ramp entryway exacerbated urine and litter overflow when their cat peed or kicked toward the entrance.
Pros
The large interior accommodates most cats
Ridged ramp significantly reduces litter tracking
A replaceable carbon filter reduces odors
Built-in handle for easily moving the box or removing the lid
A curved entrance helps keep cats out
Cons
Cats unaccustomed to an enclosed box may not use this box
The Lid must be removed to scoop
A Rounded shape may be difficult to fit in the home
Ramp entry is difficult to keep clean
Pan liners are difficult to fit and don't stay in place
Favorite Jumbo Covered Enclosed Litter Box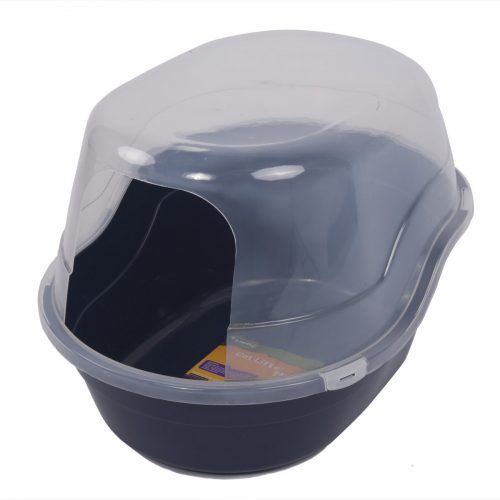 The unique style of this box eliminates corners that cats may aim to pee in, and that are difficult to scoop or clean. At 25 inches long and 19.5 inches wide across the largest part of the center, this box meets the requirements for 1.5x the body length of average cats.
Users found this box large enough for all cats, but the main complaints revolved around the entrance. The entrance is narrow compared to the actual box and arrived with rough edges for several customers who left reviews. Customers were able to adjust the size and smoothness of the entrance with household tools.
Pros
Rounded corners for easy cleaning
Lid reduces kicking and odors
A clear lid allows observation of litterbox behaviors
The lid contains urine spraying
Snaps hold the lid in place relative to the base
A polished interior eliminates litter sticking
Cons
Some customers complaints of lid and base not align
Curved sides may be difficult to scoop
Plastic is thin compared to other pans available at a price point
The Lid must be removed to scoop the whole interior
The Rounded shape does not fit snugly into the corners
6 Things to Keep in Mind When Getting a Litterbox for a Large Cat
Big cats need big space. They need big beds and big pet carriers and big food bowls. And when it comes to litterboxes, you can bet they require big ones of those as well. Having an appropriately large box to do their business in is good for them and is also good for your home.
It keeps things cleaner in and around the space where the litterbox is kept. It also keeps your big cat more comfortable when they are going to the bathroom.
A comfortable cat is a happy cat, as all feline owners know. Here are some tips to keep in mind when getting a litterbox for your large cat.
To Cover or Not to Cover
A fully enclosed litterbox may seem like a great idea, as it hides the look and some of the smell of the feline 'toilet', but for a large cat, a covered litterbox can be more of a hindrance than a help. Many covered litterboxes have only a small doorway, as well as a narrow amount of space inside.
Large cats can find it difficult to move in and out of the box, as well as turn around once they are within it. They may start refusing to use a covered box as it is so uncomfortable for them.
It can also be much messier with a large cat, as they'll end up going on the insides of the cover instead of in the litter. When you open the box to clean it you may find a gross mess that you weren't expecting.
If you really prefer an enclosed box and you aren't able to find something in a store that works for you, you can make your own covered litterbox by purchasing a large plastic bin with a lid and cutting a big hole in the side. Be sure this hole is tall enough that litter won't spill out but low enough that the cat can get through it.
A large DIY-covered litterbox may be more acceptable to your cat than some of the ready-made versions. Make sure you can still get in to clean it easily on a regular basis. You'll also want to smooth out or tape over the edges when you cut the entrance hole.
You don't want your cat to scratch or cut itself going in and out. Not only could it get sick from an infected scratch, but it could also decide it is uncomfortable using the entryway and refuse to go inside.
The Bigger the Better
Litterboxes come in several sizes, but most are geared toward small or average size cats. This means it can be difficult to find one that works well for a large cat who needs more space. When purchasing a litterbox you should look for one that is not only deep but long and wide.
This will give your cat plenty of room to maneuver when they are using it. Some cats like to use one corner or side of the area to do their business. If the box is too narrow or short, they may end up going to the bathroom outside the box by accident.
It is a good idea to measure your cat before picking out a litterbox for them. Make sure the box is longer and wider (possibly two times wider) than they are. If you currently have them using a small litterbox but are wanting to upsize, you should watch how they use the current area before you go shopping.
You will be able to pick out a better new box for them once you know not only how much space they need, but how they will use that space. Each cat is different in how they go to the bathroom and it's important to remember that when buying their box.
Like with the covered box idea, if you can't find a litterbox that seems big enough, you can always make one yourself. Buy a big, square, plastic bin (you don't need to purchase the lid as you won't use it) and set it up where your cat is used to using a litterbox.
As long as it has a litter in it and is easy for them to get in and out of, they won't care that it wasn't originally intended to hold their waste.
Bless This Mess
Litterboxes can be messy. They are filled with sand and used as toilets. Even if you have the neatest cat in the world, a mess will probably accumulate around the litterbox.
Big cats especially can throw litter (and sometimes feces) around the room when trying to bury things after going to the bathroom. They will also often track litter from the box onto the floor around it – and maybe even to the rest of the house!
To cut down on the mess, put a litter-catching mat under the litterbox. If you have space around your litterbox, get a mat that is quite a bit bigger than the base of the box.
This will give the cat extra space to knock litter off their feet (and from between their toes) before they track it across your flooring or onto the furniture.
Sharing is Not Always Caring
Cats are not always great at sharing. They tend to like their own food dishes, their own napping spots, and their own share of cuddle time with their people. This means if you have multiple cats – and you have the room – you should have multiple litterboxes. This way each cat has its own 'territory'.
This is especially helpful when one or both of your cats are on the larger side. You can buy a box that works for the size of each cat, instead of trying to push a small cat to use a huge box or a big cat to use a tiny one. You can also use different litter for different cats if necessary.
Maybe one kind of litter works better with big messes as your large cat makes. You can fill their box with that litter and then use something else for another cat.
Shop Around
Like with many things, you don't necessarily want to buy the first litterbox you see when you go shopping. Oftentimes physical pet stores will have small or average size boxes on hand because those are what they sell the most.
It may take two or three stores before you find any larger-size litterboxes to look at. It's also a good idea to look at other kinds of stores.
Big Box, feed stores, and outlet stores may all carry litterboxes (as well as other pet care items). These kinds of stores may not carry as many items as a pet store, but they are worth checking out because sometimes they have the items other stores couldn't see. Such as large litterboxes.
There is also online shopping that you should consider. Because these retailers do not have a physical store with limited space, they can carry a lot more brands, sizes, and styles of litterboxes. You may have more luck finding a box the exact size you want if you look online.
Many virtual stores also offer free shipping if you spend a certain amount of money. You can purchase other needed items for your large cat at the same time you are getting their litterbox.
Keep Your Options Open
Sometimes it takes trial and error before you find the right litterbox for your cat. You may get one that is too small or too shallow the first time. You may get one that has a funny shape or is even the wrong color.
It can be hard to tell what a cat will prefer to use before you give it a try with them. Some large cats are fine with a covered box or one that seems a little small. Others can't function properly without a lot of open space and a perfectly square area.
It's important to realize that it may take more than one try to find the litterbox that will work long term. Do yourself a favor and don't spend a lot of money on any box if you don't have to.
When you are shopping around, keep an eye on prices as well as other elements. Only buy an expensive litterbox if you are absolutely sure it will work perfectly for your cat and in your home.
Owning a large cat doesn't have to be a large problem. If you keep in mind that their needs will be different than those of a small or average size cat, you'll be able to set them up with properly sized food bowls, beds, toys, cat trees, and litterboxes.
It may take a little time and effort to come up with exactly what is necessary for them to lead healthy and happy lives, but as long as you are willing to put the time in to research their needs, experiment with different items, build or repurpose as necessary, and give your cat time to acclimate, things should work out relatively well.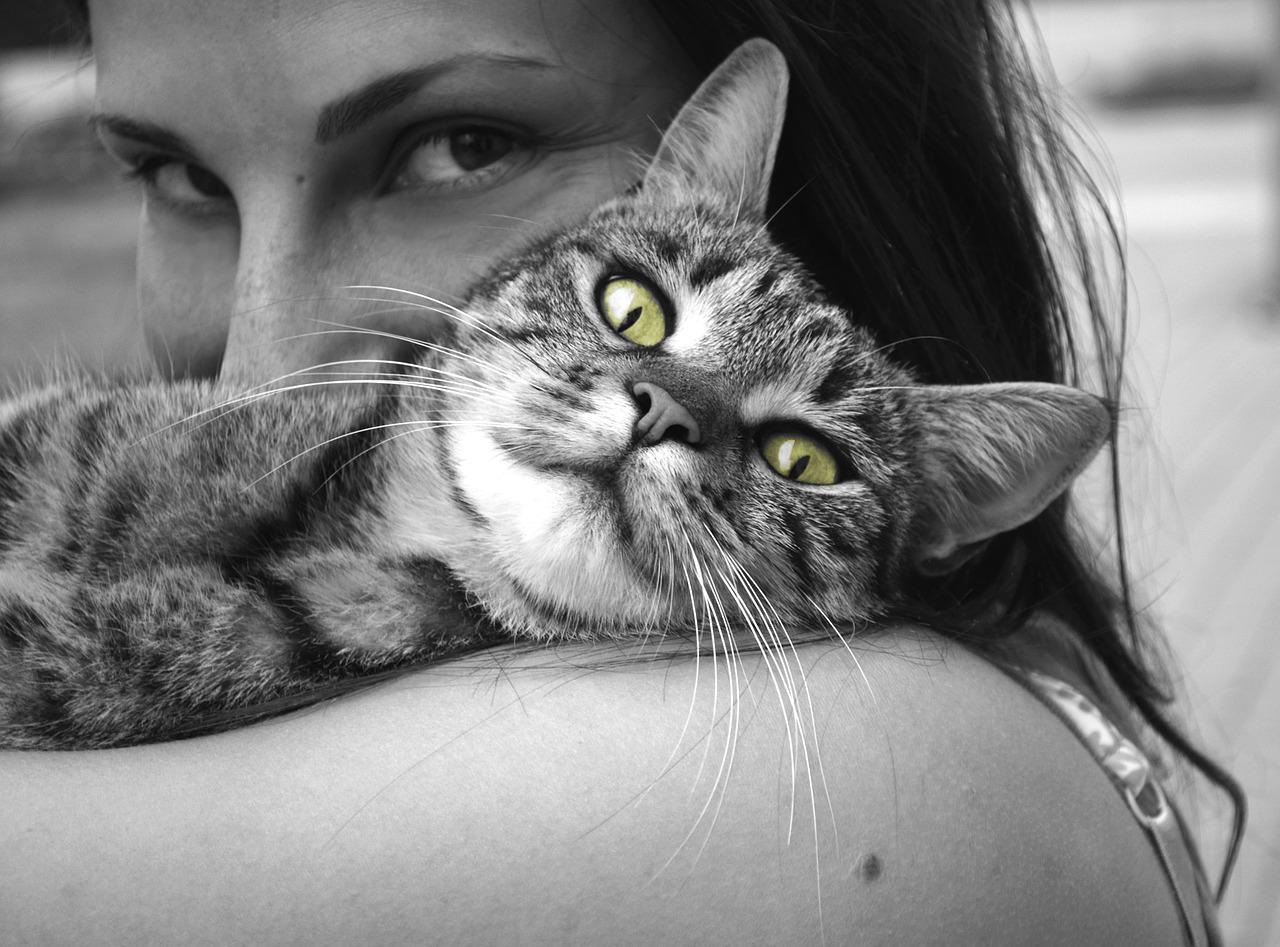 Hi, This is Alexa, and I love cats. This Website is a Complete Journal about how to travel with a cat and other information about Cat Health, Cat Training, Cat Behavior, Cat Foods and more. I hope you find it useful.